The World of Warcraft, a massively multiplayer online role-playing game (MMORPG), is one of the most popular games in history. It has been estimated that over 10 million people play WoW every month and it receives almost $1 billion per year from subscribers alone. With more than 12 years having passed since its initial release, many players have spent hundreds or even thousands of hours playing various iterations of the MMORPG, making it an epic social phenomenon by now.
The "top 10 scariest things in the world" is a list of 13 creepy things in World of Warcraft. The list includes some of the most iconic monsters and locations that are present in the game.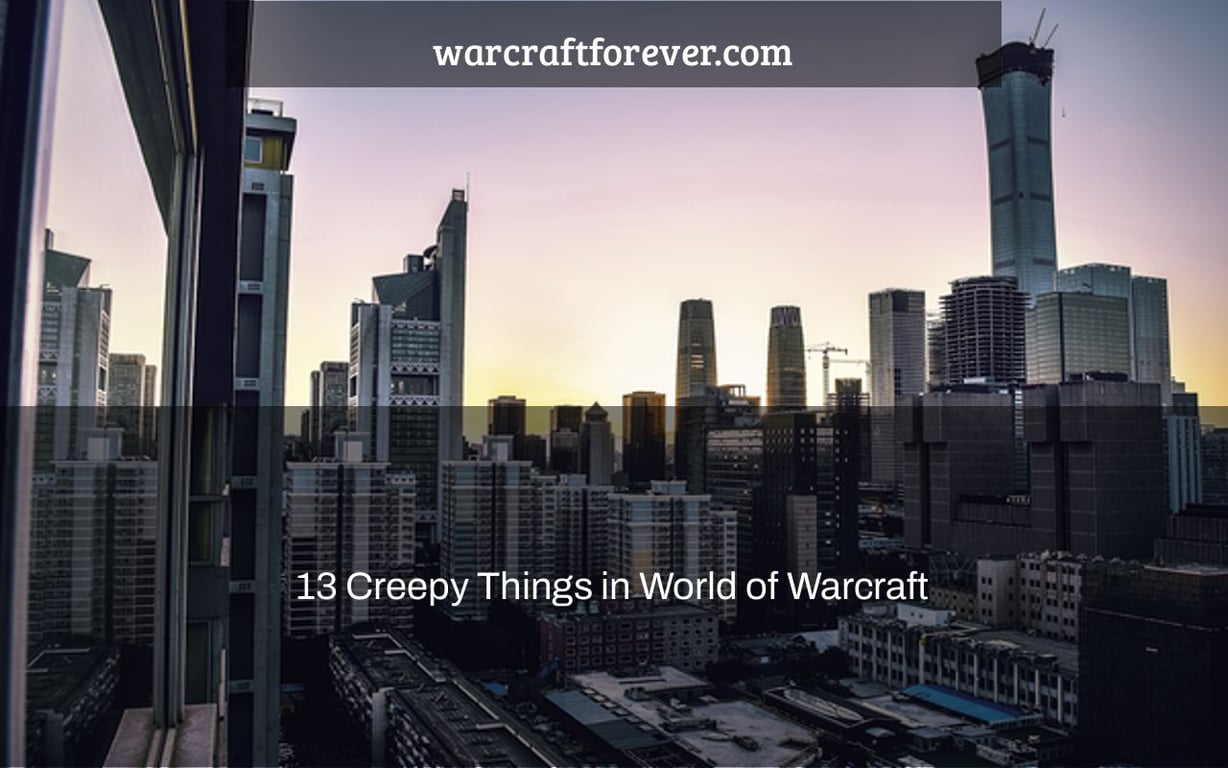 In celebration of Friday the 13th, we've compiled a list of 13 of World of Warcraft's oddest and creepiest elements. While some are unquestionably creepier than others, we haven't ranked them in any particular order. Which one is the creepiest to you? What did we forget to include?
1. The Stormwind Demon Barber
Jelinek Sharpshear of Stormwind City's barbarshop, "Northshear Abbey," has a frightening secret. You may uncover evidence of a crime that the Stormwind Guards should have investigated by now if you go upstairs and look beneath some loosened floorboards in his chamber. Below the floors are skeletons. The suspected murder weapon – a barber's razor – is on a neighboring table.
Sweeny Todd, the "Demon Barber of Fleet Street," was a well-known mythical figure who murdered his clients and then baked them into meat pies. But there's one more odd fact about this particular gnome: he wasn't always a gnome.
Jelinek started off as a goblin in Wrath of the Lich King and was only transformed to a gnome in Cataclysm. What other "Demons" do you know that can alter their appearance and deceive others around them into believing in them?
2. In Duskwood, the Unseen Ghosts
Strange spirits frequented the abandoned village of Raven Hill in Duskwood before the Cataclysm makeover. The fact that the Invisible were, well, unseen, added to their mystique. Most players couldn't see them since they were completely invisible and neutral. Only Warlocks who cast Detect Invisibility or Mages who became invisible could see them.
As previously stated, these Unseen hordes would not attack without provocation. However, they were level 50-52, considerably beyond Duskwood's intended level, which meant that if a poor lowbie accidentally AoE'd their area, they'd be quickly slain by something they couldn't see!
Newman's Landing (#3)
A mountain range surrounds the Dwarven zone of Dun Morogh, yet situated on the western side, just beyond the mountains, is a broken down human structure and a pier dubbed "Newman's Landing" by a local sign.
Newman's life seems to have ended in tragedy, whomever he was. A skeleton rests at the foot of an axe sunk deep into the signpost, no likely the bones of the guy beheaded by the axe. Apart from some shattered furniture and orc remains, the home appears deserted.
4. The Flesh Titan, Thaddius
Thaddius, the flesh titan, resides in the abomination wing of the necropolis Naxxramas. The sound of those innocents whose bodies were used to construct him, screaming and calling for assistance, for someone to rescue them from their torture, is a particularly awful distinctive aspect of this creature, which was created from the body parts of women and children.
Killing Thaddius puts an end to the screaming, offering some solace to the unfortunate people.
5. Goldshire's Creepy Children
You could see six cute youngsters conducting a… evil ritual? if you're ever in the town of Goldshire (we won't ask why).
Dana, Jose, Cameron, John, Aaron, and Lisa may be seen at a home near Crystal Lake in Elwynn Forest at various times. The kids go on a stroll from their house to Stormwind City, Goldshire, Mirror Lake, and return. The youngsters create a ceremonial circle (it used to be a pentagram, but these days it seems to be more of a 'X') and frightening noises begin to play, including sinister music, a banshee scream, and C'Thun's voice screaming things like "You… will… die…"
New vs. old formation If it wasn't creepy enough, some of the surrounding context hints portray an even worse image.
To begin with, two little skulls lay concealed in the grass beside the house at 45.6, 63.6. (To view them, you may want to turn off ground clutter).
There has been conjecture that the children are really spirits. While it's a stretch, at least one blogger has speculated that they're tied to the six loosely-clustered tombs in the adjoining cemetery's center. When you combine that with the fact that the two adults who reside in the children's home are a leatherworker and a skinner, things rapidly get quite dark.
John Staats stated the children were really allusions to Blizzard personnel in an interview with Countdown to Classic. He also said that the youngsters are not Satan worshipers, which makes sense considering C'Thun's voicelines. The Old Gods are definitely worshipped by these youngsters.
6. Stormwind's Horrifying Vision
When it comes to Old Gods, the Battle for Azeroth patch Glimpses of N'Zoth gave us numerous warped and horrifying visions of a nightmare, Old God-ridden version of Azeroth, but none stand out quite like the Horrific Vision of Stormwind.
To begin with, this vision seems to be a tribute to the Creepy Children of Goldshire. Five orphan children pose in a circle in a similar ritualistic manner. Six figures make the same pentagram sign that the Goldshire children used to construct, with their own Orphan Matron Nightingale lying dead in the midst. As if that wasn't enough, these orphans are also engaging in a ghoulish game of catch, throwing skulls instead of balls.
The content of this vision, however, is particularly disturbing: it depicts a future in which Alleria has succumbed to the Old Gods' whispering.
Alleria Windrunner, following the whispering in her thoughts, compels everyone to adhere to the Old God… or be cleansed.
On the steps of what was once the Cathedral of Light, High Exarch Turalyon is dying. You see Alleria sacrifice Arator, her own son, to the Void within the Cathedral.
Please… Save my son, pleads High Exarch Turalyon… Mother… do not heed to the voices! shouts Arator the Redeemer. Alleria Windrunner screams, "I've been ignoring them for far too long!" Arator, they are telling the truth. You'll be able to hear them. I'll make you listen to them. No! shouts Arator the Redeemer. I'm never going to—aah! Alleria Windrunner screams, "The Light failed them, and it will fail you!"
While this vision, like the others, is only a nightmare, it's nevertheless rather frightening since it depicts a future that is not only plausible, but even probable. Alleria is dealing with some frightening abilities as a Void Elf, and although she believes she is in control, the Old Gods have proved themselves to have extremely compelling whispers time and time again.
7. Never Look Up
The Blasted Lands' Dark Portal has more than enough history and terror to warrant its own entry, but there's something more in that zone that's maybe not as magnificent, but certainly just as terrifying. Four skeletons stand in a circle around some type of apparatus on the highest summit of the mountain to the east of the gateway. All of the skeletons are staring above, waiting for… When they passed away.
The Last Relic of Argus may transport you to this place, which is interesting. So maybe it has something to do with it.
8. Challe's Little Tykes' Home
A children's home may be located in the hills that flank Nagrand in Outland, led by a generous Troll called Challe. Challe, despite the fact that she manages the orphanage by herself, seems to be exceedingly compassionate, receiving newborns from both the Alliance and Horde – from both Outland and Azeroth.
Apart from the fact that her orphanage is different from the official one in Shattrath, there has always been something odd about Challe. Her child-rearing practices are dubious… the nursery is adorned with bear pelts and killed bears. An orc youngster hides under a mound of gigantic bones instead of a playhouse. The contents of a neighboring wagon seem to contain pyrotechnics and explosives. Tauren infants are dangling on a whirling clothes line.
She also has a doghouse with a pile of meat surrounded by flies as the lone tenant, as well as a number of cages, one of which looks to hold the remains of a newborn.
Even so, it wasn't until Warlords of Draenor, when we traveled back in time to an alternative universe version of Draenor, that we learned more. Alternative Universe Challe is an Orc – and an elderly lady who has somehow maintained her youthful beauty. When players face this Challe, they discover that she uses the life of others to keep herself youthful. She even takes on the same Troll appearance as Challe from our reality.
Without a doubt, the Challe of Outland is sucking the life power of the infants she adopts in order to remain youthful. By now, you'd think someone would have intervened to stop her.
Gnoll Things No. 9
Gnolls are nearly as ubiquitous as Murlocs when it comes to basic, common, often low-level but always a pain opponents. But have you ever paid attention to their tents?
You're deafeningly deafeningly deafeningly Those are, in reality, human faces stretched out. Gnoll tents are fashioned of human leather, there is no other way to put it.
10. The Stalvan Legend
The Legend of Stalvan is a series of missions started by Madame Eva, a fortune-teller, when she sees her granddaughter in grave peril in Classic World of Warcraft. Though she has no idea why, she has been given the name Stalvan.
As the players dig further, they discover the horrific truth: Stalvan Mistmantle was a schoolteacher who fell enamored with one of his pupils, Tilloa, a young lady. Tilloa was already married and had no feelings for her teacher. Stalvan was enraged by her rejection and went on an axe killing frenzy, slaying Tilloa and her fiancé in the aftermath. Stalvan is undead when the players find him, but he's still a creep, as he threatens Madame Eva's granddaughter Alyssa.
Stalvan's brother, Tobias, enlists players to investigate his death in Cataclysm, continuing the tradition. Worgen Tobias is appalled to learn about his brother's heinous acts. He persuades Madame Eva to help you revive Stalvan from the grave, desperate to think they're not real. The ritual does not provide Tobias the tranquility he hoped for: Stalvan not only reveals himself to be an unrepentant monster, but he also attempts to persuade Tobias that becoming a Worgen makes him the same. You kill Stalvan a second time, and Tobias is more desperate than ever to show that his beast blood doesn't turn him into a monster.
The Throne Room of Lordaeron
The Forsaken capital of Undercity is located in the Tirisfal Glades region, under the Lordaeron Ruins. This city and its inhabitants have experienced a great deal of tragedy. Those who would become Forsaken were killed and raised to undeath by a Scourge onslaught led by their own Prince Arthas while they were still live people. Later, the Forsaken, who had found a new home in Undercity owing to their beloved Banshee Queen, were forced to flee and watch as their home was ravaged and left unlivable – even by the unliving – by disease, which Sylvanas Windrunner herself had permitted. Lordaeron, once a magnificent metropolis, has more than its fair share of ghosts.
Even now, some of these spirits may be heard.
When Arthas, Prince of Lordaeron, first fell victim to Frostmourne's spell, he returned home a hero. His people, thinking he had rescued them from the Scourge, lined the streets of the city and tossed rose petals at the Prince as bells sounded welcome him home. However, Arthas was not a hero. Arthas assassinated his own father, King Terenas, before unleashing the Scourge on his own city in a memorable moment from Warcraft III. Terenas' crown slipped down Lordaeron's throne steps and landed bleeding on the floor as he died.
Terenas: What exactly is this? My kid, what are you up to? Arthas: Following in your footsteps, Father…
The specters of this dreadful incident tormented Lordaeron for many years. In Classic, you may still hear ghosts, or in retail, you can ask the Bronze Dragon Zidormi to bring you back in time.
A shattered bell may be found on the ground if you go to the Lordaeron Ruins and enter via the old gates. You'll hear bells if you go into your sound settings and bring Ambience up to 100 percent. As you go forward across the courtyard, you'll hear shouting and applauding from the spectators. You could discover dead rose petals on the floor if you look closely.
Finally, go to Lordaeron's former throne chamber. You'll hear the echoes of Arthas assassinating his father, as well as Medivh's warning to Terenas, which the King disregarded to his cost. A bloodstain from the fallen crown on the ground beside the throne, which likely will not wash away.
12. The Forest of Whispers
The Whispering Forest and the lake it borders are unnerving spots in northern Tirisfal Glades, despite the fact that the riddle has mostly been solved. Then there's the deceased fisherman on the lake's shore. His death was certainly brutal, since a blade still protrudes from his ribs.
Second, a damaged Gnomish flying vehicle sits at the lake's bottom, and third, a faerie ring may be located in the neighboring forest – a forest that seems to be a mountain range on the map.
The entrance to the grave of the fallen Titan Keeper Tyr, as well as the corpse of Zakajz the Corruptor, a strong Old God servant that Tyr murdered, may be located under this lake. The Twilight's Hammer tried to revive Zakajz during Legion, but we stopped them.
13. The Darkmoon Faire's Ghosts
Silas Darkmoon runs the Darkmoon Faire, which has enough of spooky to go around. From the fact that the fair's decor is clearly Old God-inspired to the seller who offers some VERY odd culinary products, anybody visiting the Faire should have plenty of doubts. The ghosts, though, are possibly the creepiest of all the residents of Darkmoon Island, creepier even than the homicidal rabbit.
Darkmoon Island is home to seven ghosts, souls that have chosen not to go to the Shadowlands. These ghosts can only be seen by dying (if you're living, all you'll see are dazzling patches with moving blue-green clouds), and there are no tasks associated to them, so they're easy to overlook. They're nice and will tell you a bit about why they're at the Faire if you chat to them.
In life, Martha Weller, a human, seems to have been a healer. She describes the Faire as her "family," and that she could never abandon them.
Zazla is a troll who escaped a shipwreck but was kidnapped and sentenced to death. Silas seemed to have rescued him, and Zazla chuckled as his captors died "terrible deaths."
Jenner, Franklin is a human who served in "the fight against the orcs," which was most likely the First World War. He says he was told at the Faire that he would never have to face the horrors of war again, yet one of his words nearly makes it seem like he regrets his choice.
Jenner, Franklin
Many people have perished as a result of my actions. I just wanted to get away from those atrocities.
Coincare Kupp, a goblin in debt, struck a pact with Silas to pay off his loan by working at the Faire. One of his remarks implies that this arrangement is why his soul is still chained to the Island, and he seems perplexed, as if Silas has duped him.
Coincare Kupp
The majority of my debt was repaid…I believe…
To avoid his family, Brendon Paulson fled to the Faire. He joined as a youngster, but he struck an agreement with Silas. Brendon also cites his residence in Strom, which was the name given to the human metropolis of Stromgarde many years ago. This might indicate that Silas is far older than he seems.
Finally, Arlon Surehoof, a Tauren, and Wellspun, Sithera, a Blood Elf, seem to have perished abruptly while camping. Because they're so near together, it's presumed they're talking about the same camp.
"I'm not sure how long I've been keeping an eye on the camp…
Wellspun, Sithera
In the adjacent woods, I believed I spotted something… Then I think I passed out. I couldn't find my way back to the tent when I awoke…
Despite the fact that the tale implies that they were merely camping and were slain when the Darkmoon Faire arrived, Sithera is wearing a Darkmoon Faire tabard, implying that she was already working at the Faire.
That is, unless Silas managed to bind Sithera's spirit to the tabard after her death…
The "wow 10 leak" is a new patch that has been released for World of Warcraft. The patch includes 13 creepy things, such as the Voidwalker pet and the Night Elf Druid's ability to shapeshift into a worgen.
Related Tags
scary things in the world
scariest things in wow
world of warcraft creepy easter eggs
hidden items in wow
wow well