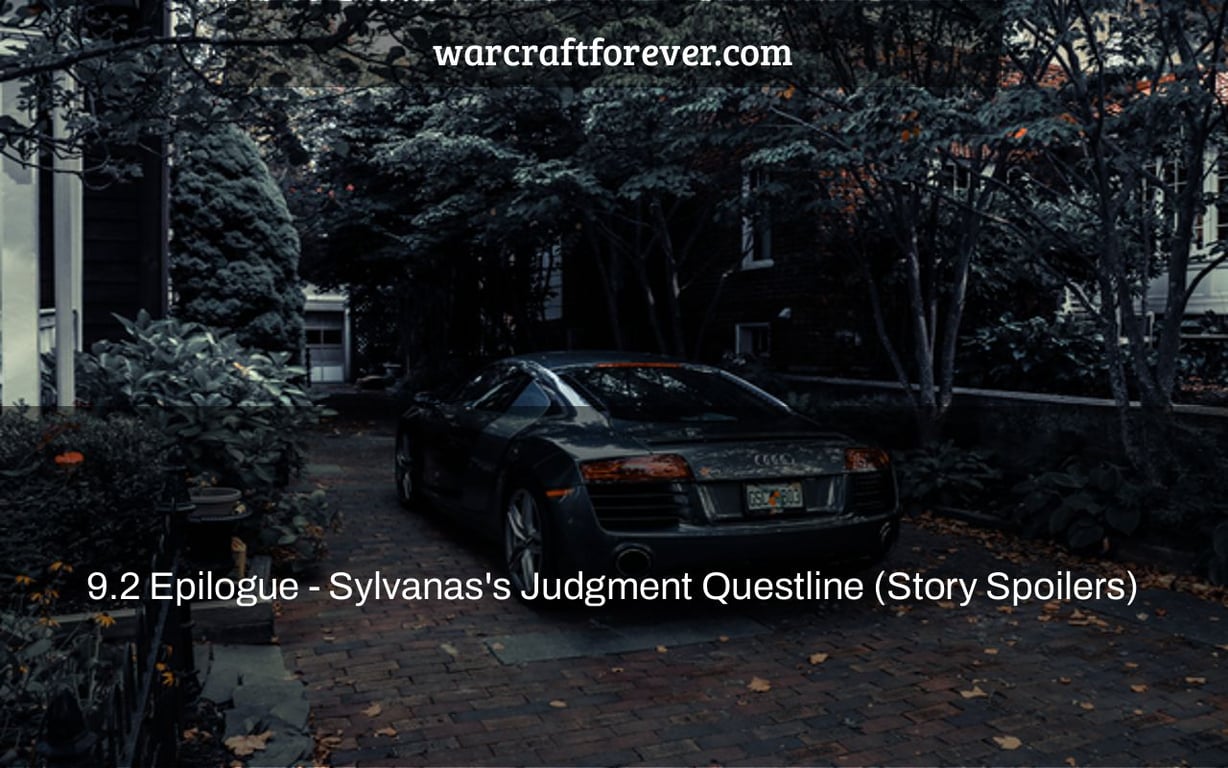 The Shadowlands campaign's epilogue is now available, and Sylvanas' judgment has been given. On this post, we looked through the short questline.
There are some story spoilers ahead.
Questline Epilogue
The Questline Epilogue starts in Zereth Mortis, with Bolvar giving out the quest The Jailer's Defeat. This quest is a simple introduction to the epilogue, and the Jailer Finale cutscene from the Sepulcher of the First Ones raid plays out there. After the cutscene is played, Bolvar sends you to Oribos to deliver the Crown of Wills to the Arbiter, as well as finishing up the last task in the Shadowlands: the judgment of Sylvanas Windrunner.
Then, in A Long Walk, we see Uther and Sylvanas in Oribos. We take Sylvanas and Uther to the Arbiter's Chamber, which is a real walk of humiliation for Sylvanas as she passes covenant members and azerothian spirits, all of whom are giving her a piece of their mind.
Uther: Come on in. Let's get started. You desecrated our holy forests, Sylvari Artisan! Apprentice Ritualist: You only get torment! Venthyr Aristocrat: Your transgressions are immeasurable! Kyrian Aspirant: You've damned how many souls?! Orc Soul: We put our faith in you! You've deceived all of us! My home, Night Elf Soul! My loved ones! Everything was reduced to ash! Uther: Are they looking for justice? Or is it retaliation? Sylvanas: It's tough to distinguish the difference between anger and pain.
We may begin The Fate of Sylvanas after we get at the Arbiter's Chamber. Alleria and Vereesa Windrunner, Genn Greymane, Baine Bloodhoof, Jaina Proudmoore, Anduin Wrynn, Thrall, Taelia, and Bolvar Fordragon, Shandris Feathermoon, Tyrande Whisperwind, Maiev Shadowsong, Calia Menethil, Lor'themar Theron, and First Arcanist Thalyssra are among the NPCs encountered there
The opening cutscene of the Sylvanas Judgment begins as we speak with Arbiter Pelagos.
We accompany Tyrande to the Ring of Transference in Oribos when Pelagos assigns Sylvanas' judgment to her. Tyrande delivers her verdict in Peace and Renewal. As we approach, Sylvanas has a brief conversation with her sister Vereesa before confronting Tyrande.
Vereesa:…and now, after all this time, there's a lot we need to say to each other… Sylvanas: Sisters, I understand. However, the day of reckoning arrives.
Tyrande then delivers her judgment, playing the second cinematic out and completing the 9.2 Questline Epilogue.
Tyrande: The Banshee's penance will rescue the souls of countless people. If I had killed her at Ardenweald, this would not have happened. Tyrande: Maybe that's why Mother Moon held back my hand. Tyrande: The Horde has inflicted a terrible wound on my people. You may never win my trust, but you have my gratitude for correcting the situation.
NPC Dialogues After the Questline
Several NPCs have conversation when you speak to them during the Tyrande judgment quest, including alternate Sylvanas monologues depending on whether you choose to be a loyalist or rebel against her in Battle for Azeroth. All of them have been transcribed below.
Sylvanas is a fictional character (Rebeller)
Oh, I see. I'd want to say a few words to you before I face the impending judgment.
We can't alter the past, as I was just reminded. I cannot blame you if you want to detest me for the things I've done.
But take note of this. We previously had a same goal, and you have often shown your devotion to the Horde. I hope you will continue to protect it regardless of what happens.
Sylvanas is a fictional character (Loyalist)
. As I stand on the edge of judgment, it is only right that we exchange a few parting words.
You've shown your dedication to me time and time again, even when others scorned you. Even when my own deeds were unworthy of such devotion.
I'm not sure what destiny has in store for me. But if I ever need loyal friends, I know I can count on you.
Tyrande
My people's souls were ripped apart by the Banshee. She set fire to our house and sent a swarm of kaldorei to the Maw.
Whatever decision the Arbiter makes, it will never be enough to balance the balances. Nothing he does or says will ever be sufficient.
Uther
Sylvanas Windrunner was the Ranger-General of Silvermoon in real life. She would not have believed you if you had informed her then about the horrors she would do in the hereafter.
We all have black spots in our souls from time to time. I was on the verge of succumbing to my. What I did to Arthas may have been the start of a downward spiral.
However, compassion springs from knowledge, and compassion may rescue us from any darkness. It's an ideal to which we should all strive… but we must never forget that it's not easy to achieve.
Jaina
Hatred is a vicious circle. It's one that's all too simple to repeat. And for those who have been harmed, forgiveness is difficult to come by.
Years ago, I pleaded with people to put their frustrations aside and break the pattern. Only now, after so much has transpired, do I realize the gravity of my request.
Hatred and remorse have followed me around as they have so many others. I still think the pattern can be broken, albeit it will take a lot of hard work and patience.
Anduin
The shadow of what I've seen… of what the Jailer compelled me to do… looms large over me.
I'll be eternally thankful for the role you played in releasing me. But I can't assume that I can just return to the person I used to be. I need… time.
In the days ahead, the Horde will undoubtedly depend on your bravery. Defend the realm of Azeroth, Whatever the case may be.
Greymane
I refuse to think your slain Warchief feels even a smidgeon of regret for her actions.
When will she be held accountable for what she has done to my people? To my son, perhaps?
You, too, have a lot to answer for.
Lor'themar
We sin'dorei aren't strangers to tragedy and sorrow. My people have been slaughtered, my empire destroyed, and everything I hold precious has been desecrated.
When Silvermoon finally returned to the realm, Sylvanas extended her hand to welcome us into the Horde.
Those days are no longer with us. The Banshee Queen's destruction and loss to Azeroth are almost unquantifiable.
The fact that I stood by and saw so much of it unfold still bothers me. Perhaps judgment will come for me as well in the end.
Baine
Sylvanas imprisoned and tortured me for disobeying her, despite the anguish she inflicted on me was little compared to the suffering she inflicted on her other victims.
For a long time, I despised her because of what she had done to me and the Horde. Hatred, on the other hand, is a poison. It will foretell your death if it penetrates into your veins.
Sylvanas ought to be held accountable for her actions. The guilty must appear in front of those who have mistreated them… and answer for their wrongdoings.
Thrall
When Sylvanas sent her Mawsworn to apprehend me, all I wanted to do was flee. To return to my home and leave the Shadowlands behind. My loved ones.
Nonetheless, this adventure has taught me a great deal. I'm thinking about my mother, myself, and the legacy we're all leaving behind.
This was not the route I would choose. However, it's possible that this was the road I needed to take.
Bolvar
I sensed a sinister shadow on my thoughts while I sat on the Frozen Throne for years. I had no idea it was the Jailer trying to turn me into another of his puppets.
It required all of my might to reject his sway. Even yet, I have no way of knowing how many of my acts helped Icecrown Citadel achieve its ultimate goal.
That is the most pernicious aspect about him. Even after the Jailer's defeat, the seeds of mistrust he sows in each of us are still there.
Alleria
I clung to the notion that one day I might be able to embrace my son and stand by my sisters again while I battled demons for ages throughout the Twisting Nether.
I could never have predicted Sylvanas' tragedy or the horrific decisions she would make thereafter.
Vereesa is hoping beyond hope that the reappearance of her soul piece implies our sister has been found. I'm not so sure.
I have, however, learnt to be patient. I'll be keeping an eye on things…
Vereesa
After seeing Sylvanas' exploits throughout the battle, I was afraid that the last trace of the sister I knew had gone forever.
But when I heard about what was going on in the Shadowlands, I knew I had to come see for myself.
I understand if you think I'm crazy for still believing in hope, but I've lost so many people I care about.
I refuse to lose up on Sylvanas if there's even a possibility she's resurrected a sliver of the Sylvanas I remember.
Shandris
The kaldorei, both those who perished and those who survived, had been waiting for this moment for a long time. Knowing that the Banshee will be held accountable for what she has done.
Many people demanded that she be executed. Some people still do. I doubt they'll be satisfied with anything less.
However, Sylvanas was correct when she claimed that death would be a kindness. And if she can save souls from the Maw's wrath, her penance may prove to be more precious than her execution.
Maiev
Do you think this is righteous, warlock? That Sylvanas should be allowed to live after slaying so many innocent people?
There was a moment when I was blinded by wrath and turned my glaive on my own people.
And once my dear friend, Sira, was killed and resurrected to undeath, she turned her wrath on us.
Both of our lives were legally forfeited. Nonetheless, I was given the opportunity to fix what I had intended to destroy. Not for my own sake, but for the sake of others who had been harmed by me. I hope Sira has the same opportunity.
In the case of Sylvanas, I'm not sure whether this is fair. But I feel it is correct.
Did you find this news story interesting? Wowhead's Discord Webhook will notify you when new news is released, and you may join the community on Wowhead's Discord Server, Twitter, and Facebook.