Activision is the publisher of Blizzard's massively popular Warcraft universe. Female employees recently filed a lawsuit against their company, alleging that they had been paid less than male counterparts and subjected to harassment since joining in 2009. Esports has also come under fire for its lack of diversity, with many ignoring calls to include all walks of life by embracing gaming culture from an older white male perspective.,
The "blizzard activision" is a company that has been in the news recently for not paying their employees equally. Blizzard's Mike Ybarra and Jen Oneal have spoken out about the issue, which Activision has denied.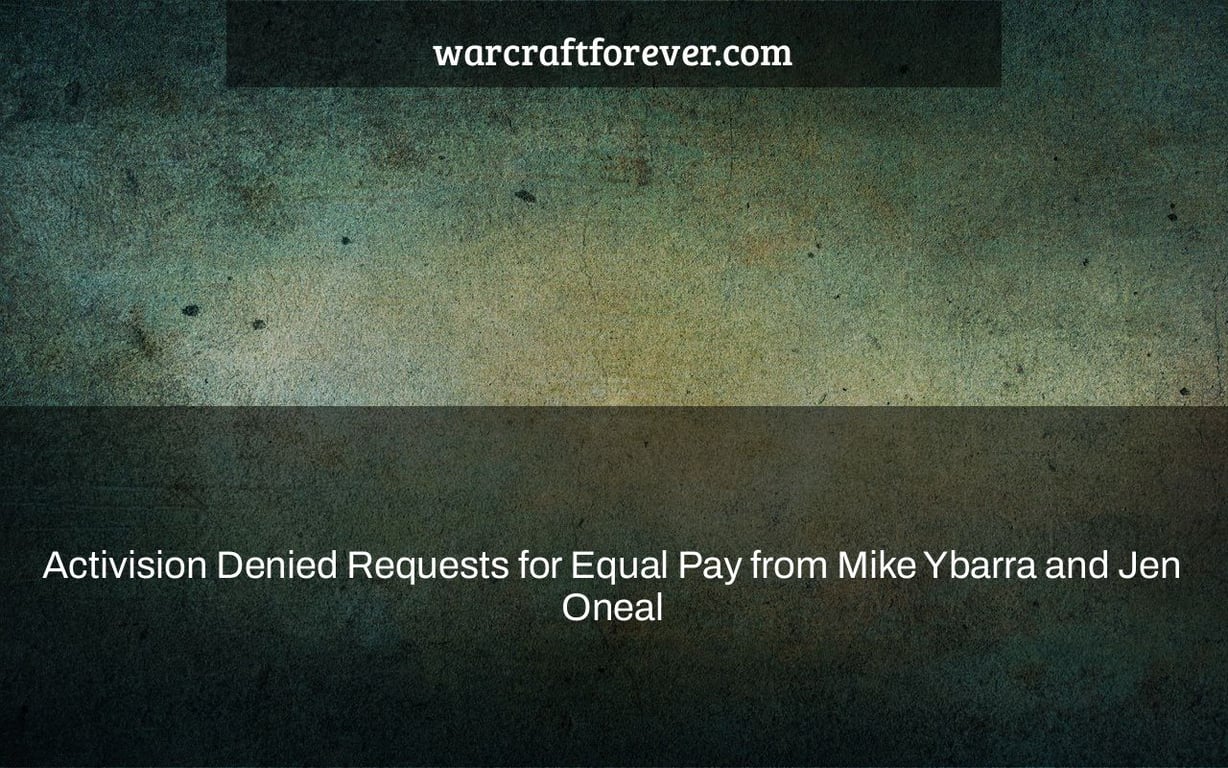 Following the Wall Street Journal's explosive article yesterday that showed former Blizzard co-leader Jen Oneal being paid less than her male colleague, current boss Mike Ybarra sent a series of letters to Blizzard workers. According to IGN, Ybarra claimed that he and Oneal originally took on the job of co-lead using their current pay rates, but that Activision refused to pay them equally on many occasions.
Mike Ybarra, courtesy of IGN
"Please check the email I wrote this morning, Blizzard. Many leaders, I'm sure, have scheduled meetings with their teams throughout the day. This is a trying period for all of us, including myself. I've been questioned, and I'd want to be clear: Jen and I told management that we wanted to be compensated equally to co-lead Blizzard."
"As a leader, I am completely committed to equality in its fullest meaning. I share our ambition for change and progress as a team. I'm dedicated to nurturing it with all of you in order to help Blizzard become all we want it to be. I'll be sending out a video to everyone in Blizzard soon. Thank you, and please know that I am absorbing today's news — and, like many of you, am suffering in certain areas."
He went on to explain why they were paid differently in the first place, saying that they were hired on their current payscales, which makes sense given how swiftly Activision replaced prior President J. Allen Brack.
Mike Ybarra, courtesy of IGN
"Jen and I were both on existing contracts. I ran Battle.net & Online Products and she ran Vicarious Visions so our pay was different. The first time both Jen and I were offered a new contract, it was the same across both of us for the new co-leader of Blizzard roles, so our compensation was going to be the same."
However, the new deal wasn't provided until after Oneal had quit, ostensibly to prevent the same public catastrophe that Activision has found itself in once again. Oneal, for her part, is shown as having reached the limit of her tolerance with Activision, with the sole saving grace being that both stories paint Ybarra as sincere in his pursuit of fair recompense.
Jen Oneal, courtesy of IGN
"When Mike and I were assigned to the same co-lead job, our prior salary was not comparable. It stayed that way for a long time, despite our repeated efforts to convert it to parity being denied."
"While the company informed me before I tendered my resignation that they were working on a new proposal, we were made equivalent offers only after I tendered that resignation."
This chain of events would be hilarious if it weren't so serious – for a company to respond to allegations of gender pay disparity by simultaneously elevating a high-profile man and a high-profile woman, only to pay the woman less, is not only tone deaf, but also contradicts Activision COO Daniel Alegre's earlier claim that men and women were paid equally.
More significantly, this might have far-reaching consequences beyond tarnishing Blizzard's already soiled image. The California DFEH investigation of Activision Blizzard focused significantly on pay difference between men and women, however that aspect was left out of the EEOC's settlement, signaling that their equivalent inquiry didn't uncover enough evidence to make it part of the settlement.
While Activision may have been able to argue that the two held the same title with separate responsibilities or that Ybarra's greater executive experience justified higher pay, the public statements of these two high-profile executives show that they both filled the same role and argued for equal pay, but were repeatedly denied… which is not only a bad look for Activision, but may also serve as the lynchpin for the DFEH to renew their investigation.
Watch This Video-