As the cost of creating addons for Blizzard games such as Warcraft, Diablo III and Starcraft II continue to go up, developers are starting to create their own mods. WowUp is a new gaming platform that allows third-party developers like Overwolf to build these types of "free" products within an already established game.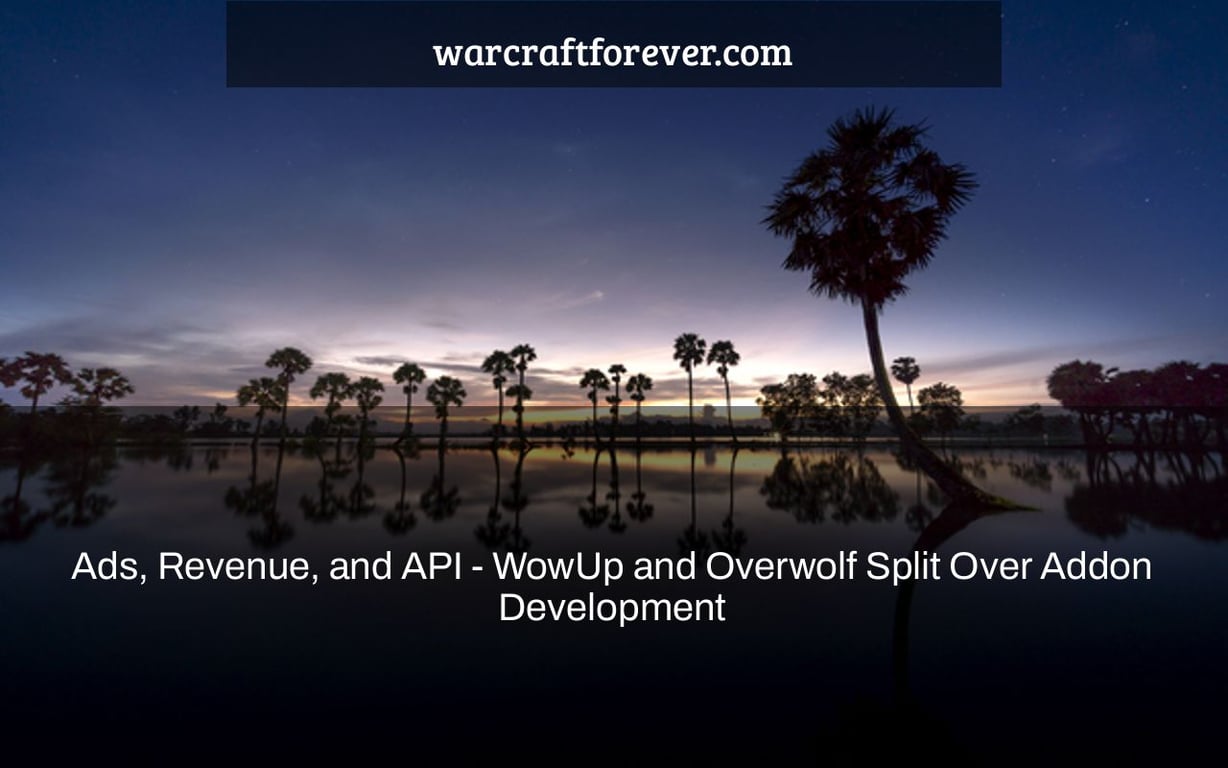 Following Overwolf's refusal of their application for API access, the popular third-party addon manager WowUp will no longer have access to CurseForge addons. The CEO of CurseForge indicated in an update on the usage of their API that WowUp's recent decision to collaborate with addon hosting competition Wago.io would prevent them from working together. As a consequence of the ongoing battle over developer remuneration, World of Warcraft addon producers and their distribution methods are becoming more polarized.
Ads are what they mean when they say "changes to their customer."
Turning a Blind Eye Is No Longer An Option
Since taking over CurseForge and its massive addon library in 2020, Overwolf has been embroiled in a debate about the role of third-party addon managers that download addons via the CurseForge API. While Twitch may have turned a blind eye to the practice, which may have influenced their decision to sell the platform, Overwolf sees scraping and unauthorized use of their API as a serious threat to both their business and addon creators' earnings, due to the increased strain on their own infrastructure. Essentially, the argument was that they were not rewarded for the usage of their infrastructure, which prevented them from paying addon writers.
Overwolf
CurseForge does not have an official API for third-party downloads from its servers. Reverse engineering the communications between the Twitch Client and the CurseForge backend is how some addon managers function today. Someone reverse engineering the Spotify app to play music from Spotify's servers without Spotify's or the artists' permission is an excellent example. Unauthorized usage of the CurseForge API creates problems that must be resolved. Especially noteworthy:
The authors did not grant their permission for their works to be released outside of CurseForge.
Because CurseForge has no method of evaluating interaction outside of its own ecosystem, authors' incomes will be affected, and the rewards scheme will undergo modifications.
Downloads from third-party services depend on CurseForge servers and CDN, incurring significant expenditures and providing no compensation.
New Competition is Created by Restricted Access
To address these difficulties, Overwolf announced intentions to limit access to their API, giving only authorized third parties that agree not to commercialize downloads access, while enabling addon writers to choose whether or not their project would be exposed to those addon managers. WowUp established a cooperation with Wago.io, despite Ajour and Cursebreaker deciding to shut down rather than operate under the new conditions. The Method-owned WeakAuras repository has began hosting its own addons as an alternative to CurseForge, and while being minor in comparison, Overwolf has noticed the rivalry and has denied WowUp's application for API access, citing their exclusivity agreement.
Competition is something we like. Better goods and a more developed community result from competition. Our ultimate objective has always been for users to select CurseForge because it is the greatest method to support addon creators and the finest product available, rather than because it is the only choice. However, although we value variety in the marketplace, we are unable to fund the expenses of the competition, which is based on Curseforge infrastructure, information submitted by addon authors, and our server and CDN fees.
The Battle for Developer Compensation for Addons
While some users have criticized Overwolf for in-app advertisements and data gathering concerns, the issue is primarily between addon creators. Overwolf promised to improve developer profits by 50% by 2022 when it took over CurseForge, and has subsequently announced a 700% increase in average monthly earnings. Of course, many users dislike advertisements, but the fact remains that advertisement revenue is how most websites and non-paywalled services make money and cover operating costs while allowing general public access to the service for free – a relationship that dates back to radio's golden age in the 1920s and television's rise in the 1950s (although advertising itself has been around as long as history remembers).
Some people switched to third-party managers to dodge the advertisements, but utilizing CurseForge's API without earning cash damages the artists who rely on it for their livelihood. DejaBlue, the creator of DejaCharacterStats and numerous other addons, already discussed the WowUp x Wago relationship on Reddit and addressed the problem of pay.
Anecdotally, I have around 150K DCS users and 75K DCS Classic users. Users just do not give to popular mid-sized extensions like mine, much alone hundreds of lesser additions. There are a variety of reasons behind this, including the bystander effect, ambiguity about author identity/authenticity, and the view that addons are a hobby that should not be profited from. During late Cataclysm, I began creating addons. I earn more money from Curse's ad revenue split in a month than I have in contributions for all of my addons combined over the previous 9 years, including the last 5 years of DCS.
WowUp will also have advertisements.
WowUp users who have been cut off from CurseForge will be unable to access their addons unless they are hosted elsewhere. The Wago repository substitutes it for most people, but only if they also permit advertisements. Although this will be an opt-in procedure, it will imply that utilizing WowUp to download from Wago will need allowing advertisements.
WowUp Patreon, through jliddev
Users will, however, be needed to have an ad shown in the app's corner in order to utilize the Wago.io addon provider. "Ads!" you may be thinking. WowUp is what I use to escape advertising!" The good news is that it is still possible. If you don't want to see adverts in your WowUp, just choose not to utilize the new Wago.io addon provider and they won't display.
While many addons are currently hosted on "free" sites like WowInterface (which has ads but doesn't pay creators) and Github (which is monetized through a series of subscription plans and third-party app sale fees), this may not always be the case if addon developers who have dedicated their livelihoods to maintaining these projects decide to remove their work from distributors who don't compensate them. Addons require time to develop and maintain, and hosting addons and download servers costs money, yet no one wants to work for free, whether it's via Patreon, Twitch, Overwolf, or ad income.