The jailer encounter cinematics of the first time players in Sepulcher of the First Ones are one of my favorite parts about this game. This article analyzes and discusses them, including details on how you can pull off a similar strategy with your own characters.
The "the jailer wow" is a quest in the Warcraft game. The quest involves an encounter with a jailer, who will ask you to kill him and his family. However, he has been corrupted by the Sepulcher of the First Ones, so killing him and his family will not help at all. Instead, you must convince them that they need to be saved before they die.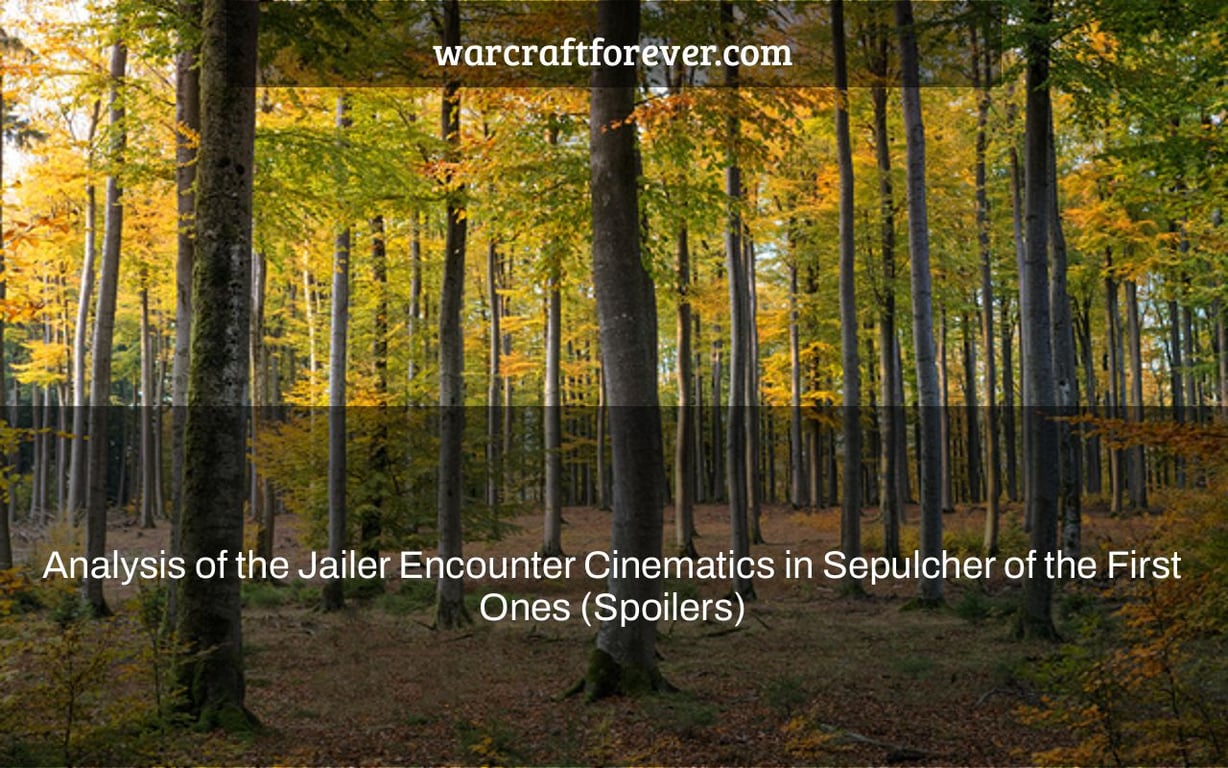 The Jailer is dead, ding, ding, ding, ding, ding, ding, With the release of the second phase of the Sepulcher of the First Ones raid this week, players were able to confront and destroy the raid's last three bosses: The Lords of Dread, Rygelon, and, of course, the Jailer: the Shadowlands' big evil. We learnt that the Jailer was attempting to harness the might of Azeroth via the Forge of Souls under Icecrown Citadel, and that he was employing Azerite in his battle.
The Jailer Fight's Warm-Up
We arrive at the Jailer's boss chamber, fresh after our win over the Dreadlords Kin'tessa and Mal'Ganis, as well as the controlled constellar Rygelon, to find him with his back to us. He doesn't seem too bothered by our presence; his back is to us as he starts to give a speech, some of which may be known to you. We see him standing above an Azeroth globe, and the scene shifts as he reaches out.
Zovaal: Do you have any idea how long I've been waiting? Every event is put in motion by Zovaal. Every pawn has been placed in the game.
After the events of Battle for Azeroth, the Jailer has reached into the Forge of Souls under Icecrown Citadel to harness the might of Azeroth, wounded and defenseless. A gigantic Azerite beam bursts up through Icecrown and across the broken sky as we watch. We're reminded of the Shadowlands advertising photographs depicting a similar situation as the Jailer eventually turns to face us, Azerite pouring behind him. In the Shadowlands' Introduction quests, the Jailer warned us that Death is coming for the soul of our planet. It seems like Death has taken it now.
All for the sake of reclaiming the power that lies dormant inside your universe. The wounded, defenseless soul of Azeroth, brimming with potential that I shall utilize to destroy this faulty reality. Your world's soul has been taken by death. Now, mortals, bear witness to Eternity's End.
Zovaal has been defeated.
Of course, the Jailer may have spoken too soon, given our victory against Zovaal. Following the confrontation, a second cinematic plays, hinting at what's to follow.
The armor that Zovaal is wearing begins to melt away as he falls to his knees. As we see glimpses of what has transpired – the soul of Azeroth flooding into the Shadowlands, Zovaal in full armor, Zovaal as we originally knew him, wearing just his shackles and collar, an empty spot where his heart used to be – as he shouts out, his life appears to flash before his eyes.
Zovaal: This can't be right!
When the other Eternal Ones, startled by his ambition to use the power of Zereth Mortis to transform reality, stripped him of his responsibilities and condemned him to his duty as the Jailer of the Maw, his memories begin to calm, and we know we are watching his judgment. The Eternal Ones are standing over Zovaal in these memories, accusing as they rebuke him. The Archon is stunned by his dereliction of duty. The Winter Queen is enraged that the cycle of Life and Death is in jeopardy. Sire Denathrius, who would eventually join the Jailer, seemed to largely chastise Zovaal for not taking another path.
The Archon: You have disobeyed your duties as Arbiter, and you will be bound for the rest of your life. The Queen of Winter: Your insanity has put the whole cycle of Life and Death in jeopardy. Denathrius, Sire: You might have gone a different route, brother. Consider what we might have done if we had worked together.
Meanwhile, we watch as Zovaal writhes in anguish as his armor burns off him, similar to how Anduin's Domination armor fell off him – only that in Zovaal's case, it doesn't end with his armor. He watches as his hand begins to morph into the vessel from which he, like all of the Eternal Ones, is produced.
The Primus appears as we see Zovaal shackled and on his knees. We never see the Primus in this film, but we do see his shadow thrown over Zovaal as the shackles that bound him clink.
When the Primus asks Zovaal why, we hear something the Eternal Ones never told us about when they told us about this story: Zovaal's own explanation of his acts.
The Primus is the most powerful being on the planet. What's the matter, Zovaal? What drew you to this conclusion? The Jailer: You hold on to what is doomed. A split universe will not be able to withstand the coming events.
The Jailer has been blatantly malevolent throughout the Shadowlands, almost cartoonishly so. We've never seen Zovaal act in a manner that isn't stereotypically evil, from the time we saw him dismiss Baine as "unworthy" through the beginning of our struggle with him, when he informed us Death claimed the soul of our universe. That's why it's so unsettling to see him humanized for the first time – his face seems to soften as he reveals his intentions.
The picture shifts to the present, when we see Zovaal, now completely converted into his vessel form, uttering his warning as the light in his eyes fades – and the rift between the Shadowlands and our world closes.
The split between realms has mended, leaving us with a sad-looking empty vessel and a warning about a peril called "what is to come."
What Does the Future Hold?
The universe is split into six primary forces, as we can see from the Cosmology charts in the Chronicles volumes and the Grimoire of the Shadowlands: Life and Death, Light and Shadow, Order and Disorder. There have been a few suggestions of a seventh cosmic force, however. This seventh force, according to a series of lore books discovered in Tazavesh and penned by our buddy Firim, may be the one who created or arranged the rest of the cosmos and keeps all the other forces in place.
These six forces were at odds. Well, not trouble in the sense that you or I would understand it. There is opposition, but it is uncertain if it is malignant or benign. There existed an imbalance until something more was required.
They came together (or were brought together, depending on how the fractal is interpreted) to develop their design. Forged? Scribed? Shaped? It's difficult to pin down the specific term. Each architect contributed a bit of themselves, and the pattern was formed as a result.
The language gets clearer from here on out.
– Part 2 of Expedition Report A37J, page 3
There are six kingdoms in all. There are several junctions. There are many fractals.
Are you in a good place? Possibly. However, this might be incorrect. What is the other if six equals one? The one that isn't part of the pattern.
– Part 2 of Expedition Report A37J, page 6
The same texts also include suggestions that all six cosmic forces are pursuing Azerth's strength, and that a seventh, unknown entity may be interested as well.
Good reader, I have a few final questions for you to consider.
What if the mortal plane isn't some faraway corner of existence established by the First Ones to provide us with souls and anima, as many people believe?
What if it's the very center of reality, where Death is only one of many powerful forces at work?
– Part 4 of Expedition Report A37J, page 4
We've previously suggested that the mysterious "First Ones" represent the seventh force, as Steve Danuser said in an interview early last year:
Clearly, they were these enigmatic and powerful people that designed the Universe's core structure, of which the Titans, the Pantheon of Death, and Pantheons of all these diverse influences are like the next layer down from those First Ones, those Universe's progenitors.
We anticipated to encounter the First Ones when we arrived in Zereth Mortis. After all, Zereth Mortis is their workshop. However, they have not been spotted in any way. Though the Enlightened and the Eternal Ones seem to think of them as always being good, we have no means of knowing for sure.
However, there's reason to assume Zovaal's threat isn't directed at the First Ones. We return to Firim's writings once again, when he mentions a power outside of the universe that isn't necessarily the seventh force he mentioned before.
What does this indicate about mortal souls and their potential if it's true?
And if the six (or seven, or… pardon my imprecision) vie for it, may they be motivated by the unconscious knowing that there is another power beyond our comprehension that also wants it?
– Part 4 of Expedition Report A37J, page 5
It's too late to ask Zovaal for further information about whatever he was attempting to warn us about. Even though we've defeated the last raid boss, the Shadowlands are far from ended.
The End of the Shadowlands Story Hasn't Arrived… Perhaps in 9.2.5?
We already know Shadowlands will receive a patch 9.2.5 since that's when we'll be putting cross-faction play to the test, but there's reason to assume 9.2.5 will also deliver additional – and, more crucially, definitive – narrative material.
The Secrets of the Initially Ones, 9.2's main plotline, had eight chapters when it was first released on the PTR. The third chapter, on the other hand, was never accessible to play on the PTR, and it vanished completely long before 9.2.5 was revealed. 'Epilogue: Judgement' was the title of this chapter. We believe that the narrative that was supposed to be presented in this chapter will instead be included in that patch. It's worth noting that some of the sentences we datamined, such as Sylvanas' statement that she submits to Tyrande Whisperwind's judgment, have yet to be discovered in the game.
What we do know is that the plot will be wrapped up eventually, and that the Sanctum of Domination cinematic climax will not be it. In a recent tweet, Steven Danuser clarified: