This guide is a player's analysis of the new 9.2 tier set bonuses, with an emphasis on how they are achieved and advice for their practical application in-game. No matter your role or spec, you will learn something about yourself by reading this guide because it covers every ability and trait at level 100.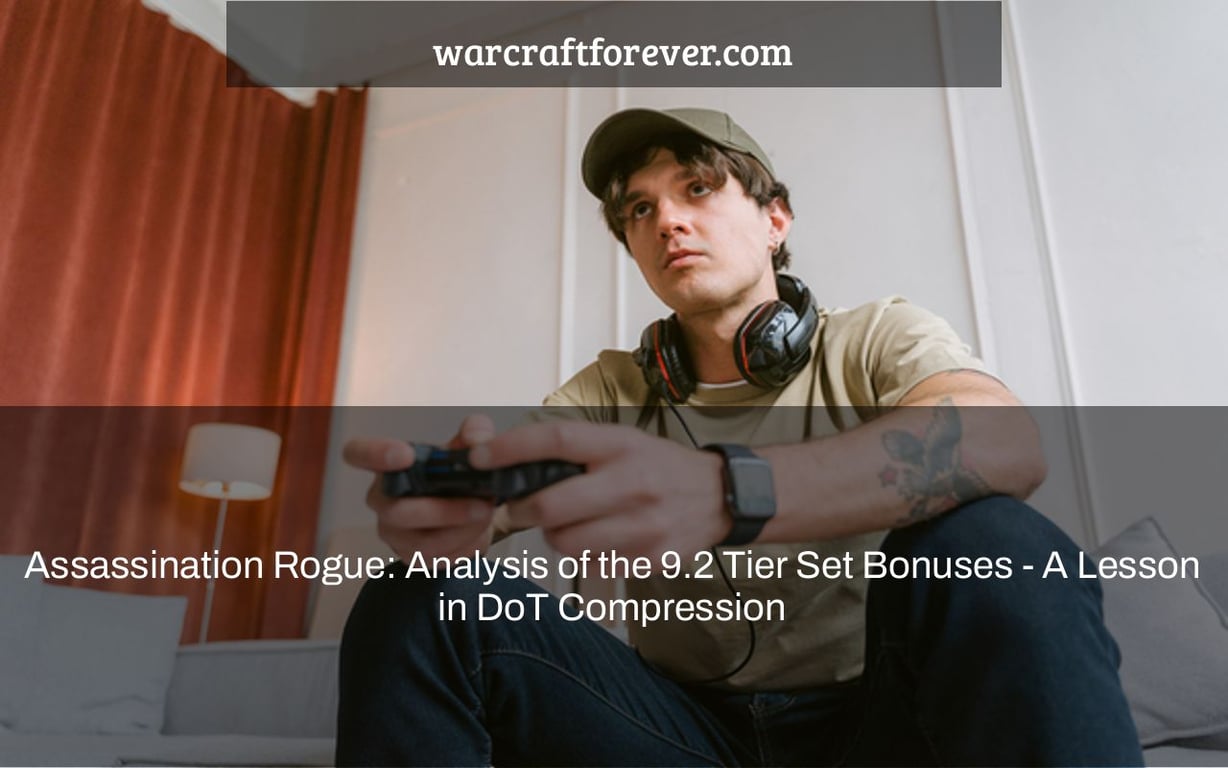 For their 9.2 Tier Set bonus, Assassination Rogue got a revamp and bugfix in the latest two PTR releases! Whispyr, our Guide to Assassination Rogue Writer, has updated his hands-on look at all of the latest improvements to the Assassination Rogue Tier Set bonus, including debunking fallacies regarding DoT compression.
The Rogue Tier Set perks will be fine-tuned in the near future.
Changes to the Assassination Rogue Tier Set Bonuses
2-Set –   Shiv causes enemies within 15 yards to take 100%40% increased damage from your Poisons and Bleeds for 9 seconds.
4-Set – Grudge Match – Vendetta causes Poisons and Bleeds on your target to expire 100% faster.
Whispyr, the author of our Guide to Assassination Rogue, has expanded on the Assassination Rogue Set bonus modification.
Updates and Reworks Following the initial disappointment of the 2 set bonus Grudge Match, it's refreshing to see a buff to the effect. The effect now reads "Shiv causes all enemies with 15 yards to take 40% increased damage from your bleeds and poisons". This is a welcome change especially for the mythic+ enjoyers as this will give a notable increase in aoe. The increase in single target is also quite potent and the set is breathing new life after the rework. There are still a couple of quirks that I feel should and need to be addressed, but the set as a whole is in a good place, and if it were to go live tomorrow, would be a welcome addition to our toolkit. I do however like talking about things, so this is going to be a bit longer than usual. If you aren't interested in any of it, here's a TLDR:
Originally, I said that the two-piece needed a great deal of affection, and maybe even a bonus. This is the kind of love it required. Even at 40% on Grudge Match, it's still going strong. Night Fae and Venthyr both seem to be promising covenants for the next patch, and there is a lot to be excited about. Snapshotting is an odd concept, but it turns out to be a game that affects change, which is a good thing. The absurd amount of energy we acquire from the higher tick rate in Grudge Match is also a nice change of pace every now and then.
Numbers for the ardent For those who are interested, I'll go through some of the predicted benefits from the set bonus right now, as well as how that affects legendaries. If you want to look at the simulations for yourself, here's the link to my simulations google sheet: Worksheet for Simulation. This is updated on a regular basis, and it's also accessible on Ravenholdt's Rogue Discord. I'm always accessible on Discord to talk about anything related to this. Please do not hesitate to contact me!
To recap, Grudge Match is now averaging between 6% and 8%, depending on covenant. Serrated Bone Spike and Sepsis, the covenant abilities for Necrolord and Night Fae, respectively, benefit directly from the bonus, although the skills from Kyrian and Venthyr do not.
On top of that, the four-piece effect Grudge Match adds around 10% more, bringing the overall value to approximately 16-17 percent. There is currently a snapshotting fault with the 4 set, which is difficult to nail down the value of. There's a fair possibility it'll go live, but it's something worth mentioning and keeping an eye on while further tweaking takes place.
Wait, which effect is snapshotting? When you take a closer look at the set bonus, you'll notice some…interesting things. Some of them have already been addressed by our blue article, while others are more deeply embedded in the impacts. It was noted in that thread that the four-piece effect Grudge Match causes DoTs applied before Vendetta expires to remain at 2x speed after it has expired. Although this is classified as a bug, it was purposefully kept in to get feedback on the gameplay. Personally, I find the overhang unintuitive, and I've always been opposed to snapshotting effects, but I must concede that knowing about the overhang adds richness to the game. Assassination has always been a straightforward spec, and having something to think about, spicing up the cycle, is something I've wanted to do for a long time. Snapshotting, on the other hand, has drawbacks that, in my opinion, exceed the benefits it provides in terms of skill expression.
With the aid of Flagellation, the primary side effect may be simply described. For those unfamiliar with the effect, it provides 1% haste every combo point used within the first 12 seconds, and it lasts for another 12 seconds. When used with the tier bonus Grudge Match, this spell creates some fascinating interactions. The tier bonus photographs the tick rate at the time you cast Rupture as the initial combo point spender. Following that with another combo point spender, like as Envenom, may boost the impact of Flagellation by 4-5 percent haste, but since the Rupture tick rate was taken on cast, this extra haste will be useless to the Rupture. After then, casting a new Rupture will take a snapshot of the updated haste value, and the cycle will repeat again. Let's fast forward to the conclusion of Vendetta. The overhang on DoTs applied before the vendetta ends will continue to be snapshot, as stated above. Because Flagellation lasts a total of 24 seconds (the 12 second build up, followed by the 12 second linger), the linger's length isn't that that important, resulting in the last 4-5 seconds of the linger having no direct effect on any DoTs, as they were already snapshot. To me, the inconsistency of the snapshot surviving beyond Vendetta's expiry, combined with the additional 4 seconds of stats from Flagellation not influencing the bleeding, gives a confusing understanding of ability interactions for the general public.
There is, however, some further ambiguity. The tick rate is snapshot, but the full Rupture is not, and the damage will continue to alter dynamically. Playing Venthyr in the upcoming patch, for example, will need us to also play the covenant legendary Obedience. Flagellation also grants 0.5 percent Versatility each stack when obeyed. Because this has no effect on tick rate, removing Flagellation and consequently the Versatility would alter the bleed's damage. Vendetta's expiration would also remove the 30% damage boost, but keep the tick rate.
These two interactions, in my perspective, are really paradoxical, and we observed the same perplexity with the talent with the similar impact (Exsanguinate) at patch 8.3. Many folks hear "snapshot" and think they understand what it means, but they don't realize that it just refers to the haste/tick rate of the DoTs being sped up, not the full hemorrhage.
In 8.3 with Exsanguinate, it was extremely usual to get your bleeds up, cast all your cooldowns, pop any on-use trinkets, then use Exsanguinate, the bleeds tick out, no questions asked. However, there is a major gameplay factor with this tier set iteration that must be exploited by method of renewing bleeding as near to the conclusion of Vendetta as feasible. I'd want to emphasize that I support skill expression and the addition of knowledge to the standard. I merely have a different perspective on how to get there. Instead of learning about snapshotting from some geek on wowhead, I believe the game should give reasons and explanation for the nuances. For instance, "casting Envenom prolong Vendetta by 0.3 seconds every combo point used" may have been a short illustration. Setting up your dots ahead of time and carefully controlling pandemic clocks would allow for an extra finisher in Vendetta, as well as more energy from the 4 piece bonus, which would flow into other features like Duskwalker's Patch, and so on. Hidden features like snapshotting, which have been phased away over the previous several expansions, should not, in my view, be used to achieve further complexity.
Squashing Bugs The overhang on snapshot bleeds lasting after vendetta ends, as I indicated above, is now considered a bug. We'll have to wait and see if this impact persists in the future.
The second issue is that Deadly Poison does not operate properly with the four-piece bonus. While performing Vendetta increases the tick rate of Deadly Poison, it does not speed up reapplication (and hence refresh of the poison). As a result, the bonus's poison component is essentially non-existent. Although the DoT component of Deadly Poison isn't a significant element of our total damage breakdown (less than half the value of Garrote), it does reduce the power. The developer has also highlighted this issue, which will be addressed.
In addition, the following effects work with the set bonus in the blue post:
I'm not sure what to make of this list, but I understand the impulse to "it says bleed/poison, thus it works!" This kind of simplicity in tooltips is frequently overlooked these days, and making them more understandable to a new player or a less experienced rogue is commendable. Take the case of Doomblade, for example. The bleed effect (Mutilated Flesh) is proportionate to the Mutilate's damage, and it compounds on itself in the same way as Mastery: Ignite from Fire Mage does. If it works with the two-piece bonus Grudge Match, it will allow a legendary to profit directly from borrowed power, which isn't the expansion's basic design philosophy. Other legendaries, such as Mark of the Master Assassin, have been whitelisted to avoid conflicts with the necrotic wake's special weapons (Bloody Javelin and Discharged Anima). Shiv has no effect on nature-damaging trinkets like the Phial of Putrefaction. Vendetta has no impact on trinkets or external effects. Winds of Winter, for example, are not compatible with Master Assassin. External effects have a long history of not interacting, and having Doomblade suddenly be impacted is a strange anomaly, in my view. Furthermore, items that should follow the same logic, such as Essence of Bloodfang, do not function with the tier.
Neither of these legendaries (Essence of Bloodfang or Doomblade) seem to be competitive at the moment, thus this shouldn't affect anyone's min-max strategy.
compression compression compression compression compression compression compression compression compression compression compression compression compression compression compression compression compression compression compression While the tier set is strong, it raises the issue of damage over time effects being compressed and how that fits with assassination as a whole. Expedient stacking made Exsanguinate the go-to talent option for the rogues of 8.3, therefore the snapshotting problem isn't new to them. Exsanguinate, on the other hand, has been one of the worst, if not the worst, talent on the tree this expansion. This is due to a lack of buffing effects that enable the compression to function properly. Due to a lack of awareness of the real value of compression effects like Exsanguinate and Grudge Match, the problem is that they don't truly do as much damage as people believe they do at baseline. Grudge Match has been compared to "100% greater damage during Vendetta" by a number of people, including ordinary players, broadcasters, and high-end raiders, so let's take a closer look at what the impact truly does.
Consider the case of Rupture. When you use the set bonus on Vendetta, it ticks twice as quickly and lasts half as long. The dot's total damage, on the other hand, has remained unchanged. It still produces the claimed 1000 damage (for the sake of argument), but it ticks over 10 seconds instead of 20. That's a 100 percent increase in damage per second on paper. The crucial portion here is the per second. You might have used those resources on a different finisher, most likely Envenom, instead of that Rupture. When considering the damage gain of a compression effect, keep in mind that you aren't earning "free" Rupture spells; instead, you are just substituting Envenoms with Ruptures.
In order for the benefit to be evident, you must first understand why having more ticks in a smaller window is beneficial. The advantage in 8.3 was crazy haste, which increased the damage of Shrouded Suffocation. Grudge Match's benefit is the associated two-piece Grudge Match, as well as its connection to Vendetta, which also increases damage. The tier bonus's effectiveness is due to these time-sensitive factors. The damage increase isn't particularly great without additional effects on top to enhance the compression. Rather of attempting to look at things in isolation, think about a benefit or an impact with all of the components. When you go too granular, it's easy to miss interactions.
This does, however, imply that the two benefits are linked. They must both exist in order for the other to survive, yet Exsanguinate has never had a mate to enable it to do so. That dependence on borrowed power, in my view, makes the skill an uncomfortable addition to the tree. Many skills, including Master Poisoner, Blindside, Nightstalker, Venom Rush, and even Hidden Blades, might benefit from some number adjustment. Exsanguinate, on the other hand, dies without any borrowed force. I've tried buffing Exsanguinate with and without the tier set, decreasing the cooldown to 30 seconds, increasing speed by 150 percent, 200 percent, 400 percent, and even giving the character 120 percent haste and utterly insane stats, but Exsanguinate just doesn't stand a chance. Finally, Grudge Match is a fantastic temporary impact for this patch, and we've seen in the blue postings how the frenetic gameplay has a strong thematic drive, which I agree with. I just wish this was either leaned into as a permanent choice (since the talent and semi-connect row of Subterfuge and Nightstalker already exist) or eliminated as a permanent option and replaced with a temporary power as the 4 piece bonus already exists.
Final Thoughts Overall, the bonus is entertaining to use, the damage is well-tuned, and now all we have to do is wait to see what future class adjustments will bring. As is the nature of testing, there are still a few outliers in terms of other classes and standards, but I am hopeful that we will arrive at a balanced state. I believe the skill expression and learning that the community must do in order to maximize it is a great drive for many aspiring players, and I think the snapshotting oddity on the 4 piece may be an intriguing adjustment to the rotation. In 9.2, Rogue is still at the mercy of damage numbers, but I'm optimistic that our single target damage profile will allow for a powerful Rogue tier in the future.
Guide to Assassination Rogue
Watch This Video-