The latest patch for World of Warcraft has a new tier system, with four tiers ranging from 10 to 100. Players can now earn War Resources and Battle
Resources in-game, which are used in the following ways:
a) Tier Sets – players will be able to purchase sets of gear that match their current level range up to three times per week via gold or real money; b) Inscription Items – items bought using gold that count as your highest ranked item until you decide otherwise and are stored on your account without being bound; c) Emblems – mounts have been replaced with emblems, which can only be obtained by playing through tiers 1-5 while having an emblem available at each tier. What do you think? Are these changes fair?
Blizzard has released a blog post about their design process for the upcoming patch 9.2. The blog post includes a list of goals, power and acquisition that they had in mind when designing tier sets for this patch.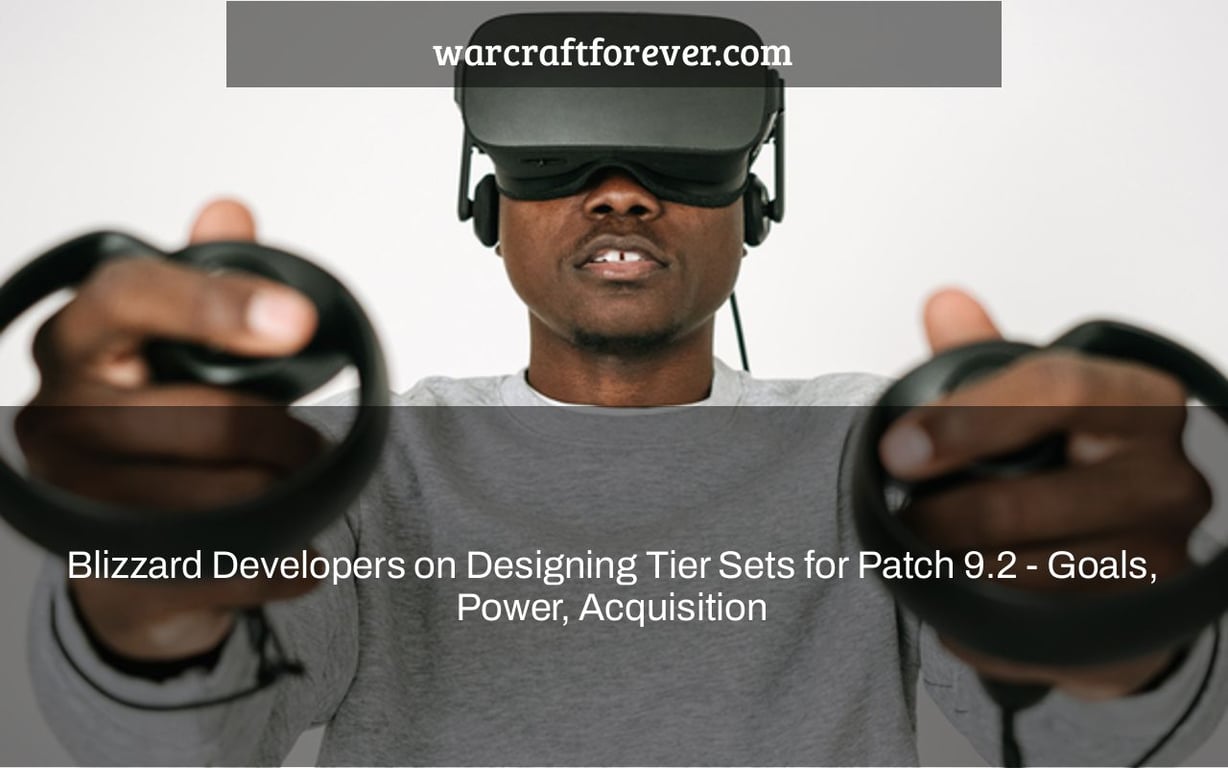 Scariizard
Hey! These are all really good questions, and I'll do my best to answer them in a way that's hopefully transparent enough to provide some insight and not so vague as to be frustrating. A few disclaimers & some context before I start to set the stage: I was only personally responsible for a fraction of the set bonus / acquisition initiative (Rogue/DK/Part of Warlock w/ Frozzo), so I'm going to try to center on my experiences to open the door for my other teammates to engage with their own perspectives on this.
'What do you think the ultimate aim of a tier set is, according to the team?'
Approaching Tier Sets or Class Sets was interesting because there's so much history associated with them that caused a lot of perception & expectation for us to manage heading into the project – namely, how do we make good on those implicit promises without players feeling let down by their return without creating unrealistic design goals for ourselves to stack up against. This whole post is gonna get real philosophical btw, so sorry/you're welcome lmao.
Tier Sets have always been powerful upgrades to your character, but the idea that they've significantly changed your gameplay or enhanced your fantasy is more of a modern idea as far as WoW's lifetime is concerned. Even going back to the Wrath & Cataclysm eras, the design of some Tier Sets were clearly adhering to a different expectation than players have today. It's absolutely true that some instances of raw stats additions like resource regeneration functionally changed the rotations for some classes (you got to use certain spells at different frequencies), but for the most part they were just flat upgrades that didn't interact with your character, and in many cases they weren't even unique (I want to say even as far back as Mists/WoD it was common for some classes or role types to share a functionally similar 2-piece or 4-piece bonus).
Even among those expansions, though, a few Set Bonuses often rose to the top of the discussion. As a Frost DK'main,' I'd say Nighthold (surprise) had the most impact on me, but every class/spec has a few defining memories of a design that was so cool it improved the entire patch – some even ended up as baselines, talents, or riffed on/referenced in Legendaries, Conduits, and other later content. With 9.2, we wanted to design Sets that elicited as many of those reactions as possible. As a result, a rough description of our objectives for 9.2 was that Set Bonuses had to accomplish either (or, if feasible, all) of the following:
a. Make a significant alteration to your spec's rotation. b. improve your spec's fundamental fantasy, or allow other aspects of that fantasy to shine c. improve the mechanical identity (or 'niche') of a spec d. (hidden extra aim – since these sets don't exist in a vacuum, offer bonuses that work well with the metagame mechanisms already in place, so they seem logical and synergistic rather than opaque and disruptive. It'll be difficult to achieve perfection on this one, but it's still a goal.)
I'm not citing an actual text here, and not everyone will agree on what these terms represent, so I'll go through them in more detail later down. However, the ultimate objective is that by following these criteria, we will have a better chance today (and in future tier sets) of creating more of those enduring gaming moments that players will tell tales about in the future. And, as a bonus, we get to experiment and learn more about what players enjoy and don't like in ways that don't need a full-scale class rebuild or upgrade, which players would anticipate in conjunction with bigger or more major improvements.
What criteria are used to determine Tier Set bonuses?
Lots and lots of iteration, with those above goals as our sort of guiding star. For us, we chose/assigned classes based on comfort & generally speaking who was most passionate about which ideas. From there, we'd each just show off our ideas, give and take feedback on the designs, and tweak them until we liked them enough to show off in one big blast, like we did back in November PTR (I think? time is fake). I think for 36 bonuses our team had a pretty good reception generally speaking, which made me happy to see knowing how much work was put into the whole package.
For DK Frost Glacial Advance, a skill that has never seen much play owing to the opportunity cost of its talent row, was something I wanted to see tapped into through a new activator. The Assassination bonus depicts a slightly repackaged version of their Exsanguination skill, which, like Exsanguination, isn't used very often but may be quite useful in certain situations. There are a few of these bonuses that aim to leverage on or extend the kind of design space for specific specs, riffing off of abilities or past effects that didn't work for different reasons but have a new life in a Tier Set.
Let's expand on Frost's point about mechanical identity or niches: Death Knight's DPS specs, in particular, don't feel mechanically distinct enough from one another, resulting in even a slight advantage in one being stronger in a current patch causing a massive shift in spec swapping due to their similar output. One of the goals of 9.2's DK sets was to push these niches even further, with Frost having a more constant AoE/Cleave presence and Unholy having even more power when it came to heavy mobility + execution, making it a safer Raiding spec so far this expansion.
Players may respond, "Why not simply redo them?" in response to some of the issues I just highlighted with DKs or some of the talents listed, but it's here that I personally see how essential Tier Sets can be in terms of the experimentation I said earlier: Frost as a cooldown-based burst cleave spec versus Unholy as a single target execution spec is just one example of how both classes may be tweaked or developed further in the future, and isn't too far from how they're already employed, thus a Tier Set that pushes that dichotomy further has actual worth. The initial form of the Unholy bonus, for example, went way too far towards pure Execute, which players immediately resisted – but a blended version that's more interwoven into their 'Undead Commander' imagination appears to have fared better.
Bonuses like these allow us to not only test the waters to see what you like and don't like, but they also allow us to give sets texture against one another as we move forward – a bonus that was heavily interacting with X or Y in the past might focus on a completely different part of the spec in the future, which really taps into the depth of our combat and classes over time.
I could probably speak about how great the settings are or how they accomplish their aims for hours, but I'll probably make this section of the article short. My last point is that having a variety of perks is also vital. That's to be expected when you have multiple designers competing with their own styles, but it's also important to remember that something that doesn't work for you (a crunchy numbers-focused bonus with a clear mechanical output, or higher-fantasy stuff like some of Warlock's creating new/additional demons) may absolutely work for others, so we're really aiming to lay the groundwork for future set bonuses and designers to give a great variety of perks.
Let me attempt to address your other questions in a more simplified manner (I did warn you)
What is the ideal level of strength for a tier set?
This one is often difficult to answer, which I understand isn't very gratifying – but the quick answer is that they should have a power budget comparable to Legendaries. Tier after tier, there will always be outliers, but there is no "magic figure" to obtain that will provide a one-size-fits-all solution. I don't want to set the assumption that it'll always be X percent because we want to leave opportunity in the future to attempt new things that take into account other external aspects in addition to the game's present systems, but sure. TLDR: 'it depends' or 'they should be in relative balance with one another,' but we're constantly trying for a more flexible outcome that enables our colleagues in other teams to tune things suitably around it.
What factors are considered before making a purchase?
Another one that's difficult to say definitively – many of us weren't at blizzard or working on WoW when the old Tier Sets were around, and the game has changed since then, which is why we invested in making Tier Sets this time feel really integrated to the overall endgame experience – that is, obtainable through the Great Vault (which didn't exist back then) and non-raiding activities. This one will come off as ambiguous, but that's because we're experimenting with a number of new elements that weren't there in past Tier Sets, so saying clearly one way or the other might wind up being a broken promise. That said, it seems fitting to us that something so iconic for WoW's endgame can be achieved by everybody who plays, including latecomers and mid-tier class swappers, which is the major aim behind the Creation Catalyst.
We realized that if people heard Tier Sets were returning and hurried to play 9.2 only to discover it was hard to earn them because they couldn't locate a raiding guild or anything, it may contribute to a poor experience, even if it was comparable to how they functioned previously. So, TLDR: I'm trying things out, and I'm looking forward to doing so in the future.
Are Tier Sets with active effects ever considered?
Finally, are you sure it's not true? Actives have their place in WoW (for example, on select trinkets and special weapons), but they generally come with design trade-offs that don't seem appropriate for Tier Sets right now. For example, they are more difficult to employ for the ordinary player, but they become tremendously powerful as skill level grows since their effects are compressed/overlapping with certain other buff periods for a multiplicative impact. Many of our 'passives,' on the other hand, are 'active' in the sense that you'll need to perform specific gameplay actions to get the benefit (like pressing Pistol Shot more or consuming a proc that you build up over time), which tend to fit better with the flow of WoW's combat and be easier to tune.
But I don't want to create the idea that we'd never attempt actives on a Tier Set; there's enough more complexity with Actives that you'd have to have a fairly fantastic theme or particular case to justify the costs or obstacles. TL;DR – they weren't considered for 9.2, have elements working against them, but might be considered for future sets based on the correct circumstances and reasons!
This was a lot, I know! However, I appreciate your questions and hope that this addresses them in a manner that provides you with the information you want.
The "microsoft buys bethesda" is a recent development in the world of gaming. Microsoft purchased the Fallout and Elder Scrolls developer, Bethesda Softworks. The acquisition will give Microsoft access to their upcoming game, "Fallout 76."
Related Tags
microsoft buying take-two
havok
who owns blizzard
who owns activision