The game's season 9 patch notes have been released, revealing changes that will be coming in the weeks ahead. The Rogue Tier set is getting nerfed and players can expect to see more dedicated support for PvP tier sets in this update.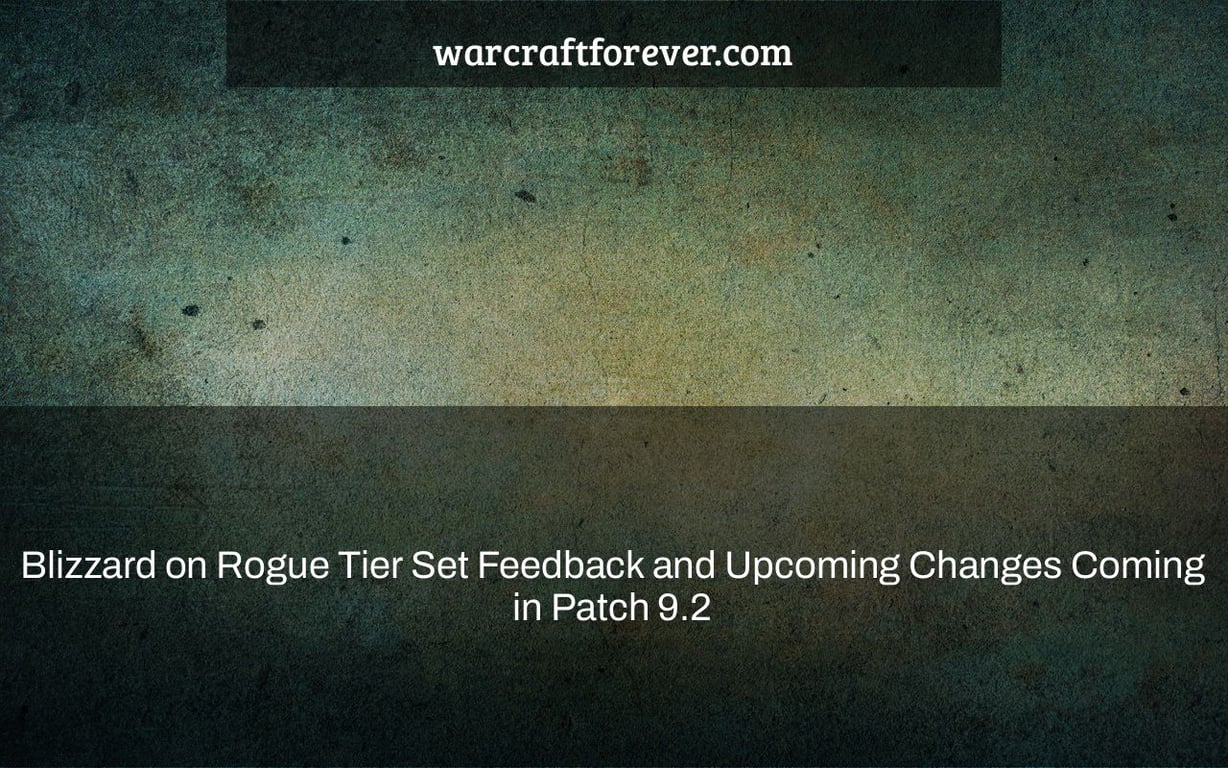 Blizzard
a little pre-holiday present for you! We discussed how Outlaw's 4-piece and Assassination's 2-piece will be undergoing some iteration in our last major article here, and with no new builds due until January, we thought rogues would enjoy a peek at some future modifications that will be applied and ready for you when it's time to check in:
(Please note that these figures may alter before January, etc.)
Assassination
Shiv forces opponents within 15 yards to absorb 100 percent more damage from your Poisons and Bleeds for 9 seconds as a 2-piece bonus. The 2-piece has been updated from Friday's article to incorporate Poisons as well as a change from a Critical Strike boost to Increased Damage, which means that Crit still functions as a synergistic stat on top of this rather than causing it to lose value for rogues. To be clear, the debuff is applied to foes at the moment of using Shiv, therefore fleeing from targets after you've done so won't make them lose the debuff.
With the exception of the Deadly Poison bugfix described a little higher up, 4-piece remains unaltered!
Outlaw:
Pistol Shot has a 50% chance of loading a Hidden Bullet from your sleeves up to 6 times, which is a 4-piece bonus. Your next Pistol Shot additionally shoots Between The Eyes after loading 6 rounds, as though 6 combo points were expended. The purpose is to eliminate some of the issues that plagued the previous edition, such as 1) the cooldown refresh occurring while BTE was already cooling down, and 2) renewing the cooldown still requiring the rogue to accumulate combo points to utilize. Furthermore, these 'free' BTEs will still count as finishers for talents like Alacrity, as well as Outlaw passives like Ruthlessness and Restless Blades, making the Tier Set a lot easier to play than before.
This adjustment is followed by a few additional fixes: first, a nerf to the 2-piece – a problem was discovered where the chance to proc was really 62.5 percent instead of 25% – this likely means it'll move from being powerful to needing a little numbers bump.
Second, free Pistol Shots from the 2-piece bonus will not consume or benefit from Opportunity, the Greenskin's Wickers legendary effect, or the above 4-piece – those effects will only apply to Pistol Shots you cast yourself, giving players more control over their burst windows and overall game flow, which was a major point of feedback from the set's original implementation.
Greenskin's Wickers, in particular, benefit from this, as you can now build up Between The Eyes 300 percent Pistol Shot w/ 6 bullets 4-piece combinations that immediately cast a 6-point Between the Eyes 300 percent Pistol Shot combo with good preparation and execution.
Thank you for your patience! If any sections of this article were unclear, I'd be pleased to explain, but otherwise, stay tuned for the next important updates or information in January – see you then!
Watch This Video-