The upcoming Rogue Tier Set changes in Patch 9.2 for Assassination, Outlaw and Subtlety will be a change from what players are used to seeing with previous tiers of the game. We spoke with Blizzard about these upcoming changes and how they're trying to make them more interesting for players as well as giving each playstyle a chance at obtaining one of the sets,.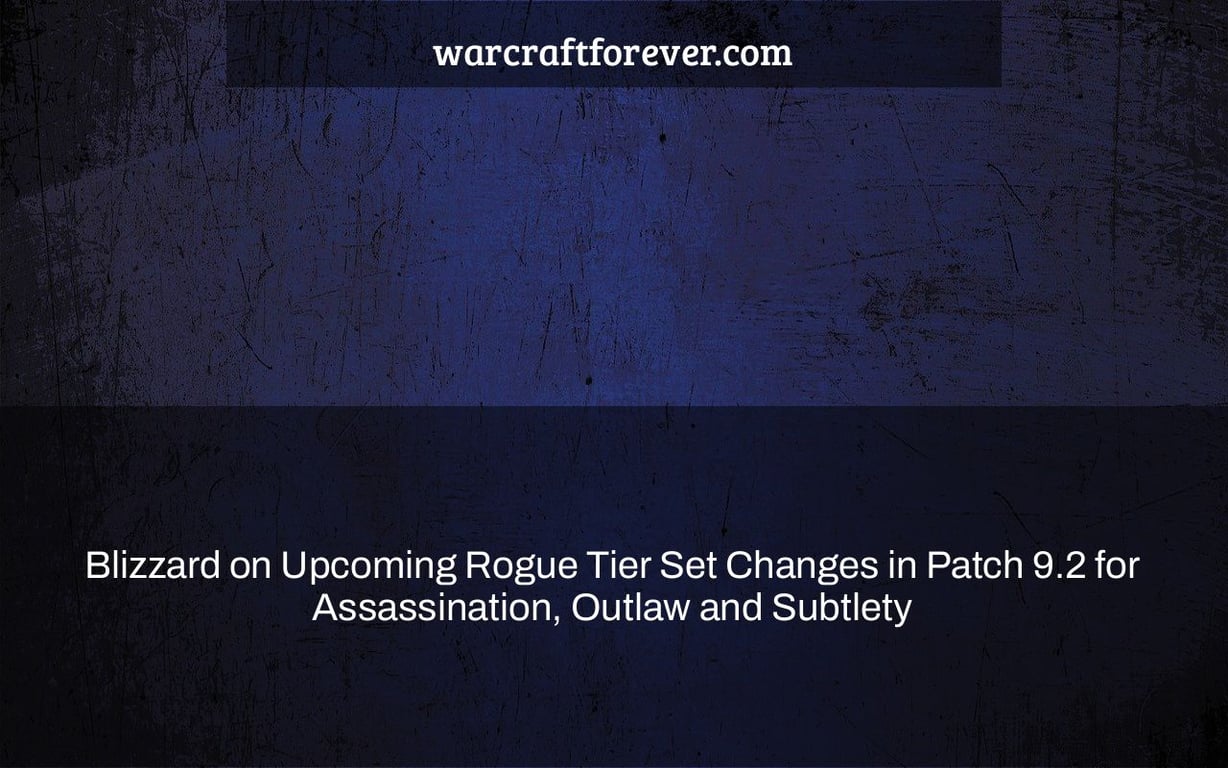 Blizzard
Shadowblades, how are you? We're ready to speak about the next stages for Rogue's tier sets after taking some time to properly sit with and sift over your input here and throughout the internet. To give you a decent feel of where we're at, the following will include improvements you'll see in the immediate term (as in, the next build sometime early next week), as well as any longer-term goals or concerns that will be handled in the future. Keep an eye out!
Bugfixes for Assassination:
Both the 2-piece and 4-piece bonuses have no effect on Doomblade, Serrated Bonespike, or Sepsis.
DoTs applied before Vendetta expires now remain at 2x speed after it expires. This is a glitch, but it was kept in for the first PTR time since it looked like a fun rotation to experiment with. But far, views on whether it's fascinating or enjoyable have been mixed, so pointing it out directly should help get some additional eyeballs and thoughts on it.
While the 4-piece seems to be well appreciated now that people have had a chance to test it, the 2-piece is clearly inadequate. The aim is to give it a hefty buff to boost its value (on its own and with the 4-piece), then see if any more action or feature adjustments are required. The following modifications have been made:
Your bleeds have a 25% higher crit chance, and your bleeds have a 100% crit chance.
Against all targets, including your current shiv target
The goal of this Tier Set is to emphasize Assassination's single-target focus, however feedback has consistently shown that the lack of cleave/multidotting application makes the spec seem worse than it already does. Another piece of constant criticism in anticipation of a future update has been that Vendetta's speed increase may make the spec seem a bit too harsh to keep up with. We don't have any plans to adjust the 4-piece bonus just yet since we want to observe how the preceding changes affect people before making any further changes.
Bugfixes for Outlaw:
We're looking into several complaints of Between The Eyes' crit value being wrong during blade flurry, as well as certain bug reports with gun-focused legendaries (Greenskin's Wickers and Concealed Blunderbuss).
So far, we're pleased with how well the set's theme has been accepted! Our emphasis is going towards resolving issues and criticism about the 4-piece underperforming in a future version (as in, potentially not the next) – we're currently considering what way to take it in, but there will be a rebuild. As far as the gameplay loop goes, we'll preserve the 'loading rounds over time into a large gun reward,' but the present bonus isn't as strong or as fascinating to the rotation as Outlaw gamers had hoped. I want to emphasize how helpful input has been on this – once we have a more comprehensive 2/4-piece, anticipate additional tweaking concentrated on the 2-piece's pistol shot rate and the 4-piece's bullet acquisition.
Subtlety – Bugfixes: (caution, there are a slew of them)
2-piece procs contribute to a continuing Shadow Blades benefit, but casting Shadow Blades resets the bonus rather than combining it.
Kyrian's Echoing Reprimand's Animacharged Combo Points aren't boosting the 4-piece's probability to proc.
The 4-piece from Stealth may be activated by Slice and Dice.
CC'd foes may be struck by 4-piece procs, breaking their crowd control.
4-piece isn't going to provide you anything. Preparation is key when it comes to slicing and dicing.
4-piece The 2-piece isn't being triggered by shadowstrikes.
Find Weakness isn't being applied by 4-piece Shadowstrikes.
The one-time critical strike bonus from Symbols of Death is being consumed by 4-piece.
4-piece The legendary effect of Akaari's Soul Fragment is not being triggered by Shadowstrike.
With the Perforated Veins conduit, 4-piece Shadowstrikes appropriately increases the damage of Gloomblade/Backstab.
As you can see, the 4-piece Shadowstrike has a number of flaws that aren't operating as they should, and resolving them should significantly boost the set's strength. However, it seems like Subtlety's set is a little overtuned in terms of numbers, but we'll wait a little longer to fix these and other concerns before deciding whether or not to tone it down. So far, it seems that this one has landed in a very good location without too many significant worries, so if any of you have issues with Sub's Tier Set, please make your voice known until they are rectified!
For the time being, that's all there is to it! TL;DR: Expect the stated problems to be addressed initially, followed by a functionality update/buff to Assassination's 2-piece, with subsequent releases fixing Outlaw's 4-piece flow and a final tuning pass for all of the specifications given.
Thank you for taking the time to read this, and we'll see you in the next update! -disappearing sounds –
Watch This Video-