In Patch 9.2, Battle for Azeroth players will be able to see the changes coming in their class tiers. The first tier sets are being previewed with updates on what they'll offer and how much each set costs a player who enters an upcoming season of play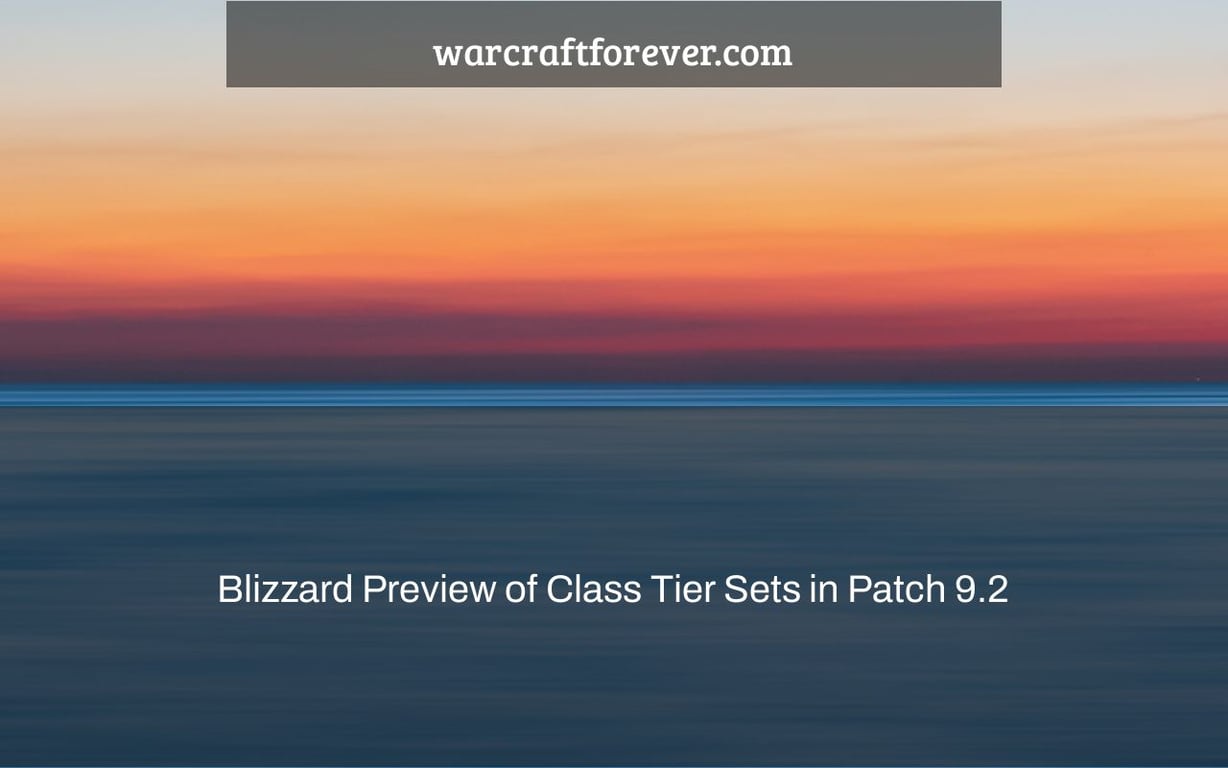 Would you want to learn more about Tier Sets? See our Tier Set Overview, Tier Set Bonuses, and Tier Set Appearances for more information.
Players will be able to begin collecting an all-new 5-piece Class Set with the start of Shadowlands Season 3, which will provide you wonderful advantages depending on your specialty when you equip two or four pieces of the set.
How to Get the New Class Sets
The First Ones' Sepulcher Set pieces may be obtained in a variety of ways. The first is to beat bosses in any difficulty level in the new Sepulcher of the First Ones raid. Set pieces may be dropped by the following bosses:
The Reclaimer, Halondrus (Legs)
Principal Architect Lihuvim (Hands)
Anduin Wrynn is a character in the game Anduin Wrynn (Head)
The Dread Lords (Shoulders)
Rygelon is a town in the province of Rygel (Chest)
The Lords of Dread and Rygelon bosses will not be accessible when Season 3 starts, but will be available the following week when Sepulcher of the First Ones' Mythic level is released. At least one set token will be dropped by each boss (scaling with raid size). When one of the bosses listed above drops a set item for you, it will appear as a token. You won't be able to trade this token until you've equipped at least one set piece in the same slot with the same or higher item level than the token you just got. Immediately-click the set token after it's in your bags to get the appropriate set piece for your class right away. All Class Sets' set groupings and Mythic level looks are shown below:
Druid, Hunter, or Mage (Mystic)
Hunter Set: Godstalker's Battlegear Mage Set: Erudite Occultist's Vestments Druid Set: Tapestry of the Fixed Stars
(Paladin / Priest / Shaman) venerated
Priest Set: Habiliments of the Empyrean Shaman Set: Theurgic Starspeaker's Regalia Paladin Set: Luminous Chevalier's Gallantry
Zenith (Monk, Rogue, or Warrior) is a monk, rogue, or warrior.
Rogue Set: Soulblade Shadowhide Warrior Set: Armaments of the Infinite Infantry Monk Set: Garb of the Grand Upwelling
(Demon Hunter / Death Knight / Warlock) dreadful
Death Knight Set: The First Eidolon's Soulsteel Warlock Demon Hunter Set: Mercurial Punisher's Painweave Shroud of the Demon Star is the name of the set. Excellent Vault After Season 3 starts, you may get set pieces straight from the Great Vault by completing any qualified activity (defeating raid bosses, completing Mythic Keystone Dungeons, or earning Honor in Rated PvP combat). You'll be able to view a set piece of the right item level for each of your accomplished tasks when you enter your Great Vault the following week. Catalyst for Creation Finally, the Creation Catalyst may be used to convert any non-set pieces of the appropriate slot into a new set piece of the same item level. You must first finish Chapter 4 of the Eternity's End Campaign to get access to the Creation Catalyst (Forging a New Path). You may utilize collected Catalyst charges to convert as many objects as you desire once they're available—one item per charge spent. Catalyst charges accrue slowly at start, but naturally increase in acquisition rate as Season 3 progresses. You'll eventually be able to turn a variety of objects into set pieces, ensuring that you obtain your set benefits and enabling substitute characters to catch up later in the Season. Any upgrade pathways, as well as any randomly rolled gem sockets, will be retained when objects are converted into set items using the Catalyst. If you use a Catalyst charge to turn a chest piece from a Mythic Keystone Dungeon into a set piece, you may still use Valor points to raise the item level of the resultant set piece. Secondary characteristics like Versatility and Mastery, on the other hand, are specified by the individual set and will alter to adhere to the set piece's default. Prepared to Succeed We hope you've enjoyed this sneak peek at the new Season 3 Class Sets, and we'll see you in the Shadowlands next week!