Blizzard released a new blog post detailing the details of their upcoming Tier Sets in Patch 9.2, including when they'll return, and how you can earn them by participating in certain activities.
The "is 9.2 the last patch of shadowlands" is a question that has been asked time and time again. Blizzard has released specific details on Tier Sets in Patch 9.2, as well as a date for when the Creation Catalyst will be available. The Tier Tokens will also be returning with this patch.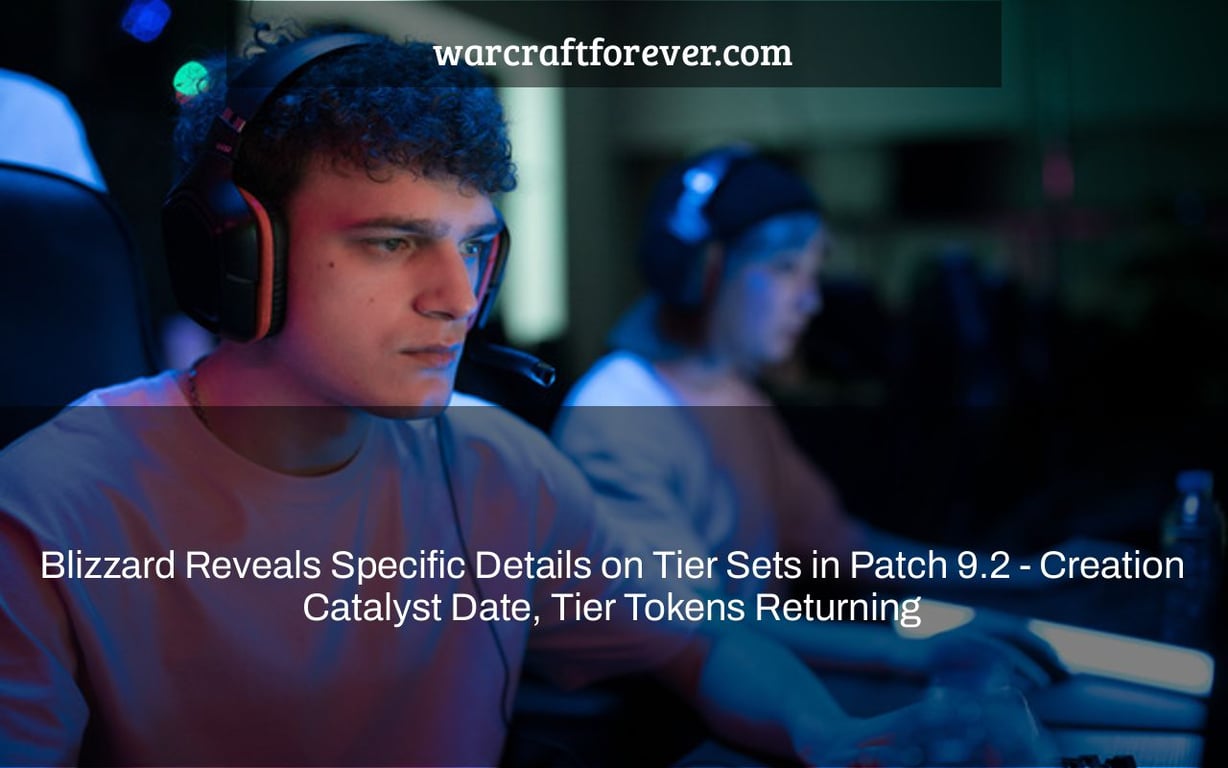 Blizzard
Hello there, buddies! On the Systems team, I'm a Senior Game Designer. I've been working on World of Warcraft for 14 years and have seen "a few" PTR cycles like this one. In this article, I'd want to speak about some of the things we're working on in Eternity's End that you'll see in PTR updates in the coming weeks. We want the reintroduction of class sets to be as enjoyable as possible, so we're modifying several parts of how you'll get your Class Set and fill it up depending on your input.
In the first place,
We've planned for Set pieces to drop from a distinct loot table on each fight that drops them from the beginning of the PTR, ensuring that you'll see a lot of them over time. These Class Sets are a highlight of this content release, and we don't want a run of poor luck to lead to a raid team completing a full clean just to find out they only acquired a few Set pieces. The PTR is for testing purposes, and you guys discovered a horrible issue that doubled the treasure tables. On the PTR, several of you wrote in questions and bug reports concerning raid bosses dropping twice as much treasure as intended, and we appreciate your help! You should see the expected amount of total drops from each boss after we've corrected the problem (again, in the next few weeks) (still with those guaranteed set pieces in a similar ratio to the bugged tables, just fewer total items). Please don't go now without finishing what you're reading! There's more to come.
The Catalyst for Creation
We've been designing this tier with a future eventuality in mind. If you haven't heard of it yet, a new in-game gear transformer called The Catalyst for Creation will come online 8 weeks after the content update (if all goes according to plan).
The Catalyst for Creation will allow you to craft Set gear that you haven't yet gotten from raid bosses or the Great Vault, and it will also be a swift way to gear up an alt later in the patch. The Catalyst exists as an answer to the problems we've had with class sets in the past (where either acquisition was much too fast and threw off content, or painfully slow and annoying). Your voices and frustration with those systems are the reason we're building the Catalyst today. It's powered by Cosmic Flux, which you'll find easy enough to gather for this purpose. Cosmic Flux can and should also be taken to the Runecarver to make Legendary gear.
The Catalyst for Creation is going to have an internal cooldown, which is a global charge that accumulates. This isn't a case where it's a personal cooldown that you could miss and fall behind – everyone's got the same number of charges at a given time, so you're all on a level playing field. This isn't an arbitrary decision – by putting an accumulating charge on the Catalyst, we avoid making it so that the "right" way to play is to focus on gathering Flux (and not use it for Legendaries, or worry about grinding out as much as humanly possible), so that you can make your full Set the moment The Catalyst for Creation unlocks. You'll be able to make one piece at that time, of course, but then alts and players who come along later in the tier will find that they can create multiple Set pieces right away, which fulfils its role as a catchup mechanism.
We'll be using tokens instead of cash.
We've received a lot of criticism, both from players on the PTR and from our own employees, arguing that Set parts should drop as tokens rather than separate things. While both methods have advantages and disadvantages, we've chosen to have bosses drop Set slot tokens in Eternity's End. Let's start with the design aspect of things:
When it comes to designs like these, we consider all of the possible outcomes for the player's experience. How do Set drops work for a player who is the only Mage in their raid party, for example? What do we think will happen (and how will we feel) if that person is the only Mage for six weeks in a row? Consider a situation in which the raid includes seven wizards. We don't want it to be more harder for any player in any circumstance to get Set pieces through boss drops (and trades), particularly as the patch progresses and some players who have the most of their set are raiding alongside others who have none or just one for different reasons.
In addition to design issues, we must also deal with technological constraints. Items that are dropped as a token are considerably different from items that may be equipped by a player in terms of game logic, and they aren't nearly as sophisticated. As a consequence, some of the efforts we undertake to ensure that treasure is distributed fairly and equally aren't as successful with them (a lesson we drew from how Castle Nathria played out). As a consequence, by employing tokens, we would have been compromising some essential dependability aspects. Those constraints have been lifted owing to a heroic contribution from our dedicated Engineering team, and tokens are now fully first-class citizens on the backend.
Tokens aren't a silver bullet, but we think that with these modifications, they should feel better and spread Set gear more evenly (or more so) than discrete item drops. This is a new experiment; we've done tokens before, but never with the entire framework of parallel loot and the Catalyst's protection. But we won't know how effective (or not) tokens are in that environment until we try them. As a result, the move to Set tokens should be visible in next week's PTR release, and we'll be listening to your feedback as 9.2 develops.
Thank you
We're grateful for all of the testing and input we've received so far, and we're excited to see how you respond to the next adjustments. We want to hear all you have to say about the tier ecosystem, including how you got your tier, how it affects you (many of which have already changed! ), and what you enjoy and don't like about trade. It is quite beneficial to us.
The "azeroth is the sepulcher" is a phrase that was used in Warcraft III: Reign of Chaos to describe Azeroth. Blizzard has revealed specific details on Tier Sets in Patch 9.2, including the creation date and Tier Tokens returning.
Related Tags
wow patch release dates
sepulcher of the first ones
wow shadowlands patch 9.2 release date
wow tbc pre patch notes
when is the next shadowlands patch