The latest World of Warcraft patch 9.2 introduced a new wing to the Emerald Dream, home of Azeroth's original inhabitants: The Night Elves! In the first quest below you'll help one of these ancient beings fight against an invading force from the Twisting Nether; but how did they find their way into our world?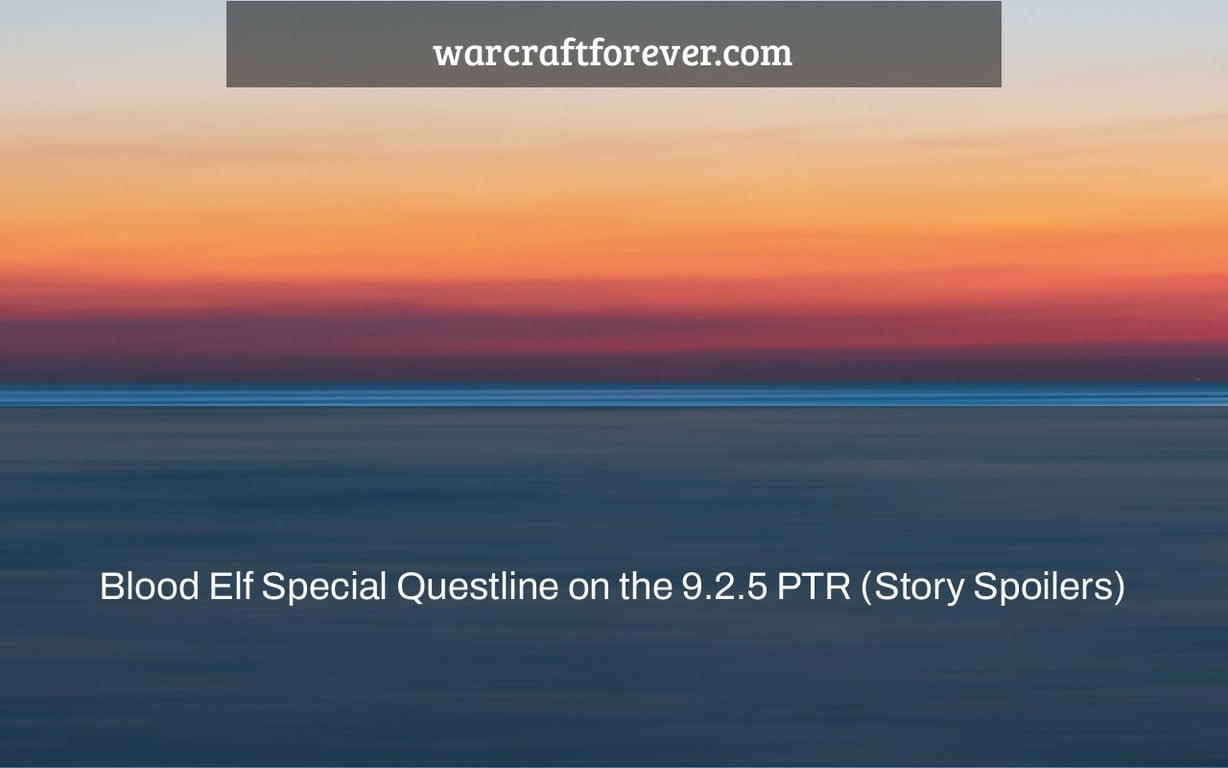 On the PTR for Patch 9.2.5, a new questline for Blood Elf characters has been added. This questline currently has no rewards, but we went through it and speculated on what prizes may be introduced in the future.
A Level 60 Blood Elf who is Exalted with Silvermoon City is required to begin this questline.
WARNING: This article contains story spoilers!
Rewards for completing the questline
This questline currently has no awards, however we believe these are the potential prizes for finishing it based on datamining from Patch 9.2.5.
Mount Green Hawkstrider
A possible reward for this questline is the Mount Green Hawkstrider. This is one of the Hawkstrider colors that were added in Burning Crusade but never used on a mount (although the green variant is available as an Armored mount via Swift Green Hawkstrider). The mount journal description does mention the defense of the Ghostlands, which is directly related to this questline.
Green Hawkstrider (NEW) Description: Even the elusive green hawkstriders joined the fight to defend the Ghostlands. PH is the source. 106262 is the model number.
Paladins' Blood Knight Transmog
Blood Elf Paladins, for example, get a separate quest at the conclusion of the questline, and two Blood Knight-themed transmog items – Blood Knight's Dedication Helm and Blood Knight's Dedication Belt – were introduced to this PTR release. Both of these items complement the Blood Knight's costume and have the same color scheme as the Blood Elf Paladin's special Blood Knight Tabard.
The Paladin does get a special gift acclaim, according to the conversation at the conclusion of the questline. It's unclear if these two parts will be the only ones accessible, or whether the whole ensemble will be introduced in a future PTR release.
Playthrough of the Questline
The quest begins with Lady Liadrin in Oribos, which is near the Orgrimmar gateway on the outer ring. She delivers you the Matriarch's Summons and asks for your immediate attendance in Silvermoon. You meet the Sin'dorei leadership in Silvermoon, including Lor'themar Theron, Archmage Aethas Sunreaver, and Grand Magister Rommath, who inform you on the Scourge's rebirth at the Ghostlands in Briefing.
Liadrin advises we team up with one of her pupils, Salandria, as we learn the Ghostlands briefing. Salandria was a Blood Elf orphan from Children's Week who was brought under Liadrin's wing after she realized her Light potential. Salandria is thrilled to be joining us on this journey.
Lady Liadrin, these reports are concerning. Lor'themar: Is Tranquillien in risk of succumbing to Scourge? Aethas: Their soldiers are much too well-coordinated to be a haphazard onslaught. Aethas: Perhaps we might approach our Horde friends for extra assistance. Rommath: And you're going to spend more time waiting for them? No. This has to be addressed right now. Liadrin: Then we'll have to summon those who are still in training. We'll maintain the line and protect Quel'thalas. It's a guarantee. Rommath: All right. I'll pave the road for you in Tranquillien.
—- Lor'themar: Lady Liadrin, are you sure you want to fight with trainees? This isn't just a practice run. Liadrin: Of course, I am. You'll discover that their abilities are more than enough, but I'll let their performance speak for itself. They're all set. Lor'themar: So I'm hoping for some positive news. Liadrin, may the everlasting sun guide you. Salandria: Aaaaaaaaaaaaaaaaaaaaaaaaaaa I feel like I've been in training for a long time. I'm going to Tranquillien! Liadrin: Salandria… This will not be a simple process. You will be held to a higher standard than anybody else. Salandria: So, I guess I'll have to prove myself, right? We'll hold the line and keep Quel'thalas secure, as you said. That is exactly what I aim to accomplish!
In Tranquillien, Rommath establishes a doorway to Tranquillien. The village is besieged, and Scourge is swarming everywhere! In Death to the Scourge, we're charged with killing undead and assisting at the deployment of protection wards in Magus Installation. A San'layn appears as we build up wards around Tranquillien! Vorath emerges and is slain with each ward erected, but he reappears on the next one. Rommath detects a rush of magic coming from Deathholme, the Scourge fortress in the southern Ghostlands, as we arm the last ward and Vorath emerges for the third time.
Salandria was able to return from Deathholme and submit her findings as we returned to Liadrin to report our findings. In A Knight's Weapon, Liadrin comes up with a weapon that, if imbued with the right power, may reverse the tide.
Salandria, submit your results to Liadrin. What awaits us in Deathholme? Salandria: The Scourge is far worse than expected! However, we were able to go near enough to see inside. Salandria: That san'layn Aethas described had a crystal array, didn't he? He kept reappearing within it, as though called. Rommath: That explains why I experienced a wave of magic. That traitor has devised a method of evading his pwn doom! Aethas: If we can overcome his defenses, we may be able to permanently consign his tainted soul to the Shadowlands. Liadrin: All right, then, that's our next step. There is a weapon upstairs. It has the potential to transform our fortunes if it is imbued with the appropriate power and utilized by capable hands.
We're going to Bastion to seek the aid of the Kyrian for their capacity to guide souls to their appropriate homes and the Necrolords for their mastery over death magic, since Liadrin believes certain powers in the Shadowlands can properly infuse the Ranseur to help fight Vorath. Salandria has agreed to accompany us on our expedition.
In An Honest Heart, we first visit Bastion in Agthia's Repose, where we meet a Kyrian named Vandellor. Vandellor is the sin'dorei who adopted Lady Liadrin after her parents were killed by Amani trolls, and the one who inspired Liadrin's dedication to the Light, according to Blood Elf tradition. Vandellor died guarding Grand Magister Belo'vir during the Scourge Invasion of Quel'thalas, and was eventually converted into an undead and murdered by Liadrin herself. One of the determining elements in Liadrin's final denial of the Light was Vandellor's destiny (with her faith restored during the events of the Sunwell Plateau raid).
After winning a race against our Ranseur in A Fair Race, Vandellor promises to empower him. Salandria mentions after the race that his name is the same as Liadrin's adoptive dad. Vandellor, like other Kyrians, let go of his earthly memories in order to better accomplish his job.
Vandellor: It's strange… while I'm talking to you, a long-forgotten recollection flashes through my mind. Lady Liadrin, do I remind you of my tutor, Salandria? She said that, like me, she was adopted by a guy called Vandellor. Vandellor: I'm not sure. I let go of my earthly memories in order to better concentrate on the service I provide. Vandellor: Even so, little one, it was a joy to meet you. May your weapon be of great use to you.
In An Unbreakable Will, we next go to Maldraxxus' Theater of Pain. We encounter Fightlord San in Maldraxxus, a weapons expert who is horrified by "a cowardly bug cheating his way out of the glory of death." He promises to assist us in empowering our Ranseur, but only if we impress him in Unfair Fight fighting.
In Return to the Ghostlands, we return to Liadrin after San has empowered our weapon. In I Am the Blade of the Light, she sends us to the Dead Scar to clean up the road to Deathholme, and Vorath ultimately dies in I Am the Blade of the Light – but not before evading death one more time and becoming an Amalgamation of Wrath.
Once Vorath has been conquered, we return to Silvermoon as Sin'dorei Victors, receiving praise from the Sin'dorei leadership! Blood Elf Paladins are given a new quest, Blood Knight, in which Liadrin bestows several praises on them.
Lor'themar: I'll report what happened to the Ebon Blade. If the Scourge has wreaked such much havoc here, I'm afraid things in Northrend may be much worse. Lor'themar: Regardless, you must be commended for your efforts. You stood firm and maintained the line when our lands were endangered. Liadrin: Please know that you have our thanks and that you have set a great example for future generations. For Quel'thalas, Liadrin! For Quel'thalas, Lor'themar! —- Elf of Blood Blood Knight's Paladins: Liadrin: You've shown shrewdness, determination, and honesty. The characteristics that define a Blood Knight. Accept this present as a token of your devotion and courage, Liadrin. We can never deny that your assistance was crucial in bringing this situation to a close.
Did you find this news story interesting? Wowhead's Discord Webhook will notify you when new news is released, and you may join the community on Wowhead's Discord Server, Twitter, and Facebook.