World of Warcraft's upcoming expansion Battle for Azeroth is still months away, but that hasn't stopped the game from experiencing a massive influx in players. In our latest feature, we chat with one of WoW's class writers about what to expect when this new content drops on August 14th and beyond.
The "aoe cap removal wow" is a topic that has been discussed heavily in the world of Warcraft. Blizzard has finally decided to remove the level cap, but it may not be for everyone. The class writers discuss what this means for their classes and how it will affect them.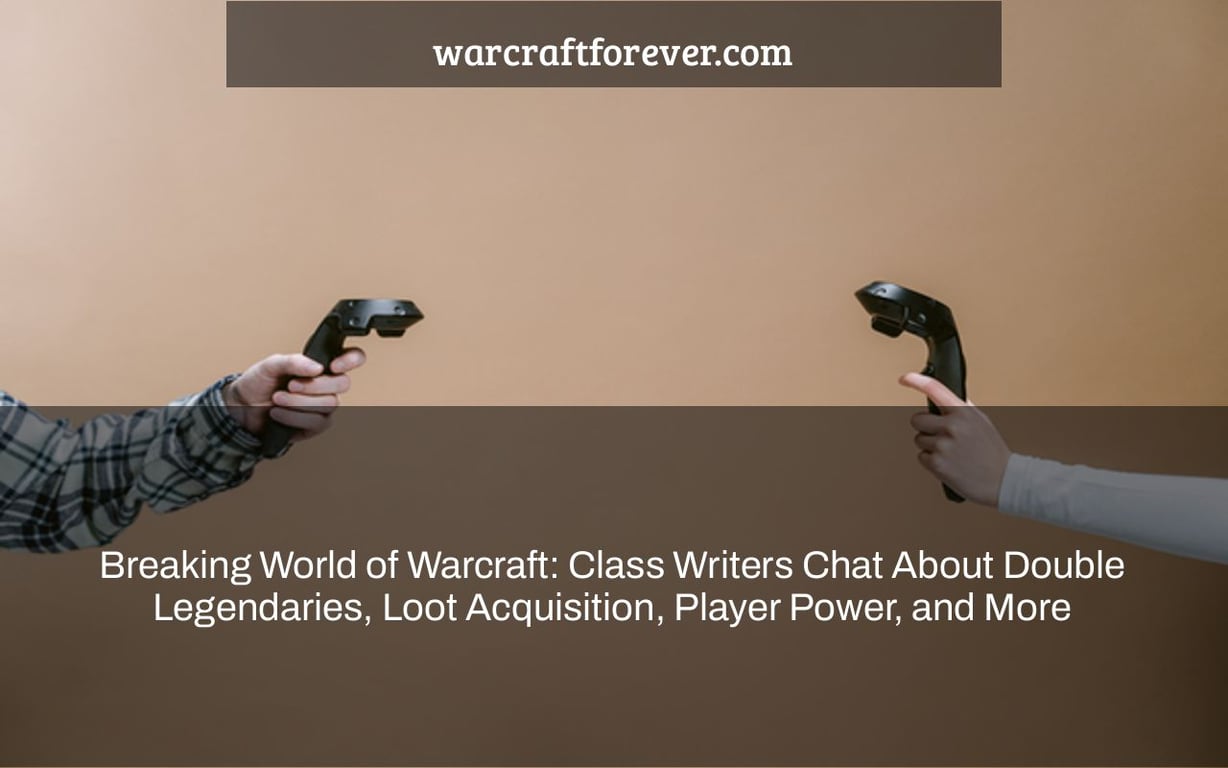 Breaking World of Warcraft welcomes Publik to the show as we go right into a heated 9.2 WoW debate about the tumultuous situation with twin legendaries and the 9.2 wow tier set acquisition and drop rate. All of this and more can be found in our normal round-up, which includes Mandl, Panthea, Wordup, and Guiltyas, with Publik perhaps returning in future episodes. Please share your views on our WOW podcast in the comments section; any feedback is much welcomed!
Covenants:
In 9.1.5, the switching penalties have been lessened, and the patch's quality-of-life enhancements have been implemented. This is the first time you'll be able to view all covenants in almost every aspect of the game – niche choices you wouldn't have been able to commit to before. Some covenants still need a great deal of work (kyrian shadow priest is still 20 percent behind because, fundamentally, the covenant ability does not interact with the kit)
Unfortunately, tier sets and double legendary settings heavily favor one or two covenants for most specifications, with certain arrangements being very powerful while others stagnate and decay.
Legendary doubles:
When they first appeared on the 9.1 PTR, Covenant legendaries seemed to be mostly throwaway legendaries, with a number of them even causing DPS losses to equip. In several ways, their design and behavior were comparable to generic reputation legendaries – existing only for the sake of existence, and because the main mandate was to construct one legendary every covenant per class, rather than concentrating on creating desirable alternatives.
The situation worsened when the majority of these legendaries were not modified, either up or down. To gain an adjustment to the Kyrian Death Knight legendary, it required a game-breaking issue on an encounter.
Covenant legendaries, which may be used on top of standard legendaries in 9.2, deliver game-breaking power spikes for certain fortunate winners, while others will only see moderate boosts (or a loss in the case of any druid interested in PvPing while night fae, and night fae boomkins) When the double legendary equipment becomes accessible, the balance issue will burst, and some individuals will be affected in very different ways. People are already rerolling or flocking to specifications with higher gains, hoping that this does not change.
Bonuses may be set:
When it comes to both power deltas and encounter design, set pieces have an issue. Sets and boss tuning interact in a variety of ways. If bosses aren't calibrated with the idea that the players have the set, they'll topple over. If you tune in to that expectation, though, the set becomes obligatory. Some specifications attract a lot more attention than others. On the upper end (after bugs are taken into account), certain specs acquire 12-15 percent more damage, while others only gain 5%, and this is based on particular encounter situations. Recently, there have been some really positive developments. Havoc DHs (and DHs in general) had their set altered so that they wouldn't have to play Kyrian. It's not perfect, but it's a lot healthier than the previous iteration, and iteration adjustments like this, or changes in direction, are incredible. Some set benefits continue to heavily favor covenants, which is problematic. Enhancement shaman, on the other hand, has four new builds owing to the legendary and set bonuses! In raid, certain setups are worthless, but in M+, they're fantastic. Prot paladin, for example, relies on direct physical blocks, but most Sepulcher mechanics are unblockable. During raid testing, a Prot paladin received one proc during the course of the battle. It is quite difficult to create defined incentives that provide a consistent benefit across the board. It's sometimes easier to have a dull but extremely adaptable set than it is to have a super intricate, hyper narrow set bonus (looking at you Unholy Death Knight) Is there enough time to continue iterating? Some of the iterations were excellent (spriest went from pure ST to AoE as well, BDK got clarification, havoc got fixed, etc)
Systems for the endgame:
In WoD 6.2, you reached full level, instantly proceeded to Tanaan, and picked up Relinquished gear (which fell much more than Korthian Armaments!) and you might just begin. Gearing advancement is, in many ways, its own challenge right now. Hyperoptimization resources for certain niches have also proved troublesome. The Islands farm spreadsheet from Battle for Azeroth is an example of this, with the obvious objective of unlocking all Azerite rings for Race to World First players. People duplicated the spreadsheet, but the purpose behind it faded, and guilds that didn't stand to gain from this very difficult farm bullied their raiders into "filling up the spreadsheet."
Bloat in the system:
In Shadowlands, the present structure is modeled like a cake with numerous layers, with several layers added per tier. Due to the information dump that is often necessary to grasp some of them, this is both time consuming and troublesome for new players and everyone each patch. Would you have realized that the unholy, ice, and blood set bonuses in Shards of Domination upgrade with the minimum level of each colored gem? It isn't referenced in the game at all. How many Embers have been squandered as a result of this?
If you have 100 people and each expansion adds ten more systems, by the time you have as many systems as we'll have in 9.2, 70 percent of the community will have left due to system burn. And, what's even worse, many of these systems wind up being parasitic.
System bloat makes it impossible to play alts until extremely big catchups are introduced, which usually happens a few months before the next patch (or in the case of Stygian Embers, not at all).
Every time a new feature is released, it is marketed as the most dazzling via forced PR and massive boosts, and heroic guilds place a premium on it. Every patch, the focus becomes "you must grind," rather than enabling players to just enjoy the new zones, encounters, and so on…
Shadowlands has a propensity of reminding you that if you don't participate with the system, you're missing out, rather than pushing you to explore. It's a strange cycle of dread of missing out, which eventually leads to indifference.
Some of these issues have been resolved. To lengthen content, the answers are kept hidden, yet this burns people out (islands is clearly the simplest example). If you tell someone they have to complete 500 islands in a month to earn worldvein r4, they will not do it; yet, if you tell them they have to do 100 in a month, they will do it unless they care, at which time they will burn out).
Mandl, Panthea, Wordup, and Guiltyas are class gurus for Wowhead and other services. Our guides provide examples of their work.
You can also follow them on Twitter, along with Shadow Priest class expert, Publik, and hosts, Marcelian & Flame:
The "legendary scrapping wow" is a feature that allows players to scrap their legendary items for crafting materials. Players are also able to pick up loot from other players on the battlegrounds.
Related Tags
9.1 5 legendary recycling
refund legendary shadowlands
wow legendary item level
wow legendary soul cinder cost
wow director