Molten Core Classic has been released, which is the same as Molten Core with a few changes. Blizzard added Masteries to Hardcore mode to provide an incentive for players who have reached level 70 on Normal/Heroic difficulty and completed all quests in The Eye of Azshara. Players will now be able to learn Mastery skills while progressing through the game and earn gold at a more rapid pace by killing enemies faster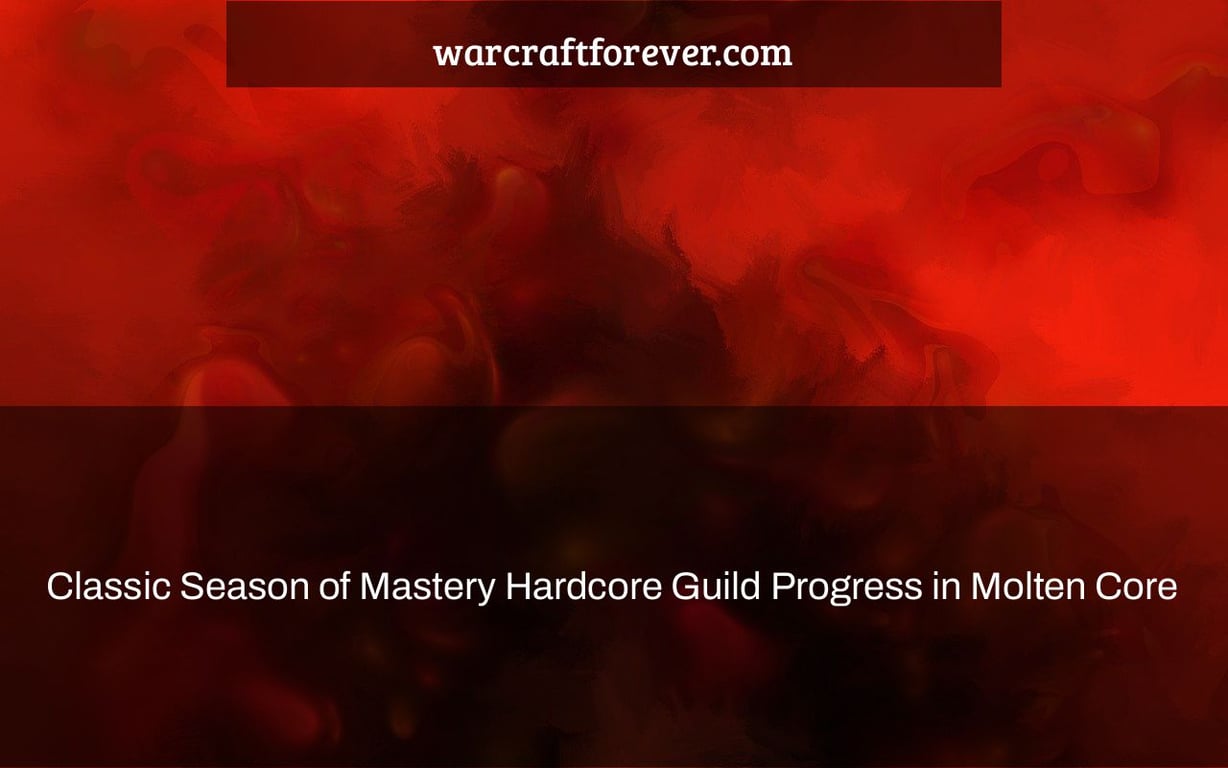 With the Soul of Iron boost, the Hardcore community is still working towards their objective of slaying Ragnaros with a whole raid party. They've taken down four bosses in Molten Core as of January 2nd, and we'll go over that progress today.
Week each week, take little steps
Initially, the HC Elite guild came to Molten Core with the sole purpose of garbage farming. Trash in Molten Core may drop amazing Tier 1 Bracers and Belts that are Bind on Equip. These bracers are excellent for a variety of classes, and the guild saw the trash farm as a chance to push the Hardcore raiding experience to its extremes.
With several trash clears of Molten Core, the guild decided to take on bosses for the first time on December 18th, beginning with Lucifron and Gehennas. You can find the logs for the 12/18 Molten Core here. Farming Lucifron numerous times before trying Magmadar was practically required, since Magmadar has a Frenzy effect that Hunters must eliminate with Tranquilizing Shot. This was crucial for a clean combat, since a tank dying due to the Frenzy effect would be a complete catastrophe. Tranquilizing Shot can only be learned by a Hunter from the Tome of Tranquilizing Shot, which Lucifron drops.
HC Elite killed Lucifron for the second time on January 2nd, giving them two Tranquilizing Shot Hunters. They decided that this was sufficient reason to try Magmadar, and they were successful. After defeating Magmadar, the raid moved on to Garr and completed the battle flawlessly. The raid logs for January 2nd may be found here. HC Elite is now at 4/10 in Molten Core and will most likely continue to make little strides toward Ragnaros each week.
Unfortunate Death While Advancing
Inside the Raid instance, Molten Core has been pretty safe, with just a few fatalities. The majority of HC Elite players' fatalities occur in dungeons, with Forashona, a Hunter, being one of the most recent deaths. During trash, Aide (a Feral Druid) ripped a threat on a Molten Giant and was slain. Both of these hardcore players have passed away.
From Staysafe's perspective, Aide is killed by a Molten Giant in Molten Core.
Magmadar & Garr Defeated
HC Elite concentrated on Magmadar while off tanks scooped up the extra Core Hound while trying Magmadar. Graysfordays is seen holding a couple Core Hounds as the raid burns down the monster in the video below. The raid removed the adds that generated after the boss died, and the fight was completed with no fatalities.
During Magmadar, Graysfordays takes a break from tanking.
The HC Elite raid decided to kill the Garr adds before slaying the monster in the Garr encounter, which is a little odd. This encounter is also incredibly deadly for a Hardcore raid, since the monster will spawn Magmakin that will charge and detonate on a random player. HC Elite once again defeated this fight with no fatalities in the raid.
During the Garr encounter, Parla's point of view
Ragnaros is in view.
For the rest of Molten Core, HC Elite will have to be exceedingly cautious while facing additional bosses. Shazzrah and Baron Geddon are both incredibly deadly bosses that will confine the raid to a small area to deal with. These two bosses may be defeated with a minimum of deaths if you have enough Greater Fire Protection Potion and Greater Arcane Protection Potion. However, 0 deaths may be a tall order. On Sundays at 4:00 p.m. EST, the HC Elite raid enters Molten Core. Follow the action on Twitch, and go to classichc.net's Twitch page to find a particular POV!
Watch This Video-