This is the official list of changes to be released in Classic Season 10. Please note that this is not a complete changelog, it only lists the most notable changes.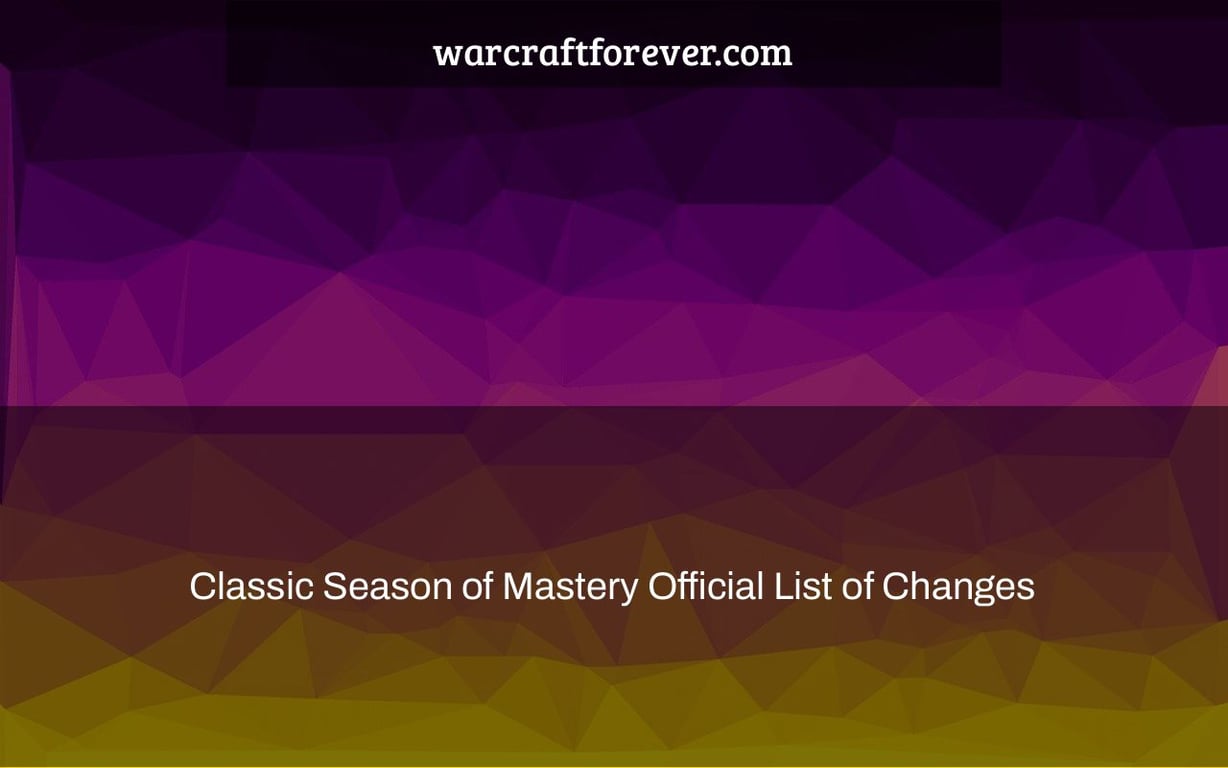 A well-thought-out Seasonal environment awaits, with the purpose of "Faster Progression and More Challenging Content."
Name reservations for new WoW Classic: Season of Mastery worlds are now available, and all realms will be online for play on November 16 at 23:00 GMT.
---
Season of Mastery brings several improvements to the WoW Classic experience—a here's glimpse at what's in store for your new adventure:
Systems
The "Adventure Awaits" perk will be applied to all characters under level 60.

The experience obtained through quest turn-ins will be increased by 40% with this perk.
Turn-ins for Group and Dungeon Quests will get extra bonus experience as a result of this boost.

Players can't use global buffs like Rallying Cry of the Dragonslayer, Warchief's Blessing, or Spirit of Zandalar in raid instances.
Limits on buffs and debuffs will be lifted.
Players that kill an opponent in a group containing one or more players who are much higher level than the deceased enemy will get significantly less experience.
The calculations used to calculate the amount of experience rewarded for adversaries "tapped" by one person or group but slain by another have been tweaked.
Season of Mastery includes the Looking For Group function from the classic Burning Crusade.
Improvements to chat reporting and feedback are now available.

In-chat confirmations have been added for players who report misconduct in chat, as well as those who may be reported.
When a person is reported for verbal harassment or other disruptive communication in-game, the player will be notified that action has been taken against the other player.
You may get a warning notice if your conduct has considerably altered for the worse, allowing you to correct your behavior before earning a punishment.
When a player's conduct is very egregious, the system may forego a warning and take instant punishment.
Characters on the ignored player's WoW account are now blocked via /ignore. 
  Content
Enemies in Onyxia's Lair and Molten Core will be significantly altered:

The health of bosses and other animals that appear in boss battles has been raised.
Many current boss mechanics have been improved, and new mechanisms have been included to test players in Season of Mastery.

In all zones, the availability of Mining and Herbalism nodes has been greatly enhanced, as well as:
When looting a high-level herbalism node, max-level herbalists have a small chance of getting Black Lotus.
Plaguebloom will sprout in the Western and Eastern Plaguelands.
The Herbalism nodes in Dungeons have been tweaked and expanded.
Certain crafting resources, such as Elemental Fire, Elemental Earth, and Elemental Water, have become more readily available.
High Elf Watchers have come in Ironforge and Undercity, intent on tracking down adventurers with a "Soul of Iron."
Some dungeon foes have been tweaked slightly:
Stratholme – After 30 seconds of conflict, all Undead creatures in Stratholme receive immunity to snares, and after another 30 seconds of fighting, they get immunity to roots.
Maraudon – After 30 seconds of conflict, many creatures in Maraudon develop immunity to snares, and after another 30 seconds of fighting, they receive immunity to roots.
Maraudon – Enemies acquire a 50% boost in movement speed 30 seconds after obtaining immunity to root effects.
Crowd control of any kind (excluding snares or roots) will reset the snare immunity, root immunity, and speed bonuses for Maraudon and Stratholme.

Zul'Farrak – In Zul'Farrak, Zombie Trolls now drop less valuable items. The majority of the treasure dropped by Zombie Trolls has been transferred to other dungeon monsters.

The people of Blackrock Depths have become apprehensive of criminal activities, and they will now try to hide their most precious possessions if they fear a thief is among them.
The cost of learning how to ride and acquiring level 40 horses has been reduced.
At the start of Season of Mastery, Dire Maul will be accessible.
When the encounter with King Gordok is vanquished, the Gordok Tribute chest in Dire Maul may no longer be looted by players who are not on the tap list for King Gordok himself.
Season of Mastery will include changes to dungeon prizes introduced in patch 1.10, including as the availability of Idols, Librams, and Totems, as well as modified drop locations and drop rates of select items, such as the Hand of Justice in Blackrock Depths.
With a few exceptions, changes and additions to reputation vendors and item drops implemented in versions 1.6 through 1.11 will remain in place when Season of Mastery launches:

Vendor products and reputation-related items are not available until later content phases, such as the Zandalar Tribe.
Titanic Leggings and Sageblade (world drop) plans will be released in a later content phase.

To help you complete the Dungeon Set 2 questlines at the start of Season of Mastery, summon elemental Templars and Dukes to the Twilight's Hammer encampment in Silithus.
Please note that until the Anh'Qiraj War Effort event begins, the remainder of the Cenarion Hold and Silithus activities linked with Anh'Qiraj will be inaccessible.
At the start of Season of Mastery, level 50 class tasks will be accessible.
Bonus +healing and spell power are no longer applied to the healing delivered by the Diamond Flask trinket's on-use effect.
PvP
The maximum amount of weekly ranking progress obtained has been increased. Dedicated players who regularly finish at the top of their world and faction rankings each week may expect to progress twice as quickly as they might in the original World of Warcraft.
Warsong Gulch, Arathi Basin, and Alterac Valley, as well as their accompanying reputations and awards, are accessible from the start of Season of Mastery.
Many Horde and Alliance Guard NPCs who were deleted from Alterac Valley in patch 1.11 of the original World of Warcraft are returning in Season of Mastery.
We will allow World PvP goals in Eastern Plaguelands at the start of Season of Mastery.
---
We're excited to watch how players respond to these challenges, particularly because the "Soul of Iron" is at stake. Remember that after Season of Mastery is through, you'll be able to permanently move your character(s) to an existing Classic Era realm in your area. When the season ends, this free service will be accessible for a short period.
For the most up-to-date information, keep an eye on the forums and WorldofWarcraft.com.
We'll meet in Azeroth!
Watch This Video-
Frequently Asked Questions
What is different in season of mastery?
A: Season of mastery is a new type that you can purchase for your existing Beat Saber experience. It will allow you to unlock additional tracks and dole out special in-game rewards, such as animations or helmets, with each completed song.
What changed in WoW Classic?
A: WoW Classic was created by Blizzard in order to celebrate the 15th anniversary of World of Warcraft with a nostalgia-filled game. The original elements, such as character classes, locations and races remain untouched while new features have been added like modern art content and pet battles
Whats WoW Classic season of mastery?
A: The WoW Classic Season of Masteries is a group challenge that occurs every six weeks or so. Players enter the realm and must take on 10 quests in order to earn their way into the next tier of masteries. Each quest rewards one point, players can gain additional points by completing other quests within the same dungeon. Once they have enough points, they will be promoted up a tier and can begin new dungeons with higher difficulties right away!