Welcome to the Wowhead Economy Weekly Wrap-Up 217. We are a weekly wrap-up of all things economy and crafting in World Of Warcraft! In this episode we have a new type of speed set, an interesting guild perk, Living Story updates and more. Let's get started!.
The "crafter's mark of the chained isle" is a new item that has been added to the game. This item will give you an additional 50% chance to find hidden treasure while out in the world. The "crafter's mark of the chained isle" can be found on Wowhead for 5,000 gold.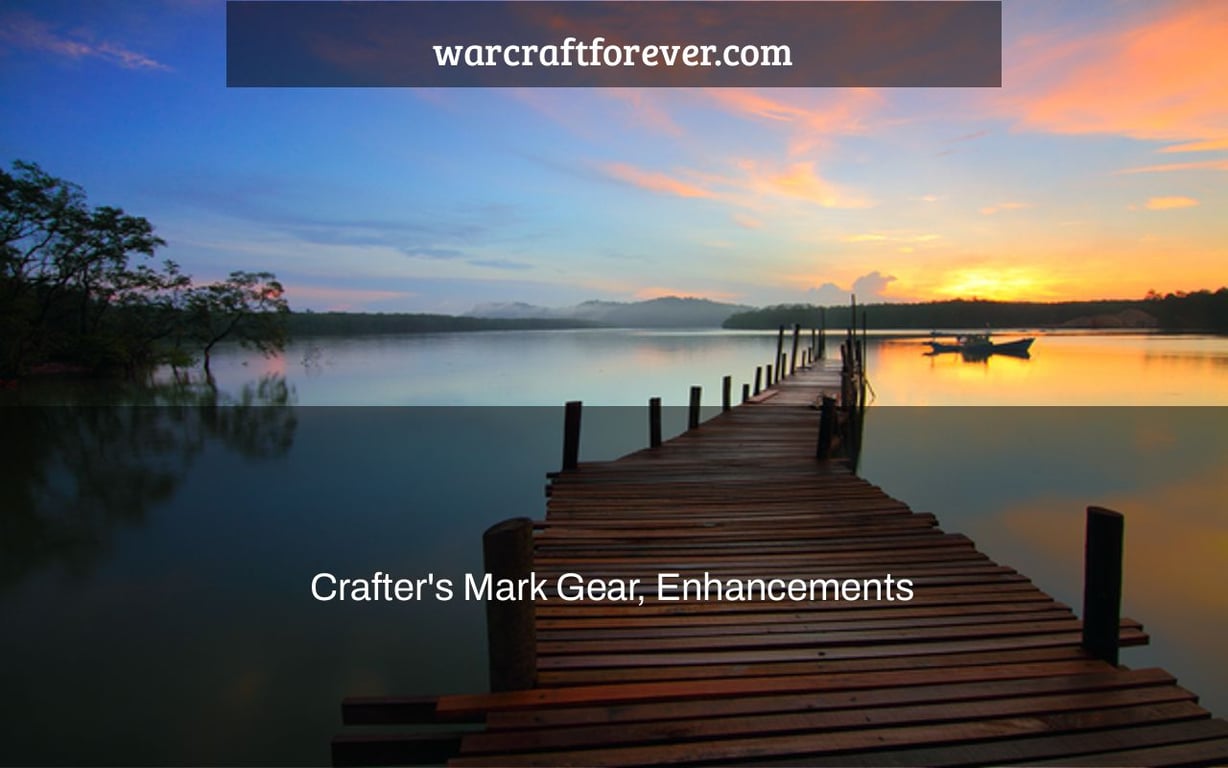 Weekly Economic Update in World of Warcraft Hello! The WoW Economy Weekly Wrap-up is back for the 217th time!
9.2 is now live, and goldmakers have already competed for the honor of being the first to sell the Gear with the Crafter's Mark at Honored. With Rank 7 legendaries on the horizon, the patch will continue to evolve. There are, however, other marketplaces, such as Progenitor Enhancements, which we shall examine in further depth this week!
My name is Samadan, and I'll be your tour guide around the Gold Making World!
Gear with the Crafter's Mark
Many gold makers have had their own little Race to World First challenge and is to be first to market on the Gear with the Crafter's Mark once Honored Reputation is achieved with The Enlightened. This opens up Crafter's Mark IV and Crafter's Mark of the First Ones.
While this gear is likely to be updated fast and there are other methods to get comparable level gear, it is usually handy for catching up in ilevel if you are behind and ready to spend money at the issue.
Those that were Honored first on their servers had a limited window of opportunity to establish high prices before the game calmed down…
Complete dominance of Draenor's crafter mark market for now ~3m gold an hour >90% profit. Was too slow on my grind on my 3 other servers I was trying for but at least Draenor is over performing. pic.twitter.com/dYK52xGpJ4
March 1, 2022 — Kaychak (@kaychakeu) However, these costs rapidly dropped, and there is less demand for them until later stages, when players begin to bring alts along.
So the prices of 233/262 handmade gear have been progressively declining from 40k to 20k to 10k, and now the 233 gear is selling for less than 5k, and the 262 gear is selling for less than 5k. I've sold a handful for 90-100k, but the prices have dropped to 30k. Should I just keep my stock and wait for the competition to subside? The cost of materials is still rather high (3-4k crafting cost for 233 and around 20-30k crafting cost for 262). People seem to be panic selling right now, however I didn't have this issue in 9.1, when I was able to earn a million gold profit every day off constructed gear for the first three weeks.
Thoughts?
There will be no panic selling. Attempting to drive individuals out of the market by reducing earnings and, as a result, reducing competition. Prices will continue to fall as more mats become available, until they reach a point of equilibrium. This is due to the fact that the majority of participants played Honored within 24 hours of one other.
Wait? Definitely not in the case of 233. If you just have a limited quantity of pogs for 262's, you could want to save them for leggos if you can manufacture them on Tuesday – but be aware that you'll be seeing the same thing. That is, high pricing at first, followed by a rapid drop to realistic margins. Unless the supply of pogs runs out. It's possible.
Unless demand goes up or new markets develop, I believe there will always be these kinds of peaks and crashes, followed by a settling down phase with a steady fall. The actual strength of these things resides in the ease with which they may be purchased for alts later on, as well as the possibility of adding Progenitor Enhancements, which we shall explore later.
The Lazy Goldmaker has a fascinating account of his first few days and his experience selling the 233/262 gear…
Progenitor Enhancement's Consequences
This leads to the ability to enhance the above-mentioned constructed gear using Progenitor Enhancements. The following is a list of them…
Alchemy
Enchanting Engineering Jewelcrafting
While these effects are excellent and add flavor to the game, the issue is that they are added at the moment of making, which means that in order to give the entire array of effects, one would have to build one of each combination. This is complicated further by the fact that AH addons like TSM have trouble distinguishing between other than ilevel when setting a price, which is compounded by the fact that a player searching the AH has no way of filtering out items with specific enhancements other than hovering the mouse over each one.
In principle, it's a fantastic concept, and I'd love to see more of it; but, the implementation is challenging for both the crafter and the consumer.
Manthieus has a video up that walks you through his current TSM setup for Crafter's Mark Gear, as well as his ideas on adding Enhancements.
Brrrrrrrrrrrrrrrrrrrrrrrrr
But it's not all doom and gloom. Stack Progenitor Enhancements! As a result, several really fascinating combinations and possible gear sets emerge. u/Tyrsenus conducted some thorough testing… (Please note that some of this information has already been hotfixed and is subject to change.)
Progenitor Enhancements are eight new optional reagents for constructed gear added in version 9.2. All of the reagents are BOE. Each improvement provides a distinct bonus, with some focusing on fighting and others on more unusual features like +mounted speed in SL zones. Using crafter's marks to boost the ilevel of produced gear also enhances the buff for most upgrades. All of these improvements are now craftable on any ilevel of blue SL manufactured gear.
(FYI, Progenitor Enhancements are not to be confused with Progenitor Essentia, which is utilized to create legendaries.)
I've noticed several queries and not a lot of analysis concerning these upgrades, so I've done some research.
ALL OF THE BUFFS STACK is by far the coolest part. With twelve pieces of gear, you may stack each bonus up to 12 times. (And 13 if you have a trinket and are an alchemist.) You may stack +10 percent mounted speed a total of twelve times. If you're farming or trying to get to a rare spawn in ZM before it dies, this is a great tool to have.
Below are my early findings from my basic testing, which should hopefully provide answers to some key problems. This isn't a comprehensive examination. This was tested on the PTR yesterday and today (so I didn't have to pay any gold). Because the PTR is the same version as the live version, I'm hoping everything is the same, but I can't promise it.
(One last note: TSM does not yet recognize these advancements when attempting to group the improved gear.)
Matrix of Erratic Genesis (Engineering)
"When you're hit by an adversary, electrical sparks form. The circuitry shorts and lashes out at 5 stacks."
One piece of ilvl 233 gear delivers 454 cosmic damage.
Damage is increased by 454% for every 233 pieces added.
Only one attacker is hit.
There doesn't seem to be a cooldown. It has a very short one, if it has one at all.
Essence Stone of the Devourer (Jewelcrafting)
"Defeating foes boosts your highest secondary stat for a limited period of time, accumulating up to 5 times."
For 20 seconds, each 233 piece offers 15 stat (17 for JC pieces).
The stat is stacked with additional parts.
With 11 components at ilevel 233, there are a total of 584 secondary stats.
Regardless of the number of gear components, the buff lasts 20 seconds.
Automa Core that is magically regulated (Enchanting)
"The opportunity to produce an Automa Core that bursts for harm and healing."
One piece of ilvl 233 gear does 314 damage and heals the same amount.
314 damage is added by adding another 233 piece. (I didn't test the heals, but I'm guessing they're the same.)
Approximately 1-2 procs each minute.
Stone of Aealic Harmony (Jewelcrafting)
"When gained, the ability to harmonize sound grants the Primary stat."
One item of gear at ilvl 233 raises your main stat by 32 for 15 seconds.
On paper, this seems to be the finest "general usage" fighting upgrade, but I was unable to put it to the test. I was unable to get it to run at all.
Others who have tried it claim that it generates orbs that you must walk over in order to get the bonus.
Purification of the corpse by infusion (Alchemy)
"A chance to get more resources from corpses."
This one provides the least immediate benefit. The tooltip makes no mention of the advantage of constructing it at a higher ilevel, and the proc rate seems to be modest.
This hasn't been thoroughly tested yet.
Extensions for Pure-Air Sails (Engineering)
"While in the Shadowlands, increases mobility and mount speed."
+10% mounted speed on all pieces, independent of their created ilevel.
It gives a mount speed of +120 percent when all 12 slots are used (in Shadowlands only.)
In Shadowlands zones alone, this equates to a total of 320 percent ground mounted speed and 530 percent flying speed. I'm guessing it stacks with other bonuses, but I haven't tried it.
Each item additionally grants a +65 unmounted run speed stat on ilvl 233. The run speed stat, unlike the mounted speed boost, varies with ilevel.
This grants +47 percent unmounted run speed IN ALL ZONES, Shadowlands or not, with 11 233 components.
Edit: On live, I can confirm that this stacks. This is a set of seven mounted pieces. The speed of movement is 270 percent. (dejacharacterstats is the addon)
You obtain a temporary 510 percent movement speed with 11 pieces + Silver Shardhide Whistle.
If you, like me, despise running around Oribos, obtain a complete set of this on 151 gear and use a weakauras to shift your gear when you switch zones.
If you're interested in learning more about how (unmounted) speed rating works, here's a great resource.
Armor Polish for Longevity (Alchemy)
"Makes flasks, elixirs, and food bonuses last longer."
Regardless of created ilevel, increases consumable duration by 50% every piece.
Flasks last 7 hours with 12 pieces.
The boosts will return to their original duration if you remove the gear.
Protoweave of the Cosmos (Enchanting)
"Improves Avoidance and, on rare occasions, heals when damaged."
I have not yet put this to the test.
This is an excellent article, and I was especially intrigued in the speed settings, which would be really useful for all of my characters through Zereth Mortis and other Shadowlands zones. I was able to quickly accomplish the following speed after a fast rush to create the suitable gear…
This is before any enchants or gems have been socketed – for those interested, my Armory link is here.
This offers up some wonderful gold-making opportunities: certain sets at specific levels that gamers may utilize to improve their experience. It's a great method to give professions more complexity, but it's let down by the inability to display these goods so players can discover them.
Additional Reading
The majority of this material was initially debated and shared on the /r/woweconomy subreddit or the associated Discord server.
I hope you found this helpful, and do let me know if you have any recommendations or criticism in the comments section below.
Until next time, best of luck with your gold-mining endeavors!
Samadan
The "crafter's mark iv recipe" is a new recipe for the crafter's mark gear that has been released. It can be crafted by combining four pieces of crafter's mark gear and one or more of the following: firestone, gold ore, or silver ore.
Related Tags
crafters mark iii
shadowlands crafter's mark 3
crafter's mark 2
novice crafter's mark
faster crafting shadowlands