Cross-faction dungeons, raids and PvP coming to World of Warcraft in Patch 9.2.5! This is a big step for the game's development as it will allow players to start playing with their friends from other factions on an even playing field. What do you think about this change? Let us know your thoughts below!.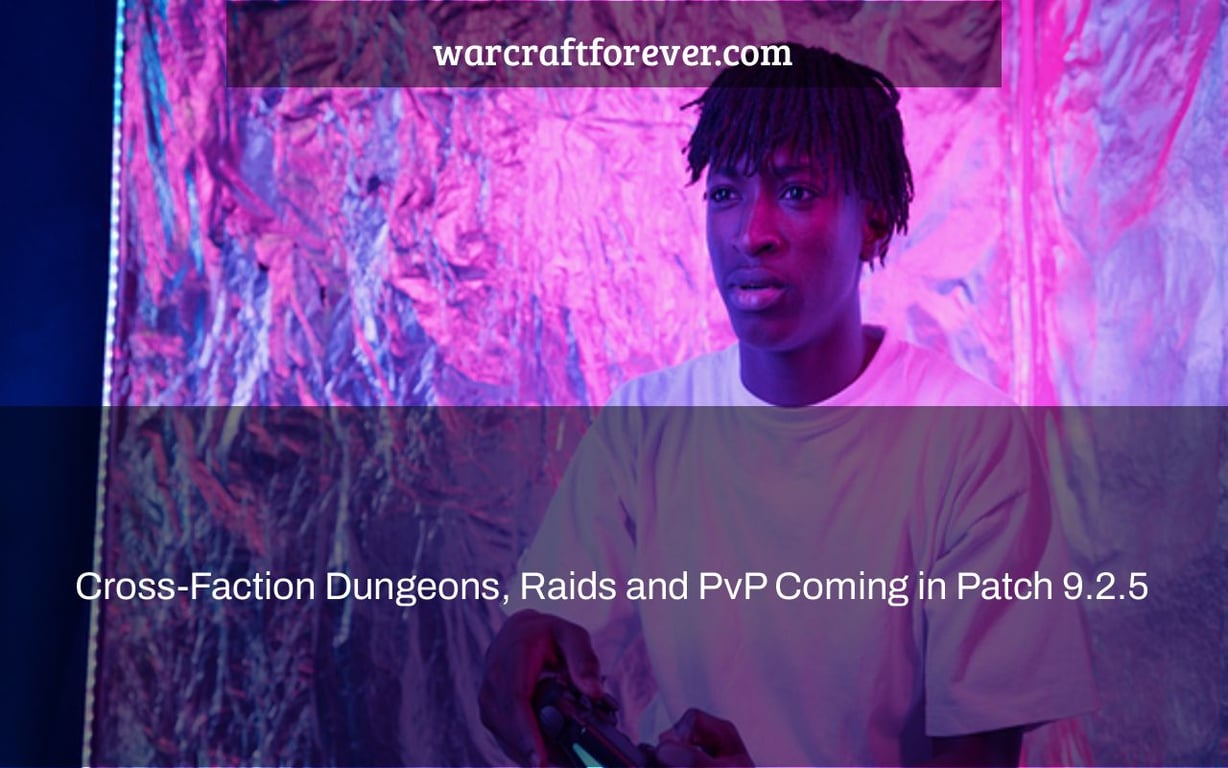 For years now, many players have questioned whether the rules restricting communication and cooperation between Alliance and Horde need to be so absolute. The faction divide could keep close friends from playing together, or cause players to feel that their faction leaves them with far fewer opportunities to pursue their favorite group content. But these downsides have long been justified in order to preserve a central element of the Warcraft universe—it all began with a game titled, "Warcraft: Orcs & Humans," right?But, to quote a one-time Warchief of the Horde, "Times change."I am pleased to announce that we are working on adding the ability for Alliance and Horde players to form premade parties together for dungeons, raids, and rated PvP. There have been two decades' worth of code and content crafted with the assumption that parties can only have players of a single faction, and while we want to make this feature available as soon as possible, the extent of the change means that it couldn't be ready in time for the upcoming Eternity's End content update. Instead, we are planning to test and release it as part of a subsequent 9.2.5 update. We're eager to hear your feedback about the details we're sharing today and on the details of our implementation when this feature becomes available to the Public Test Realm following the release of Eternity's End.In crafting the ruleset for this new feature, we were guided by two goals:
Concentrate on well-structured instanced games. The most persuasive justifications for easing the faction split have included dungeons, raids, and rated PvP. This is material that, by definition, needs a pre-assembled group, therefore social obstacles will have the biggest influence on people's capacity to access these experiences on their own terms.
As far as feasible, make this an opt-in option. There are decades of antagonism to overcome in terms of in-world fiction and player preferences. While we're happy to give players the option of reaching across faction lines to work together to defeat shared opponents, we understand that some players may be wary of the change, and we don't want to overrule their choices. It's all about giving gamers more alternatives.
Following these criteria, we devised the following system:
If you have a BattleTag or Real ID friendship or are a member of a cross-faction WoW Community, you will be able to directly invite members of the other side to a party.
Premade groups in the Group Finder listings for Mythic dungeons, raids, or rated arena/RBGs will be available to applications from both factions, while the group leader may opt to limit the listing to applicants from the same faction if they so want.
Random matchmade activities like as Heroic dungeons, Skirmishes, and Random Battlegrounds will all remain single-faction (both because there is less faction-driven pressure around random groups, and to avoid compromising the opt-in nature of the feature by randomly placing a queuing orc in a group with a night elf).
Members of the opposing group will remain hostile in the "outdoor" world (and entirely hostile in War Mode!) if they are in a party together, however they will be able to interact via party chat. However, when joining a dungeon, raid, or rated PvP battle, all players will be friendly and able to help each other in combat, exchange treasure, win shared achievements, and generally fully collaborate in the same manner that members of the same faction have always been able to. One of the main goals of introducing this feature ahead of time is to ensure that we've captured all of the expectations and criteria for a seamless experience. Whether they're raiding, completing Mythic+ keys, or seeking better PvP ratings, a group of same-faction or cross-faction players should be able to work together effortlessly. This capability will apply to legacy instances as well, and it will be accessible at all levels, albeit there will be a few older instances that cross-faction parties will be unable to access, at least for the time being: Battle of Dazar'alor, Trial of the Crusader, Icecrown Citadel (remember that Gunship Battle?) and a few more with major faction-specific components will need to be updated to enable cross-faction groups. There are undoubtedly people who have read thus far with trepidation, fearful that this is eroding a core Warcraft concept. When questioned about cross-faction play at BlizzCon in 2019, we said at the time, "Alliance and Horde division… is a foundation of what makes Warcraft, Warcraft." But, on second thought, that's an oversimplification: the fundamentals of Warcraft are Alliance and Horde identities. While that identity has sometimes been one of division and open conflict, we've seen Alliance and Horde find common ground and collaborate since Warcraft III (including the last time a Warcraft chapter was named "Eternity's End"…), and the instances of cooperation in World of Warcraft itself are too numerous to count. We're hoping that by enabling more players to choose the faction whose beliefs, aesthetic, and characters they find more engaging, rather than being forced to pick between their personal taste and the chance to play with friends, these improvements will actually increase faction identification. The Alliance and Horde are in an uneasy truce after the events of Battle for Azeroth. Even though some of their leaders collaborate in the Shadowlands, the factions remain divided, and numerous members of each side will never forgive or forget the other's wartime atrocities. There is a Genn for every Jaina, and this does not seem to be changing very soon. But, particularly in cooperative situations when the plot relies upon working together to face serious challenges, why shouldn't players be free to make that decision for themselves? We eagerly await your thoughts and input on this functionality, both now and when it is available for testing on the 9.2.5 PTR. We'll meet up again in Azeroth.