The Wowhead Economy Weekly Wrap-Up is here to give you the latest in news about WoW's economy, as well as a brief overview of what we've seen happening with trades on our site. Let's go!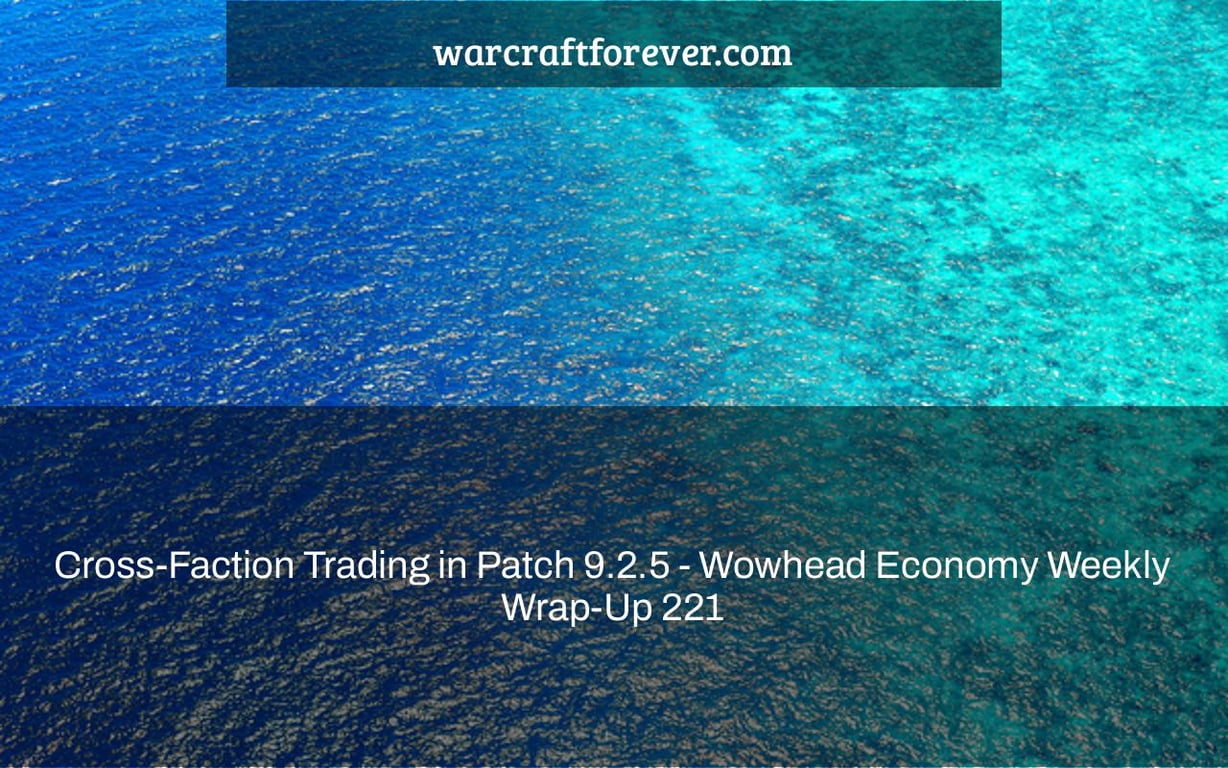 Weekly Economic Update in World of Warcraft Hello! The WoW Economy Weekly Wrap-up is back for the 221st time!
What an odd week for gold prospecting. The Mage Tower is now operational full-time, which is ideal for old world crafts. Cross Faction Trading is a significant addition in 9.2.5, and the Legendary market sees a peculiar inclusion that has many people perplexed as to what it's function is. We also go through why the economy seems to be broken as a consequence.
My name is Samadan, and I'll be your tour guide around the Gold Making World!
Cross-Faction Trading (Section 9.2.5)
The beginnings of allowing cross-faction play is one of the biggest changes of 9.2.5. This is crucial for gold producers since the inability to move things and gold across factions drastically restricts not just character choice, but also the ability to deal directly with the opposing faction outside of the auction house. Cross-realm commerce is another component that has been mentioned but not yet realized. This would reveal all markets on all servers, having a major influence on the economy as a whole.
People may be seen exchanging goods (not simply fallen dungeon treasure, but also runes) and gold between factions in the picture. Wowhead states "without any limits" on trading, however I'm not sure whether that implies cross-server trading, which I assume it doesn't.
That said, if it goes live like this, even cross-faction but same-server would be fantastic. I play both factions, and being able to send items back and forth by mail would be fantastic (I create certain things on one faction, and others on the other, thus gold builds up lopsidedly, which is a hassle).
This would also make it possible to pay for carry and boosts, which are becoming more difficult to come by. For folks like myself (Horde-Proudmoore), whose gold would be more "useful" on Alliance, this may be a simple method to do so without having to worry about AH cutbacks or danger.
What are your thoughts on this?
On the PTR, cross-faction commerce (in instanced content) and cross-faction mail are both enabled. All things and money may be traded and sent across sides on the same linked world.
On the PTR, there is presently no cross-server trade. When they initially announced this cross faction trading, they noted how inconvenient it is since boe drops and consumables cannot be traded across realms. Thus they might be working on something there as well, but nothing has been released on the PTR so yet.
Outside of particular occasions, like as raids or treasure drops that fell simultaneously, I'm ok with not performing cross realm trade.
However, it would be fantastic if there were no longer any faction barriers. I don't see why the player population should be divided into factions. Because of the shared AH, the economic effect is already limited.
I like forming alliances. However, the majority of individuals I know like to play horde. Sometimes it's the other way around.
As previously said, we already have a cross-faction auction house, so this is unlikely to have an economic impact, but it is a huge convenience victory. If only all global material, not just instances, could be opened up, conversation and commerce amongst ALL players at ANY moment could be a choice rather than a hardwired constraint.
Is There a New Devourer Relic?
Vestige of the Devourers appeared as an optional reagent, which was somewhat perplexing. This item seems to be broken and is not visible to everyone.
The new crafter vestige is still not showing up on my primary server, thus I'm forced to server hop to obtain one -.-
@BlizzardCS https://t.co/HV81ontl0h
— April 1, 2022, GirlGoblin When I tried to test it, I couldn't find one.
A new Vestige hotfix has just been released into the game, bringing with it some significant changes to the Legendary market.
https://www.wowhead.com/news/new-optional-reagent-available-for-rank-1-legendary-crafting-326557
The vestige is 4800g in weight and is Bind on Pickup. This is offered by Vilo the Enlightened Quartermaster in Haven, Zereth Mortis, and may only be used on a Rank 1 pattern to generate a Rank 5 (ilvl 249). (Edit) Honored is also required.
Some Quick Thoughts…
This puts the nail in the coffin of ranks 4 & 5 as we know it.
It's a BAIT to make them to sell. Do not be taken in by the ruse. Regular players may utilize this to create their own rank 5 legendary with little to no engagement from the Auction House or other players.
People will not read bullet point 2 and will mass-craft them to level the profession, therefore Rank 5s will be 5k apiece by the weekend, according to quick napkin math. Rank 6s will thus be barely a quarter of the price of a rank 7, and most people will disregard it.
Only rank 7s will employ Progenitor Essentia and, as a result, "Vestige of the Eternals." This was before the price dropped low enough to compete with the expenses of recrafting lower levels in "Vestige of Origins." This will very certainly result in the price of Pog Essence continuing to fall.
What are people's opinions on this?
For the typical gamer, I believe it is a significant improvement in quality of life. It will make it simple for folks to test out various leggos.
If you're seeking for a profit, I believe they'll be futile to make on most servers.
I believe some individuals will believe they can spam them out, level up recipes, and compete in the r7 market by doing so.
I believe it is a small slap in the face to anybody trying to still earn money off of r4-r6. It's a minor price to pay to make the game more enjoyable for the general public.
So, although this is fantastic for the typical player, it does nothing to address the problems with the legendary system or the massive amount of money and materials required to reach Rank 7. Perhaps a more elegant catchup approach, such as decreasing the number of goods required to rank up from 15 to 5, or just bypassing previous ranks entirely, like we do with crafter's marks.
Gold Cap & Why the Economy is Broken
This leads to a conversation between u/Michaelesque and others about why the economy is broken.
Good day, everyone! I'd want to share my gold-making experience in the hopes of inspiring others to continue with this enjoyable and interesting World of Warcraft gaming feature. At the same time, I'd want to bring up several points that I believe are harmful to the "economy" component of the game's health.
I'll give you a little background about myself: Before Shadowlands, I had never played World of Warcraft. I opted to play because of the wonderful cinematics (and, more crucially, the level squish to 60). I knew nothing about professions, cancel scans, reset days, old-world mats, TSM strings, or anything else for that matter.
I was able to learn very rapidly by lurking on this subreddit and watching extremely educational YouTube videos (thank you Manthieus, The Lazy Goldmaker, Penguinr2gt, and others), but I certainly made many expensive errors and lost many chances.
I played in a medium pop world for two months during the 9.0 patch, missed 9.1, then returned at the start of 9.2 on a high pop realm. On EU, I am a player.
The following are some things I DID NOT DO:
Because I didn't have millions to spend in mats to level up my Legendary crafting to Rank 4 at the same time as "old-money goblins," I couldn't participate in the 9.0 legendary early market frenzy. I was also a slacker when it came to earning the reputation needed to create Rank 7. I never bought low-cost materials (such as Progenitor Essentia). I've never sold battle pets or flipped BoEs.
So, here's what I did:
I, uhm, made things, concentrating on one occupation at a time and studying pricing patterns. On Saturday, buy inexpensive mats, and on Wednesday, sell Enchants. Purchase low-cost fish and prepare Feasts. Really simple things, but in my first two weeks of making, I made roughly 200k. It was also a lot of fun since I felt like I was part of an active economy while simultaneously supplying valuable items to the players, like as enchants and consumables.
Then I got enough money to enter the legendary market (late, but still), and the joy faded as the profits skyrocketed – I don't think selling legendaries for 300 percent of their crafting cost is offering a helpful service to the other players on my server.
Here are some of my key concerns:
If you have limited time to play, the opportunity cost of crafting anything other than legendaries in Shadowlands is absurd – why waste time making potions, feasts, enchants, sharpening stones, bags, and so on when you could use that time to improve your legendary crafting efficiency – one sold legend is worth hundreds of other items!
Second, the game encourages (appealingly) predatory market behavior: a person with a modest quantity of money may quickly change the price of a few critical commodities. They may acquire large quantities of low-cost materials and undercut hobbyists. If the 5-6 persons that make Base Legendaries on low-medium pop worlds agree to set the costs, they may effectively collude to keep prices high.
Third, the game does not incentivize "multiplayer" economic cooperation in any meaningful sense — it is ALWAYS more efficient and lucrative to perform all of your crafts on your alts, especially in your own guild for quick access to the guild bank. This multiplies in a poisonous way as well: if you earn enough money to fund many accounts, you may be crafting on all of them at the same time (and gold can buy you 0 to 60 leveling boosts to make that feasible).
Finally, the logic and processes favor vertical integration, predatory market practices, collusion, and cartelization, all to the disadvantage of the end consumer's experience. So, it's a bit like the free market in real life:)
PS: Stop viewing videos on how to make $300,000 with this farm. The majority of them are a waste of time.
When it comes to efficiency and the massive discrepancy between famous marketplaces and the others, I believe that's a really reasonable issue. It might be depressing to read these stories and learn about the massive sums of wealth that some gamers have amassed.
My own philosophy is to do what I like and concentrate on my own small objectives. When I had the funds, I dabbled with legendaries, but my true satisfaction comes from events like the Mage Tower and producing a regular supply of enchants and other goods that bring me the gold I need.
In the video below, Manthieus shares his points of view…
I skip to the part on the economy, but the whole movie is packed with useful information.
Additional Reading
The majority of this material was initially debated and shared on the /r/woweconomy subreddit or the associated Discord server.
I hope you found this helpful, and do let me know if you have any recommendations or criticism in the comments section below.
Until next time, best of luck with your gold-mining endeavors!
Samadan