The Necromancer, Death Knight and Legion expansion will release their first two legendary cards in the next patch. Which of these three combinations is best to start with?
The "death knight" is a legendary card in Hearthstone. It has two different cards for each class, Blood, Frost and Unholy. There are combinations for these three classes.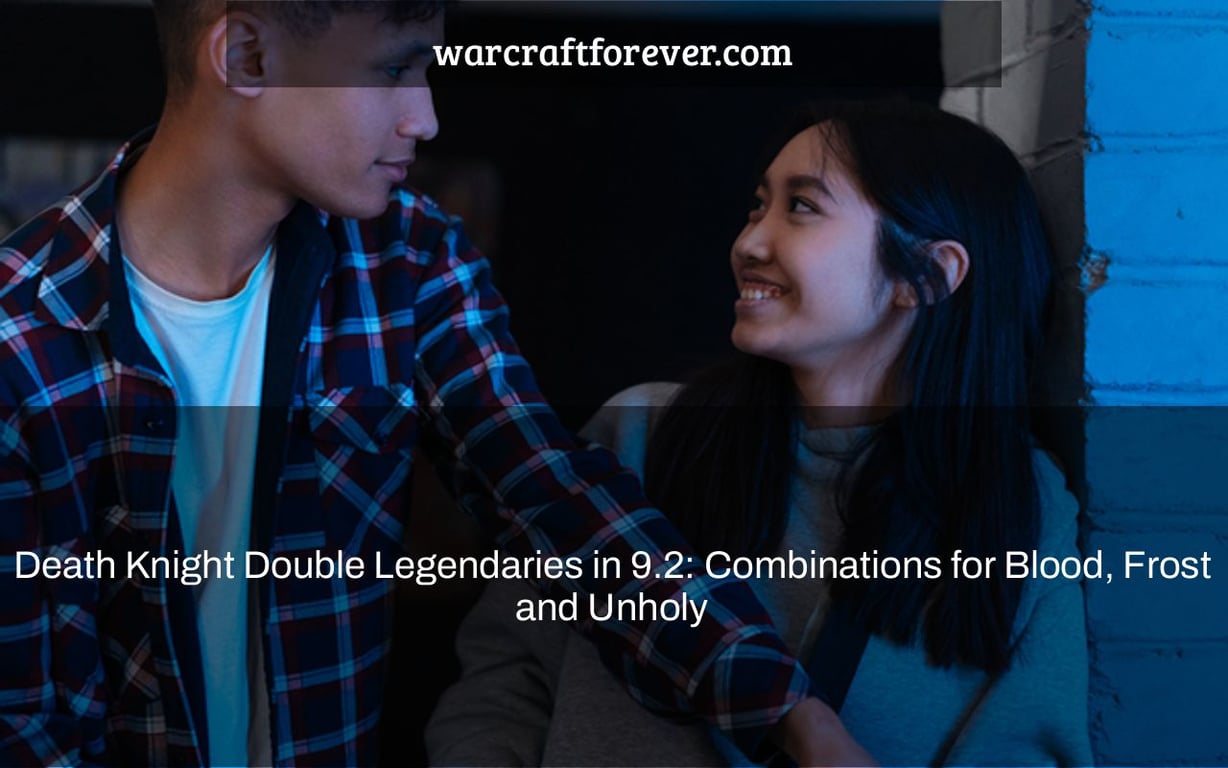 Double Legendary testing began on the PTR earlier this month with the inclusion of the Memory of Unity pattern, which allows players to wear both a standard legendary and a covenant-specific legendary at the same time. In Patch 9.2 – Eternity's End, our Death Knight Guide Writers have created a first look at the Double Legendary combos you'll likely equip in both Sepulcher of the First Ones and Mythic+.
On the 9.2 Eternity's End PTR, the timeframe for acquiring Double Legendaries has altered. Learn how and when you'll be able to equip two legendaries in our article below.
In Patch 9.2, you may get two legendary items.
In Patch 9.2, our Guide Writers have shared their early impressions on the Double Legendary combos you'll most likely equip. Below you'll find a list of all of our recently published articles.
Double Legendary Theorycrafting in 9.2
Analysis of the Death Knight Double Legendary
Guide to the Blood Death Knight Guide to the Frost Death Knight Guide to the Unholy Death Knight
Disclaimer: All theorycrafting is based on the PTR's current tuning, which includes all of the most recent class and system improvements, as well as a full 9.2 4-Set Tier bonus. Additional tuning and class adjustments may have a significant impact on the following suggestions. This is only a sneak peek at each spec's Double Legendaries; definitive recommendations will be released closer to the release of 9.2.
Mandl, our Blood Death Knight guide writer, has shared his opinions on the Double Legendary Blood Death Knight pairings in Patch 9.2!
Mandl
Before we get into the heart of "which Unity covenant pair is superior," there are a few of things to clear out first.
What has changed since version 9.1?
For version 9.2, there will be a handful of significant modifications to covenant legendaries, and it would be criminal not to spend some time describing them and their implications.
Kyrian: The Last Word
Final Sentence received a modest overhaul in 9.2, enabling it to be useful in both single-target and AoE situations. When shackle spreads, it instead offers the advantages when shackle is applied to an adversary. This implies that just pushing the button will provide a rune and do 4% damage for 15 seconds.
Night Fae, Necrolord: Minor Buffs
Minor tweaks were also made to the covenant legendaries for Necrolord and Night Fae:
The most effective Blood Death Knight Sepulcher of the First Ones has two legendaries.
This is where things get both very straightforward and very complex at the same time. Due to the fact that our covenant legendaries do not interact with our rotation or any other legendary beyond "X does more damage", the choice of generic legendary will be the same for every covenant. Instead, the legendary and covenant combination you decide on will largely be dependent on the content you are doing, the same way you are today.
One thing to note – Crimson Rune Weapon is not the only legendary to benefit from the tier set bonus we will be receiving in 9.2. Based on set tuning and encounter profiles, in addition to Superstrain, there is a small but non-zero chance that Gorefiend's Domination might see some play.
Kyrian: Final Sentence & Superstrain

As much as it saddens me to admit it, the covenant's legendary Final Sentence doesn't contribute anything to this often utilized combo. The addition of 4% more damage every 56 seconds (due to Mikanikos) and a bonus Rune at the same time isn't that exciting, but it does have some added potential in add battles. And there are a lot of them, even though you're probably going to be playing Necrolord for them (and even use Grip of the Everlasting on at least one of them on top of being necrolord).

Necrolord: Abomination's Frenzy & Superstrain There are a number of fights with adds that need to be moved, either to facilitate cleaving them down, to prevent them from moving away, or to control them. There is a very strong chance you will want to be a necrolord for at least some of it. Once again, the bonus is sort of lackluster, functioning as 20% extra damage on anything you damage with Abomination Limb.

It is worth noting that all the issues with this covenant legendary have not been addressed since the first time we saw them. I covered Abomination's Frenzy in particular at length on the initial preview, and I am still very disappointed that, in most situations, some of the Bone Shield charges from this legendary will be wasted. It feels like such a cop-out to have a legendary be copy-pasted between two DPS specs and a tank spec, with resources that are not even close to comparable (you spend Rime as soon as it shows up, and Runic Corruption has the effect of speeding up everything you do. Meanwhile, Bone Shield is neither in your control nor is it a resource you particularly care about beyond a certain level – 5 or more – and overcapping is strictly negative). I also still stand by my initial opinion – having the legendary grant Runic Corruption on every additional tick granted by this legendary (i.e. tick 0 bones, tick 1 RC, tick 2 bones, tick 3 RC, tick 4 bones, tick 5 RC etc) would be a formidably fun change.

Night Fae: Rampant Transference & Superstrain

Night Fae might be useful in situations where you can reliably bunker down and turret without having to move too much. It did so in Sanctum of Domination under extremely narrow circumstances, and the rule will remain the same in Sepulcher.

With Rampant Transference, the prize for handling Death's Due is enhanced even more, due to the additional Runic Power and strength. Death Knights who are able to properly manage and keep Death's Due despite the abundance of mechanisms that may lead you to drop it (yes, there are many) will be rewarded even more than in Sanctum, since this is theoretically the top performing covenant on DPS in vacuo if played perfectly. However, this "technically" is a very little margin, and it is highly reliant on the player's talent and ability to anticipate 20 to 25 seconds ahead.

To put it another way, it's not for the faint of heart, but it might be beneficial in some instances.
Best Mythic+ Blood Death Knight Double Legendaries
Unfortunately, the disclaimer will be the same as with Sepulcher: you may choose whatever covenant you want, and no matter what you choose, you'll get a glorified buff stick. On the plus side, Crimson Rune Weapon does connect with our tier set, so that's something to look forward to.
These suggestions of legendary and covenant pairs are based on what you can expect to be playing in the majority of key levels played out there. There will always be some ultra cool tech at world first level, but very few people will get there and the choice is often based on group covenant diversity as well as specific tech.
Just like in 9.1, all four covenants will be perfectly fine to easily get keystone hero and beyond (there are world 10 keys being done by each and every covenant right now). And just like in 9.1, the better choice is the one you are better at.
Our Frost Death Knight guide writer, Bicepspump, has written a thorough article on the Double Legendary Frost Death Knight pairings in Patch 9.2!
Bicepspump
Frost Death Knight is the best. Sepulcher of the First Ones has two legendaries.
A combination that, despite its lack of synergy, will be used because the separate components are strong. Sure, the additional Rime may work in conjunction with Rage of the Frozen Champion, but it's a tiny effect. Koltira's Favor is usually used in conjunction with Obliteration and, in certain cases, Breath of Sindragosa. Our new tier set makes it more potent, which means it will likely find more use. Rage of the Frozen Champion is a good cleave legendary for Breath of Sindragosa, and it can also be used on single targets, which helps to smooth out the rotation.
Because of its flexibility, I believe that running Necrolord is an excellent choice for the Frost Death Knight. It's always wonderful to get additional grips from Abomination Limb, and you get pretty nice 2 minute burst windows on top of that.
Frost Death Knight Double Legendaries are the best for Mythic+.
For Mythic+, we see a virtually similar Necrolord composition as a feasible option. When doing Obliteration, the only change is that we replace Koltira's Favor with Biting Cold. If you're looking for a little more AoE than single target while running Breath of Sindragosa, Biting Cold is a possible option.
Overall, Necrolord is adaptable and fits well within your rotation, allowing for even larger 2-minute burst windows.
Due to Death's Due's rapid boost scaling and the incredibly good Obliterate cleave, Night Fae becomes a lot more potent in Mythic+. We expect to use Death's Due on every pull in the dungeon due to its short 30 second cooldown. This indicates that the legendary does constant damage, as opposed to the Necrolord's burst damage. Due to the legendary combo's great AoE scaling, it's also quite likely to deliver better overall damage throughput.
Depending on our skill selections and damage concentration, we couple the covenant legendary with either Biting Cold or Rage of the Frozen Champion, comparable to Necrolord.
Our Unholy Death Knight guide writer, Bicepspump, has written a lengthy article on the Double Legendary combos for Unholy Death Knights in Patch 9.2!
Bicepspump
Unholy Death Knight of the Year Sepulcher of the First Ones has two legendaries.
This legendary arrangement is virtually identical to our current best setup in 9.1.5. When playing Necrolord, you may choose between Deadliest Coil and Frenzied Monstrosity, depending on the combat. Frenzied Monstrosity for greater cleave and Deadliest Coil for more single target.
Abomination's Frenzy has no synergy with the legendaries it's partnered with, but it doesn't need to since it's strong enough on its own. We prefer to match up our major cooldowns with our Abomination Limb-window, thus increasing its blast is beneficial. It also provides a ton of bursty AoE, which is ideal for any raid adds that need to be grouped and killed (Artificer for instance).
Because it doesn't involve any setup or extra play, this renowned combo is by far the most adaptable. Simply said, it causes us to deal a lot more damage in our shattered windows. It also encourages us to play Necrolord, which is beneficial owing to the additional grip!
Finally, a synergy that has long been on the Unholy DKs' thoughts comes to fruition in the form of a competitive build. Running Defile, this arrangement lets us to keep a 100% uptime on an enhanced version of Death's Due's strength bonus, which gives us an additional 20% strength. Since we sacrificed a decent legendary for it, this hasn't been competitive previously. Rampant Transference, on the other hand, is a decent theoretical second alternative now, making this design possible.
This combo depends on Death's Due's Cooldown being reduced enough to link the stacks and keep the bonus going eternally. Because a refresh of the Death's Due at the conclusion of the Death's Due timeframe allows us 14 seconds (12 seconds basic + 2 seconds legendary) to refresh it, Defile is adequate. This gives you a 4-second window to drop Death's Due and perform a Scourge Strike to reactivate the bonus. This is a tight deadline, but it's feasible if you keep track of everything.
Keeping up with the stacks isn't a problem in a controlled environment. You manage your resources such that Scourge Strike is always used at the conclusion of your Death's Due. You dump your Runic Power just before Death's Due to guarantee you have the two Runes you need to renew the boost as soon as possible. On a target dummy, the gameplay seems to be quite fluid and simple.
Now let's talk about why this legendary combination won't necessarily be the best to play on encounters, even if it might be theoretically best in a controlled scenario. Dropping the stacks is very easy in a raid environment. Avoiding mechanics, forced downtime, running around, being distracted. Tons of effects that will make it difficult to maintain your stacks. An experienced player that knows the fight really well can probably do it, but it will still depend on the specific fight.
In general, this combination will be workable, but not necessarily ideal. I think it'll be useful in encounters where it's simple to maintain stacks up and where you can use the additional cleave you receive on adds and other things. However, I do anticipate us to play something else as we proceed!
For Mythic+, the best Unholy Death Knight Double Legendaries
Rampant Transference reappears, this time partnered with either Reanimated Shambler or Frenzied Monstrosity. We don't care as much about prolonging the Death's Due benefit in a Mythic+ scenario. Instead, we just acquire a lot more value by increasing the size of our Death's Due window! For AoE, we got the 20% strength bump right away with our first Scourge Strike in Death's Due, which greatly improved our primary (wound build) dmg window.
Infected Claws and Bursting Sores are likely to be the focus of your build. Our Death's Due's legendary boosts and these skills truly bring our burst to this window. If we run anything else, we'll see a far higher percentage of our damage come from outside the window, which won't work well with the legendary.
Whether you choose Reanimated Shambler or Frenzied Monstrosity depends on your group's objectives. The AoE of Reanimated Shambler is a little odd, and the proc-rate is variable. However, the ultimate result is a massive quantity of AoE damage. Frenzied Monstrosity is more flexible, providing a good mix of AoE while without compromising any one target. Depending on the dungeon and your company, you will choose what is most required.