A key part of the Warcraft universe, Season 1 Masteries were a way to reward players for playing. Now in 2018, they will be returning with a brand new twist! Take a look at what it's all about and learn more from an old hand who has been through the process before.
The "tbc vs classic reddit" is a developer interview with Brian Birmingham on the Classic Season of Master. The interview covers how to get started with WoW Classic and what might happen in the future.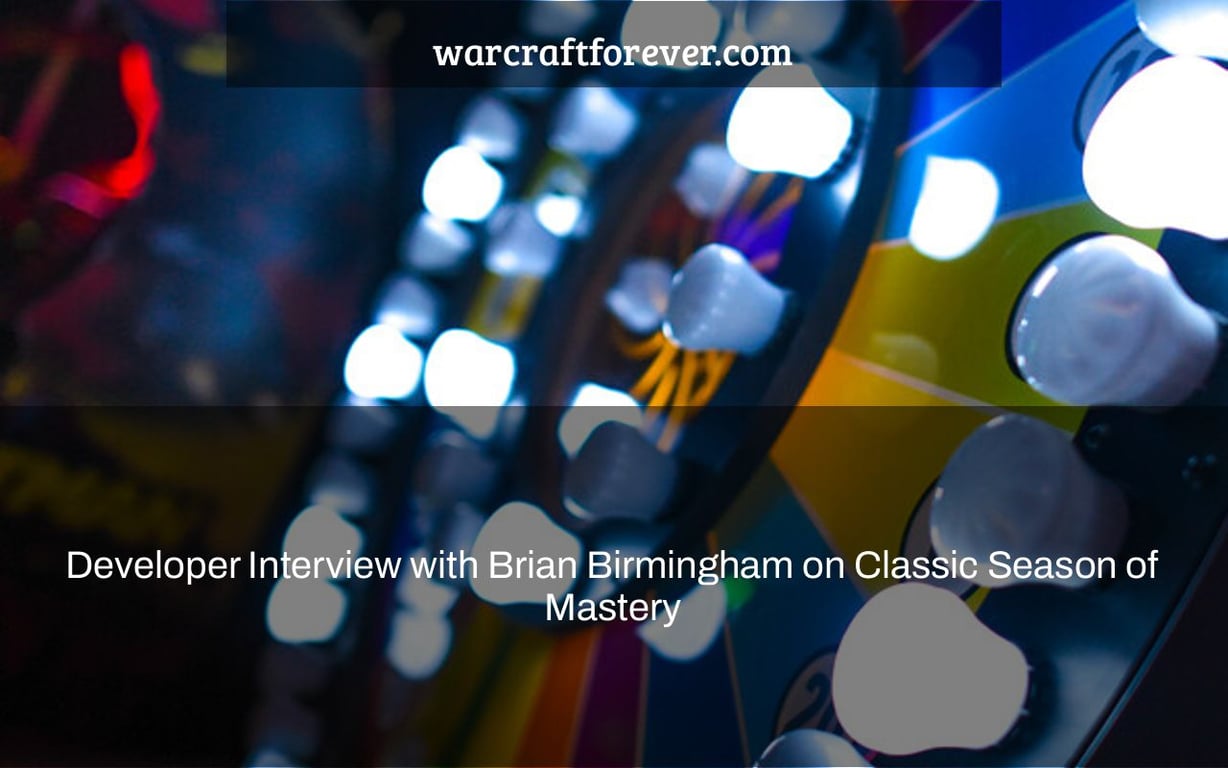 Brian Birmingham, Lead Software Engineer for World of Warcraft Classic, answered Wowhead's questions on Season of Expertise, upgrading ancient raids, and community concerns about Classic Era lands.
Brian Birmingham, World of Warcraft Classic's Lead Software Engineer
Season of Expertise
Wowhead: Who is the target demographic for Season of Expertise? Most of the biggest vanilla fans (that played on private servers) do like world buffs and are what are often referred to as "dad gamers", that aren't necessarily looking for sweaty difficult raids.
Brian Birmingham: We talked about this a lot leading up to Season of Expertise, and there were actually two different groups, with one thing in common: that they liked Classic but had criticisms about our initial "no-changes" release.
The first was a vocal ensemble. Following Classic's original release, they requested that we block, restrict, or postpone global bonuses on the current raid in all of our raid releases. In other words, people were looking for a genuine experience rather than a genuine set of rules. Most raid parties didn't stack global buffs for raids 15 years ago, and one group of gamers wanted to relive that experience.
Expanding on that, several individuals claimed that the raids were too easy—that they had already been "solved"—with each new release. Of course, that was our goal with Classic, but their opinion was still useful. They expressed a desire for a more difficult, or at the very least more intriguing, raiding challenge in the Classic setting, and we wanted to fulfill that demand.
The second category consisted of gamers who appreciated the sensation of discovery in Classic, but stopped after a few early levels and never returned. We have to work a little harder and dig for that input since they're not as outspoken. We searched around to identify other folks who fit that description, and they all agreed that the leveling process was taking too long and that they were falling behind.
We wanted to find a means to speed up their leveling without affecting the quickest levelers too much, so we opted on increased quest XP. Speed levelers complete quests, but they have a well-planned path that includes highly particular missions, which they typically undertake on their way to AoE grinding sites. We believed that by enhancing quest XP, and to a greater degree dungeon quest XP, rather than boosting XP from killing monsters, we may speed up the experience for players who are playing the game "naturally," without accelerating fast levelers.
We also wanted to ask the "ironman" community to participate in the game. We were ecstatic to hear from a group of players who had long requested an in-game means to confirm that they had never died, and one of the issues in previous versions of the game was that we weren't always keeping track of fatalities on characters in those other areas. With the commencement of a fresh set of servers for the season, we were able to ensure that we had logged all of their deaths. For our other groups, it's been a bit of a mixed bag. It's been fantastic to see that group take on the task, and we've enjoyed seeing their joy at being acknowledged.
Wowhead: Is the team still confident in their choice to move Dire Maul, Dungeon Set 2, and the Honor system at launch? Many players have decided to neglect Molten Core in favor of gear PvPing.
Birmingham, Brian: Yes, in general. Our objective was to offer folks more gearing choices at the start of the raid to match the speedier raid introductions, and we succeeded. Having PvP gear as an option helps in this respect, and we've always assumed that individuals who are ready to dedicate a significant amount of time to PvP would do so. That isn't for everyone, though, since it still requires a large amount of work, and only the best participants get the highest rankings.
It's no surprise that highly dedicated players who devote a lot of time to the game, such as streamers, can earn the top ranks and obtain excellent gear from PvP, but players attempting to obtain Soul of Iron, for example, can't use that route because PvP deaths would ruin their run, which is why we made the other gearing options available early as well.
That's not to suggest we'll always make the same choices in future seasons, but we wanted to provide players a variety of early gearing options, including via PvP, and we're glad to see that they were able to earn it.
Wowhead: Speaking of PvP, Alterac Valley has such high honor per hour in comparison to the other battlegrounds, that at one point in Season of Expertise for North American Realms, there were 15 AV games open, and 0 WSG and 0 AB. Is Patch 1.5 Alterac Valley completely off the table for future Seasons?
Brian Birmingham: I'd never want to rule anything out entirely. It wasn't highly advertised, but we did roll back some of the latest changes to Classic Alterac Valley in Season of Expertise. There were a large number of NPC guards that were removed in the original 1.11 patch, and we re-enabled those guards with the start of the season, because it was a low-effort way to try to move the needle back in the direction of earlier Alterac Valley versions. We know the dream of 1.5 Alterac Valley is something a lot of players are excited about. Frankly, we are, too. But it'd also be quite challenging to accomplish. The changes to Alterac Valley across all the content patches were pretty extensive and were connected to other systemic changes, such as battleground holidays, so we'd have to plan out what to do with those related systems at the same time. It's something I'd like to get to, but we don't have any immediate plans for it, and if I'm being honest, I don't know if we ever will.
In terms of the incentives for Alterac Valley, I believe a significant part of the appeal was the outstanding reputation prizes, such as Don Julio's band, that are accessible at exalted reputation. Even if you don't intend to attain a high PvP level, the reputation benefits for Alterac Valley are incredible, so it's no wonder that it's getting a lot of attention early on.
Wowhead: The Honor system is one of the most outdated systems in Vanilla and the team faced some challenges with updating it to be double Ranking Point rewards in Season of Expertise. Is the Honor System something the team will revisit or change in future seasons?
Birmingham, Brian: It's constantly at the back of our minds. We revived it for both technological and design reasons, and it was perhaps the most divisive aspect of the project. It's always struck me as weird from a design standpoint that you have to compete against your own group. That one-of-a-kind component is sort of amazing, but it doesn't stop it from being strange and causing strange behaviors.
It's unique in how it works and how we distribute updates to it from a technical standpoint, which is why we had problems upgrading it to run double honor. We revived the ancient scripts, which aren't like our contemporary PvP systems, therefore our deployment procedure was different, and we committed a mistake. Fortunately, we had previously upgraded it to include better recording of its operations, making it simple to see the mistake and repair it afterwards.
For the time being, we're content to leave the distinctive design alone while gradually modernizing the technology that underpins it, but I wouldn't rule out the prospect of future adjustments. We're finding that the seasonal approach gives us a lot of leeway to test new things and evaluate what works and what doesn't, and it's something that's come up more than once. What would we replace it with, I believe, is the main question. A new season may provide an opportunity to test something fresh we've come up with.
Creating New Content for Classic Games
Wowhead: When updating a Classic raid for Season of Expertise, what is the development process like? What challenges does the team face updating 15 year old raids and trying to "keep it classic"?
Birmingham, Brian: It was quite haphazard at first. We had an inkling that we would want to experiment with new boss mechanics, but we were apprehensive of bringing a slew of changes to an audience that had previously proven resistant to them. Many of us, I believe, had ideas simmering in the back of our heads, but we were holding back from suggesting anything too extreme.
Initially, we concentrated on what made the bosses mechanically simpler in Classic than they were in the original release in 2004. The most significant mechanical change was to the power accessible to players, rather than to the monsters themselves. We concentrated Classic work on the 1.12 version of the game data, which featured the most refined and up-to-date talent builds, as well as the greatest gear itemization, resulting in players having far more power than when Molten Core was initially launched.
"What if we merely boost the health of the bosses to counter the considerably increased DPS that players can muster?" we thought. Higher boss health, along with the prohibition of global buffs, was thought to deter players from blowing up the bosses, enabling the monsters to display their original mechanics.
Players were quick to point out that this was not what they anticipated when we demonstrated it on the PTR. They were specifically calling for unique and innovative mechanics, and we were all ecstatic at the prospect of being able to show off all of our brilliant ideas. We began by discussing ideas and offering methods to fight different "cheese" techniques, as well as making a preliminary summary of our thoughts on each boss. Then we shared it with a larger group of people to get input on things that could have seemed odd or out of place, as well as get additional ideas for mechanics that already exist but aren't commonly seen, and how to emphasize them. Finally, our designers split apart the work, tweaked it to check it out, and we debuted those versions on PTR to a much better response.
We aim to connect things to current mechanics or skills to keep things seeming Classic. Magmadar, for example, has been changed to generate core hounds as you battle him. The core hounds function in the same way as the core hound packs you fight leading up to him, so the mechanism is familiar and feels right, but it's not something you're accustomed to doing while frightened and attempting to keep a tranq rotation on the monster.
We also make an effort to make use of existing art materials. We can change how art assets appear in game or position them in different ways and locations to give them new meaning, but they're still the same art assets that were in the game at the time, so they have the same visual quality that makes them seem like they belong. Repurposing art and making it appear nice in a new setting might be difficult at times, but constraints can frequently lead to stronger solutions. We originally introduced a drake with five separate line-shaped breath attacks, one for each brood color, in our soon-to-be-released modifications to Razorgore. But, to be honest, the red one was the only one that looked even appealing. When drawn out as a line, all of the others looked bad, so we experimented with making the other effects be something other than a line attack, such as an ice patch that froze people or a speed bonus on the adds, which I believe resulted in a better design overall.
Wowhead: Is there ever a worry that modernizing these ancient raids would make them too difficult? Some players get disappointed since the difficulty of defeating these enemies does not always correspond to the loot that drops. For example, slaying Chromaggus (though expending many more potions) and only receiving a Shimmering Geta as a reward.
Birmingham, Brian: Difficulty tweaking is something we're thinking about. One of Classic's distinctive features, in my opinion, is the sense of location, where a raid seems like a thing that exists in its own right, rather than a configurable difficulty level you can ratchet up and down. While it's fantastic to be able to choose your difficulty level in contemporary World of Warcraft, Classic's single difficulty gives an aspirational objective. If you haven't done it yet, you now have an incentive to do so.
However, we recognize that for many people, the difficulty is secondary to the social component, so we want the battles to be fun to learn but not impossible to perform. While hanging out and speaking with each other on their preferred chat application, we want the informal groups to feel like they CAN do it. We simply don't want them to be able to do it while snoozing at the keyboard.
So far, I believe we've done a fair job of reaching our difficulty bar, but as we get to the later raids, which are more tough to begin with, I believe we'll have to be more cautious. If we continue to make adjustments, we'll have to tread carefully in those areas, so they'll be fascinating but not very difficult.
DPS Rankings in Naxxramas on Classic Era Realms are recorded by Warcraft.
Wowhead: It is generally known that melee weapons deliver significantly more damage than their ranged equivalents. Many players believe that some of the new boss modifications are intentionally meant to be "anti-melee." Is this the development team's approach of "balancing" the classes, and is it intentional?
Birmingham, Brian: Both yes and no. We recognize that melee is a powerful damage dealer, therefore we attempt to avoid anything that exacerbates that issue when creating new boss mechanics. "Is this simply going to make them bench all the mages?" we could wonder if we implemented a mechanism that punishes ranged. A system that hurts melee more, on the other hand, is more likely to make the cut. In neither situation, though, do we want anything that forces you to sit out an entire part. We want you to feel that you should bring a mix of ranged and melee weapons to all of the bouts, and that certain fights offer your melee a chance to shine while others give ranged a chance to shine. However, it's a difficult line to walk. Hopefully, everyone feels important to their raid and has a chance to show off their skills.
Wowhead: Many of the new bouts have the community happy; for genuine vanilla lovers, this is a dream come true. Is there any possibility that a fully new raid or dungeon will be built for Classic in the future? What is "Classic Plus," as many gamers refer to it?
Birmingham, Brian: This, I believe, is the most unsatisfied wish of Classic enthusiasts. We had a large number of ardent "no-changes" followers, and I believe they were generally pleased with our original release. Then there were two main groups of people who supported what we could accomplish after that: supporters of the Burning Crusade and lovers of Classic Plus. After we originally published Classic, we were conflicted between the two methods. I wish we had more time to accomplish everything, but we always have more ideas than we do.
Bans on Players
Wowhead: The current honor system pushes players to play obscene hours (and people contemplate utilizing automated bots), and the increased complexity of raids has many more players partaking in Real Money Transactions for gold (to buy consumables). Is the team aware of these concerns, and what can be done to avoid them in future seasons?
Birmingham, Brian: We are aware of users who use bots to automate games and who purchase gold for real money, and I must emphasize that both of these actions are against our terms of service.
We're beginning to see some of this activity lessen now that we've raised the penalty for gold purchase, which are increasing fast for repeat offenders. We also make an attempt to recover the gold that has been bought. I'm not ready to proclaim victory in the battle against botting or real-money transactions since it's a never-ending arms race, but I'm cautiously hopeful that our recent initiatives are making a difference.
We're also thinking about what adjustments we can make from a technological and design standpoint to lessen incentives and detect bad actors, but this is a complex topic with no simple answer.
Tournament Realm of the Classic Era
Wowhead: Speaking of consumables, for some Classic Warsong Gulch enthusiasts, the entire game is WSG. Unfortunately, to play the game at the highest level players need hundreds and hundreds of Free Action Potions, Goblin Sapper Charges, Rocket Boots, and so on. This can make it very difficult for community events to take place as well, requiring hundreds of players to amass large quantities of consumables just to play. Would it be possible for the developers to create a Tournament Realm of the Classic Era, where players can create premade characters and buy consumables for Warsong Gulch matches?
Birmingham, Brian: I believe that part of what makes Classic unique is the desire to produce and gather consumables. On a tournament world, having limitless consumables is precisely the type of convenience feature that I believe is opposed to Classic.
We want you to perceive your character as a genuine person in a real world doing what they need to do to live their best life, and if you (and by implication they) want to participate in Warsong Gulch bouts at the top level all day, you'll need to figure out how to get your consumables fix. We want you to think about the possibility of running out, or the unwillingness to use one since they are expensive, while you play. They wouldn't be consumable products in the first place if they were designed to be limitless. They'd be talents exclusive to a certain class.
Blizzard has removed the "spit" command from World of Warcraft Classic Season of Mastery. The developer interview with Brian Birmingham discusses how he handles the removal and what it means for players. Reference: blizzard removes /spit.
Related Tags
twitter classic tbc
holly everquest
nano twitter
nanonost