This is the official patch notes for Patch 2.3 of Diablo II: Lord Of Destruction on PC and Mac. The update includes a wide variety of changes, including new content updates as well as balance changes to characters in every class, skills and spells.
The "diablo 2 release date" is a patch that was released on May 22nd, 2017. The patch notes were also released. They can be found here: https://us.battle.net/forums/en/d3/topic/20728985814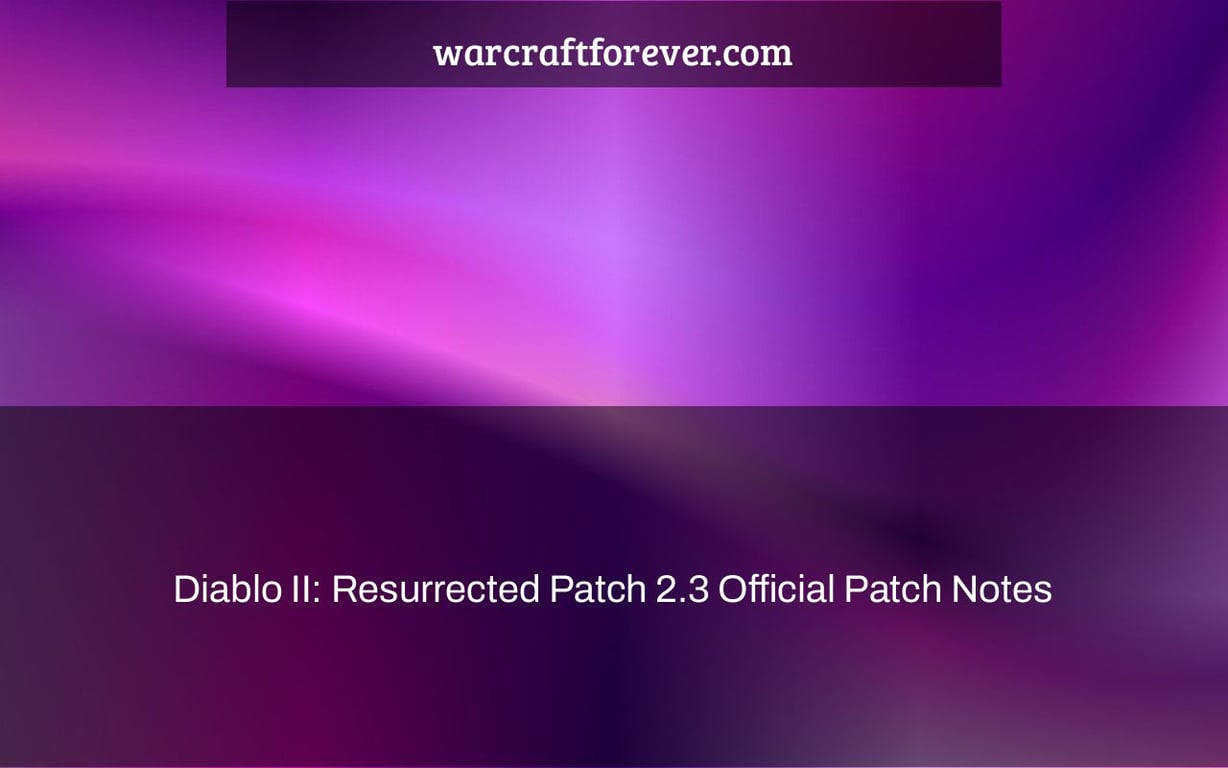 Diablo II: Resurrected | PC Patch Notes – 2.3 / Build 67314 Diablo II: Resurrected | PC Patch Notes – 2.3 / Build 67314
A new fix for Windows® PC is now available.
Please submit your thoughts in the Diablo II: Resurrected thread. Visit our Bug Report forum to report a PC bug. Visit our Technical Support forum for help with issues.
GAMEPLAY
For offline games, players now have access to a "Game Difficulty Scale" option in the settings menu, which performs the same purpose as the /players debug command.
Players may now use "Force Go," a control mode that allows them to instruct their character to move to a certain place without having to target creatures.
Players may now activate "Quick Cast," a feature in the game settings that allows them to utilize abilities using hotkeys instead of having to choose them in the UI.
The "Active Skill Bindings" bar is now available to players. The abilities (up to 16) that players have mapped for their character are shown by this extra bar above the usual HUD.
IMPROVEMENTS IN ACCESSIBILITY AND GRAPHICS
GAMEPLAY
When a character's strike misses an opponent in PvP, a visual signal has been introduced (please refer to the settings menu to activate "Miss Text").
Pets, Summons, and Mercenaries will now warp to a player's character's position if they are far away.
For player summoning, the pathing has been enhanced.
SOCIAL MEDIA & CHAT
Players may now cycle among all channels in-game and in the lobby by using the TAB key.
Whispers content is now displayed in a different color than system messages.
Battle.net Real ID pals are now visible in-game on your friends list.
MENU OF THE LOBBY
Players who are muted or ignored in the PC lobby have a visual signal added to them.
To convey character level and expansion type to PC lobby characters, a visual indication has been provided.
GRAPHICS
Support for NVIDIA DLSS (Deep Learning Super Sampling) has been added. Please refer to your settings menu to activate.
MISCELLANEOUS
When the game couldn't obtain online characters from the server, correct error message was included.
When you delete a character, your character picker will no longer go to the top of the list; instead, it will advance to the next consecutive character.
BUG FIXES
ENEMIES | ART
The VFX of NPCs Talic, Korlic, and Madawc were not always playing.
Fixed an issue where Hell Swarm opponents appeared white for a brief period of time after spawning before returning to their proper color.
A bug that prevented the Abyss Knight from getting full color tinting on freezing or poison effects has been fixed.
Fixed an issue that prevented the deaths of Imp monsters from being coloured appropriately to match the monster's color variety.
A bug was fixed that prevented the Amazon's Valkyrie talent from displaying the right color.
Fixed a bug that prevented certain Willowisps from acquiring the proper color tinting.
WORLD | ART
The exploding cow may resurface unexploded, which was fixed.
Fixed an issue where players might partly sink into the ground or float above it in certain places.
Issues with hidden objects being highlighted wrongly have been resolved.
Issues with certain assets disappearing wrongly while on-screen have been resolved.
Some objects with lower detail settings had deformed geometry, which was fixed.
In Throne of Destruction, the red light intensity has been adjusted.
Various texture problems and graphics flaws were fixed.
PLAYERS | ART
Fixed a bug that caused the Necromancer's Dim Vision VFX to expand while teleporting.
When repeatedly casting Inferno or Arctic Blast, a problem with animation stutters been fixed.
Fixed an issue with the Assassin's Phoenix Strike VFX that caused them to linger on screen for other players after the charges were utilized.
Fixed an issue where the death VFX for the Necromancers Fire Golem seemed offset from the corpse.
Fixed a poly-storming problem with Wolf and Dire Wolf summoning VFX.
AUDIO
When using a controller, a problem preventing audio from playing correctly in the Options menu was fixed.
When pressing R3 on a controller, the audio for auto-filling the belt would not play. This has now been fixed.
When Diablo spawned in a game with a Classic character, there was a bug that caused speech lines to repeat indefinitely.
When switching in and out of Legacy Mode, the music would start afresh.
In Act 3, we fixed a problem where certain quest objects didn't play audio when you picked them up.
FIXES FOR CRASHES AND STUCKS
When the Act 2 Mercenary uses Jab while changed with the Delirium Rune Word, a crash might occur.
Fixed a problem that might happen if you used the maximum length for your channel name and then selected that channel from the dropdown menu.
After failing to establish an Online game, a player might get trapped in the Join Game state, which was fixed.
Fixes for Various Crash Situations
ONLINE GAMEPLAY
Fixed an issue where if a player destroyed another player's Soulstone on the Hellforge, that player would be unable to interact with their inventory in multiplayer sessions.
Waypoints might become unselectable in online games if they were surrounded by creatures.
Korlic's Leap Attack now works properly in online games.
Fixed an issue where accessing another player's Town Portal might lead your character to load onto the next location before teleporting back to town.
When utilizing Holy Shield, a problem with client-to-server synchronization was fixed.
When trying to trade with a player who was either in their stash or holding their cursor on an item, the trade prompt would flash.
Online games' ability and attack animations are now more synchronized.
Fixed an issue where if another player enters the gaming session, your transaction with another player might be closed.
Other players' corpses would not display unless they opted to respawn, which was fixed.
Fixed an issue where client and server attack and skill timings were not always in sync.
Capabilities of Players
Going hostile with a Druid character caused their summons to come up at 1/3 of their true health.
Telekinesis on the Altar of Ancients would not awaken the Ancients due to a bug.
Fixed an issue where aiming in the wrong direction in Legacy mode when the Hurricane talent was active might result in a lengthy loading screen.
The Assassin's Dragon Talon skill animation now plays with an added kick.
When utilizing the Werewolf and Werebear forms, the Druid's Fury talent was not correctly animating as many hits as it threw.
To interact with a target, telekinesis no longer needs line of sight.
Even if you don't have a throwable weapon, you may now equip the Throw skill.
An problem where overlapping Fire Wall or Blaze rockets might inflict additional damage has been fixed.
Fixed a problem in Act 2 where a player's usage of Telekinesis on the Orifice caused an interface screen to get frozen on screen.
Fixed an issue where casting Enchant on another player while in town may trigger a trade.
Fixed an issue where Paladin characters with particular abilities allocated to certain controller buttons couldn't interact with their stash.
Auras might momentarily turn off and on when performing inventory activities was fixed.
When the Paladin's mana was drained while holding down the Charge skill, he may start rubber banding.
Conviction could no longer be equipped if you were using a bow or crossbow.
When Shadow Master used the Dragon Flight ability, he would not teleport. This has been fixed.
Fixed an issue where creatures summoned by the Necromancer may not be unsummoned on occasion.
Controller
On PC, /nopickup now works correctly for controllers.
Fixed an issue when connecting an oskill to a button and then binding a common skill caused the wrong tooltip to appear on the controller.
Other party members' deaths might generate vibrations on other players' controllers, which has been fixed.
Fixed an issue where things sometimes fail to move quickly between stash and inventory.
If the Swap Sticks option was active, the toggle "run" UI would show the incorrect button.
If you agree a trade and then loot your corpse before the other player accepts, the deal will seem to be successful but it will not be.
Fixed an issue when navigating beyond either end of the channel list prevented the user from accessing the channels again.
When imbuing, players were unable to utilize UI buttons or pick up things due to a bug.
Fixed an issue where autofilling your belt with "R3" would sometimes fail halfway through.
The quest UI would disappear if you typed a message in game chat while on the quest panel.
A keybind for the run/walk toggle was interfering with Paladin auras, which was fixed.
Fixed an issue where initiating a trade while in the skill bind menu caused players to lose control of their controller.
Fixed an issue where the emote wheel interface screen would overlap the trade interface screen when the emote wheel was on-screen and a trade was started.
Mercenaries
Mercenaries who have died will no longer appear in town.
Fixed an issue where a player with a dead mercenary might cause the dead mercenary to appear in an idle animation while entering another player's game.
Fixed a bug where an Act 2 Mercenary's Aura may be inaccurate.
Fixed an issue where Mercenaries didn't always follow the player while teleporting.
Enemies
Fixed a bug where stunned Grotesques couldn't be targeted.
The Poison Cloud strike of Tomb Vipers was incorrectly delivering physical damage; the poison clouds now provide accurate poison damage.
Fixed an issue where different players in the session might see different VFX for several of Baal's missiles and attacks.
Fixed a problem with Death Lords' frenzy attacks not animating properly.
World
Fixed an issue where hatched cocoons might get unhatched if they were reset.
Stash
Fixed an issue where attempting to deposit more gold into your stash than the stash could hold resulted in no gold being placed.
PERFORMANCE
ABILITIES
Various player skills have been improved.
ENEMIES
Various boss encounters and creatures have been improved.
LOCALIZATION
When played in Chinese, corrected audio translation on Greiz's voice over for "Who Goes There?"
When playing in Chinese, corrected audio translation for Kashya's voice over for Act 1, Quest 5.
Fixed a bug that caused certain text in some languages to align incorrectly with the UI limits.
In non-English translations, gender prefixes for the speaker's name were removed.
After conquering Baal for the first time, a bug was fixed in which some languages' speech lines were not translated in chat.
INTERFACE WITH THE USER
GENERAL
In Online mode, a bug was fixed that made it impossible to show the player hostility tooltip.
CONTROLLER
When unequipping things that provide a life boost or dropping specified items, a red screen flash would emerge.
Fixed an issue where the Town Portals skill symbol on controllers didn't turn red when it should have.
Fixed an issue where a player's cursor may get caught on the potion belt if they had a sash on and hovered over belt slots with the directional pad.
If another player joined the game, the join game button in the lobby would unselect and return to the lobby list on the controller.
When using a controller, the user was unable to navigate to buttons underneath the game creation choices screen.
Fixed an issue where Baal's health bar was incorrectly scaled while using a controller.
MERCENARIES
When using a controller, a problem with Mercenary skills being presented in the wrong sequence was fixed.
CHAT
Fixed an issue where the player might have trouble scrolling back to the top of the channel list if the chat channel list was big enough to produce a scroll bar and then channels were left.
A problem with lengthier chat messages being cut off by the chat window has been resolved.
When clicking on a connected item, the game might show the previously clicked linked item inaccurately.
A problem with the Chat window preventing the player from casting spells has been resolved.
The game answer will no longer be shown twice if you use the /whois chat command without a username.
LOBBY
Fixed a bug where the highlights of certain buttons were misplaced.
Fixed a problem where text highlighted by clicking and dragging didn't show up until the player let go of the mouse.
Inconsistencies in text highlight behavior were addressed.
AUTOMAP
When entering a new region through a portal, the automap would not display explored areas until the player moved about.
When quickly teleporting, a bug was fixed where level exits didn't always show up on the Minimap.
INVENTORY
When using a controller on PC, the button highlight on the "Imbue" and "Add Sockets" buttons was incorrectly sized.
FRONT END
Indestructible things were not viewable on your character in the menus due to a bug.
When a player tries to establish a channel with a name longer than 15 characters, an error message is now shown.
There was a bug in the credits that caused the music to cease playing.
Fixed an issue when holding the "Escape" button continuously brought up the exit screen.
Fixed a problem where the player's lobby character would be cut off if they wore a helmet that was too tall.
When returning to the front-end, an issue where freshly generated characters were not correctly chosen or sorted was fixed.
Weapons, armor, and shields that have reached their maximum durability will no longer be visible on your character on the front end.
SETTINGS
Fixed a bug where the highlights of certain buttons were misplaced.
When switching between Controller and Keyboard & Mouse on the HDR calibration screen, the player might lose controller input.
HUD & PANELS
Fixed a bug where the highlights of certain buttons were misplaced.
In Large Font Mode, the text for the Necromancer class in the Party Menu was being chopped off.
Fixed an issue that caused some tooltips to shrink when switching between Legacy and Modern modes.
When you use a traversal skill while the waypoint menu is open, the waypoint menu will now be properly dismissed.
Watch This Video-
Frequently Asked Questions
Did they fix Diablo 2 resurrected?
A: Diablo 2 Resurrection is a fan-made project that aims to revive the original version of Diablo 2, as it originally was before Blizzard made many changes. The game has been re-created with modern technology and modern graphics and is currently being worked on for years by a small team of developers.
What patch is Diablo 2 resurrected?
A: The latest patch is 1.0.1f, which was released on June 19th 2018
Will there be updates for Diablo 2 resurrected?
A: The developer has stated that they are not planning on any updates for Diablo 2 resurrected.
Related Tag
diablo 2 lord of destruction