With the coming release of Legion, it has been a long time since we've taken a look at the upcoming class changes. Today I'll be doing just that with my analysis of what I think will change in 9.2!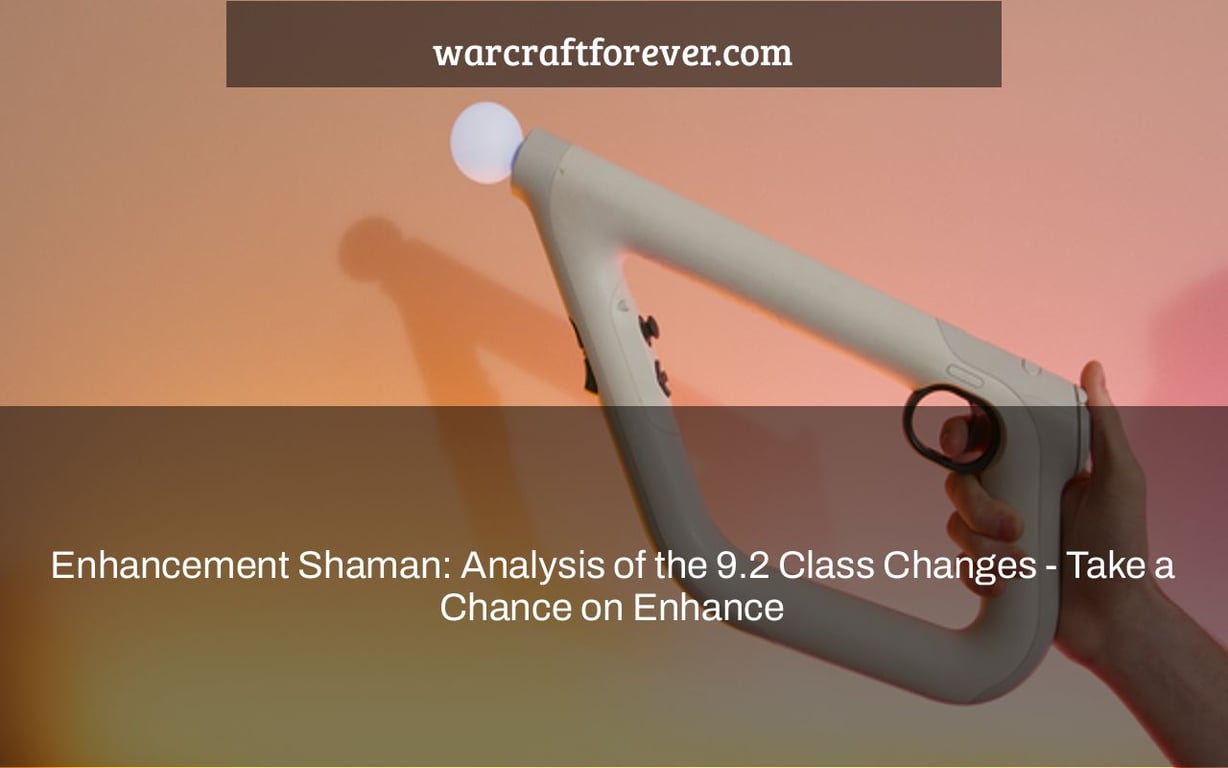 Enhancement Shaman's spec will be completely overhauled in Patch 9.2! Wordup, our Shaman Enhancement Guide Writer, goes down all of the changes and discusses how they affect AoE, burst, covenants, and legendaries. With a complete explanation of their 9.2 tier set bonus, you'll get a double dose of theorycrafting. It's never been a better opportunity to give Enhance a try!
9.2 Bonus Tier Set Specialization
  When Lava Lash is used against a target impacted by your Flame Shock, Flame Shock will be distributed to up to 3 foes around the target, reducing the cooldown by 6.0 seconds.
  For 2 minutes, summons a Windfury Totem with 5 health at the caster's feet. When party members within 30 yards auto-attack with their primary hand, they have a 20% chance of swinging an additional time. This is a tooltip correction only.
Conduits of the Soul
  Frost Shock has a 21 percent 30 percent chance of granting 2 stacks of Maelstrom Weapon (Potency Conduit). Changes in rank:


| | | | | | | | | | | | | | | |
| --- | --- | --- | --- | --- | --- | --- | --- | --- | --- | --- | --- | --- | --- | --- |
| 21% | 22% | 23% | 24% | 25% | 26% | 27% | 28% | 29% | 30% | 31% | 32% | 33% | 34% | 35% |
| 30% | 33% | 36% | 39% | 42% | 45% | 48% | 51% | 54% | 57% | 60% | 63% | 66% | 69% | 72% |

  Maelstrom Weapon (Potency Conduit) boosts the damage or healing of your next spell by 1.0 percent 5.0 percent every stack. Changes in rank:


| | | | | | | | | | | | | | | |
| --- | --- | --- | --- | --- | --- | --- | --- | --- | --- | --- | --- | --- | --- | --- |
| 1.0% | 1.3% | 1.5% | 1.8% | 2.0% | 2.3% | 2.5% | 2.8% | 3.0% | 3.3% | 3.5% | 3.8% | 4.0% | 4.3% | 4.5% |
| 5.0% | 5.5% | 6.0% | 6.5% | 7.0% | 7.5% | 8.0% | 8.5% | 9.0% | 9.5% | 10.0% | 10.5% | 11.0% | 11.5% | 12.0% |

  (Potency Conduit) Lava Lash gets a 15%-12% increased critical strike probability against foes impacted by your Flame Shock. Changes in rank:


| | | | | | | | | | | | | | | |
| --- | --- | --- | --- | --- | --- | --- | --- | --- | --- | --- | --- | --- | --- | --- |
| 15% | 15.7% | 16.3% | 17% | 17.7% | 18.3% | 19% | 20% | 21% | 21.7% | 22.3% | 23% | 23.7% | 24.3% | 25% |
| 12% | 13.8% | 15.6% | 17.4% | 19.2% | 21% | 22.8% | 24.6% | 26.4% | 28.2% | 30% | 31.8% | 33.6% | 35.4% | 37.2% |

  Windfury Weapon has a 20% 15% chance of triggering a third attack (Potency Conduit). Changes in rank:


| | | | | | | | | | | | | | | |
| --- | --- | --- | --- | --- | --- | --- | --- | --- | --- | --- | --- | --- | --- | --- |
| 20% | 21% | 22% | 23% | 24% | 25% | 26% | 28% | 29% | 30% | 31% | 32% | 33% | 34% | 35% |
| 15% | 17% | 20% | 22% | 25% | 27% | 30% | 32% | 35% | 37% | 40% | 42% | 45% | 47% | 50% |
Spells
  Hurls a lightning bolt towards the adversary, doing Nature damage equal to 63.5 percent of Spell power, and then leaps to other adjacent foes. Affects a total of three targets. Improvement (Level 38) If you use Chain Lightning on several targets, each target you strike increases the damage of your next Crash Lightning by 20%. Improvement (Level 52) Chain Lightning decreases the cooldown of Crash Lightning by 1.0 second for each target struck. Per target struck, the Elemental generates 4 Maelstrom.
  Sears the target with fire, dealing (19.5% of Spell power) Fire damage for 18 seconds and then another (104.4 percent of Spell power) Fire damage. Flame Shock may be used on up to 6 targets at once.
  Frost damage (45 percent 63 percent of Spell power) is dealt to the target, and the target's movement speed is reduced by 50% for 6 seconds. Enhancement Frost Shock and Flame Shock both have a cooldown.
Powers of Runecarving
  Riptide will be thrown on up to 5 friendly targets that have been healed by Chain Harvest. Flame Shock will be thrown on up to 5 enemy targets that have been injured by Chain Harvest. Chain Harvest's cooldown is reduced by 1.0 sec by Flame Shock critical hits.
Wordup, the author of our Shaman Enhancement Guide, has a lot more to say on the Enhancement Shaman class changes!
Is it better to be happy or sad?
While Enhancement has had a bit of a bad time of it over the years with a few bright spots here or there (and it's probably got a bit boring reading doom and gloom reports each patch), this time I can pretty comfortably say that what's on the horizon for 9.2 looks universally positive. Lots of the nastier problems with the spec are improving, and some holes in choices/talents & damage profiles are being plugged up. On top of that it's not just "borrowed power" systems being addressed but The Starting Point toolkit – something above and beyond what I was expecting to see before the next expansion.
Because Enhancement as a spec, although not very difficult to play, does have a lot of moving pieces and things that go together, I'll divide it down into a few separate sections linked to 9.2 changes.
Changes to Expect
Because there's a lot going on, I'll be splitting it up between Baseline & Shadowlands Systems sections
The Starting Point
These are changes that will take effect as soon as you load into patch 9.2, and will directly impact with the class/fundamental spec's abilities, independent of the Shadowlands systems.
The clearest and most important part of our toolkit that is altered here is our AoE, specifically the options on the Level 35 row. Previously, we have become increasingly locked into Elemental Assault with Hailstorm being a very niche Cleave/AoE option, and Fire Nova being a dead talent. However, following the ability to set Fire Nova up and a huge buff to Hailstorm we are now provided with options that lean into either single-target, sustained cleave, or burst AoE depending on the situation and what other talents you select alongside each.
The impact of Flame Shock spread on its own (alongside the innate Lava Lash reset it's currently doing) is effectively free AoE either by application followed by spread, or various Covenant effects that can apply it on their own and then capitalize on it. It also raises the value of Lashing Flames on the Level 15 row to a legitimate contender in cleave now that we don't have to juggle two individual tab-target debuffs. We've also now finally got a strong reason to consider the Primal Lava Actuators Legendary, as previously the higher GCD investment to use this coupled with the Flame Shock juggling pushed it far out of the realm of being playable.
The Feral Spirit change is in response to an issue the new 2-piece bonus caused, where we would cap out on guardian slots in the totem row and Wolves/Totems/Elementals would despawn wasting some value, so is a very important (but quite niche) bugfix. Ice Strike and Sundering's notes are long term bugs that now make them behave as expected (for real this time), which is a nice change to add in.
The Mechanisms
These are modifications to items directly connected to Shadowlands systems (such as Legendaries, Covenants, and Conduits), so they'll probably be less permanent in the future, but they'll be highly important to Patch 9.2.
Throughout Shadowlands we've had a serious issue with the value of our Conduits being extremely frontloaded, and pretty weak. These buffs have smoothed out the gains so increasing their item level is more valuable, and also made them drastically more impactful. The most important of these is Focused Lightning which now moves to being a lock-in Conduit, alleviating one of our other core issues (to some extent) by making Maelstrom Weapon spenders more punchy – especially when paired with Venthyr or Necrolord.
Chilled to the Core is the Conduit that spent the entire expansion in a bit of a hole but when everything is considered, it is now an option if playing Hailstorm thanks to this and the 2/4-piece below that lets it slot in even with Witch Doctor's Wolf Bones for mixed damage profiles in some cases. That we also have to cast less Flame Shocks now due to the Lava Lash reset on Flame Shock, it even sees value without now there's room to press it. Unruly Winds is now even more of a lock-in with Doom Winds, and Magma Fist with Hot Hand, so we've finally reached a point where all of our Spec Conduits are worth using.
The combination of these adjustments makes the issue of whether a third potency is worth taking (though not necessarily dominating) in each of your Soulbinds depending on whatever build you play or what your aim is a lot more intriguing – which is fantastic.
The Kyrian Legendary is a smaller change but does mean we have a lower opportunity cost when using the second charge of the pulse – instead of burning Maelstrom Weapon it's replaced by a Healing Stream Totem cast followed by 2 Earth Shield casts – but this still costs globals, so is mostly quality of life. The Venthyr change is extremely strong and opens it up as a premiere AoE Covenant choice that we'll discuss below, drastically reducing the cooldown of Chain Harvest and having some very surprising synergies with other options. This paired with The Starting Point changes has opened up a lot of options we previously didn't have that allow us to alter our damage profile more directly without throwing away what we're good at – which is the current situation on live.
Note on the Windfury Totem
As an aside, in the early patch datamining, there was a documented change to Windfury Totem that should be mentioned:
While the old tooltip may seem to be a nerf, this is how it has always worked in Shadowlands – the game tooltip simply didn't inform you. Except for additional effects that some classes receive access to in 9.2, every assessment of how excellent the totem is for Dual-wield specs from 9.1 forward (due to previous flaws that were resolved from 9.0) stays the same, so there's no need to fear!
Bonuses for each tier
Patch 9.2 also introduces set bonuses, which are closely tied to several aspects of our toolset, therefore it's necessary to discuss them now (though this is also covered in other broader places on Wowhead currently – the original Set Bonus write-up is still mostly correct sans some small details). I'll go over both of these fast here since they're relevant in several areas later down:
Obviously, the 2-piece drastically increases the uptime on your Feral Spirit, getting it a lot closer to 80% when using other effects that pair with it (such as Witch Doctor's Wolf Bones and Night Fae's Seeds of Rampant Growth). It also raises the value of Maelstrom Weapon spenders with a small feedback loop of CDR thanks to those legendaries, as the passive Maelstrom generation buff does trigger (though will overwrite any active one if a new wolf spawns and reset to 9 seconds). This bonus alone firmly locks us into always playing Elemental Spirits in all situations thanks to the benefits of Crackling Surge / Molten Weapon / Icy Edge, as each wolf will also come out with one of these elements at random. Due to the higher frequency of spawns as well, the feast/famine effect of these buffs and how strong they are if they land vs. how weak they are if it's the wrong one is reduced to some extent, thanks to them blanketing more of your rotation.
The 4-piece means that whenever a Feral Spirit is active (either from an active cast or a proc) we are flooded with Stormbringer procs – something that up until now is a fairly rare occurence over the course of a fight. This drastically improves Maelstrom generation and allows us to even flex certain talents (Hot Hand is no longer mandatory for single-target as an example and can be swapped to Stormflurry for a Stormstrike-spam build). It does however significantly increase the APM of the spec and make it much more fast-paced; there's a lot more moment-to-moment judgement of which GCD is highest value based both on your current resource and proc state and even what Elemental Spirits Wolves are active, and there will always be some proc waste depending on your choice when things get hectic.
Both of these bonuses combined are very, very single target oriented though, doing little in the ways of significant AoE increases (barring a bit of extra Fire damage from Molten Weapon with Sundering/Fire Nova casts, or a convenient Crackling Surge during Doom Winds). It's a bonus that strongly emphasizes something we're currently good at, alleviates some of the 9.1 RNG issues, but doesn't interact with our AoE toolkit particularly well especially considering the new baseline changes. It is, however, a core part of the entire 9.2 package right now and firmly locks the Level 50 Talent row into Elemental Spirits. Mechanically the 2-piece is the big winner, but the 4-piece (while numerically strong) could maybe stand to be a bit more flexible and less of an overload of shiny buttons.
Double Legendaries and Covenants
Double Legendaries paired with The Starting Point spec changes above has opened us up to the widest reach of different options we've ever had, and is something I'd say really completes the package of Shadowlands Enhancement. It doesn't necessarily make us a "FOTM" spec nor absolutely amazing at anything (though it's looking good in some cases), but the most important thing to bear in mind is it lets us tailor our damage profile significantly better than the live iteration without big opportunity costs. Because all of these systems are interlinking, I'll look at each Covenant in a segment below.
Kyrian
Kyrian gaining Raging Vesper Vortex is the only Covenant that feels like it didn't get something that opens up a new avenue of play. It effectively just lets you double up on burst tools by pairing it with Doom Winds to either dump all at once, or cycle between them for AoE situations. It also firmly locks in Elysian Dirge as the second Potency of choice thanks to it scaling directly with the Legendary. It's very appreciated that it no longer requires wasting Maelstrom Weapon to trigger the pulse thanks to Earth Shield, but it feels based on PTR play to be the one Covenant that doesn't directly make use of the 9.2 benefits, as what it can do can be done better and more comfortably by just playing Venthyr.
However there is something to be said about the flexibility of its options, and it may still remain relevant based solely off things being divided between different burst AoE damage sources, and can play well with any of the AoE damage packages without any serious clashes – not to mention Hammer of Genesis is an excellent trait for us in Mythic+.
Necrolord
Necrolord has always been the Covenant that Enhancement has struggled to make use of, but suddenly 9.2 lets it breathe at the final stop of the expansion! Adding Flame Shock spread now means the cleave aspect of Primordial Wave can now be easily capitalized upon which is crucial, as making use of the multi-dotting aspect to get big Lightning Bolt casts off always got in the way of other things you needed to do at the same time for a fairly weak payoff.
Despite the fact that Splintered Elements is easily the weakest of the 4 Covenant legendaries by a wide margin, it does present an opportunity to make use of some of the Soulbinds and multi-target benefits of spread to funnel AoE into a single-target, making it a great candidate for Primal Lava Actuators. This Legendary has been waiting for spread ever since it was first shown, and now it's here playing it with something else that can lean further into the effect provides a very strong priority build. The extra Haste also makes the desperate need for Hot Hand procs a bit less frustrating, and the rapid cycling of Lava Lash even allows for very comfortable applications of Lashing Flames if you want to weave in more Cleave if required.
Night Fae
There's not a massive amount to be said about Night Fae other than that it just received flat out perfect increases to what makes it good currently via the 9.2 systems. It already sits atop the single target throne because of Fae Transfusion and a solid Soulbind tree, and everything that produced that build in 9.1 sees linked bonuses from 9.2 with (crucially) added flexibility.
Seeds of Rampant Growth directly synergizes with both the tier bonus and the ideal single-target legendary in Witch Doctor's Wolf Bones. While you won't see permanent wolves, you are gonna see your pals around pretty often (around 80%) and come with a big burst window thanks to the Crit gain and reset on Feral Spirit on each Fae Transfusion, meaning that the DPS is far less flatlined. That it can also now deviate from Niya + Hot Hand, and take a Dreamweaver + Stormflurry option that's less RNG window dependant if a fight doesn't play nice means that it's far less volatile to encounter design. All in all, this is pretty likely to be a staple for raid content, but no longer the mandatory pick.
Venthyr
Double Legendary gains for Venthyr is on the same level as Night Fae, but in a different direction. It assists massively with our AoE profile (something which has been sorely lacking since 9.1), but it leans very heavily into that at the loss of single-target or (with Necrolord) priority damage. It does, however, bring a significant amount of AoE thanks to a few different options:
Doom Winds – This can still be played here as an uncapped burst AoE choice, and thanks to Elemental Conduit you just get free cleave Flame Shock damage while still being able to pick Hailstorm and not waste Shock cooldowns.
Skybreaker's Fiery Demise (no seriously) – While it's an Elemental legendary, a flat 50% Crit chance to Flame Shock is a massive cooldown reduction to Chain Harvest, and paired with a heavy Crit set you can drop the cooldown all the way down to 11-12~ seconds depending on target count. This provides a massive amount of burst AoE but very little priority target damage due to the Lashing Flames tab-targeting.
Furthermore, if you have enough targets to roll Flame Shock on, it gives a massive amount of off-healing, both in bursts from the spells and as constant ticking riptides on your party.
What Types of Structures Have Been Created?
Because the above mentioned synergies exist between so many parts of The Mechanisms and talent tree now, we're looking at a wide array of different build options depending on the situation that pair up, creating some tight packages when used together. The beauty of this is, compared to what Enhancement has had previously (focused entirely on one build that does one thing good enough but has no flexibility elsewhere) we have room to adjust around content type, your planned Mythic+ routing/priority, Boss encounter type or even preference. Currently, the ones that are looking especially interesting are in the individual toggles below, labelled by the Covenant and the correlating Legendary effect:
This is your premiere single-target option, and wins out in those situations using Witch Doctor's Wolf Bones as your primary Legendary assuming that you can make use of some of the Soulbind effects. Notes below are very important because there is some variance in exactly how you build around this.
Notes:
While Forceful Winds is an easy alternative that clutters the rotation less (and can even pair with Unruly Winds), the buffs to Focused Lightning pushed Elemental Blast even further ahead so the choice largely boils down to your preference on the Level 25 row, and whether an encounter lets you capitalize on these effects properly or not. They however play very differently – Hot Hand heavily focuses on getting the most out of Hot Hand procs (and as such really likes Molten Weapon wolves which are now much more plentiful), while Stormflurry effectively spams Stormstrike whenever wolves are active thanks to the Stormbringer flood from the 4-piece (and really likes Crackling Surge).
It's also possible (if not likely) that Night Fae still stays useful with a swap to Korayn thanks to First Strike for Mythic+ and remains a solid priority spec thanks to the entire 9.2 package with a variety of Legendary options.
More niche, but this allows you to convert extra targets into more pure single-target damage by using the Primal Lava Actuators effect as your primary Legendary. There are some flex options, but for the goal of doing as much priority damage as possible it's fairly locked in.
This forgoes doing a lot of AoE and instead uses the Flame Shocks you have active to cycle Primal Lava Actuators to funnel directly into one target for extremely big Hot Hand windows and consistent damage. Thanks as well to the burst Haste granted by Splintered Elements, access to Hot Hand procs is more frequent. Fire Nova is taken because there's significantly less room to fit in Stormstrike (and when this build is used it's assumed there's extra targets for repeat explosions) as you'll be pressing Lava Lash much more frequently while still maintaining Crash Lightning. This can either be played with a single target anchor to funnel into or can weave in some Cleave by tab-targetting Lava Lash for multiple applications of Lashing Flames if necessary, so is more flexible than it looks.
Closer to our traditional burst AoE setup from Shadowlands, this seems most likely to settle in as a good Mythic+ option because of the flexibility in target counts. Doom Winds most importantly brings our only real source of strong uncapped AoE burst for Mythic+, while Chain Harvest and Hailstorm shores it up in between uses with very strong mid-target (but capped at 5-6) damage. This has different tools for different situations, so while it doesn't strictly win at any of them, it sacrifices less to be able to do enough at a variety of different target counts.
Notes:
This mostly hangs on the fact that the best uncapped AoE choice we have still remains as Doom Winds, and none of the new Venthyr tricks in 9.2 really interferes with that burst window. It's also perfectly suited to slot in Hailstorm compared to the other AoE choices that get significantly more cluttered, so it becomes a universal package where you shift profile based on the situation. It largely follows the same AoE priority we've always had, aside from having significantly higher access to Chain Harvest on a pull-to-pull basis. It also relies less on getting the absolute most out of each Doom Winds window thanks to Hailstorm being much stronger now, so timing it for uncapped pulls or weaving it into your pull route in Mythic+ is less disastrous.
To round out we have a weird one since, well, Skybreaker's Fiery Demise is an Elemental legendary. The way that Flame Shock spread works from Lava Lash also causes a direct hit when it applies, meaning that to an extent the cooldown reduction from Elemental Conduit double dips. Pair this with Lashing Flames and Skybreaker's Fiery Demise and you get some very beefy Flame Shock hits, and a <15 cooldown on Chain Harvest assuming targets stay active. This is, however, extremely contingent on target's time to die, and is completely all in on doing 5-6 target AoE at the cost most of your remaining toolkit.
Notes:
The talents in this build are essentially non-negotiable – you'll be tab-targeting Lava Lash as often as can to apply Lashing Flames (particularly during Hot Hand) while utilizing Chain Harvest and Fire Nova on cooldown.
This can play with any Soulbind, but Theotar is best thanks to Wasteland Propriety giving a near constant uptime to your party.
The AoE and healing for mid-targets is fantastic, but what about single-target and uncapped situations? Not at all.
Everything in this build is focused on a single damage profile and a single target cap, which is excellent if regularly reached. It offers excellent off-healing and support while providing highly consistent AoE with occasional burst moments. Unfortunately, since it's so highly weighted in one way, it'll most likely be used in unique scenarios rather than the norm, as priority damage is considerably weaker.
TL;DR & Conclusion
Because this is such a big topic, I'll offer a quick summary. In 9.2, the spec looks a lot better, and the most apparent concerns that I and other long-time Enhancement players have had are being addressed to some level. We have complete Covenant flexibility, a wide range of Legendary possibilities, and a number of damage profiles to choose from. We may now participate in AoE, have some burst, and adjust talents/Soulbinds if battles don't line up with each effect (which was previously my biggest 3 concerns).
While my 9.1.5 Sanctum of Domination Tier list placement was a bit lower than some players expected, putting us at B (/C), all of the reasons that caused me to place it that low (i.e. our damage output in any situation that wasn't purely Patchwerk single-target bosses like Guardian of the First Ones) have been largely addressed to at least some degree. Obviously, everything could change between now and the raid releasing with tuning, but if ever there was a patch to take a chance on Enhance, this would be it.
Shaman Enhancement Guide