The latest patch for FFXIV has brought with it the end of "Normal" quests and a new housing system. With this change came outcry from players who felt that they had lost something in return, but many have since settled into the game without too much trouble. However, these changes are only part of what makes up an MMO today- there's also gear grinds as well as progression issues that need to be resolved before any real adoption can happen
The "ffxiv no housing available" is a problem that many players have been experiencing for the past few months. The issue has been caused by the game's new housing system, which has not yet been implemented.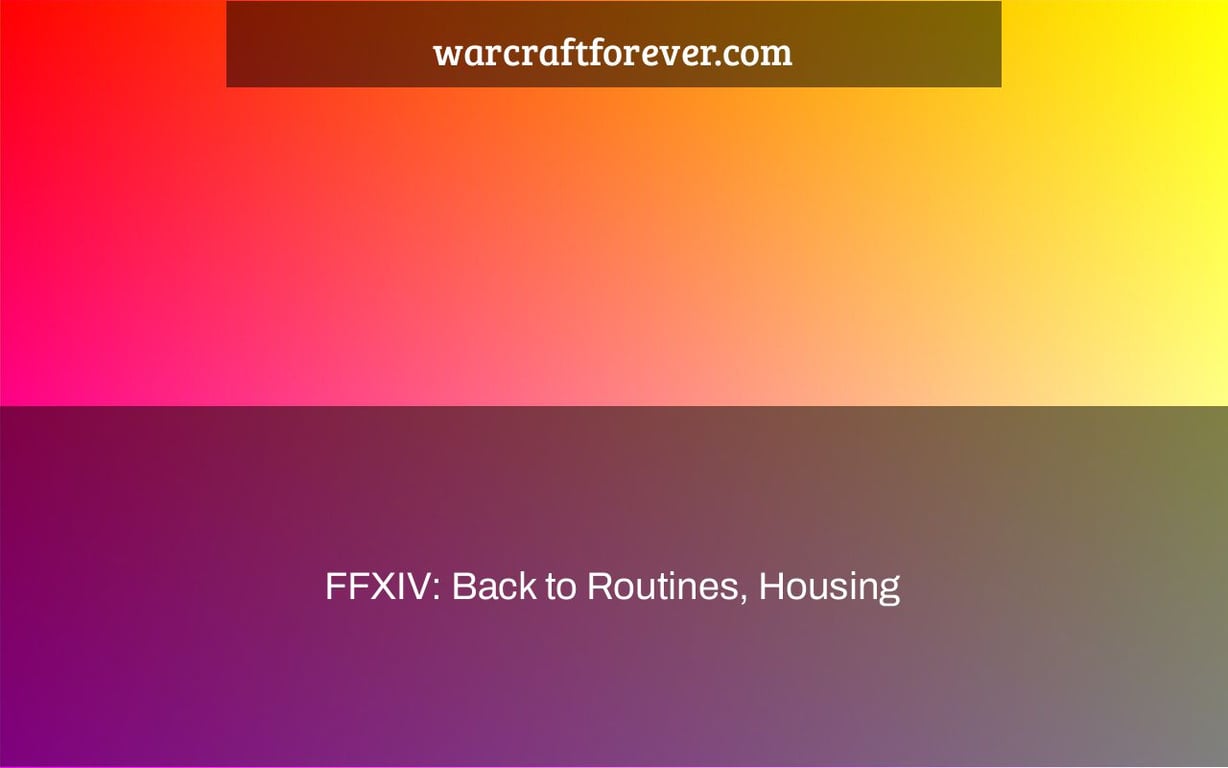 As the Endwalker MSQ thunderclaps fade into the horizon, leaving just a delicious aftertaste and a desire for more, I'm returning to my pre-expansion habits of exploring and leveling alt occupations.
My major objective for today is to level my main's alt jobs – monk, samurai, and dancer – before catching up with my Lalafell – she has a tale to finish from Doma on her machinist, as well as her own set of alt jobs – black mage, bard, and ninja.
MSQ (main narrative questline), without distractions, on the primary class/job (the finest advise a novice could ever get), and chain dungeon runs on alt classes/jobs are the most efficient ways to level characters in Final Fantasy XIV. You may mix in FATEs (world missions), conventional quests, and exploration to pass the time and aid with XP, but dungeons would still constitute the majority.
Normal Quests: A Case Study
In Final Fantasy XIV, normal missions are an intriguing and unusual instance. We're accustomed to thinking about quest centers in other MMOs. You arrive in a new village and accept your standard set of quests, such as kill-me-ten and bring-me-ten, which may or may not turn into investigation, character development, and other questlines of varying personal value and epicness, but which you must complete in order to gain gear upgrades, a number of crafting mats, and the necessary XP to progress further. With the exception of a few minor questlines, practically all one-time questing is completed by the time you finish a leveling zone.
This methodology, no matter how monotonous or uninspired it may seem or feel at times, serves one key and important goal: global immersion and understanding. When you leave the mentioned pattern town, you'll know who the residents are, what the village is built on, what their issues and sorrows are, and what problems and opponents they face. In other words, you take on the issues of the inhabitants, which makes you feel more a part of the world, and the zone name and map no longer seem empty: every location takes on new significance and is linked to your own activities there.
Let's say you're driving to a hamlet and come upon a herd of bears grazing along the road. The only thing you know is that it's bears, a level 10 beast that's easy or hard to fight depending on your current gear level. By the time you've completed the bear-themed questing, you could have discovered that:
Bear skins are essential for keeping local homes warm throughout the cold.
The greatest bear stew is made by this barmaid.
Her relative from the next village just adores it!
Because bears prey on cattle, their numbers must be managed.
This youngster aspires to be a bear hunter like his father.
Dark powers, necromancers, and cultists may have infected bears with an unnatural disease/intelligence, which is another step toward comprehending the main adversary!
After that, you'll never stroll by the same bear as a creature level 10 again since it's full of tales and significance! See how commonplace missions, no matter how little in the grand scheme of things, contributed to the development of people's lifestyles, terrain, and world?
Final Fantasy is not so if you just go via MSQ owing to design. If you take Churning Mists in Dravania, for example, you're focused on Estinien/Alphinaud/adventure, Ysayle's and moogles are simply an annoyance, a means to an end, and you aid them with the bare minimum — just so they may help you on your quest. You do get a sense of the main course of events and local problems, but you never get to "live" there as you do in other mmos and games, and you don't get a full sense of the area.
Fortunately, FFXIV does not lack this advantage, and there are no less world-building tasks than in any other MMO — it's simply preferable to save them until after the main tale has concluded.
And that's what I'm working on right now: the main/side questlines!
I must say that completing four Dravania zones and Mor'Dhona in its whole – since this is where my samurai/monk are by level – was well worth it, because it's precisely the world building I was wanting throughout MSQ. I have a greater understanding of the zones now, I've met the inhabitants and understood their tales (often emotional or humorous! ), and I know what kind of air they breathe and how they live. For example, Churning Mists is no longer a zone with aimlessly roaming dragons, Hraesvelgr and Nighogg's seats, and a couple of moogle enclaves – I know what they're all doing and how they're communicating, I've learned about the ruins and the lifestyle, I've learned which creatures live where and what they mean to the locals – well, everything.
As a result, as a short-term aim, I want to accomplish all of the side tasks, beginning with level 1 of the capital city quests. But, of course, I'm attempting to complete zones that match to my job level first, since this helps with XP, occasionally enhances my gear, and provides the gold I'm sorely short.
Housing
I eventually got 500k+ in gil (gold) by the time I finished Endwalker MSQ, and I was ready to buy an apartment!
The method, like the Bard's music, struck me as intuitive and well-developed right away. To suit any taste, the whole variety of furniture and interiors is available. The only disadvantage? It costs the same as it would in real life, and you may fast deplete your funds, lol:)
I spent approximately 150-200k on some very basic furnishings and cobbled together a place to live – not the choice I'm going for, but the one I have money for:)
Zoning is a difficulty and a king in smaller flats, and this isn't even near where I'm going. So far, there's a large hall/kitchen at the front entrance, as well as private rooms with a bedroom and bathroom. I've already devised a strategy for designing the residence of my dreams, but it'll cost a lot of gold:)
Well, it's a fun feature to play with, and that's where I'll be putting my gold now.
Watch This Video-
The "ffxiv how to buy a house 2021" is an article that discusses the housing changes in FFXIV. The article also discusses the "back to routines" feature and the "normal quests".
Related Tags
ffxiv house buying macro
ffxiv housing availability tracker
ffxiv housing problem 2021
ffxiv housing timer 2021
ffxiv ishgard housing