Have you ever heard of the Gnomecore? This is a very powerful item in FFXIV, but it's definitely not easy to get your hands on. I'm going to walk you through exactly how to catch up and obtain this cool piece of gear! Let's start with what we'll need for this quest:
The "ffxiv nier weekly quest" is a weekly quest in the FFXIV: Catch Up Chronicles game. The quests are given by Gnomecore and they give players a chance to get rewards like gil, items, and more.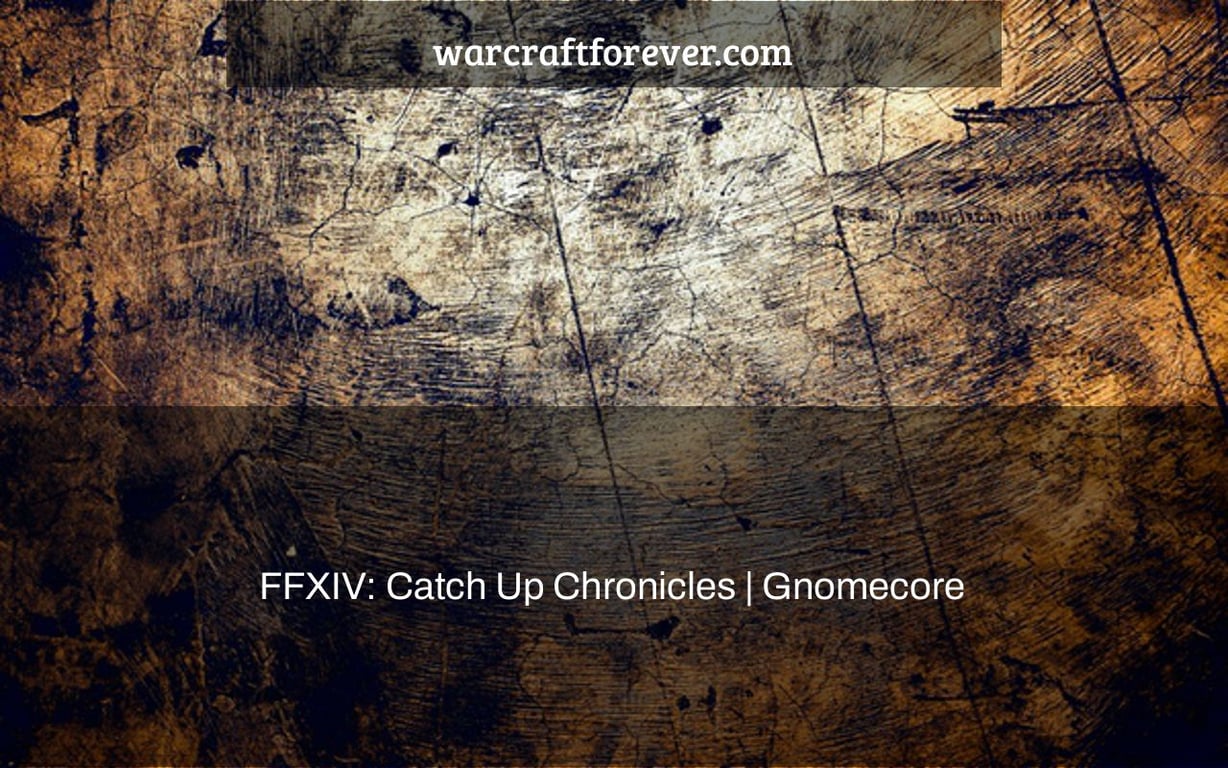 Lo, the one-time content for the whole game is almost done – at least on one toon. I've seen all dungeons and raids – almost. I haven't finished Gaius raids story from Shadowbringers, and Coils of Bahamut streak from vanilla, but everything else, Sastasha -> Asphodelos is done.
Garlemald, Elpis, and Ultima Thule are the only side tasks remaining. I'm performing them as part of my leveling activities since they're not very significant. All expansions prior to Endwalker have been completed.
The Endwalker tale has been completed by Lolo the lalafell. Elpis, curiously, was the most intriguing section this time. Actually, this is a pretty simple explanation: here is where the big enemy is presented, and it was a lot of fun to pay close attention to every speech line and follow the character changes that lead to the dramatic collapse.
Overall, I skipped most quest dialogues and "rewatched" only my favorite parts: the first parts of Sharlayan/Labyrinthos/Thavnair in full, Garlemald's intro and ending, the moon before Zodiark, just Matsya's final run in Thavnair part 2, Elpis in full, only Thaumazein/Hydaelyn bit of Labyrinthos part 2, and Estinien/ (yes, I cried again multiple times).
Oh, and I ran Trust party for anything I could run with Trust. Yes, garbage was a little more of a grind, but boss battles were virtually faultless, with no wipes. Despite the fact that I had forgotten a lot since December, reading strategies, having been there previously – and following Y'shtola – did the job. It's a fantastic concept, but it's not a complete substitute for group runs, as much as I prefer solitary play.
Alt Jobs
This is correct:
Obviously, MSQ helped me hit level max on one job for both toons. Lolo is leveling Bard (completed) and Ninja to get rid of leveling dexterity gear, while Sanya's objective is to cap Samurai/Monk to do the same with Strength. After that, I'm free to do any job I choose.
With the exception of Endwalker newcomers Sage and Reaper, I'm quite comfortable with and appreciate all of the above occupations. These are a lot of fun to play, but they're also a lot of work. I'm not a fan; it's simply a fun circumstance, and I'm usually hesitant to jump on them.
Strange thing is, I want to use my whole skill set, but leveling roulette constantly sends you back to previous expansions, particularly with Alliance raids and the no-option Main Scenario. So you're constantly missing your full arsenal of spells, and if you hit level max, it's pretty much game over? There's no need to traverse dungeons or complete quests since none exist… MSQ is also done in patches on a single class.
Yes, the current raid. I've finished Asphodelos, but I'm not sure whether I need or want to farm it anymore. I could strive for some pretty interesting gear awards, such as aphorisms, but token gear in Aporia is sort of meh. And, as you know, it was never my desire to limit authority.
The irony is that leveling IS the game, the route matters (I'm okay with that! ), and then when you reach your maximum potential and level cap on alt occupations, there's nowhere to put it. Perhaps the goal is to limit all preferred professions so that when I need to farm anything, I can choose from a variety of options. Anyway, what do people do with all their alt occupations after they reach level cap?
Anyway, I'm having a good time, the game content consumption is nearing its end, and there's still so much more to do and enjoy. I'm loving every minute of it, particularly in comparison to the dreadful WoW's 9.2. There's no pressure, no slog, just pure enjoyment!
The "ffxiv chronicles of light" is a series of articles that will help you catch up on the story if you're new to the game. You can also read about how to get started, and how to play with friends.
Related Tags
chronicles of a new era – the crystal tower
ffxiv chronicles of a new era quests
ffxiv chronicles of a new era – bahamut
chronicles of a new era – return to ivalice
ffxiv crystal tower quests