Shadowbringers is the latest expansion for FFXIV, and it adds a lot of new features. The main one being dungeons in which you play as your own character made from shadows to go on adventures with other players. This has been very well received by fans but what about those who already have max-level characters? What does this mean for them?
The "ffxiv expansion" is the first expansion for Final Fantasy XIV. It has been released on September 2, 2018. The expansion includes new content and features that are not available in the original game.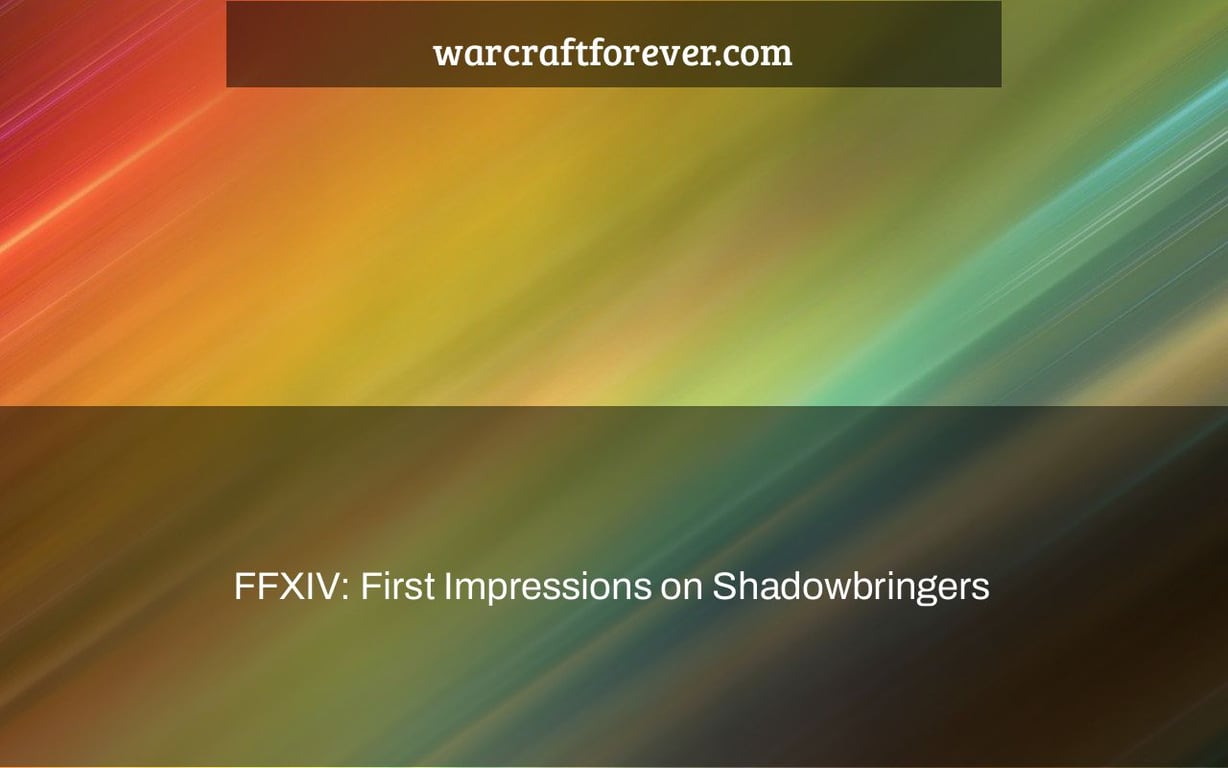 I finished the first chapter of the expansion yesterday, which included a first dungeon, so I have some thoughts to give.
Story
First and foremost, my initial concerns were allayed right away. We can spend as much time as we need on Norvrandt thanks to a new time flow, and we won't have to worry about Empire razing our homeworld to the ground while we're gone, probably coming in the same-ish instant we left. Phew, now we can concentrate on local issues that are also global issues.
The local battle was shown in all of its majesty and horror, and it is not a little one. Trips to "Limsa" and "Thanalan" were very instructive, and they presented the threat in a variety of ways, including personal engagement, old and new character arcs, and the large picture – complete with charts and maps where necessary.
The Terrible Light is both evil and terrifying. The sight of a destroyed country, the still wave of crystalized Light scraping the clouds, the practices of euthanasia, and the body horror of turning into a Light abomination hit me like a hammer in poor Kholusia/hedonistic Eulmore, where I first traveled, but the razed desert part of the world hits like a hammer – the sight of a destroyed country, the still wave of crystalized Light scraping the clouds, the practices of
To cut a long tale short, it was thrilling and inspiring, and everything about the stakes, the plot, how the world(s) works, and everything else is completely apparent and begs you to keep reading!
Visuals and graphics
Aha, so this is when the game finally got the setting it deserved. As I previously said, each subsequent expansion improved on the last, but with Shadowbringers, I can finally appreciate the textures without cringing and feel fully involved, rather than feeling myself amid theatrical sets and props.
I was in a run-down town chatting to a small NPC when I happened to peek at a stone foundation of a village home and was astonished to notice no straight angles! Tiers of stones were, in fact, formed like tiers of stones. Walking through the remains of a desert town was fascinating, but the dungeon – a cornfield hidden amid the trees – was much more so. It's like the soil and sky from Gridania or even Stormblood: this was a lush forest, completely realistic and sized to the characters. I'm not even going to bring up Eulmore and Crystarium.
The disparity is startling – nearly as much as the obsolete TBC graphics in WoW vs WoD zones. So, in this regard, I can now live in peace with the game.
The constant "daylight" was also beneficial (for plot reasons). When you complete a dungeon, you "open" the proper night – at least for a portion of the globe, which reawakened my concern: would it be as gloomy and meld the grey figures into the environment as before? It does, based on what I saw in the sequence, but it has yet to be tested.
Music
There's not much to say here; it's appropriate for the setting and zones. Lakeland theme is my favorite so far, and Ahm Araeng is a wonderful ambient song. I didn't enjoy Kholusia's dismal song, and the current fight theme – when a mosquito, a prairie dog, or whatever else assaults you – became old too quickly; I'll have to check the sound settings to see if this can be turned off. On the way, I aggroed a few mobs, and distorted guitars breaking in every 20 seconds severely shattered the immersion.
Gameplay
When I'm out in the open, mobs take a bite out of my health, but it's not a major deal. I'm receiving quest stuff from Stormblood that is much inferior to my own, and I've hit level 74 for the 70-71 content, so I'm in very excellent shape.
So far, aether currents haven't caused me any problems. So far, they don't seem to be as well concealed as they were in Stormblood, but I haven't seen them all yet, so it's too early to judge. So far, the experience has reminded me of Heavensward, in that you may unlock them throughout MSQ without diversions or hassle, which is a nice thing.
Then there's the dungeon. The new alternative is to perform things by themselves, using a group of tale NPCs and a customizable roster. The concept was not new to me; five years ago, I briefly returned Allods Online and discovered that you could travel through the earlier levels dungeons with a generic bunch of NPCs filling in the gaps. It wasn't done well in Allods. You just had to sneeze in the direction of the opponent to kill garbage packs and bosses in a matter of seconds — you didn't even have time to complete a round of your rotation since NPCs took care of everything.
I think it's done a lot better in Final Fantasy XIV. The dungeon is difficult to navigate and needs expertise and strategy execution. The NPCs do a great job tanking and healing, however this mode is lacking in DPS. I'm very satisfied with my dragoon's rotation; there's no place for personal development – combinations, location, cooldowns, and so on – thus the slow pace is due to NPCs:)
A dungeon normally takes 15 minutes to complete; nevertheless, it took me 35-40 minutes this time. They won't complete the boss for you or rez you:) I killed once — on the second round of circle smashing at the final boss, expecting I could land another blow before moving, and it's an instant wipe, and they won't finish the boss for you or rez you:) I didn't mind trying again, but the overall speed did.
As a result, I believe I should focus on playing with other people in the future. However, there are some benefits to playing alone, such as exploring the dungeon at your own leisure, giving it your all due to the minimal damage from "party members," and, of course, performing narrative material with tale characters, so I won't reject it completely. Now that I know what it is, I can decide whether or not I want to become more involved if I have the time and want.
***
So, what more can I say? In many ways, it's fantastic so far, and a significant improvement over the previous stuff. I can't help but think of it in terms of the Warlords of Draenor experience: different versions of familiar locations, a tremendously strong and compelling plot that increasingly resembles movie/series/solo game titles rather than MMO, and visuals that have received a noticeable steroids dose. But, don't get me wrong: it's no WoW. Both games have evolved into very separate entities, despite the fact that they're both classified as "mmorpgs," and provide a completely different experience.
Watch This Video-
The "final fantasy xiv endwalker" is a new class in the game. The class has been released with Shadowbringers, which will be the final expansion for the game. The class is meant to replace the jobs of the Dragoon and Dark Knight.
Related Tags
gunbreaker ffxiv
ff14 first impressions quest
ff14 xbox