Recently, Square-Enix unveiled their new expansion for FFXIV and MMO fans the world over have been eagerly awaiting the release of Stormblood. In this episode we talk about what players can expect from this newest installment in a beloved franchise. Additionally, people are still confused by how job progression works in Alt Jobs such as Paladins or Dark Knights. We answer some questions surrounding our experiences with these jobs during FF14's first year and then touch on tanking/healing experience to help clarify when it fits best into your current level range.
The "ffxiv trust system old dungeons 2021" is a feature that was introduced in patch 4.0. It allows players to progress through the game's job classes at a much faster rate, and also grants experience for tanking or healing.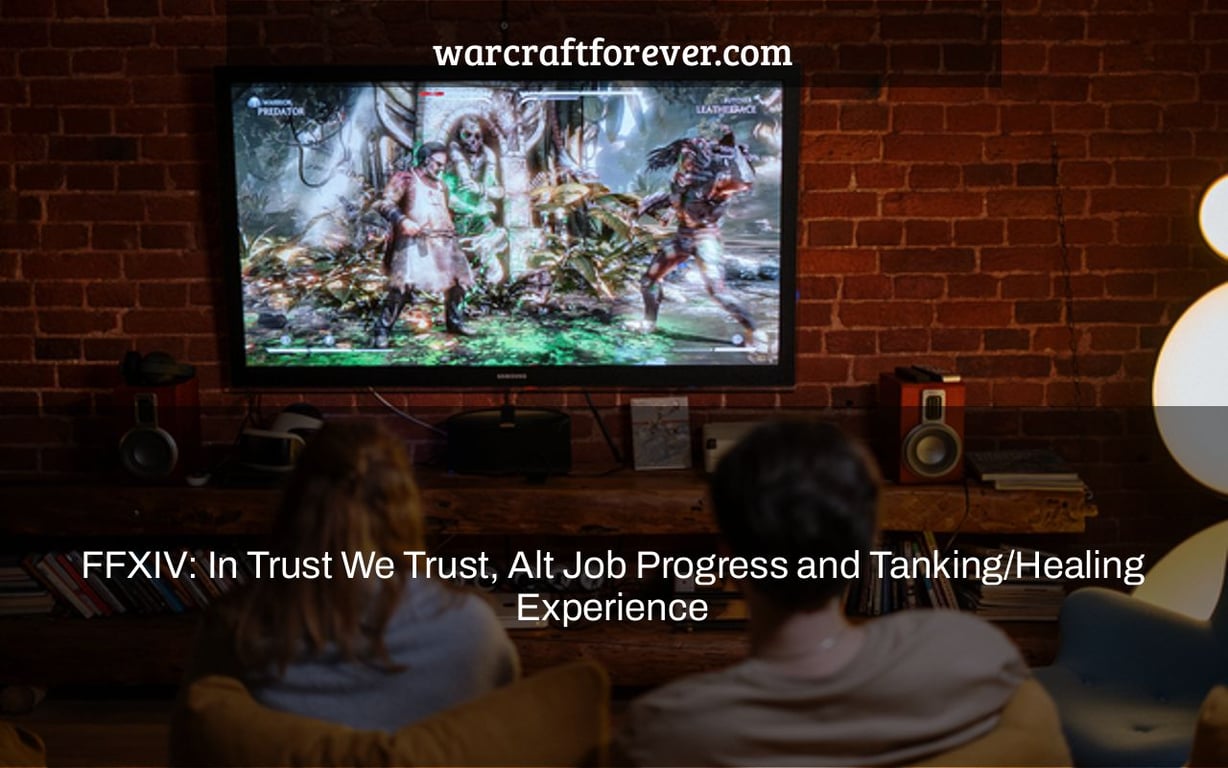 My Shadowbringers leg of my alt employment trip is still ongoing. This one-time step is off the radar since I've finished all Stormblood group material on my alt as well. As intended, I'm presently working on getting my samurai-monk-dancer and bard-ninja-black mage trios to level 80, after which I'll dive into Endwalker alt's MSQ and side questing, as well as Shadowbringers' group stuff.
I also attempted a few other jobs, but they were not exactly my cup of tea, so I put them off till later. One of the issues is the lack of room in the luggage. For example, I just need two samurai chest pieces: one for everyday and one for glam. In order to sell all leveling gear 70-79, I also need to level monk. I'll have a tanking set, a dragoon/reaper set, a monk/samurai (bard/machinist) set, a caster set, and a healer set in an ideal world, which will happen around 90.
I find it easier to level one job at a time since it seems more climactic, different, and offers a greater sense of accomplishment than rising 1-2 levels on all three vocations.
As a result, mi'qote main:
90 – Dragoon
80 samurai samurai samurai sam
77-year-old dancer
75 – Monk
Red Mage (54 points) (on hold, running a dungeon here and there)
Sage (70) (Began yesterday; we'll talk more about this later in the article)
Lalafell (alternative spelling):
82-year-old machinist (and did a Sharlayan city tour)
80-year-old bard
80 Black Mage
Ninja – 75 points
71. Reaper (on hold)
Warrior (43), Warrior (43), Warrior (43), W (on hold, with a little session thrown in here and there)
My daily routine is as follows: I choose a profession to level, run a current highest level dungeon once, either with Trust or with players, then perform a roulette, and then I'm usually ready for the next leveling dungeon, which brings the day to a close. So, 5 levels in two days seems like a solid start.
System of Trust
Dungeons with lore NPCs and leveling practice have finally found their way into my heart. The cool stuff:
Because there are no Raise saves and you erase if you die, you can really master the dungeons. As a result, you must master strategies and execute them flawlessly.
There's no need to rush — you may take a breather before each monster and read a dungeon guide.
NPCs have a tendency to implement strategies flawlessly. It will be particularly valuable when I level up tanks and healers, since I will just have to deal with the inevitable damage and not with player errors. To evade the boss' nukes, DPS may stay with other characters and travel with them.
This is significant since tanking and healing are more stressful in general, and you may satisfy your desire to play tanks and healers while honing your abilities by running a Trust instead of – or before – a real player challenge.
Queues for the dungeon in the morning! There are less players in general, plus my timezone is 2-3 hours ahead of most EU players, so if I start playing at 9 a.m., it will be 6-7 a.m. for most EU players. for them, making the lines even longer. This reliance is essentially removed via trust.
The drawbacks:
The tempo has slowed. If you draw two packs at a time in a player-dungeon style, NPCs will wipe sooner rather than later. Yes, the lack of waits helps a little, but a 30-minute run with Trust or 10-15 minute waiting + 15-20 minute player run are nearly the same. The run, on the other hand, seems more arduous, and you don't always have the satisfaction of mowing down a dozen garbage gangs at once.
I can't conceive of a compelling purpose to have "Avatar" NPC characters that must be leveled. Well, there's a gratifying RPG aspect to leveling, and you may choose your preferred characters to join you rather than canonical ones, but is it really necessary?
NPCs are sometimes – but seldom – stupid. Even when I did not remove excessive rubbish, Tank-red (nearly an exclusive tank) did not always perform a good job and buried the party to the ground multiple times. And the most recent example was a rookie moron named Alphinaud dying in the first 15% of Mt.last Gulg's battle, leaving us without a healer. Despite this, I was able to take down the boss, but it was very uncomfortable, and there was nothing I could do to raise him with my samurai:
Tanking Experimentation
Keeping aggro during trash battles was probably my greatest challenge with WoW tanking; a monster or two would frequently creep out to disturb the other players, and I'd attempt to catch it back and lose concentration. This issue is nearly non-existent in FFXIV, as I discovered through DPS runs. Even if a tank does nothing but taunt a pack and runs half of a dungeon with it, healers and DPS will not be able to rip aggro. The only thing to worry about is taking up fresh adds; otherwise, it's just a matter of keeping your cooldowns running, stepping out of the area, and keeping watch of the healer's line of sight, which isn't a problem for me.
Monster encounters, at least in ARR, are even less stressful than DPS; you go in, turn the boss away from the group, and remain still. If you're a tank, there are a lot less void zones and other hazards to worry about, and the monster usually doesn't strike you hard enough to chip your health bar. Of course, this is only the beginning, and once I start doing raids and other nonsense, all hell will break out, and I'll be jumping on a rubbish bucket!
Overall, tanking has been a lot of fun and interesting thus far. Healers, on the other hand, are not like that.
Experiment with Healing
I began Sage as my first healer yesterday, and I completed two dungeon roulettes: Cutter's Cry and Sastasha (Hard). Even though I had informed the group about being a sprout healer and they had adjusted, it was still a lot of work!
Of course, I prepared my gear ahead of time and designated all of the buttons to be easily accessible: damage, bread-and-butter heals, and emergency life-saving equipment. Nonetheless, it's a high-stress, high-focus workout!
The general experience is the polar opposite of tanking, with garbage being a breeze and monsters being very difficult. You simply need to keep your tank alive throughout trash, with the odd little ploink heal to a dps, and you don't need to worry about mechanics since there are none except minor void zones. Bosses, on the other hand, are where things go wrong.
You must do all DPS actions while avoiding all of the boss nonsense, which there is lots of. You must harm the boss while keeping track of the health of others and providing superior boss knowledge so that your shields and cooldowns are ready. Also, DPS are prone to unavoidable damage (I am, too; no one is flawless), and in FFXIV, it's more often than not 80-90 percent of health bar, so you must always be prepared for a frantic, stressful save. It's basically three distinct things to hunt down and respond to (damage, healing, and exact execution of harsh mechanics), which is nuts – particularly given you don't have muscle memory for your spells and must think with your brain rather than your spine.
Nothing I couldn't handle, no – I'm certain that with enough practice and dungeon runs, I'll be able to become a competent, if not flawless, healer – particularly in a pleasant FFXIV environment. However, it is far from easy and requires complete focus on the game – the most difficult duty to yet.
Is my first experience discouraging me? No, it's not true. I do know that unless I have a particular mastery objective in mind, I will never, ever main a healer or run anything too hard on it. However, it's a fun challenge to play with, and I'm looking forward to leveling Sage, White Mage, and Astrologian. Scholar, on the other hand, since Arcanist loyalty fucks everything.
If anything, I could limp up to level 71 and then simply do Trust runs for healer and tank jobs for fun – and that would be another use for this concept. Zero worry, simply having fun with a work in your own cocoon – without interfering with the experience of other players:)
The "ffxiv trust leveling" is a new feature in FFXIV that allows players to level their alts. This will allow them to progress through the game at a faster rate and get more experience points.
Frequently Asked Questions
Should I use the trust system Ffxiv?
A: The trust system in FFXIV is a gameplay mechanic that allows players to use their reputation with NPCs for perks. In particular, the Trust Moogle provides a free buff every day if you are at least as trusted by other moogles as them.
Do trust dungeons give XP?
A: Trust dungeons give 10% of the experience used to train in them.
Are trusts good EXP?
A: Trusts are a great way to gain experience in the game. You can unlock more items, and beat higher levels by having a lot of them.
Related Tags
ffxiv trust unsync
ffxiv why level trusts
ffxiv best trust team 2021
ff14 trust system unlock
ffxiv trust scenario vs avatar