FF14 has just been released on PC and the launch was more successful than anyone could have anticipated. The game is now available in two different regions, North America and Europe, but it's not too late to catch up if you missed out on the initial release.
The "ffxiv patch notes" is a new content patch coming to FFXIV. The patch will introduce new quests, dungeons, and more.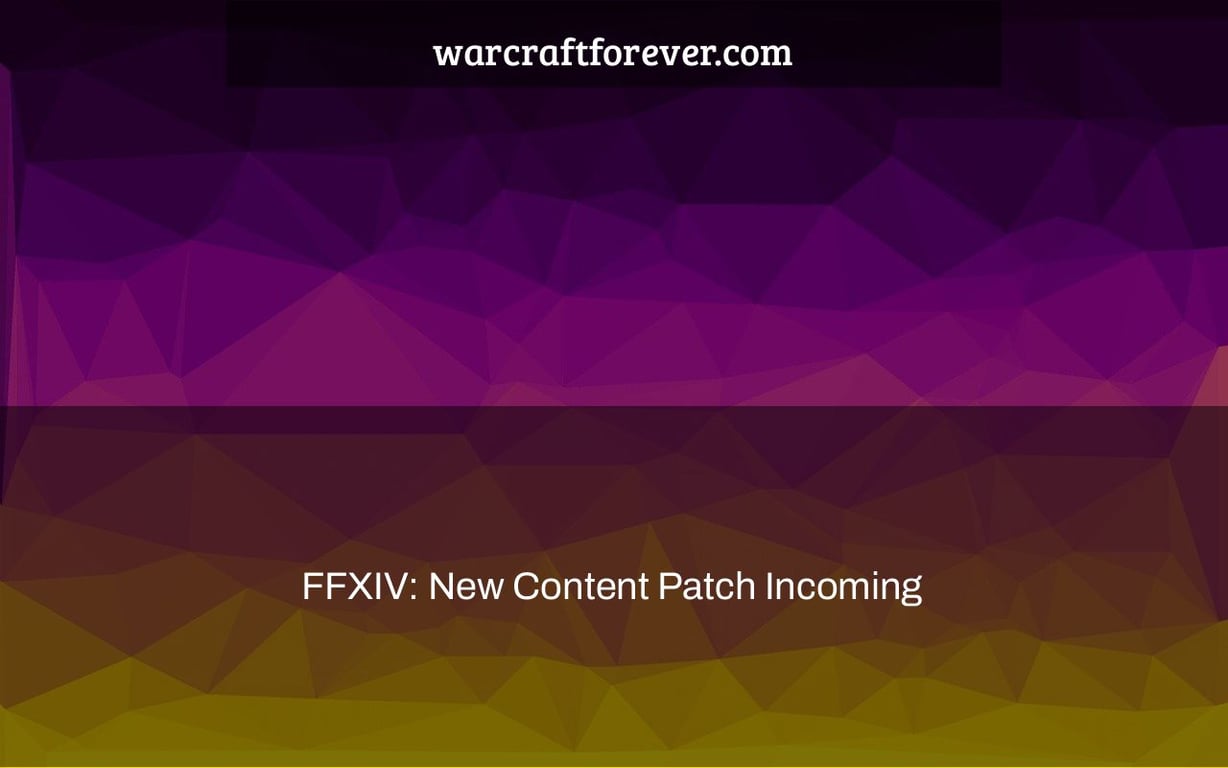 It'll be 6.1. in a week — Endwalker's first content patch. Is it something I'm prepared for?
In a nutshell, yes and no. Yes, since after you've completed Endwalker's main plot, you'll be well-equipped and have satisfied the prerequisites for the following major story missions, and this is true for both toons. No, since there's still a lot of tales and information to see and catch up on that I didn't get to in the last four months – or, more accurately, since I started playing in June.
I wasn't sitting around doing nothing. All side missions are done on both toons, from the first cities to Ultima Thule and Sharlayan/Radz-at-Han. Even though I need to finish everything on both toons, I ran practically all of the group stuff at least once, from Sastasha to Asphodelos, and witnessed their tales. Bahamut coils is the last raid remaining, and I'm stuck at the second round fight, where I'll require a self-healing job (soon!). In terms of the plot, we're at this point:
Yes, in terms of plot, I still have Hildibrand (on which I've already begun working!). The Gilgamesh section is complete, as are the Bahamut coils and the most of the Shadowbringers/Endwalker role and job missions. There's still a lot more tale to go, so I'd take a break for 6.1. material and then restart — there's no urgency here.
Hildibrand adventures looked to be just what it claimed to be: an extremely ridiculous, funny slapstick comedy for the purpose of humour. I get why everyone likes it, and I've had my share of chuckles (the bomb event in Southern Thanalan and the bald man were particularly funny), but it's a little lacking for my tastes. I have nothing against the style (I enjoy everything from poop and 1950s cartoon jokes to high-class British and wordplay humor), but slapstick is all about the dynamics, the speed, and the quick change of frames and scenes, and while there are some episodes that fit to a tee, there are also many scenes that are overstretched. For example, you may show us a comical facial expression or two people racing after each other and then cut to the next scene right away – but the ARR section tends to linger, which detracts from the overall image. In brief, I don't have a problem with the authors; but, I do have a problem with the cutscene directors.
I'm on the fence regarding the Shadowbringers role quests — I'd play them all, but the physical DPS questline was at best mediocre. Sure, the Andreia narrative was interesting, but Lue-Reeq was always begging for a bump in the head, which was quite aggravating, and nursing him was something I despised and did not request. Dude, I'm not your mother or therapist! There are still tank, healer, and magical questlines to complete; I'm sure they'll all be different, but they'll all be interesting.
However, after you've completed the role, Shadowbringers has a class/job mini mission closure, which is really amazing. On Sanya's 90s, I saw four quests: Dragoon, Samurai, Dancer, and Monk, all of which I enjoyed. Such simple and brief vignettes that bring your experience with the class instructors to a close and touch the innermost chords of your soul – not to mention the most breathtaking sequences for each job:
Endwalker, on the other hand, is known for its role quests, and I'm looking forward to seeing them all. I've completed the Doma section of ranged physical DPS and the Ishgard section of magical DPS. You're so wrong if you think you've seen every closure conceivable throughout those expansions and Endwalker. All of these questlines discuss how the nations will move forward after years of fighting and bloodshed, and both of the questlines I've seen have been extremely emotional and uplifting. Gridania, Limsa, and Ala Mhigo are on my list of places to see, and I can't wait to go there. On top of that, there's an additional 2 million XP, which will come in helpful while leveling, and I wish I'd known about it sooner!
Side note: if you finished the Doma tale, you already know what one of the new jobs in the future expansion will be:) Gosetsu as a teacher for an oriental healer! Mistweaver monks in World of Warcraft used a stick and operated hieroglyphic sheets of paper. I'm curious whether they'll reveal any more occupations in the remaining questlines.
So, to cut a long story short, there will still be a lot more tales to play after 6.1. from past material, and I'm just as thrilled about them as I am about 6.1.
Story Expectations (Endwalker 6.1)
Endwalker 6.1 is a substantial update, and I'm looking forward to it. There will be a large primary plot section – which, based on previous experience, will take a day or two to finish but is crucial. After all of Endwalker's closures, the future expansion will undoubtedly take a new route. My best bet is New World (based on native American culture) and/or the mysterious Meracydia – I'm not sure whether it'll be in this patch or not, but I'm certain that some locals will begin coming in Eorzea during Endwalker and voice their concerns about the future expansion.
There are also a handful of side questlines involving Tataru and a sequel to Hildibrand's exploits, which is why you can't put off playing through the prior chapters. In addition, there's a new 24-player alliance raid wing. It would be interesting to see whether the new raid delivers anything intriguing, since I was not enthused enough about Asphodelos gear to farm it (simply don't see any of my occupations wearing these sets).
Alternate Job Advancement
And I'm still missing a substantial number of levels for some positions in the remaining week:
As you can see, I've made a lot of progress and am pleased with it, although I wish I had another two weeks to finish the leveling:) Well, whatever – I'll be there, and it's not like my healers or tanks are waiting for me to reach 90 and storm the raids – it's just me:) Again, no urgency – I already have more than enough professions prepared to experience the new stuff in various approaches if I so choose – at the very least, on ranged or melee DPS, with a variety of choices to choose from.
To cut a long tale short, there's no real pressure, and I'm looking forward to seeing what the next patch has to offer. Obviously, fresh material and stories will arrive first on patch day, and then we'll go back to our regular schedules. Despite all of my efforts, the ideal condition of the game in my camp, I'm rather enthusiastic about the impending adventure, which is no little piece of material – and I still have a lot of adventure on my hands.
The "ffxiv patch 6.08 notes" is a blog post that announces the new content coming to Final Fantasy XIV in Patch 6.08.
Related Tags
ffxiv endwalker patch notes
ffxiv patch 6.05 notes
ffxiv patches
ffxiv patch 6.1 release date
ffxiv lodestone