The current event in FFXIV is the Feast of the Winter Star. It's a mandatory holiday for players and has gone on since 2.3 on December 16th-21st. Teams are working hard to make sure everything goes smoothly this year, so that you can enjoy your holiday without any problems!
"when will ffxiv be available again reddit" is a question that has been asked by many players. The answer to this question is "FFXIV: Post-Holiday Progress & Housing Ready!"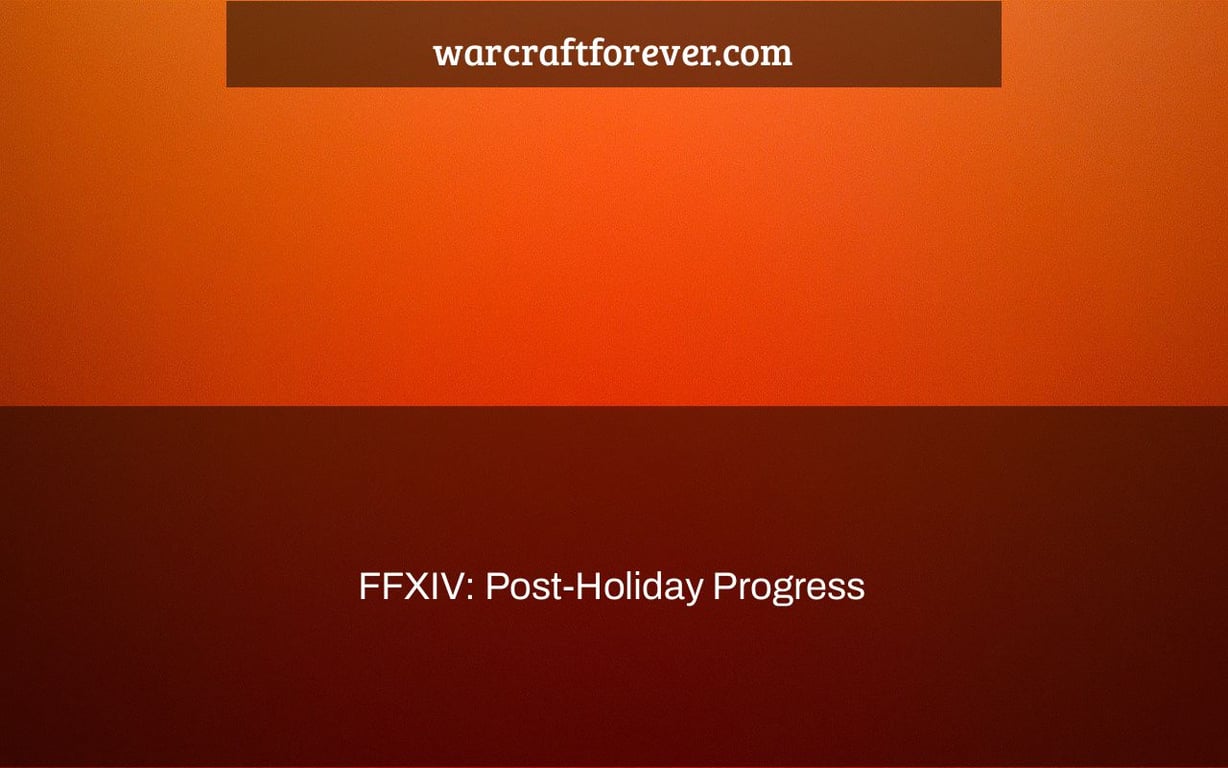 The long New Year holidays, as usual, left little time for gaming — the Xmas/New Year holidays included pre-holiday hoopla and festivities, visits from family, and trips to relatives and friends, and I only had three days of vacation left to relax at home in peace and at my keyboard.
Those few days were dedicated entirely to my Lalafell, and she made significant progress:
Machinist: 72 years old, joined the Crystarium and Shadowbringers expansions.
Black Mage: 70, also eligible for Shadowbringers content if the job tale has been completed.
Bard: 65
Ninja Points: 65
I've finished all of the Stormblood side questlines on her save for a few from Rhalgr's Reach and raid/dungeon quests, which I'll save for until she reaches level max. Yes, in the following way:
My objective remains the same: on both alts, I want to complete the current leveling expansion and its side quests before leaving them behind in order of appearance. So I'm still in Stormblood, leveling monks, samurai, and all side quests on my main mi'qote, and ninja, bard, and Rhalgr's Reach side quests on my lalafell alt, before moving on to Shadowbringers.
60-70 Job Questlines
Machinist – was a fantastic questline that "married" the humble and high people of Ishgard, combating prejudice and everything, and returning to the heretic theme. Hilda was one of my all-time favorite characters from Heavensward, so I was overjoyed to see her receive more screen time.
The questline for Black Mage was incredible. Shatotto, the original black mage, and a Gridania conjurer had a funny chemistry and synergy, and we even avoided a disaster! It was so beautifully synced as I was watching Don't Look Up on a second monitor:) You know, when you're fighting to stop a planet-killing comet in a game and you see a comet coming in a movie… That was both strange and entertaining!
Bard – What we had with Guydelot and Samson in Heavensward wasn't horrible, but their friendship in Stormblood shines brightly. It's the epitome of what I admire about FFXIV storytelling: the more monotonous early questlines may be followed by a more moving and interesting plot later on, so the boring sections may not be in vain and act as a build-up after all. Except for a 30-50 year old fart plod, Bard's narrative as a whole is one of my top faves.
Ninja – thus far, he's been a little underwhelmed. The enemy Karasu is strange in a bad way, and the arc antagonists and challenges we overcome are unoriginal and dull.
Housing
My mi'qote has yet to finish decorating and consider her options, while lalafell's new flat was completed in one sitting, with a single stroke of inspiration (and for less than 800k gil)! What I've learnt from my most recent furnishing project:
1. The concept comes first. You must first grasp the overall orientation, after which objects will simply click into position. In the instance of my lalafell, I thought she's a lady who enjoys herself, so I designed her flat accordingly.
2. When it comes to smaller units, zoning reigns supreme. Works in real life, and certainly in FFXIV, where an apartment is a little square with just one room to play with. You must first determine what you do there, what your principal activities are, and then determine how to arrange stuff in a way that is comfortable for your life.
I've determined that my apartment is first and foremost a resting spot after adventures, thus there must be a bathing space to cure wounds and wash away the filth of Eorzea, a sleeping area, and a dining/cooking area to eat and greet visitors. Although Mi'qote main's apartment is still under construction, I must state that the bathroom and bedroom areas are quite modest and basic, with a focus on the kitchen and living room. Lalafell, on the other hand, is not like that.
I created the whole residence around a lovely bathing area, similar to Ancient Roman public baths, since I was aiming for pleasure relaxing. The first thing you notice when you go inside the flat is a royal hot tub surrounded by a tiny garden:
Note that in flats, floor-to-ceiling barriers and walls should be avoided if at all possible. The pillars successfully separate the bath from the rest of the flat in my instance, and rectangular plants, although zoning the area as well, don't obstruct the light and allow the eye to rest.
On one side, there's a liquor/storage sideboard:
…and, on the other hand, a more utilitarian clothing basket:
Anyway, the bath room is a really regal, chillax place to be, with all the goods I need right here:)
The remainder of the flat is furnished on an ad hoc basis, yet it is nonetheless properly zoned, comfortable, and functional:
Because of cushions and whatnot, I created the sleeping space around a steppe-styled bed.
The kitchen/dining space is not designed to host parties and is designed for practical use: coffee, breakfast, or a short meal, and then she retires to her bed or bath with booze and snacks:
So, now that I'm completely satisfied with my furniture selections, I consider my lalafell's home to be complete.
Watch This Video-
The "final fantasy xiv endwalker" is a new mount that was introduced during the holiday event. The mount comes with a special quest, and can be obtained from the in-game store.
Related Tags
g2a
ffxiv expansion
gunbreaker ffxiv
ff14 xbox