The newest expansion to the popular MMO FFXIV, Shadowbringers brings players a story that will follow their favorite character through an all-new adventure. With familiar faces and new challenges, it's sure to be anything but your typical quest line.
FFXIV: Pushing Through the Story of Shadowbringers is a blog that talks about the story of Final Fantasy XIV. The blog includes a summary of the story and some commentary from the author. Read more in detail here: ffxiv post shadowbringers story summary.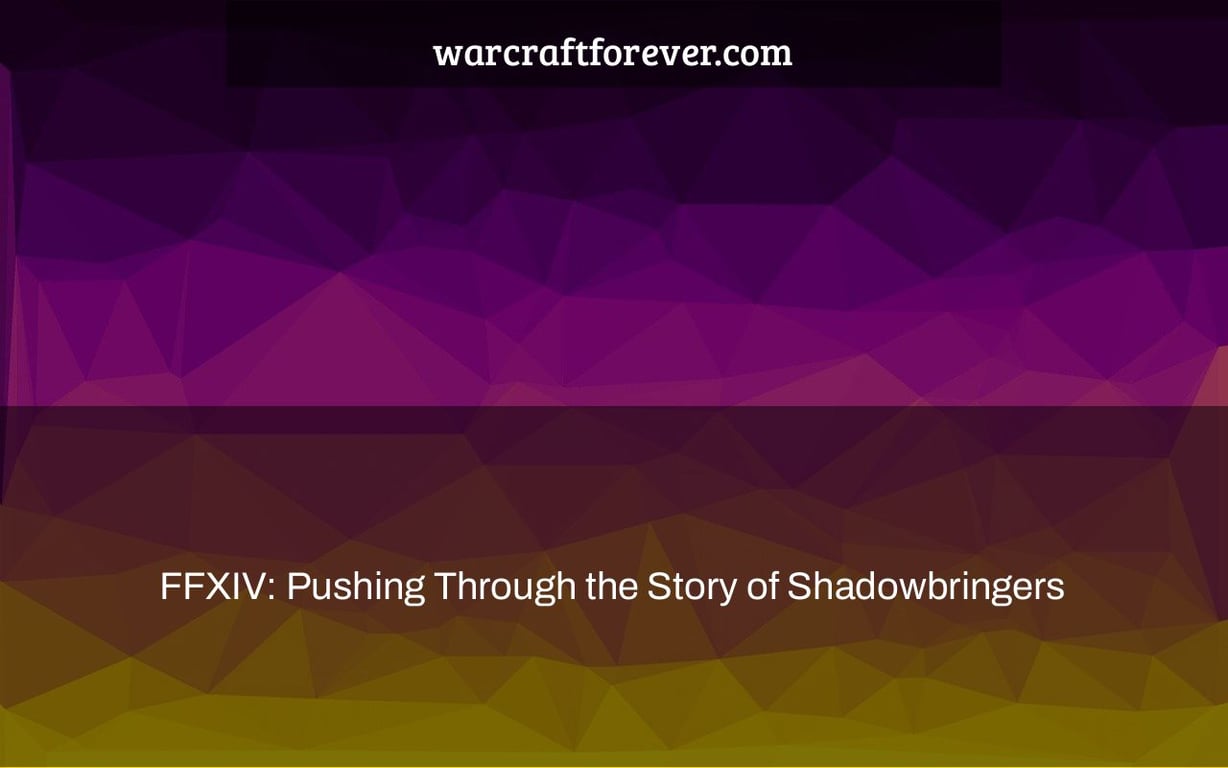 In the last several days, I've made significant progress in the major plot of the last (yet) expansion. According to logic and the wiki-list of tasks, there is just one zone left to go: Kholusia, which has the last Lightwarden, the fatso great evil, a few of dungeons, and a climactic raid that wraps up the primary narrative arc before the updates. Other zones have been fully explored, flights have been opened, dungeons have been completed organically, and the plot has been completed.
Yes, all of the online advertising from players and bloggers was totally justified: it's now the apex of the game's storyline, which was already excellent and continues to grow with each expansion. Character arcs, story twists, uncovering mysteries, and expanding our knowledge of the universe are all anticipated and fit into place, but there's another important thread here: collecting.
That's correct, it's all about collecting. I'm a sucker for checking things out to put together a whole out of pieces (key components, combining four elements, etc. ), and MSQ does just that. We discover early on that every zone contains a Lightwarden, which naturally sets the tone for the rest of the tale since we know precisely what has to be done: every zone's arc should culminate in the slaying of a Lightwarden.
This creates a framework that we can follow, expect, and be confident in, as well as a rewarding sense of accomplishment with each completed phase. In the past, WoW has had its own successful examples, such as collecting pillars of creation in Legion or warlords/tribes in Draenor, one per zone. Within the main story, you can play with twists and turns, but we have a set course, a plan, and we generally know where we are at any given time, and we know that when a warlord/a Lightwarden is down, we've taken this next step, we can leave it behind, and we've made progress, and how many more are left to slay/collect.
Zones were not objects in and of themselves, but rather a flow in the great arc's vein, spruced up by local idiosyncrasies and people.
Il Mheg was a conventional take on a naughty winged fairy country with a Miyazaki twist (bush people!) and a cute marmot puppy tribe. The large wood had a fascinating tribal/shamanic atmosphere rather than the typical elf one (albeit the rabbit people in the second half responded fully) and one of the most intense tomb raiding experiences I've ever encountered in gaming or otherwise!
The original traditional caravan concept was thrown out in favor of a tinkering/mining theme by Amh Araeng West. Oh, and I couldn't pass past without seeing and photographing GNOME.
Gnome. NO, NO, NO, NO, NO, NO, NO, NO, NO, NO, NO, NO, NO, NO, NO
In any case, all of the tales and arcs were really powerful and compelling. Major character arcs, local character arcs, the main tale, and the little storylines all weave together to create a beautiful, compelling narrative, but Shadowbringers pushed it to a new level – if that was even possible after Stormblood. Yes, I can't help but like Evan Peters Emet-explanations Selch's of cosmic knowledge and history:
This is how you do lore, retcons, and everything else that WoW has been failing terribly at lately. If you have unlimited time, make an attempt to put together a talking quest/cutscene to explain what's going on in the world you're creating. Hooks and riddles are great, but if they're just hooks and puzzles without a larger vision, you'll lose interest soon. I couldn't be more grateful that FFXIV not only provides a thorough explanation, but also uses charts, graphs, and maps to do it.
I've got one more item I've been dying to tell you about. If you read my earlier writings, you'll see that the one aspect of FFXIV with which I'm still not satisfied is the night. This is nearly as if it were real life: grey figures in a very grey setting, almost undetectable. If you compare it to World of Warcraft, you can readily see NPCs, mobs, and characters even during the darkest nights, regardless of your transmog or creature's pelt color and size.
IRL, as a frequent traveler who has visited over 80 places throughout the globe and counting, I despise landing in a new city at night. Despite gps navigation applications and extensive knowledge, you have greater difficulty locating your hotel, station, and navigating the streets in general. You don't really get a sense of city perspective, of what the new city and architecture is like, or its atmosphere, until you see it in the daytime. The best approach to learn about a new site is to visit it during the day and then return at night when you know what everything looks like, where everything is, and can just appreciate the lanterns and lights.
I'm not sure whether the creators were having this problem or if they were listeningTM to the players, but Shadowbringers came up with the most perfect solution! According to legend, the zones are brilliantly lighted by the artificial, cruel Light, allowing you to explore the whole zone, complete its tale, and then then return to the night/day cycle. This is precisely what I needed, and it's funny! The bad news is that, for obvious reasons, this will not be included in future expansions: lore. But, hey, even if I just get it for one expansion, it'll be a wonderful treat.
What Will Happen Next?
Obviously, I'm most interested in continuing the tale to the conclusion of the final patch, and I'm not concerned about what I'll do after that.
I have a long list of things to do: I have a 64 MCH Ruby Sea-abandoned Lalafell to push next, which I want to play and will play since, duh, an alt has always been a character to me. In addition to my ideal dragoon/machinist/black mage, I'm interested in monk, ninja, gunbreaker, white mage, red mage, dancer, and astrologist as alt occupations on both Lala and Cat. I have some homes to look into – nothing too fancy, just an apartment that you can come and purchase after you reach a Grand Company rank, according to my research. However, the tale comes first.
I'm in a good spot: with a new expansion and plot on the horizon, there's still so much to discover, and I'm eager to do so. I believe I'll be through with my WoW plans before Christmas, and I'll be able to cancel my subscription before the next content patch in January. So I'm pleased I've finally discovered an MMO that excites me as much as WoW did: it's a match in these, and only these, criteria.
Watch This Video-
The "shadowbringers 5.3 story summary" is a blog post that talks about the newest update for FFXIV: Shadowbringers. It talks about what happened in the game and how it changes the story of the game.
Frequently Asked Questions
Is Shadowbringers story done?
A: As of the time I am writing this, Shadowbringers has not yet been officially released. It is expected to release on April 20th for PS4 and Xbox One in North America and Europe respectively.
How long does Shadowbringers story take?
A: Shadowbringers story is a very long and complicated one. It will take you roughly around 50 hours to finish the game, if you do nothing but complete quests and explore every nook of its world map.
Is there a heaven on high for Shadowbringers?
A: Yes. In Shadowbringers, players will have to try and find their way into the true ending of Heaven on High to unlock a special reward.
Related Tags
ffxiv 5.4 story summary
ffxiv 5.2 story summary
ffxiv the story so far
shadowbringers msq
ffxiv 5.1 story summary