The Alt job feature for FFXIV was introduced with the release of A Realm Reborn in 2014. Now, six years later and with a new expansion on its way, players are wondering if it's still worth playing as an alt class.
The "ffxiv 6.0 jobs" is a change that was made to the game and has caused many players to be upset. The development team will re-evaluate the decision in the future.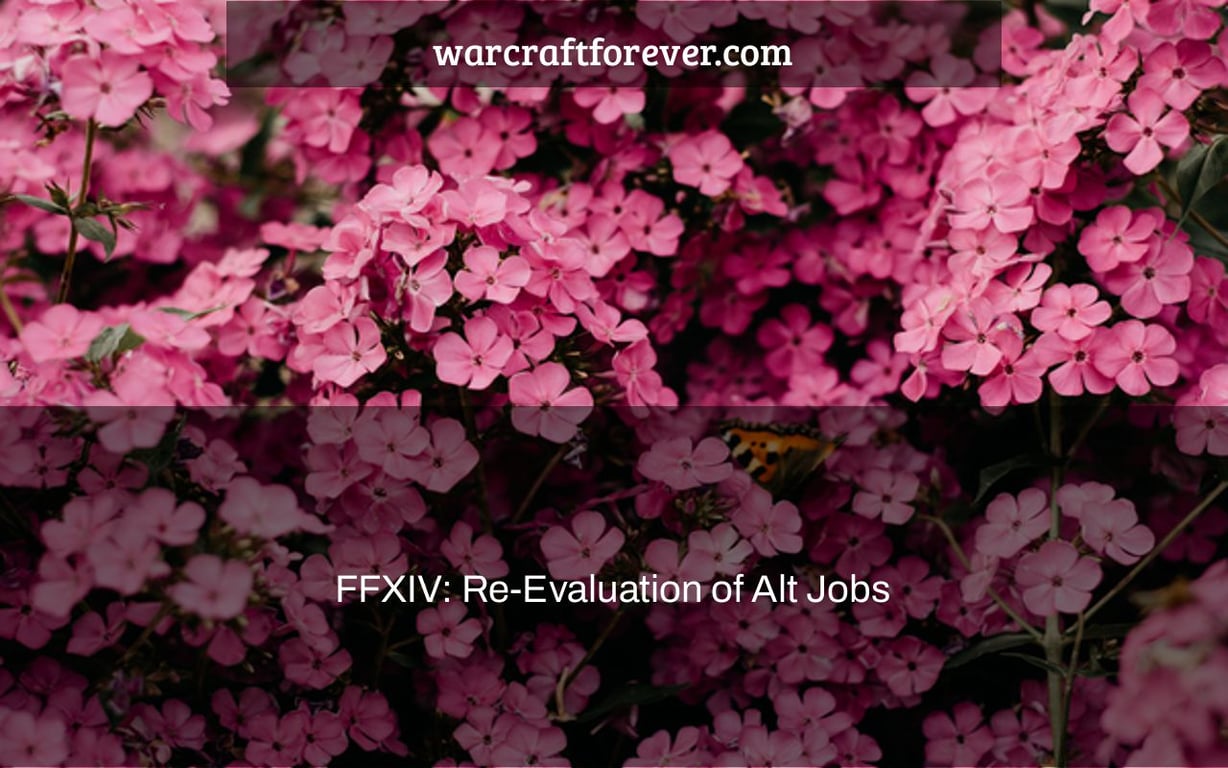 "I had no idea what a stress machine was before this morning, and now we have two." c) The IT Crowd, Maurice Moss
That was my paladin work the day before yesterday. What do you know, I had no idea whether I would ever play paladin in any apparent capacity in the morning, and by the evening, I was 36 and counting. It would be absurd to suppose that I don't attempt every job available since, well, fresh experiences, tales, and perspectives in gaming:)
Paladin seems to be a good tank; I'm having no problems with the fundamental gameplay, the kit doesn't vary much (now) from warrior's, and the tooltips indicate that there will be a lot of items focused on protecting group members later. But it was the ability to play sword-and-board that drew me in: I love holding a shield – and battling with it! Also, Lalafell paladins in roulette groups look quite stunning with their paladin gear. And when they informed me that paladins are sultansworn during a soulstone mission, well, you can image my reaction. Roleplaying as Nanamo Ul Namo's personal guard? omg omg omg omg omg omg omg
Okay, the focus of this piece is really an appraisal of alternative careers, since I'm sufficiently familiar with them all now and ready to compile a list of loves and dislikes.
Yes, Please: The Jobs I'm Having a Great Time With
Dragoon — needless to say, it will remain my mi'qote's primary weapon. What's not to enjoy about Spears (! ), a strong, regal knight atmosphere that suits the WoL concept like a glove, powerful and dazzling animations – what's not to like about that?
So far, my lalafell's primary character has been a machinist. A steampunk gunner with a variety of useful weapons to use against adversaries, amazing mobility and feel, and quick and strong rotations with large boost windows.
Samurai — a lethal, calculated sword with great diversity, depth, and gauge spending choices at all times, making it one of the most exciting occupations to perform.
Monk Is a flamboyant and speedy vocation that requires good movement and allows you to dance around buff combinations.
Exploooooooshun, Black Mage! That's an artillery class, so you're anchored to one position, but it's offset by the tremendous joy of… well, it matters when your nuke finally lands.
Warrior is my first tank, and it's fantastic in almost every way. It's very robust and strong, plus it's an Asian stereotype of a tanking with a huge ass axe (in Western mmos, a zweihander is always dps). The only part of the narrative that I don't believe is the entire "beast" thing, but after I'm done with the class story, I'll be able to dismiss it.
Paladin — For the reasons stated above, I believe this job has a good chance of making it into this category. It's an advance credit, so I don't expect them to reveal it later:)
Astrologian – need I say more? My favorite healer, incredibly quick, highly nimble, very beautiful in fantasy and animations, and with a depth of card bonuses for the party – never boring.
Finally, sure, White Mage is included in this group. Despite having almost the same equipment as Astrologian, it seems slower and heavier, yet it's incredibly playable, and the natural mood is priceless.
However… Jobs that are deficient in certain areas
The work here are extremely enjoyable, and I love them, but there's always something that irritates me and prevents me from really embracing them — for various reasons. From top to bottom, this group will be rated.
Dancer is at the top of the list. It has almost everything going for it: an intriguing and innovative RNG-based rotation, agility and mobility, a flying atmosphere, and beautiful animations – yet it lacks power. It's pretty of lackluster, even when your largest proc nukes land.
Mobility, useful DoTs, beautiful class sets, and buffs that make you feel incredibly important are all advantages of being a bard (despite the kinda small profit they bring). What I dislike about it is that it does not have the sensation of a light, nimble class. Ironically, the sound of a bowstring being pulled is what ruins the whole operation for me. At first, it's natural and invigorating (sound design for all hunters in all games usually ignores it! ), but it lingers in the back of your mind and makes you feel sluggish… It's strange, since I like the work in every way, yet one sound alone keeps popping into my head whenever I look at Bard, making me hesitant to play it.
Breaker of Guns – I practiced with a dummy yesterday, rearranging the whole panels since I'm now tank-experienced, and I believe this kit is really ready to go for group content. We'll see whether it makes it into the prior category, but the overall atmosphere and fantasy don't seem… tanky thus far. I believe that becoming a DPS would be an excellent match for this position. We'll have to wait and see.
I like casters, and it's gratifying to be able to swish-slash with your rapier in brief burst windows as a Red Mage. There are two issues with this job: one, the slow rate at which you accumulate energy for those melee combinations — you're fortunate if you get one round in throughout the whole boss battle, and trash? Forget that, I'm saving up energy for the boss, and I'll get to 100 by engaging it. Two, the whole class fantasy is bizarre, with black and white magic, followed by a crimson addendum that pulls no strings. However, I like the casting and melee rotations.
Ninja – well, it's level 90 (which implies I've played it a lot) and yet it's at the bottom of the list. Don't get me wrong, it's a lot of fun and has a lot of complexity; it's just that those ninja-moves need repeated bladework pauses, and the bladework itself is a little lacking, with the strongest and flashiest nukes having lengthy, long cooldowns. I'm not sure how I feel about the whole class — it's sort of a blademaster… But for 40-50 percent of the time, it's casting pauses? Well, it gets marks for being a highly agile class with a never-boring rotation and depth, but I'm not as fond of it as I am of rogues in other games. I'm never delighted to ninja any group material (except for shooting up garbage cans; this 2-button ninjutsu fireball is one of my favorite aspects of the job), and I'd rather do anything else.
Meh: It's fun to play, but it's not for me.
The name says it all — although there are no negative occupations in Final Fantasy XIV, they do not suit me at all for a variety of reasons.
One word describes Summoner/Scholar: pets. I've never called a combat chocobo for any profession, even in the most dire of circumstances, with the exception of having a pet incorporated into a class. It's impossible to play with pets in any game since they're so unpleasant and distracting. The second point is that the basic attack spell has such an irritating sound that it makes my teeth hurt. This did not alter in Endwalker. Arcanist was dropped at level 11 with the aim of never returning.
Sage/Reaper – both are quite playable, with amazing kits and beautiful animations; it's just that I don't buy the class fantasy and have no desire to play them in the future, thus I opted to ignore their gear entirely. Well, that simply didn't work for me.
The only job I haven't tried yet is the Dark Knight. I'm sure it has a great kit and is a fun tank to play, but I'm not looking forward to at the very least rolling it. I'm not a fan of "evil" classes (albeit Reaper is one of them), and watching how other DRK players wield this massive blade makes me squirm – it's not something I want for my toons:)
Blue Mage
AN OUTRAGE!
Related Tags
ffxiv expansion
ff14 xbox
final fantasy xiv endwalker