A tank is not just a class of its own, it's one of the most crucial positions in any MMO. Tanks as a whole have evolved over time with everything from active mitigation to vengeance and shield tanks popping up along the way. With this recent change comes another interesting question: are we seeing too much specialization? If so, what should be done about that? The answer may lie within tweaking how healers work in line with these changes but will require some serious thought on both ends.
In the past, it was thought that healing was harder than tanking. However, recent changes in FFXIV have shown that this is not true. This article will discuss the re-evaluation of tanking and healing. Read more in detail here: is healing or tanking harder.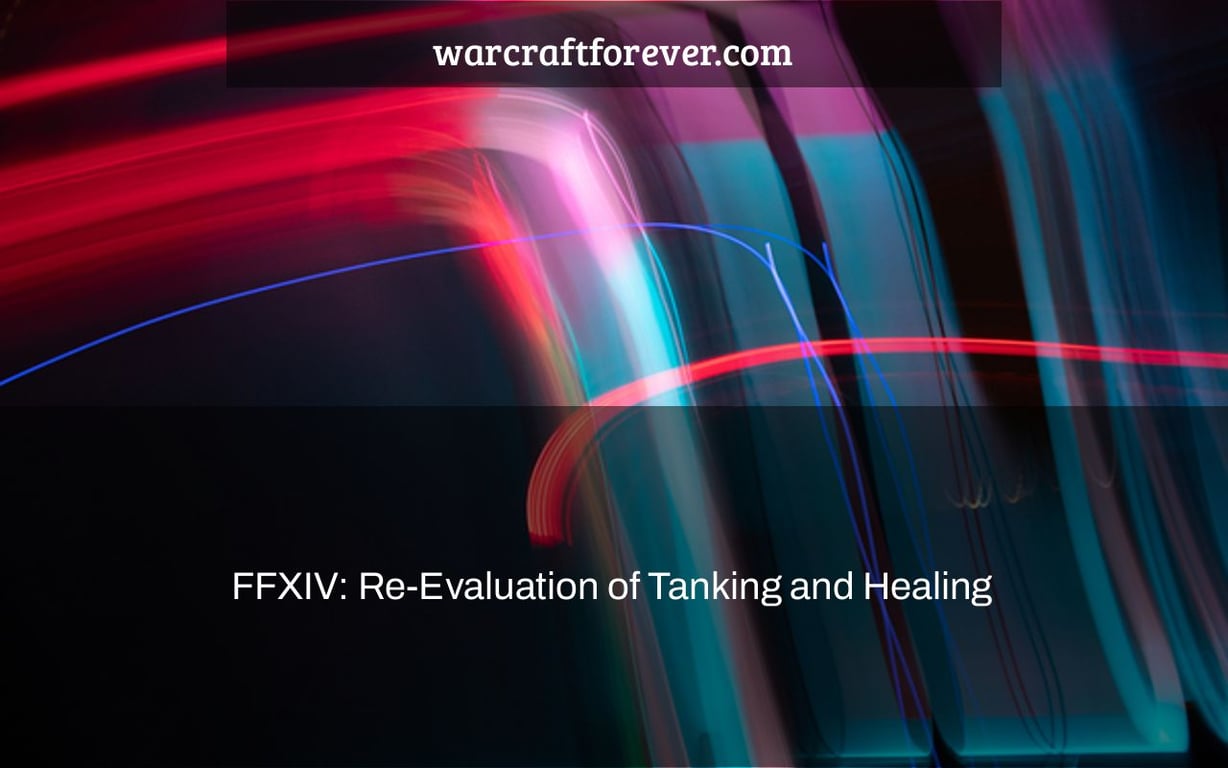 So, since I've parked most DPS occupations at 90, I've been focusing on the 50-60 level leg of "unconventional" alt jobs – "unconventional" as in "non-DPS" – for the last week. Astrologer, White Mage (healers), and Warrior are the three (tank).
For those unfamiliar with FFXIV leveling, performing group content provides up to 90-100 percent of your alt class/job XP. There is a queued group finder that allows you to get HUGE experience chunks for the first daily run in several categories: normal dungeons, hard dungeons, story scenario (a time sink, cutscened plague, but also one of the most XP profitable items here), trials (arena-like raid boss encounters), normal raids (same, but one boss picked from a 12-boss storyline), alliance raids (same, but one boss (a 4-boss raid wing for 24 people with trash and all). This is known as duty roulette, since a dungeon/raid is chosen at random from a list of unlocked ones that your current class level enables you to join.
I'm disregarding the few other XP sources, which are wimpy and much more dull than a game of duty roulette, so you may level up in an exciting way, polishing your talents and doing your best in the most stressful conditions the game has to offer. Well, anxious isn't the wrong term here; maybe focussed is a better one. Anyway, what I'm trying to say is that it's not about killing ten boars while picking your nose; it's about maximizing your output and giving your all for the team's success, whether it's four, eight, or twenty-four people. Tanks/healers, on the other hand, demand much more focus than DPS, which leads us to our next issue.
Tanking experience become a stroll in the park for Warrior around level 50-60.
My damage/mitigation kits are more than enough to deal with anything that comes my way.
Keeping aggro is a joke; you only need to tomahawk one creature in the garbage pack to go with them throughout the dungeon, and the boss is the same – no rips from other players!
Survival kit is only useful during trash – you'll need your mitigation if you take two packs, but it's nothing that a skilled healer can't handle (assuming he isn't engrossed in dpsing and completely forgets about healing – which happens!).
Only "tankbuster" special attacks will claw you hard enough to make you think about mitigation when it comes to bosses; otherwise, they barely scratch. Of course, getting out of a horrible situation is critical.
Finally, there are few, if any, mechanics that necessitate tank changes. In WoW, at the very least, stacks are used, but here you may lead a raid and act as an additional DPS – no mechanics, and in most instances, no trash to clean up. The major purpose for having a second tank in raids, in my opinion, is largely for backup: if the main tank dies, there will be a rapid replacement for the monster, so the others will not be mowed while healers rez the main tank.
All you have to do is sprint forward, aggro and AoE trash, and sense synergy with your healer (which is simple). During boss battles, simply remain still until the monster has exited the group and is dpsing its butt. It's even better than DPS in terms of relaxation! There are fewer foul pools to avoid and, in general, fewer mechanics to deal with. Not to mention survivability — your armor is clearly a lot more tolerant of boss mechanism failures.
It's been a breeze tanking every form of group stuff till I reached 60, even solo tanking the whole Crystal Tower. Nothing dies or suffers while I'm in charge (assuming healers and dps don't fail horrifically), and I have a lot of fun with the job, unlike in WoW!
So, what's next? I'm going to try another round with gunbreaker and then roll with paladin – not dark knight, no – to see how I feel about them. However, one of my favorite occupations is warrior, and I'm really inspired to play it.
Healers, on the other hand, have a lot more stress, but they're also a lot of fun.
It goes without saying that healers must constantly be on their toes, and this is particularly true in Final Fantasy XIV. The majority of the most vicious opponent strikes are telegraphed and point out precisely what you need to do (step out, run away, spread out, stack, etc. ), but if you fail to do so, the damage is virtually unforgivable or deadly. DPS and tanks (and you) are obviously failing something or that, and you must modify. And if someone dies, that's not the end of your problems: you still have to rez (anytime, as long as you have enough mana).
So here's the rundown of a healer's responsibilities:
Damage repair
Protect yourself against large boom mechanisms (on later levels)
Repair party member mechanic failures quickly and urgently (brutal and plenty)
If you don't have to deal with massive incoming damage right away, you must rez the fallen.
DPS! – yep, you're expected to weave in your DPS skills every free second you have – it helps battles go quicker and smoother, and it's crucial for group success during DPS check periods.
Finally, stick to the mechanics! Nobody stopped you from moving and being completely aware of what's going on on the battlefield.
Because the job is more complicated than WoW (where you can concentrate only on healing and cope with a more smoother damage income without drastic/panic peaks), you'd think I'd flee like a fire. Surprisingly, I don't – and I truly like my time here.
Of sure, it's uncomfortable, and I'd never queue as a healer if I was weary or drowsy! In that case, I'd rather have range-dps, haha. The urge to heal, on the other hand, comes at my most lively periods, when I'm full of energy and ready for a challenge – which I receive. This is a fun pastime in Final Fantasy XIV, but it demands a lot of focus while juggling your gear and remembering a dozen different items… What makes it perfect, however, is that it is anything but boring, which is my worst enemy.
I'm pleased to report that I've completed Astrologian — and even White Mage! – to level 60. Everything is at my fingertips, and I'm 100 percent certain in what I'm meant to do at the most dire, party-killing moments (if there is anything to be saved, that is) – and I've rescued a party from death's claws more than once via cold, calculated response and utter control.
In terms of community and game design, healing in Final Fantasy XIV is made simpler. Everybody plays a variety of vocations, including tanks and healers, and everyone understands they shouldn't fail mechanics – thus everyone knows when a healer can rescue the day and when he can't. Deaths during encounters – and even wipes – are almost seldom fatal, so the only tension you feel is the thrill of the battles, not the dread of being blamed or disgraced — and that's priceless.
Using a HoT spell on a tank during trash pulls is not recommended — trash packs will ignore aggro and will all come after you! Wait until your tank gains aggro – and, heaven forbid, revenue.
In any case, here are the jobs themselves:
Astrologer is still my number one healer job. If they took away all healing occupations and said there could only be one, I'd choose astrologian. It contains everything, is very quick and fluent, is extremely gorgeous, and includes an additional layer of party bonuses (lol, yet more thing to remember)!
White Mage — it wasn't easy, but in the end, I was able to handle it! It seems slower than astrologian at levels 50-60, not clumsier, but more sturdy, and still it's a great kit to work with. Despite all the lilies and everything, it still has a WoW-shaman feel rather than a WoW-druid sense. But, nature and everything, I can work with it.
That'll do it for tonight, and I'll go back to leveling:)
P.S. I'm thinking considering eliminating Sage and Reaper entirely, despite being totally comfortable with their rotations and gameplay and yet lacking inspiration with the class fantasy. Who's to make me play them if I don't want to? Certainly not you! 🙂
Today, the "ffxiv tank or healer 2021" is a hot topic. The subject has been reevaluated and some changes have been made to how tanks and healers should be played.
Frequently Asked Questions
Is Tanking hard in Ffxiv?
A: A tank is a player character with high defense, who can withstand a large amount of damage from enemies. The image that comes to mind when you see this term may be the tanks in World of Warcraft or the movie Tank Girl. Tanks are not just for players but NPCs as well, and usually have high HP bars like other classes such
Is healing easy in Ffxiv?
A: The healing in FFXIV is more straightforward than other games because it has a single gauge and no MP system. Players simply have to heal with potions, food, or items that restore HP like Tonics or Mega Potions.
Is healing in Ffxiv fun?
A: I dont know, but it sounds like a lot of fun.
Related Tags
ff14 highest dps healer
ffxiv is healing hard
ffxiv tank shortage
low level healing ffxiv
ffxiv hardest dungeon to tank