This is the first article in a series of articles about World's First Raiding Guild (FFXIV: Shadowbringers) and their journey along with FFXIV. This was originally posted on Reddit by /u/FOCUS-on-the-ROI, but I have summarised it here for your convenience!
The "ffxiv healers not healing" is a problem that has been present for a while. The battle system in FFXIV: Shadowbringers will be changing to accommodate this issue.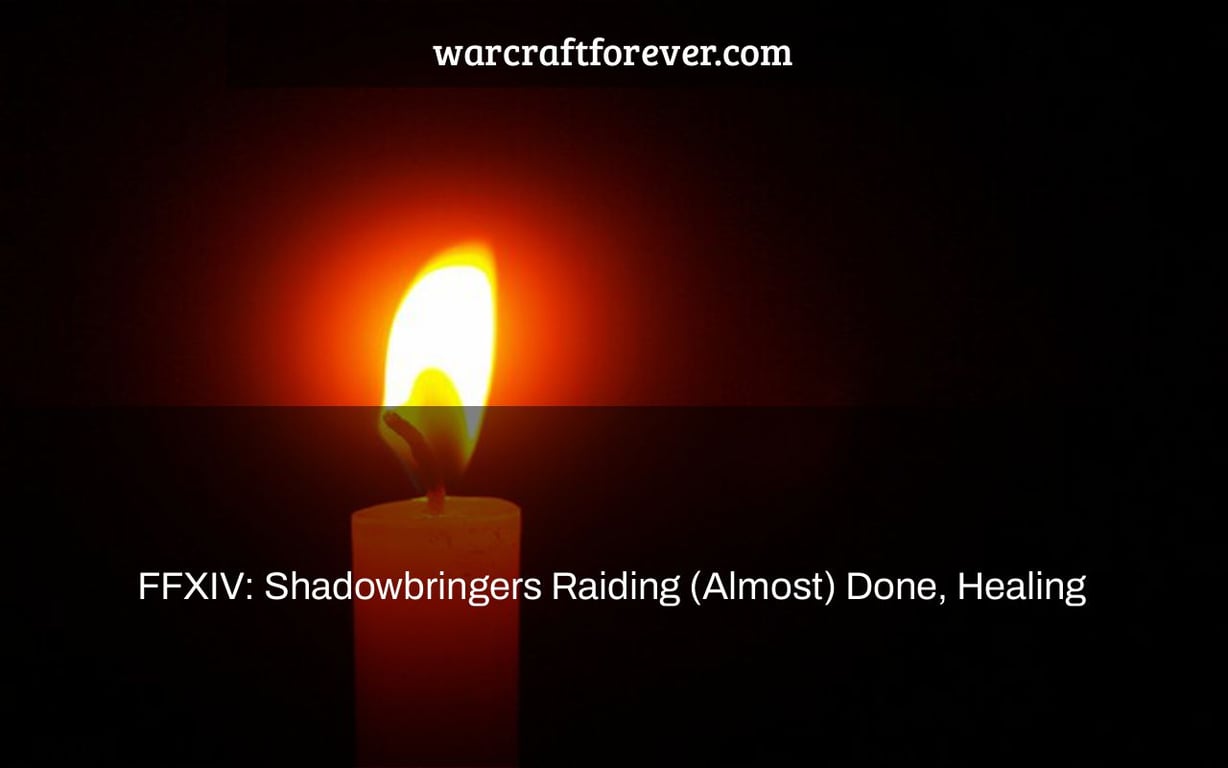 What a rollercoaster of a week it's been:) Even though there was no urgency, I'm delighted I was able to accomplish some goals before my vacation, which begins today. After two weeks away from the keyboard, I'll be anxious to go back to work on Final Fantasy XIV (and hopefully have a 9.2. release date or even 9.2. in WoW). Whatever stage Blizzard is at, there's plenty to accomplish in Final Fantasy XIV.
So, first and foremost, my main has almost completed Shadowbringers raiding, with just Gaius/Ultima remaining (and I'd previously dabbled there before Endwalker and enjoyed it!). Before we saw any of the Endwalker raids, the whole expansion experience proved to be the best yet, both in terms of plot and encounters!
In terms of plot, I was extremely invested in the events of both NieR and Eden.
Raids on Eden
Eden retained Emet-Ascian Selch's theme as a story engine, and although Loghrif and Mitron may burn in hell, we understood and connected to their motivations beyond the crimes they attempted to do. It was necessary to be escorted by Scions for a change, for I would scream if I saw Garlond, Nero, and the rest of the 12-raid again. We discovered another allagan thingamajig and pierced time and space, Henlo, fighter of light! We have a place to call home, so don't bother us — we'd rather annoy you since we're an elderly couple.
Ryne and Gaia were the story's focal point, and I was finally able to see Ryne in command. She was gloomy and whimpering from day one to day last of MSQ, with lame, non-convincing efforts to become anything other than a damsel in distress in tow, and it's no surprise I despised her despite the fact that she had so much promise. Eden ultimately gave in, and she blossomed in this place.
Not only was Ryne miraculously capable of commanding and leading the whole operation, but she also did it effortlessly and organically when T/U went to the Source – incidentally, a wonderful MSQ tie-in here! She was also emotionally capable of serving as a spiritual guide for Gaia, rather than merely dealing with her personal issues. Wow, I mean wow, wow, wow, wow, wow,
The funniest part is that she didn't gain ten levels of badassery and remained the same humble, kind girl who just sought – and got – a true friend. That's some very amazing character development and writing!
While I like Gaia, she is inherently tainted by what they did to Ryne. Despite this, he has a strong, unique personality and a good character journey.
And I'm not even going to go into the narrative or the risk. "We must gather all components," they said, and that drew my attention. And, as you may know, elements, a huge item out of many, and collecting are two of my all-time favorite things in any media series, so you can imagine how delighted and interested I was right away. Observing the wasteland being repaired after each encounter? That is a new level. Not to add that they revealed the origins of sin eaters.
All of the encounters were incredible and offered no quarter. Very harsh, punishing mechanisms – surely, on alt re-runs and roulettes, I'll fare better, but the initial experience destroyed me much more than Alexander and Omega streaks. In all its glory, dance amid the blades! I really enjoyed all of the battles and monster designs, and I'm looking forward to mastering them whenever they appear throughout roulettes.
Alliance Raids: NieR / YorHA / Whatever
Story-wise, I now know that FFXIV draws inspiration and homage from past Square Enix games, and without going into too much detail, I understand that NieR was a standalone game in which they stole aliens and a kill-all-human-droids motif for the MMO. No doubt they were well-integrated into FFXIV, but they did not, in my opinion, sufficiently explore the pro/anti-robot mission and droid individuals, thus they remained a genuine but storywise nebulous danger with "whatever" people, their aims, and relationships among them.
This may be a severe issue, but the First Dwarves' "lalafell" dwarves completely overcame it. Even in pre-raid storylines, I couldn't get enough of the twins pair, and although not without long whiny missions in the worst FFXIV fashion, they pulled off a rich, engaging plot that you cared about a lot. I'm stuck in the aftermath of constructing a village (and may or may not play it), but it's all been very tragic so far.
Also, behind their "beards" and other accoutrements, "dwarves" are really all typical lalafell! We may assume such after witnessing local Warrior of Light (Ardbert's) crew, but all Kholusia questing went Teryy Pratchett-style: ladies and men both wear long beards and chainmail, and even if you're a dwarf yourself, you can't discern male from female.
I was relieved to find your regular lalafell under the layers of wrappings, and it's been a woo!
In terms of graphics and boss designs, the robot motif shines brightly. Away from the previous expansions' experiences, it's the 24-alliance raids, not the 12-streak, that's the wild horse on the MMO's body, feeling so out of this world. I couldn't get enough of the massive industrial and spaceship settings, which made WoW's Ulduar and other large raids seem like a crowded closet. The rusted industrial/machinery motif was quite prominent, and the last raid went all out to create something completely different while retaining a cold, merciless calculating tone. Wow!
Among the 24-alliance raids, encounters are perhaps my favorite. We all love Crystal Tower in roulettes because it's a no-brainer and the fastest pew-pew run, Sky Pirates are my least favorite because I'm not into the church/diablo theme and they're quite brutal even for well-organized groups, Rabanastre and Co are stunning in visuals but lack in story (fuck Ramza and Co, I'm never going to hear about him and his again), and NieR has it all.
Nothing too horrible about encounters – I was able to live and not die on most of them just by reacting quickly and understanding what the game needs from me on the spot, excellent boss and area design, and a compelling narrative arc – what's not to like? I really want it to be on roulettes, and I'm excited to re-run this questline on my alt.
Ultima/Gaius is the penultimate raid streak to be completed. I previously conquered the first Ultima weapon, served in a vehicle mecha-fight duty, and watched some plot in November, so I know it'll be a fun story with a short duration. According to past expansions, there will be a few extra trials and a lot more cutscenes, so it should be pretty fast and enjoyable to complete. But it will have to wait till after my trip.
Healing Adventures & Misadventures
So, what more can I say? I don't mind healing in FFXIV; I prefer it over tanking, but not nearly as much as DPS. Today, I'm leveling Sage, Astrologian, and White Mage all at the same time.
I can't say much about White Mage yet since it's still in pre-dungeon stage and has a long way to go before I receive a decent spell kit to evaluate. What I don't like is that it has already destroyed my expectations. I imagined it to be all flowers, petals, and butterflies, like in the typical Asian healer tropes, and that's exactly what I signed up for, nature and all. My two attacking spells, on the other hand, scream "WoW shaman," since your main striking spell is flinging stones. Karl, the Stones. There's also a DoT with a wind theme. Well, as I already said, I only have four spells, so we'll see what happens in subsequent stages. At the very least, the employment tale is interesting, and I become friends with the frightening dragon lad who used to terrify me – the class tutor:)
Sage – I'm not sure how much I enjoy it. Sure, it has an incredible insta-saving kit, which I like, but even with all the lasers and pew-pew, it's a little dull. Perhaps I'll level it in my spare time and abandon, but it's uninspired.
Astrologian, on the other hand, pulls on all of my heartstrings. Even at 39, where I am now, his healing kit seems more natural and attuned to me than Sage's, not to mention card boosts (which I frequently forget about, heh), and the most stunning healing weapon, animations, and feelings. We'll see about WHM, but Astrologian is unquestionably the winner so far if I decided to pursue healing. That's the role I'm most excited to take on, and I am.
Even though I know my priorities and am fully satisfied with my current rotations, healing in general remains difficult. I consider non-topped – and, of course, dead – party members a personal insult, and with FFXIV's punishing mechanics frequently bringing them to the brink of next-hit-and-you're-done or killing them, I've yet to develop a thick, tough skin and get a lot more practice defining where I could have done something to save people, and where I couldn't – due to cast time and all.
However, my healing strategy is to level White Mage and see what it's all about, then level Sage in my leisure time and master Astrologian to the maximum degree of mastery possible. There is still no Scholar/Summoner: Arcanist is all about pets, and his main attack spell sounds like a glass scratching. Yeesh.
Alternative Job Milestone
Oh, and my bard-ninja-black mage, monk-samurai-dancer, and monk-samurai-dancer are now all 80, so I can do Endwalker side quests!
***
That was my Final Fantasy XIV week. See you on the other side of vacation, when I continue my FFXIV adventure and maybe learn more about the WoW 9.2 release date:)
The "ffxiv healing stress" is a feature that allows players to see how much they are healing at any given time. The "ffxiv healing stress" can be accessed through the game's menu system.
Frequently Asked Questions
Which healer does the most damage FFXIV?
A: The healer with the highest damage is currently Thaumaturge/Black Mage. This can change if new jobs are introduced in the game
What is the best healer in FF14?
A: The best healer in FF14 is Titan.
How do you heal in Shadowbringers?
A: In Shadowbringers, healing is done in three ways. First and foremost you get a regeneration effect that lasts for 5 minutes from the Life skill. This regenerates your HP to full as well as replenishes MP at an even rate. Along with this there are certain items called Healing Items that can be found throughout the game which give a 100% recovery of both stats and also remove all debuffs on their own, though they cannot be used more than 50 times before becoming useless after use. Finally theres potions which have no real limit to how many you can carry but must be consumed one by one then reapplied each time theyre taken off cooldowns or worn out completely
Related Tags
ffxiv healing boring
ffxiv is healing hard
ffxiv worst healer
ffxiv bad healer reddit
ffxiv best healer 2021