On June 19th, 2018 Square Enix released the long awaited FFXIV expansion Shadowbringers. And as expected, it was met with mixed reactions from players. This review explores some of those less positive reviews and why they might be justified in their reasoning for not liking the game.
The "ffxiv shadowbringers reviews" are a game that is set to be released in 2019. The game has been highly anticipated and the release date is drawing near.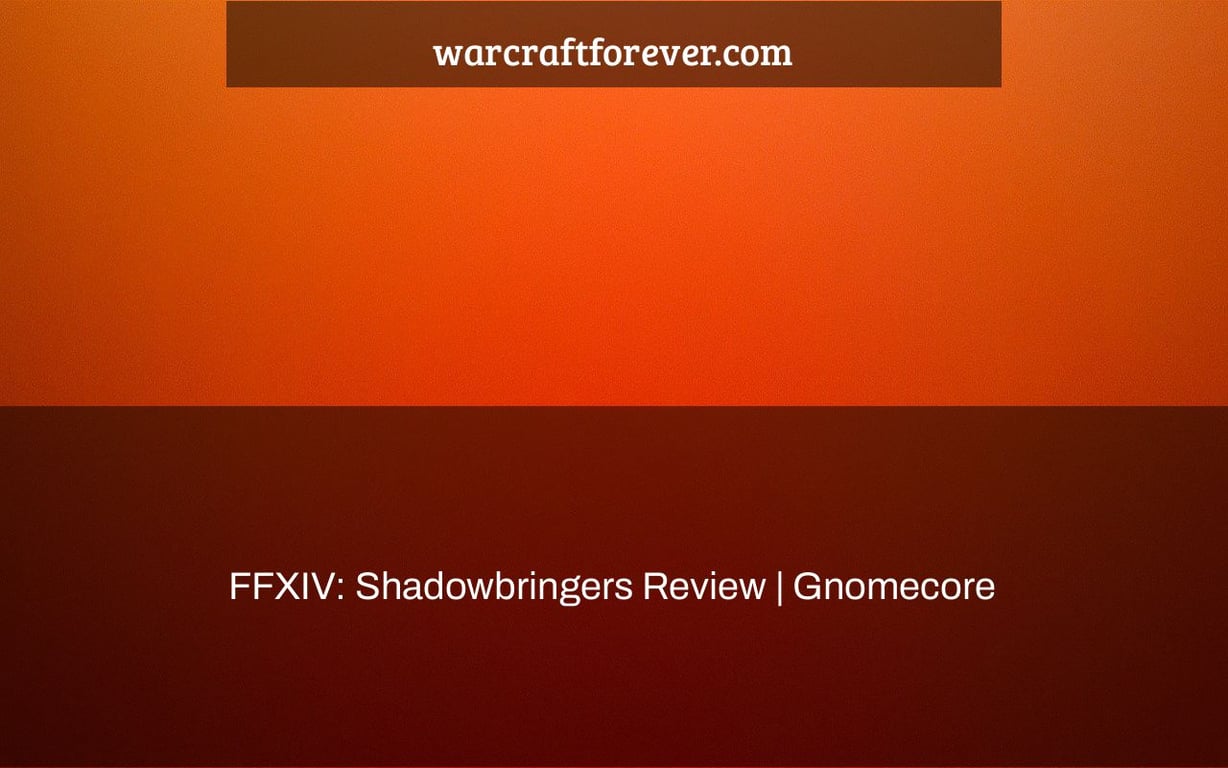 After finishing the expansion and catching up on the tale, I'm ready for Endwalker, and it's time to reflect on Shadowbringers! The observations of the initial expansion were stated in my last article, so let's pick up where we left off: The patch tales and the finale of Kholusia's main plot.
Part 2 of Kholusia was a great example of folks you've helped previously coming together for a shared purpose. It's always nice to see how your earlier deeds paid off, and we received that – not just here, but also in the gauntlet dungeon in patch 5.3, and later while bidding goodbye to the First World's kingdoms and inhabitants.
Lord Vauthry, the clear end enemy, was a wonderful big evil of the expansion plot, and it was remarkable how he changed his mind in the middle of a battle. I wasn't surprised since the Japanese aren't strangers to converting their great bads into creatures of amazing beauty, not your typical deformed abominations, so I wasn't surprised, but I was still surprised:) It was a fitting end to the major plot arc, but the rapid follow-up of Tempest and Amaurot pushed the boundaries even farther.
Tempest and fish people were a dreadful arc with nothing to look forward to, but happily, we quickly abandoned benthos in favor of the Amaurot adventure, which paid off well. What's not to appreciate about a visually spectacular megalopolis filled with strange creature ghosts with strange voices and improving our understanding of the universe?
Like Scions, I understood Emet-motivations, Selch's but I felt no genuine sympathy for him or his deeds, and I gladly put a stop to Evan Peters. An Ascian is an Ascian, and despite his entertaining company and conversations along questlines, the ending was built just as it should have been: an epic raid battle with a monster, yeah! It also resolved a twist of too-much-light for me, the small cat person; now we can wander in peace for a while:)
The major plot arc finished with a great climactic ending, as it usually does, but several questions remained unanswered, particularly the issue of returning our friends to their homeworld. Normally, FFXIV expansion patch tales are better than the main narrative arcs, however Shadowbringers' version was not.
Don't get me wrong: I appreciated the overall plot progression, completed the expansion in great spirits, had my climax towards the conclusion of the last fight, and am looking forward to the next season – the next expansion – as the adventure unfolds. However, there were more drag moments than you'd anticipate from an otherwise flawless expansion that, on the whole, outperformed its predecessor.
Master Chai becoming mayor of Eulmore was my first and primary gripe with patch tales. It wasn't well-written, and it came out of nowhere. If anything, his tale portrayed a transformation from hedonist to tinker master, assisting others with his trade, and that would be OK if it continued that way. But he didn't strike me as a mayor or a ruler – I believe he was just the only Eulmore figure with any type of character development, and this was definitely a situation where we didn't have any other characters to deal with the leadership issue.
Furthermore, the whole questline was such a chore, as we chased him across the country with a handkerchief in our hands to wipe his groaning and whimpering face, that it did not earn us any points. Not to add Dulia-obnoxious Chai's personality and the worst acting voice I've ever encountered in this game. You know, there's a difference between humorous and depraved, and having a falcetto male actor play the ape didn't help matters. On my alt, I'll go through the whole arc as quickly as possible.
The second struggle included figuring out how to get Scions back to the Source. No, the concept was brilliant and implemented flawlessly, there were no story flaws, and everything worked as it should have. But did we have to ask Exacrh how his quests were going after each one? There hasn't been any progress yet. These were usually long and boring dialogues, and viewing them as cutscenes made me feel like I was wasting my time for nothing. It was quite aggravating, particularly when I was immersed in a compelling tale.
The next step was to reverse the tempering, or the ownership of many excellent individuals by primals of many kinds. No, at the conclusion of expansion, I saw how crucial the entire thing was, so we were, after all, accomplishing some amazing and essential things. But it wasn't good until it went spectacular and we discovered out what it meant for our future. Is there a hospital in Amh Araeng? When others went to a war council, why didn't Ga Bu?
Apart from that, the patch narrative was fantastic and kept along with the overall theme of growth. I was ecstatic to be dealing with Elidibus so quickly; I anticipated him to be one of the Endwalker's main villains. Exhumation of villain and non-villain corpses by Ascians becomes a tiresome move from the authors, but I can't dispute that it's well justified and helps to build fascinating arcs and perceive old characters from a different perspective.
However, owing to slogging issues, patches 5.1.-5.3 made me feel like we'd overstayed our welcome at the First, and I was happy to finally pass through the portal with Scions under my armpit.
We returned to our home planet with source patches 5.4 and 5.5, and I really loved every minute of it. Well, it was a little disappointing to see the detailed and nuanced Ascian antagonists Emet-Selch and Elidibus, who had complicated motivations and arcs, give way to cackling, insane Ascians who only had one aim in mind: to reduce the planet to ash — as a goal, not a means to an end.
And now we have a completely insane Zenos who mows both friends and foes who are foolish enough to approach him by the length of his blade, but at least we don't have to worry about treachery or anything: we know who our enemies are, we just need to reach them and kill them without listening to them.
Out of the five Shadowbringers patches, the 5.4. and 5.5. storylines are probably my favorites. An hilarious excursion with Matoya to yet another lab, complete with an Elfman-like arrangement of one of the game's finest music themes, a kickass, powerful Merlwyb/Limsa arc, discovering a cure for the tempered, and unifying beast tribes (I had no idea there were so many even though I had met them all before! My wife peered at my screen when the Ala Mhigan palace doors opened to admit them in and gasped, "And what is this rabble?"), the danger of towers, and a dramatic final encounter with the primals – vehicle rather than fighting.
Anyway, the expansion finished on a high note, with our opponents, global dangers, and plan of action all properly defined, and I'm already looking forward to the next season – which is just around the horizon! Shadowbringers is still the apex of the game's storyline, easily competing with the best AAA single-player games, films, and series. It has a pleasant aftertaste, and I'm looking forward to seeing what comes next.
Meanwhile… I have alt occupations to level – samurai and monk are first on my list – and a TON of stuff to explore – quests, tales, missing dungeons and raids, crafting, housing, and so on. But, for the time being, I'm thinking about postponing my Lalafell alt until after the Endwalker narrative. When I've forgotten about Stormblood and Shadowbringers for a while, I'd want to revisit them.
In any case, I'm relieved to have caught up and am now in the waiting game with the rest of the participants.
Watch This Video-
Final Fantasy XIV: Shadowbringers is the latest expansion for Final Fantasy XIV. It is the first full-fledged expansion to come out since A Realm Reborn. With a new level cap, new dungeons, and new story content, this review will cover everything you need to know about Final Fantasy XIV: Shadowbringers. Reference: final fantasy xiv complete edition review.
Frequently Asked Questions
What is so good about Shadowbringers?
A: Shadowbringers is a free update for players of Final Fantasy XIV. It adds new features and content, such as the new level cap at 60, a PvP mode called The Wolves Den, 30 more levels to endgame dungeons like Shatotto Steppe and FATEs in Ishgard. There are also many other changes that make the game easier for newer players to get started with out any past experience required.,
Is Shadowbringers best Final Fantasy?
A: No, Final Fantasy XIV is the best installment of the series.
Can you solo Shadowbringers?
A: Unfortunately I cannot answer this question. The game is not out yet and it would be unfair to ask me a question about something that hasnt happened yet, because then my response would be speculative.
Related Tags
shadowbringers review metacritic
stormblood review
ff14 heavensward review
final fantasy 14 endgame review
ffxiv shadowbringers sale