Stormblood's release date was announced with a bang and players are already tackling new challenges. But there is more to come, in the form of several other major jobs. They will be available for testing on September 20th for those who want to give them a shot themselves before they're officially released later this year.
The "ffxiv stormblood digital" is the newest expansion for Final Fantasy XIV. Stormblood has a lot of new content like jobs, dungeons, and raids. The game also has a level cap increase from 60 to 70.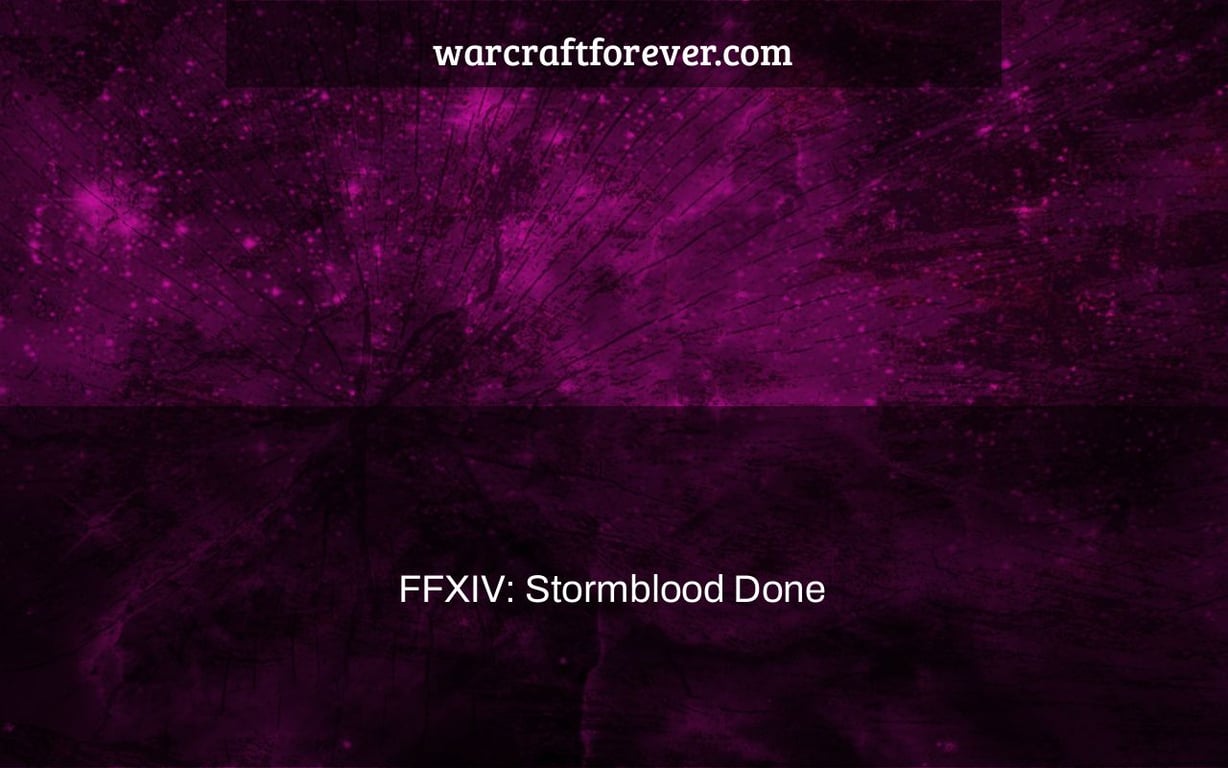 The next leveling expansion – Stormblood – was my next side quest milestone, and I'm delighted to report that I've completed it on both alts.
As usual and as intended, I'm now completely aware of what's going on in all of the expansion's quest centers and zones. Nothing overly spectacular, but there were a few emotional anecdotes and detailed explorations of the residents' livelihoods. The Far East was more about informing us about cultural benefits and lifestyles, particularly the Steppe, which was well-represented in all four main communities. Gyr Abania's questing largely dealt with the war's aftermath, such as rebuilding devastated communities, economy, and society. The return of the refugees from Thanalan's Little Ala Mhigo and the establishment of the saltery operation, a new source of wealth and trade for a newly born nation, were two of my favorite level 70 quests. They were quick, but they addressed the most important parts of the Ala Mhigo arc: the return of the refugees from Thanalan's Little Ala Mhigo and the establishment of the saltery operation, a new source of wealth and trade for a newly I can't get enough of Sultana, particularly when she's having fun:)
All I have left now are a few side raids and dungeons to finish and include into my daily roulettes. There are a few hard dungeon variants of earlier expansions, an Omega "normal raid" streak as a response to Heavensward's Alexander, Royal City of Rabanastre (alliance raid, is it?) and numerous independent dungeons like Kugane Castle. I've unlocked all of them, and I'm tempted to queue there right now, but I believe I'll wait till Shadowbringers is over, and then make it a streak of group content days from both expansions. Now I'm in too much of a hurry to go to the First!
Leveling
Sanya Ginsu the Mi'qote, my main, is now completely dedicated to Shadowbringers, with a dancer level of 72 and a Monk and Samurai level of 70/70.
Lolo Poppa the Lalafell alt is already at 72 with her machinist main and is digging the MSQ, black mage is at 70, and ninja/bard are at 68/68. There are still a few Stormblood dungeons and roulettes to transfer for Shadowbringers, but I believe it will be done today.
What's not to enjoy about the monk story? All of the previous questline stars reunite for a storyline twist and huge fights, what's not to like? The Bard narrative presents an intriguing moral issue, and I'm looking forward to seeing it resolved at the age of 70.
As is customary for a Japanese product, the most Japanese vocations, Samurai and Ninja, looked to be the most tedious questlines of them. 68th Ninja Quest I just skipped through the discussions and cutscenes, which is something I never do when starting a new tale at my camp. Samurai – I watched it in its whole, but it was not just one of the least inspirational experiences I've ever had. I'm not sure why: it's your field to play on, devs, and it's the least entertaining, much like the Hingashi and Yanxia zones.
I can't say I made any bad decisions among the eight occupations I'm presently playing: DRG, MCH, NIN, SAM, BLM, DNC, MNK, and BRD. Even while I like having a dragoon as my "official" Warrior of Light (it fits so well with a knightly, sturdy archetype), I like all of the other 7 occupations just as much, and it's never "oh no, now I have to level this to catch up, not again." I'm completely happy with all of their rotations and playing styles, and I want to stick with them to the conclusion. But are they sufficient?
New Jobs
Without a doubt not:) I should remind you that you're dealing with an altoholic, and it was a matter of "when," not "if," when I tried all the other occupations, mastered them to a very valid, if not flawless, level, and saw whether I liked them. So, over the last few days, I've added a couple more tasks that have been bothering me for a long — Red Mage and Warrior.
I first despised the role of Red Mage, but this was due to a lack of information. Despite manifesting as a magical ranged dps, it looked like I had to be in melee range all the time, and conduct melee attacks and casting in turns to fill the white/black mana gauge on the initial approach. When I read the spell description and allocated my hotbars, it looked that the reality was a lot simpler and more intriguing.
The most of the time, you're range-nuking from afar, and when the gauge fills up sufficiently, it's a fast leap in for a round or two of slashes, and then a quick retreat to resume casting – heck, they even have specific jump buttons! As the rotation and boss encounters go, you'll spend the most of your time nuking from afar, only entering melee for a few seconds for a burst of melee damage — maybe once or twice every battle. After it was straightened up, I found it to be a highly appealing job to level and play in a group setting! Mi'qote was chosen because red mage garbs would look best on her, since she currently has no casting duties.
I've only completed a roulette dungeon and an alliance raid, and I'm already satisfied with my work.
Warrior – after a prior debacle with a gunbreaker (too many buttons to manage for my comfort, but hey, maybe I'll get accustomed to it…. sometime), it was my next decision to attempt tanking. For vibe reasons, Paladin and Dark Knight will likely be my final occupations to try: I'm not a fan of "dark," "evil" classes that dig into the abyss and demon abilities, and Paladin is so traditional and pure that it feels dull to the bone. Warrior, on the other hand, is intriguing: a dual-wielding axe is a new Asian tank archetype (Western games typically go dps with dual-wielding classes), and it's also… cute:)
Nothing is more dull than a large bulky person brandishing a big bulky axe or sword, like a draenei, roegadyn, or highlander huyr — I assume that was Asmongold's pick when he first began his FFXIV adventure. Give a huge ass axe to a gnome or a lalafell, on the other hand, and you'll die of cuteness. So when I saw lalafells tanking my random dungeons, I knew it was only a matter of time until my own took up the axe. She finally got one, and she's now 27 and has tanked her first dungeons in less than 2 hours!
So, what more can I say? At least in the first few dungeon encounters, I was successful. Of course, trash picking pace is still an issue, but it's nothing that a little practice can't fix — towards the conclusion of my second dungeon, I felt a lot more comfortable aggroing trash and dashing ahead of the group. Of course, having tanked in World of Warcraft helps: diverting the packs and bosses away from the group is a built-in bonus for me, as it seems. There's also the matter of memorizing hundreds of bosses – tank swaps, avoiding large tank-only booms that I'm not aware of yet, but nothing that practice won't fix. At the very least, I'm familiar with most mechanics thanks to repeated plays of almost all group content on past jobs, so all that's left is to come up with tank concepts and gameplay.
To cut a long tale short, I now consider warrior tanking to be a legitimate leisure activity, and it'll be entertaining to level when I'm weary of my main professions.
My next candidates will be healing – I'm particularly interested in sage and white mage – and, as a last resort, I'll attempt the few remaining dps, arcanist and reaper, as well as remaining tanks and healers. However, with the exception of sage and white mage, I have no desire to roll them any time soon. First and foremost, I must achieve level cap on all eight "main" occupations, complete the plot for Lalafell and side questlines for both alts, leisurely level warrior and red mage, and only then will I begin job range exploration.
What an adventure.
Watch This Video-
The "ffxiv stormblood purchase" is the latest update for Final Fantasy XIV: Stormblood. With this update, players can now try out all of the new jobs that have been introduced in Stormblood. There are also a lot of other changes and updates with this update.
Frequently Asked Questions
Is Final Fantasy 14 finished?
A: Final Fantasy 14 is not finished. This game will still be alive for many years to come, and theres always a new update coming out!
What comes after Stormblood?
A: Lions Arch.
How long does it take to complete Stormblood?
A: Stormblood is the fourth installment of Final Fantasy XIV and takes around 100 hours to complete.
Related Tags
ffxiv stormblood quests
ffxiv stormblood steam
ffxiv stormblood characters
ffxiv collector's edition items
ffxiv expansions