July 29th was the first day of Endwalker. We went live on July 30, 2016. The team is really excited about this update and have focused a lot on player feedback from our previous Early Access release to make it even better!
The "final fantasy xiv endwalker" is a novel that was released on September 25, 2018. It tells the story of an ordinary man who wakes up in a world where he's been granted special powers.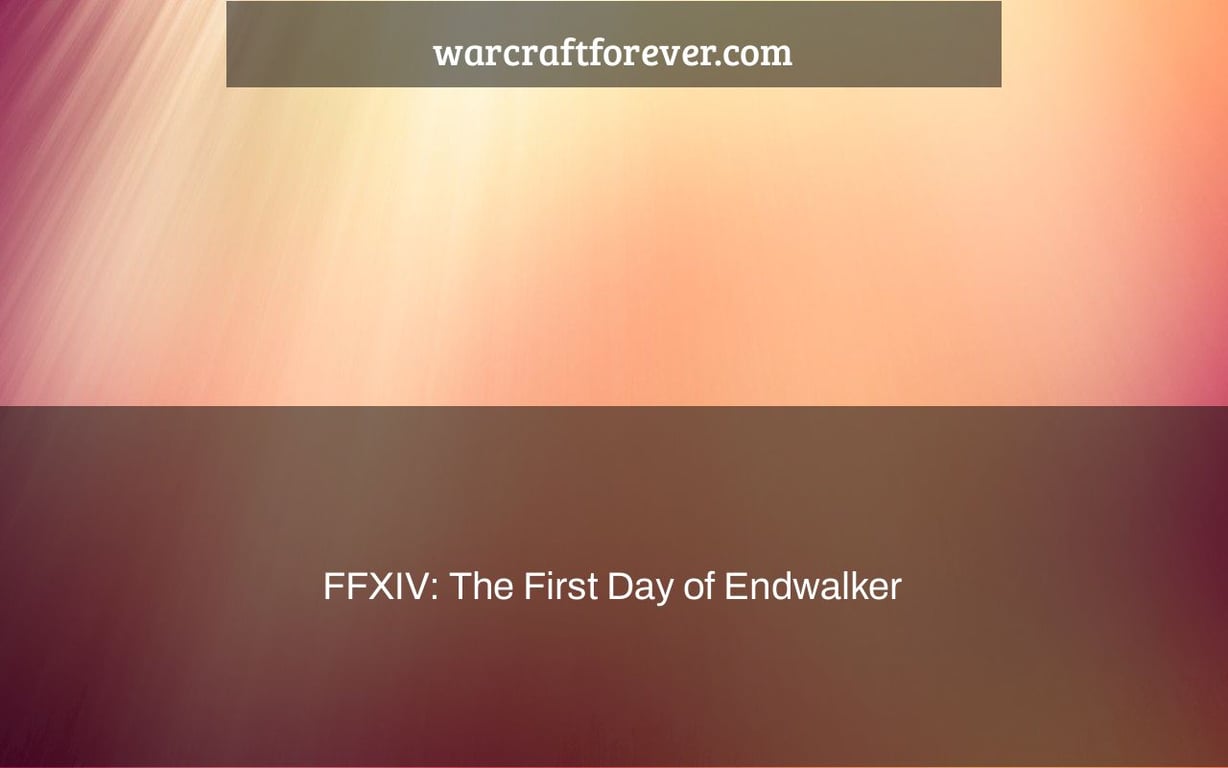 *Spoiler alert* At the conclusion of the article, I'll explain a portion of the narrative that I've seen so far and label it with a headline. It's a safe read till then.
Problems with Login
First and foremost, I did not have much time to play. I played for 3 hours on Friday, got off around 6 p.m. because I had an IRL party to attend, then logged back in without a hitch on Saturday morning (a standard 60-person wait). For the remainder of the day, I logged off for supper and that was the end of it.
That's accurate, it's been the worst experience I've ever had, even worse than when World of Warcraft first launched. I was in a 2400+ line when I logged in at 3 p.m. After 15 minutes of waiting, I was able to go up 600 digits. I figured I'd go to the grocery store while I waited — a 15-20-minute excursion, and when I returned, this:
Then I tried again, and this time I was in a much longer line — 2600 this time. This time, at 2300, a lobby server fault appeared. When are you going to try again? Now there's a 3000+ person line, with a lobby server problem kicking me out at 2800.
I gave up after a few more identical tries, having already invested 2,5 hours on this quest. I don't mind waiting in line, but not when it ushers me out after 10 minutes and places me in a greater line every time. A hundred comments were left on the official FFXIV twitter tweet announcing the debut, all of which were full of wrath and fury, with nothing nice to say.
The game makers' sorrymasen message didn't help much. It went into great detail about the present situation, beginning each paragraph with We apologize and Please understand, very beautiful and all, but it never addressed the most important question: how are they going to fix it? And it's evident they aren't, and they haven't come up with a solution yet.
I mean… True, the June peak was surprising, but by the end of August, it should have been evident how many peak persons attempted and failed to stop, and how many chose to remain. Many players are anticipated to return with the new expansion, and they saw the subs and active players, and they had all the time in the world to prepare, to come up with a solution, but that did not happen. And the login issue affects all gamers, not just those who attempt to log in.
Worst of all, I don't see how things are going to get much better in the next month. There will be a genuine release on December 7th, which will introduce additional people, and existing players will not be left behind, with a plot to complete, new and old occupations to level, stuff to explore, and any endgame activities they are interested in. In most ways, I despise comparing the game to World of Warcraft, but I believe this is an exception. For all of Blizzard's current game and corporate faults, following the WoD launch catastrophe (which deserved its own Carbot film), the corporation got its act together and fixed the wait issue once and for all, three expansions in a row with no line at all.
My personal viewpoints are rather depressing, since I'm obligated to log in early in the morning and utilize workdays to progress in the game (fortunately, I've completed most of my work and projects at work for the year, so I can play throughout the day). But it irritates me that you can't play in the evenings or on weekends, and that logging out would likely mark the end of the day's session.
Overall, towards the end of Saturday, this was my most tangible game result:
And I'd rather chat about Final Fantasy XIV during the expansion's launch days.
With that rant out of the way, the expansion has been nothing but great thus far.
New Zones and Gameplay
As I already said, I did not make much progress, but the overall impressions were quite encouraging. Naturally, I arrived to Old Sharlayan first, finished the Labyrinthos half of the quest fork in its entirety, and completed Thavnair's first village — the harbor.
Sharlayan and Labyrinthos were both very relaxing locales. A wonderful city plan with some amazing vistas, nooks and corners for people to explore and hangout, a really welcome forest, and a volcano-designed crater called Labyrinthos – which is still very lush — it was all so nice.
Thavnair, a blatant rip-off from India with no fig leaf to obscure the source of inspiration, is less thrilling (to me, who isn't a lover of hot nations), but colorful and striking in its feel and atmosphere. I can't stop admiring the graphics and images, and if the remainder of the expansion lives up to the same high standards (and why shouldn't it, please tell? ), it'll be a real delight. I believe that visuals have reached their zenith; I appreciate examining the surroundings and all of the minute details, and Endwalker zones can only be characterized as a visual feast.
There isn't much to say about the music right now. Of course, it's fantastic, but I've yet to be compelled to hum anything:) The soundtracks for Sharlayan, Labyrinthos, and Thavnair are all excellent. What makes me pleased is the login screen! It's excellent on its own, but the booming full-scale male chorus of Shadowbringers that always got my cats (and myself, to be honest) going was… not my fave, to put it gently, so anything except that.
Travel: It's your standard aetheryte stones; click 10 currents and complete the tale to get access to the zone's planes. However, in all prior expansions, the number of currents was decreased; presently there are just four each zone. Not that it matters to my main, but my Lalafell alt who is after her is overjoyed.
Job and Character Power Changes: I've just played Dragoon, my primary job, so far. The most important trimming was the elimination of the Blood of the Dragon perk. You have to keep clicking it, a button that accomplishes nothing except stall your spin by precisely 1 gcd. It was a complete joy to remove it; the rotation became much more easy and less complicated, with less things to think about and, in general, more thrilling.
I'm not sure what they changed with the numbers, but my ilvl seems to have stayed the same. Killing mobs in the open world seems to be a little easier than previously. Previously, all of my experiences with monsters while leveling were not very hazardous, but they were a challenge; if you had two assaulting you, it may have been perilous, and three was a flee-or-die situation. Today, I'm not having any trouble, mobs are dying quicker, and they're not hitting as hard. I'll have to test that on all jobs, but Endwalker zones appear to be a little friendlier to my main.
Story
*spoiler alert* *spoiler alert* *spoiler alert* *spoiler alert* *spoiler alert* *spoiler alert* *spoiler alert* *spoiler alert* *spoiler alert* *spoiler alert* *spoiler alert* *
So far, the Hydaelyn situation hasn't impressed me much; she's vague, and I'm not very involved in the war or whatever she claims. Of course, we'll find out more later, but for now, it's just a side dish, nothing too serious or urgent for me to grasp my brain around.
I was missing my Scions team! I enjoy traveling with them, so it was like coming home to see my family, and I'm simply thrilled to do anything with them.
I loved the quest fork — it's a clever way to disperse people out from the start and avoid overcrowding the same objectives. It's not the first time they've done it, and it's not the first time FFXIV has done it, but I'm delighted it's here. Because the questgivers are so packed right now that you can hardly click them. Granted, there are 10-minute sequences when your character just stands on top of a questgiver's head while the rest of the game plays. They placed Tataru in charge of the first quest and the first 10-minute cutscene, of all people. Tataru, when a Goobue would be much more appropriate:) This is me attempting for 5 minutes to locate and click on an inch of her in order to go forward:
Anyway, thus far, I'm liking the plot. Sharlayan and Labyrinthos were fantastic, albeit Sharlayan's finale was a little strange. It's reasonable, I mean – the Scions would have been exposed sooner or later, and the council would not have changed their minds or revealed their secret — in fact, they didn't tell each other anything new. Assist us, the world is in peril – but we don't want to help; we have our own company and purpose that we don't want to discuss. That much was obvious even before we arrived. Weird, since despite our efforts, we did not make any progress. But it was valuable as a true zone introduction, and all of the locals, beginning with the frightening customs clerk, were so beautifully molded in character!
To summarize, I've enjoyed every aspect of Sharlayan and Labyrinthos so far.
Thavnair, on the other hand, is a different story. As I already said, I am not a lover of India or the Arabian Peninsula in real life, but it would serve as a site of adventure, and I certainly sense the mood, which is a complete success. Apart from the city harbor, I haven't seen much; I need to visit the capital and the forest before I can offer a judgement.
What irritates me now is that they chose the "boring" Scion trio for Thavnair, who – as characters – don't perform well on their alone, especially without additional characters to balance out their advantages. Alphinaud and Alisaie, for example, have such disparate personalities that they constantly balance each other out and create a tension that is full of sparks and interesting to watch. All three of these characters in Thavnair need a counter-character to balance their bonuses and pick on their partner character in return – yet none of them have one. But we'll see; the whole travel/purchase/sickness scenario was amusing, so it could wind up working in the end.
Well… So, I'm going to attempt to log in now? For the time being, I'm delighted I have both games to play:)
Watch This Video-
Frequently Asked Questions
What level does Endwalker start?
A: Endwalker starts at level 10.
How do you start an Endwalker?
A: You should have a class called endwalker.
Is Endwalker the end of Ffxiv?
A: Yes, it is the end of Ffxiv.
Related Tags
final fantasy 14 endwalker
ffxiv endwalker release date
ffxiv end walker release date