Now that you've mastered the art of playing your job, it's time to put all those hours in and start trying out some jobs for which you have little experience. In today's article we'll be discussing a couple of different alt jobs and where they might take us.
The "ffxiv jobs" is a feature that allows players to try out different jobs in Final Fantasy XIV. In this article, we will be discussing how to do the job quests and what you can expect from each of the jobs.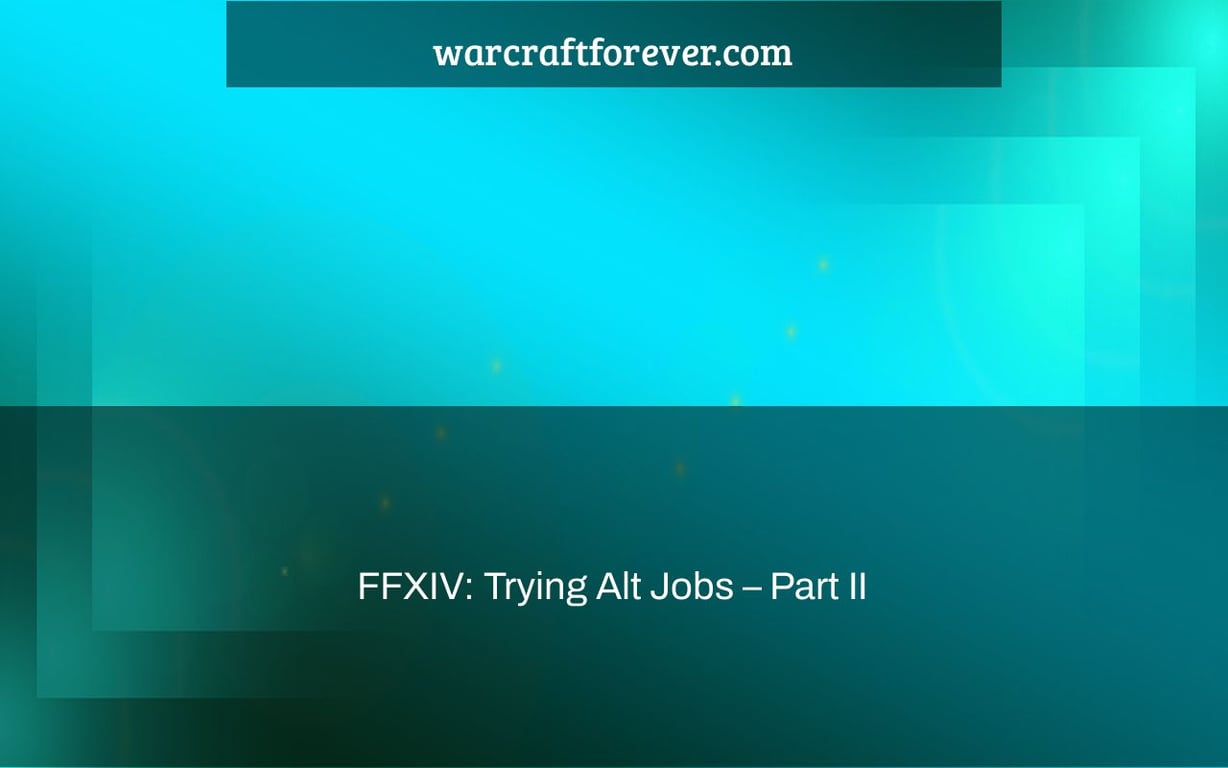 I've been sticking to my strategy for the last few days, unlocking alt careers that I'd been dying to try and getting my feet wet with all of them.
First and foremost, I've resolved to stick with DPS until I have absolutely nothing else to do. Getting Astrologian and testing it out for a while confirmed what I already knew from my WoW experience: yeah, I could play tanks and healers and be successful at it, but do I want to? Is it enjoyable for me to play tank and healer alts or alt jobs? No, no, no, no, no, no, no, no, no, no, no
Yes, if you appreciate these roles, FFXIV features a wide variety of classes/jobs to suit a variety of playing styles – feel free to try them out! But, personally, I'm thrilled and at ease in my DPS camp, which allows me to concentrate on my rotation while admiring the boss fights and dungeon design at my own speed, without being too concerned about my errors. Isn't it meant to be fun? That's why we play them, and no one can force me to play tanks and healers if I don't want to. So, it's DPS all the way.
Sanya Ginsu, the miqo'te character – and you might call her the "primary" character now that she's concluded the tale – is the most active character today. After MSQ, her dragoon is well-stocked and ready for Endwalker, so she now chooses a blue cross quest every now and again to check if there are any new discoveries (and they are left, no shit).
Yesterday, I went for Cinder Drift, a side raid that turned into: touring an unexplored land akin to Greece, investigating Gaius' history and present with personal ties, and an Evangelion-style mecha vehicle confrontation, with a hint of more raids to come. How much of that kind of thing is tucked away in the corners?
Don't worry, when the time comes, I'll bleed the content dry. If a fresh player joined World of Warcraft, he'd be in exactly the same scenario, with plenty of decade-old stuff to explore and storylines to learn.
Anyway, back to the other occupations. Sanya chose the following side jobs: Monk, Samurai, and Dancer, and she is now loving them all.
Because you can't see shit what your character is doing in a dark dungeon, and katana slashes aren't that spectacular to observe from behind (if you turn the camera to see your toon from flank or from a boss perspective – yes, yes, yes, yes, yes, yes, yes, yes, yes, yes, yes, yes, yes, yes, yes, yes, yes, yes, yes, yes, yes, yes, yes, yes, yes, yes However, the job's rotation is very obvious, offers variation, and gives you complete discretion over what you serve, so yes, I'll be leveling it.
Dancer – I barely made it through a level, but it was jam-packed with activities, and I quickly learned the ropes, feeling pretty confident in my abilities. I'm all in on the proc-based gameplay, the spec is incredible, and just wait till I acquire some more gear to make it seem even more strong (rings and such are still mostly on level 1-20, and I have neither gold nor tokens to upgrade, so need to wait till it comes naturally). It's also a psychologically intriguing job: for example, while playing dragoon, you slam your keyboard buttons hard — ostensibly to maximize the damage output of your attacks, at least that's how it seems. With Dancer, I try to keep all of my talents as light as possible; it's simply that the job's design seems so light and airy:) So, with this character, if I need a ranged spec, it's Dancer, period. Mobile, showy, and thrilling.
Today, I spent the most of my day as a monk. I can't get enough of the Bootshine and Demolish skills — pressing a single button results in a stunning martial combination, which is quite satisfying. The gameplay in general seems strong, flavorful, and well-understood, and I can easily see how this might be my primary job if only there were no spear-themed classes:) Anyway, I'm most enthusiastic to push it to new heights, and that's exactly what I'm doing.
Lolo Poppa – my Lalafell – is periodically performing a handful of tasks to help drive the MSQ ahead with an amazing Machinist, but she's also begun looking into other vocations. It's not as thrilling as the other ones, but I'm still having a good time here.
Even though I gripe about the ley lines, I intend to continue leveling Black Mage at some point since it's unique among other game mages and has Exploooooo-shun. However, I don't believe it will be my primary occupation in the future.
I began playing Rogue-to-be-Ninja, and I'm still enjoying it at level 7. Not overjoyed – at least it's not love at first sight like Monk – but it's still a viable choice. So far, I'm finding it to be pretty conventional (read: dull), but I'll have to view it with additional talents.
Arcanist/Summoner is the last job I've begun to play. I reluctantly committed after hearing in the comments that I may have squirrel pets instead of primals at higher levels. The point is that it feels just like WoW's afflicted warlock, ctrl+c, ctrl+v, at level 7. I have three nuking spells, and I'm constantly amazed that two of them don't have the names and iconography of Unstable Affliction and Corruption, since the mechanics are the same: apply a pair of DoTs (one insta-cast, one with a casting period) and utilize a direct nuking filler.
There are two more things about Summoners that irritate me. To begin with, the pet does not tank, but it does by default AoE. In practice, this means that when you go for a hunting log or a quest, it will aggro half of the area with its AoE spell, won't keep aggro, and you will spend the majority of your gameplay running in circles from bands of mobs, on the verge of extinction, desperately trying to kill them before they kill you.
So, I'm assuming I'll receive more demons later, ideally with tanking abilities and the ability to conduct precise kills, since it's amusing now, but simply a shitshow. Second, as I already said, I am not a cackling, wicked person, and although using spells like ruin and miasma makes me shudder, I can live with it. Spell names, on the other hand, are less of an issue, thanks to a so-far unoriginal rotation and a pet that was created to annoy you rather than help:) I'll meet you on higher levels, and then we'll discuss it again.
Anyway, two characters, four dps jobs each – I feel like I've had my fair amount of intriguing occupations and playing styles, so let's just leave it at that. Maybe there will be lulls in both WoW and FFXIV, and then I'll reassess the other occupations, including tanks and healers, but for now, I feel like I have it all and am anxious to level all of them at any time.
Watch This Video-
This is Part II of my "ffxiv fastest way to level alt jobs reddit" blog. In this part, I will go over the fastest ways to level your alt jobs.
Related Tags
ffxiv best way to level alt jobs 2021
ffxiv leveling guide 2021
ffxiv leveling guide 1-50 2021
ff14 gearing alt jobs