Blizzard has revealed a few details about the new Tier Sets coming in Patch 9.2, with some bonus abilities and talents being shown off! The new sets are designed to have no impact on current PvP meta-gameplay so players can focus on their own gameplay experience without worrying too much about tier set balance or trying to figure out what's going on at higher tiers of play.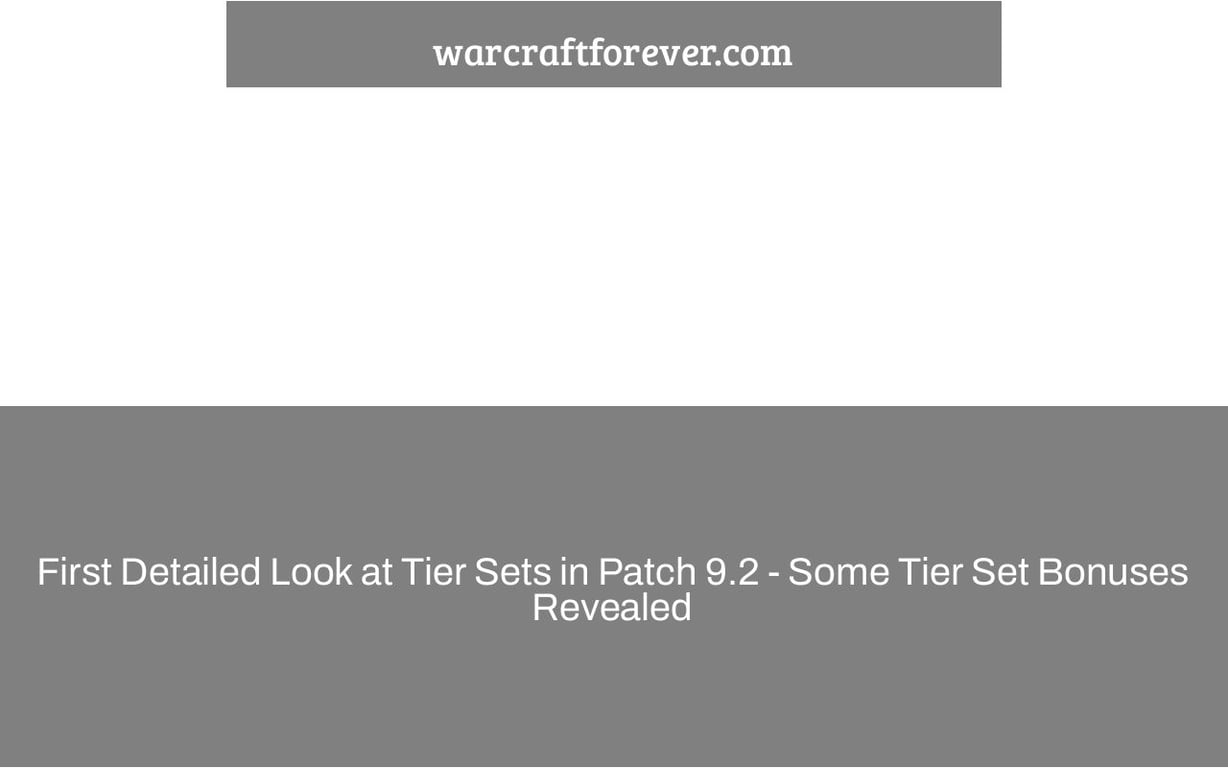 Players will harness the power of the First Ones by collecting a variety of new gear in Eternity's End. Class armor sets are making their return in Eternity's End, and this time, you'll obtain them from three sources: bosses in the new Sepulcher of the First Ones raid, the Great Vault (via all activities – raiding, Mythic+, and PvP), and from the forthcoming Creation Catalyst. In Eternity's End, you'll also discover a new Runecarving power that lets you harness the effects of your covenant Runecarving power in conjunction with an existing Shadowlands legendary to slay your foes or heal your allies.Progenitor Armor Set The Progenitor armor set will grant your character new abilities based on your specialization, and includes a helm, shoulders, chest, gauntlets, and leggings with 2 set bonuses. The first set bonus is unlocked when two set pieces are equipped, and the second bonus is unlocked when four set pieces are equipped. Here are some examples: Paladin (Protection)
2-piece – Shield of the Righteous increases your Block chance by 2 each time you cast it.
4-piece — When you block an attack, you have a chance to cast Judgment on your opponent.
Druid is a kind of Druid (Restoration)
Swiftmend is a two-piece spell that heals an extra amount for each periodic healing effect on the target.
4-piece – Swiftmend heals nearby allies for a percentage of its healing done. Legendaries
In Zereth Mortis, you'll encounter the Enlightened Brokers and form an alliance with them in order to gain a new Legendary belt with your covenant's Runecarving Effect. The Runecarving Effect will switch freely with your character anytime you transfer covenants, which is a unique feature of this new Legendary belt. Each covenant doesn't need a new Legendary Belt to be created. The Legendary belt will match the design of your class's Progenitor armor set and may be combined with another Shadowlands Legendary in another armor slot to give you two strong legendary effects to improve your power. A new Runecarving Memory will allow you to build the new covenant-swapping Runecarving Effect on a different armor slot.
Note that one of the legendary items must be the Legendary belt or another armor slot infused with the new Runecarving Memory in order to equip two legendary items.
All legendaries can now be upgraded with Cosmic Flux, a new currency inspired by lessons learned from Echoes of Ny'alotha in Battle for Azeroth. Cosmic Flux will be rewarded from a variety of activities in Shadowlands Season 3, such as defeating raid bosses, PvP, Mythic+, Torghast, Tower of the Damned, and World Quests.Creation CatalystOnce players fully uncover the secrets of the First Ones, the Creation Catalyst will become available. This will serve to help anyone who's having bad luck on a particular armor slot, or to help alts quickly catch up later in the patch. The Creation Catalyst will use Cosmic Flux in combination with an appropriate non-set armor piece to create a Progenitor armor piece in that armor slot of the same item level. The armor you transform can be obtained from PvP, Mythic+, or other new Eternity's End content.For example: The Great Vault rewards an ilvl 265 non-set chest piece. Once the Creation Catalyst is unlocked and enough Cosmic Flux has been collected, this can be used to make an ilvl 265 Progenitor armor piece that activates the set bonus.
Note: If you win a piece of non-set armor before the Creation Catalyst is unlocked, save it in case you wish to convert it later.
In Zereth Mortis, we'll see you!
Watch This Video-