Mythic is proud to reveal the next phase of our highly-anticipated new PvP experience. Death Sentence and Meteor Cleave have been confirmed for this update, as well as a focus on creating more engaging encounters through Secret Chamber mechanics!.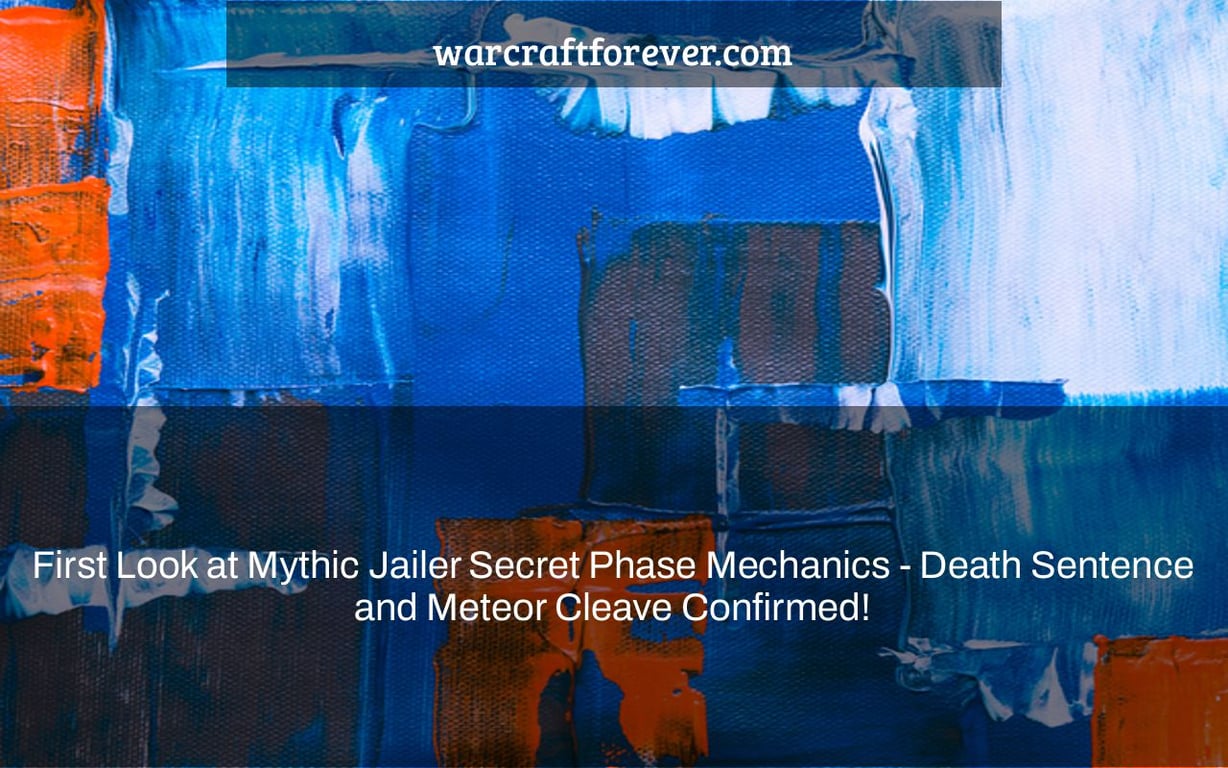 Echo has now seen elements of the Mythic Jailer secret phase, validating the Death Penalty and Cleave of Meteors mechanics that were datamined! Check out what we've seen thus far from the Secret Phase!
To view more of the secret phase, tune in to the Race to World First livestream!
Race to the Top of the World's First Streams
Best Attempt at Mythic Jailer's Secret Phase
Echo has progressed to the Mythic phase, demonstrating its mechanics!
Secret Phase Mechanics of the Mythic Jailer
Death Penalty and Cleave of Meteors are in fact in the phase, as previously anticipated!
The following are the all-new mechanics:
Death Penalty – When a player is marked for death, the Jailer inflicts 20 Shadow damage every 2 seconds, increasing in severity over 30 seconds until killing them. When the player is removed, black energy is released in the area, inflicting Death Penalty on everyone who is hit. Death Penalty is administered to all players if the energy fails to reach at least one player. Obtaining two applications of Death Penalty immediately kills players.
Cleave of Meteors – The Jailer swings his flail in a massive arc, dealing 1236560 Physical damage to all players in front of him equally. Every player who is struck is knocked back. For 50 seconds, the primary target gets 500% more Physical damage.
Health
The monster only recovers to 24.4 percent health (rather than 24 percent, which would leave it at 34 percent) with a 6.8 million absorb shield through Diverted Life Shield, as originally projected. However, this still equates to the estimated harm of 37 million dollars.
Because the monster begins at 24 percent, execute might have a big role in the ultimate burn!
Mechanics are making a comeback.
The Mechanics are making a comeback. from other phases are the following:
The Rune of Damnation is a bomb that requires you to leap into a hole in order to avoid blowing up your buddies, with the bomb knocking you back out.
A minor knockback called a decimator.
Falling Debris – When the pillars fall, they form large rings that kill any players within.
Previous Defiles, interestingly, do not despawn on the phase change, thus sealing off a piece of the chamber. Furthermore, since there are only a limited number of holes into which the bombs may be jumped, Rune of Damnation portrays an anger on the battlefield.
Death Penalty
Death Penalty is a brand new mechanic in the Secret phase. Here's how this mechanic works:
For 30 seconds, the Jailer delivers this debuff to one player.
The player dies instantly if the debuff expires or if two stacks of the debuff are acquired.
This is a Magic debuff that can be removed with a Magic dispel spell. Two soak circles will emerge on the platform after the enchantment is removed.
A stack of the debuff is applied by soaking a circle.
If you don't soak a circle, the debuff will be applied to the whole raid.
As a result, dispelling shortly before the debuff expires (30 seconds) will likely be the best method to manage this mechanism, forcing the debuff to divide and be received by two new players. When these two players' debuffs are about to expire (30 seconds), they must be dispelled again, causing the debuff to divide and be caught by four players, and so on.
This causes the phase to get enraged, as the debuff scales enormously with time and eventually dispels.
1 debuff in 30 seconds.
2 debuffs in 1 minute.
4 debuffs in 1.5 minutes.
8 debuffs in 2 minutes.
16 debuffs in 2.5 minutes.
There are other complexities, such as the debuff inflicting damage, which might create healing issues during the 16 debuff phase, and finding out how to dispel 8 debuffs at simultaneously (otherwise having to stagger them and shorten your enrage timer).
Cleave of Meteors
This mechanism seems to be simple. It's a split damage soak in front of the boss that hits the active tank and knocks them back.
Cleave of Meteors – The Jailer swings his flail in a massive arc, dealing 1236560 Physical damage to all players in front of him equally. Every player who is struck is knocked back. For 50 seconds, the primary target gets 500% more Physical damage.
However, based on Echo's effort, it seems that this CANNOT be soloed, since Naowh attempted to solo the cleave and the raid was killed. This most certainly implies it can't be done single, and the group will have to absorb it, which may be problematic given how many people are out with bombs at the moment.
It also delivers physical damage, which is unfortunate for priests.
Enrage
The question then comes to what the enrage of this phase will be. Will it be running out of players to soak the exponential scaling on Death Penalty? Or maybe, they'll run out of holes to put their Rune of Damnation bombs into?
In the comments section below, tell us what you think of the Mythic phase so far and if you believe the boss will die today.