Blizzard has revealed a new card set that will be released in the upcoming expansion, Battle of Azeroth. This is the first time Hearthstone cards have been part of an expansion and it's also the first instance where players can fight on three different battlefields to earn extra rewards.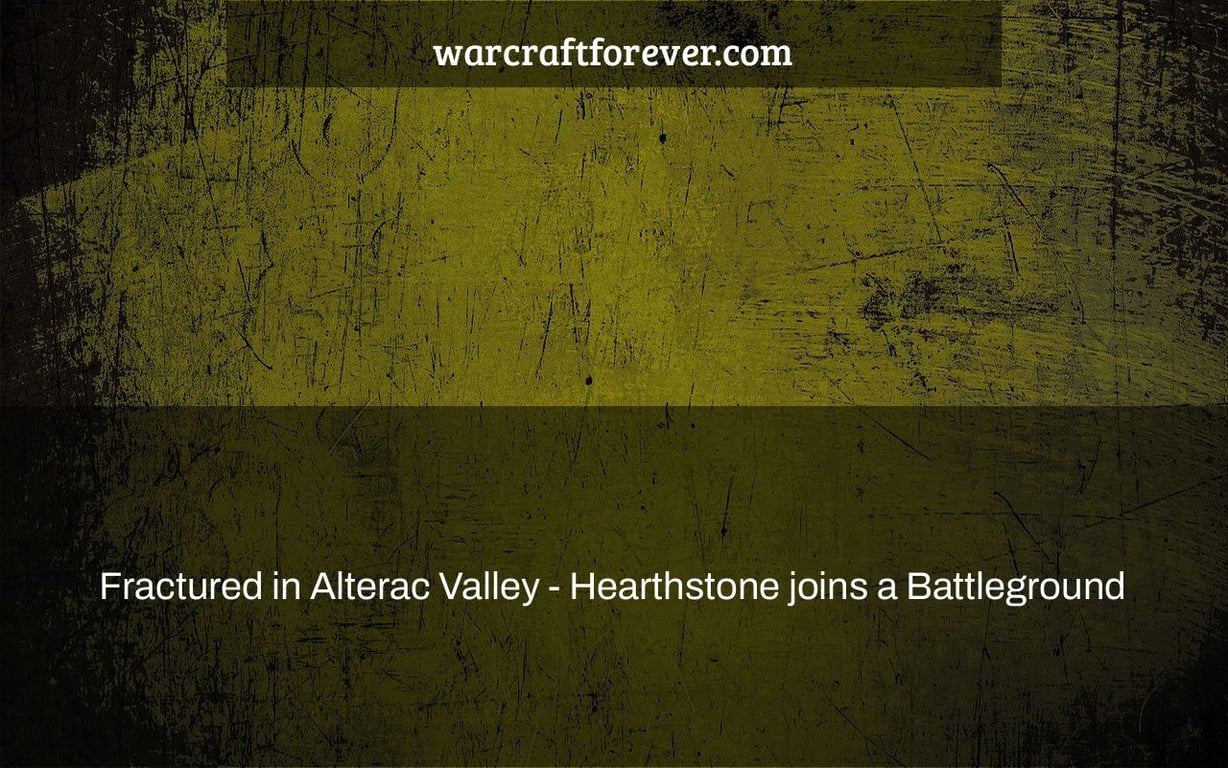 While the WoW community waits for Patch 9.2, Hearthstone players will soon be able to return to the glory days of World of Warcraft's most epic battleground: the forthcoming expansion Fractured in Alterac Valley will bring the beloved Mercenaries' year-long story to a close.
In this piece, we'll go into the mercenaries' ongoing tale, the many WoW allusions, and the choice to include the icy valley that both Alliance and Horde have fought so hard for up until now.
I'm Tharid, and I'll be covering the new content for Hearthstone's next expansion, United in Stormwind, for Wowhead's sister site Hearthstone Top Decks. Visit hearthstonetopdecks.com for the most up-to-date information regarding the expansion and Hearthstone in general.
The Year of the Gryphon's Showdown
Fractured in Alterac Valley ushers in the last portion of Hearthstone's current Standard year, the Year of the Gryphon. Forged in the Barrens and United in Stormwind, the other two expansions released in 2021, sent players on a wild voyage throughout Azeroth's continents. The year-long plot revolved on a global occurrence known as the Night of Fallen Stars, in which fragments of a supposedly dying naaru rained down on the Barrens. Ten mercenaries – five from the Alliance and five from the Horde – set out to locate the naaru shards, each for their own motives detailed in the single-player campaign chapters of Book of Mercenaries.
Katrana Prestor, better known as Onyxia, has a special interest in the crystals, and she seems to have formed a draconic alliance with Kazakus, a dragon in disguise and one of the most notable characters specific to Hearthstone. Her motivations are unclear, although based on Onyxia's birth tale from the original World of Warcraft, she may just want to finish what her father Deathwing, then disguised as Daval Prestor, started: destroying the Alliance from inside.
What pulls the Hearthstone heroes to Alterac Valley, though? The continuing tale recounts that Edwin VanCleef and the Defias Brotherhood stole the naaru shards from Stormwind – most likely on Katrana Prestor's behalf – during the newest Book of Mercenaries single-player campaign published with the Deadmines mini-set. Both Horde and Alliance mercenaries fight side by side in the ultimate battle to defeat Edwin Vancleef, the greater evil. Vanessa VanCleef, his daughter, eventually escapes with the shards. Alterac Valley was her goal.
All we know now is that the mercenaries will attempt to get their hands on the naaru shards, as the tale has been set up for this year's final act. But, in the expansion trailer, why are they battling each other? During the most recent single-player campaign, they put their faction enmity aside!
This would be an excellent occasion to contrast this perplexing tale fact with the history of faction competition in World of Warcraft, with all of its ups and downs, brief advances and truces. But we won't do that because we have to concede that the year-long tale has built up to be the finest storytelling experience in Hearthstone's history, so any concerns about its potential future result ought to be given the benefit of the doubt.
Objective Cards: A Dream Come True
Hearthstone, on the other hand, goes all-in on the traditional Warcraft fantasy. Fractured in Alterac Valley depicts the legendary combat location in yet another realistic and shockingly somber light. The newly released objective cards are excellent instances of this implementation:
Custom Hearthstone card producers have always attempted to include Warcraft's areas of interest into their creations. Now, Team 5 has devised a brilliant solution: multi-turn spell effects, which wonderfully depict the extended battles over Alterac Valley's graveyards, bunkers, and towers.
In card games, using locations as cards is nothing new. Magic: The Gathering, the mother of all collectable card games, makes use of land cards as a resource. Hearthstone's resource structure, on the other hand, is far more one-dimensional. However, adding objective cards to the game has the same impact as adding them to MTG: it allows for more creativity and fills out the scenario in which the relevant expansion takes place, giving yet another layer to Blizzard's card game's design and narrative.
Honorable Kill is a Warcraft term that means "to kill honorably."
The keyword layer is a gaming mechanic that has done just that in the past. Every term fits the tone of the expansion and the overall design aesthetic – because Fractured in Alterac Valley is no ordinary expansion.
The newly added Honorable Kill keyword has tremendous benefits, but only if another minion is reduced to 0 health. Could there have been a more Warcraftian term in Hearthstone's history?
As previously stated, the consequences of Honorable Kill are significant – some even claim excessively powerful, according to theorycrafting specialists. Power creep is a recurring issue in the year's "third expansions." However, power creep makes sense in this situation: As the tale progresses, our characters earn more and greater strength as they level up during the Standard year. They even age, as the cinematic trailer shows. Why shouldn't they have access to much more potent abilities?
With a Mercenary Twist on the Original Storyline
The new mercenary hero cards demonstrate this level of attention to detail. They're all dressed in Dungeon Set 1, which symbolizes how many end-game dungeon runs the two mercenary companies must have accomplished before arriving in Alterac Valley!
Except for the unique primary characters from Hearthstone, everything in and around Alterac Valley remains same. Vanndar Stormpike seeks to protect his dwarven expedition sites as Drek'thar commands the Frostwolf orcs. Both Balinda Stonehearth and Galvangar are at the forefront of their respective groups, and Ichman and Mulverick have joined the fight!
The introduction of the Honor system is another fantastic feature to Hearthstone. In a nutshell, players may choose a side in the battle for Alterac Valley. By playing Hearthstone, users will be able to earn Honor points and rank up as Horde or Alliance players! The Honor system is yet another excellent application of a parallel advancement track, rewarding players with golden cards – rank 14 gamers will even be able to get their legendary faction leader card in gold!
In Alterac Valley?! The Scarlet Crusade?!
Saidan the Scarlet is the lone curveball in the forthcoming card set. This noble paladin, once a founding member of the Knights of the Silver Hand, became a puppet of the dreadlord Balnazzar. Saidan Dathrotan has commanded the Scarlet Crusade since then. But how did Saidan travel from the Scarlet Bastion of Stratholme to Alterac Valley?
In general, the flavor text in Hearthstone conceals a lot of vital information. Sadan's card has the following wording on it:
He was kited all the way from Stratholme by an orc wizard.
While the devs agree that Saidan is from Stratholme in this version of the Warcraft realm, little is known about his motivations. Furthermore, there are no identified orc mages in Hearthstone's canonical.
What we do know is that a sizable number of WoW gamers want for a World of Warcraft expansion that delves into the Scarlet Crusade's narrative. This narrative contains one of Warcraft's most popular and intriguing stories, and an expansion based on it would allow players to return to address more "worldly" concerns rather than the cosmic difficulties presented with the Shadowlands expansion.
We also know how Team 2 likes to tease upcoming expansions by introducing strange-looking horses ahead of time. Could this card be a preview for impending World of Warcraft content from Team 5?
Is This the Greatest Expansion of All Time?
Hearthstone and World of Warcraft are closer than they've ever been, no matter how lengthy this copium-filled stretch is. Exclusive Hearthstone characters are integrated into traditional Warcraft narratives around legendary characters like Onyxia or Edwin VanCleef, and this concept works on both ends:
WoW specialists end up pointing at all the new but yet familiar expansion cards like Leonardo DiCaprio in his chair, while Hearthstone enthusiasts can't wait to see the conclusion to what has already been Hearthstone's biggest tale since its inception in 2014. While Fractured in Alterac Valley and the Year of the Gryphon may have depended on Warcraft's safest plot bet in the shape of traditional faction strife at first, it has now evolved into a fully fleshed-out Warcraft experience that will be enjoyed by many different Blizzard communities.
Watch This Video-