In this IGN interview, Ion Hazzikostas from Blizzard Entertainment discusses how cross-faction grouping will be the future of World of Warcraft going forward.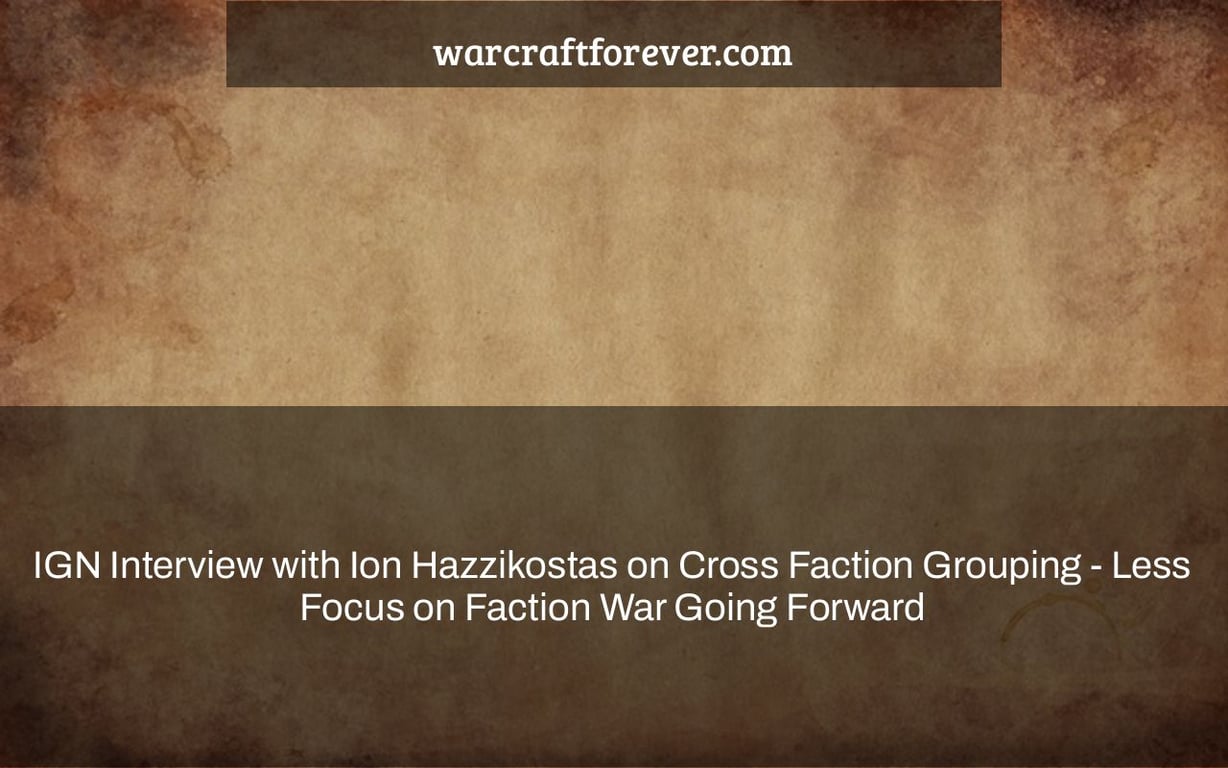 Game Director Ion Hazzikostas discussed his opinions on the recently revealed intention to allow cross-faction grouping for dungeons, raids, and PvP in Shadowlands Patch 9.2.5 in an interview with IGN. Among the topics discussed are why the choice was taken, what it implies for the future of World of Warcraft, and how community input might help influence future additions.
Important Points to Remember:
They may propose cross-faction guilds in the future, but they want to take it slowly and listen to community opinion first.
Due to the way missions are constructed, bringing cross-faction gaming to outdoor content would be a massive task.
To prevent having to reverse and remove any of these modifications in the future, they are being introduced one at a time.
It's not impossible to apply it to Classic, but it's doubtful for technical and ideological reasons. I'm interested in hearing from the community.
Cross-faction grouping is a gameplay feature that will most likely go unnoticed in the tale, since the factions are presently at odds.
It's doubtful that they'll produce another "all-consuming faction war expansion" like BFA; instead, they'll likely concentrate on a broader diversity of viewpoints.
On ign.com, you can read the whole interview.
It's no longer just Alliance against Horde in World of Warcraft.
Faction War has been defined as a core component of World of Warcraft, but the world they intend to develop is no longer Orcs vs Humans.
via IGN, Ion Hazzikostas
"Part of the blog post that established the groundwork for this was about questioning our beliefs about how character advancement should operate, about player versus account, and other topics. And going back over things we've said no to that individuals in the community have requested… One of them has been a desire for some type of cross-faction play… It's Warcraft, it's orcs vs humans, has always been the response. Horde vs. Alliance is the battleground. It's what gives our IP its name."
"That isn't the world we want to create, but it isn't the world we've been creating or the tale we've been telling for the last 20 years, dating back to Warcraft 3. At the end of the day, it was about the factions working together to defeat Archimonde and put an end to the world's greatest challenges."
Despite being repeatedly taught that the Alliance-Horde war is fundamental to World of Warcraft, practically every expansion's tale has forsaken that storyline. In reality, the emphasis nearly always leads to factions putting their differences aside to defend against a common adversary, as shown most recently in Shadowlands, when players pledged themselves to faction-agnostic Covenants and subsequently spent a significant amount of time rescuing leaders from the Maw. Even the two expansions focusing on "faction wars," Mists of Pandaria and Battle for Azeroth, ultimately moved to working together to defeat Garrosh and N'Zoth, respectively. This concept can be traced all the way back to Warcraft III, when the factions battled each other at first before banding together to protect the world against Archimonde.
via IGN, Ion Hazzikostas
"It's simple to presume that the main concept is Horde vs. Alliance as a shortcut. I believe that if you go back to Warcraft 1 or Warcraft 2, that was the case, since it was just a two-faction RTS game with a storyline developed as a contrivance for why these factions are battling each other.
"But, from Warcraft 3 onwards, I believe the values of Warcraft have been adventure and discovery, as well as the realization that we have more in common than what divides us. Both the Alliance and the Horde are protecting and seeking for their homes, battling for family, honor, and justice."
In the future, there will be less emphasis on faction warfare.
It's doubtful that they'll produce another "all-consuming faction war expansion" like BFA; instead, they'll likely concentrate on a broader diversity of viewpoints.
This section is fascinating because, although faction wars aren't totally out of the question, it seems that they will most likely transfer to subgroups. This has been well-represented in earlier narrative arcs in numerous ways: The Forsaken aren't the enemy; Grand Apothecary Putress is; the Horde isn't the enemy; Horde players aren't helping Brann Bronzebeard solve ancient riddles; the Alliance isn't the enemy; and the Horde isn't the enemy. It's also not necessary for PvP to go away, since it's simple to declare the factions are in an official ceasefire or cold war, but unofficial violence between small groups continues to occur intermittently without involving the majority of the faction forces.
There are also a lot of loose ends to tie up in the aftermath of Battle for Azeroth and the Fourth War's implications, which have mostly been overlooked while we've been in the Shadowlands. The leaderless and split Forsaken, for example, may now turn to Calia Menethil, the homeless Night Elves and Gilnean survivors of Teldrassil, and, or course, whatever happens to Azeroth after the Jailer's ultimate battle.
IGN
However, he believes it's doubtful that they'll undertake another "all-consuming faction war expansion" like Battle for Azeroth. He believes they'll focus on a broader range of viewpoints on the divide through characters and quests like the survivors of Teldrassil's burning, Genn Greymane, members of the Forsaken, and everyone in between — all while allowing players to choose where they stand in relation to the opposing faction."
Why Now?
Players have been requesting this for a long time, especially as faction imbalance has become increasingly disruptive to individual desires – someone who prefers to play Night Elves has a much harder time finding groups and guilds than someone who prefers to play Horde, especially as they approach the competitive end of the game. Some players may grieve the loss of server identification, but in a world where Battle.net buddies, Communities, and Discord have dissolved conventional barriers to contact, being bound to your server fast is simply a needless hindrance.
We were told not long ago that cross-faction play was not in the cards, that the division between factions was a pillar of what made World of Warcraft unique, but the important part of this change is that cross-faction gameplay does not require the dissolution of factions or their individual stories. Some storylines would not work as well, but most important Warcraft plot beats, such as the Siege of Orgrimmar or the whole Legion storyline, would hardly lose a beat.
IGN
Another important reason for the shift today is how communication outside of World of Warcraft has evolved over time. People met their online friends and groups via the game, and hence through their factions, 17 years ago, according to Hazzikostas. However, that has significantly altered in recent years.
"It was simply one of those accepted norms back then that if you meet a buddy and find out you play on separate servers, well well, you'll never get to play with your friend." That's how World of Warcraft works. Whereas those barriers have been gradually dismantled, and a plethora of communities have emerged, including Discord and WoW groups, as well as individuals who are friends on Twitter and other social media platforms. With each passing year, the drawbacks of sticking to that rigid line become more apparent.
"To be honest, we probably passed the tipping point a while ago. But, in a game like this, we're obstinate and traditionalists, and it's frightening to say something like, "Let's remove this core pillar of what the game has been for over a decade." But now is the right moment."
Future Changes: Inter-faction Guilds
Cross-faction guilds are being examined, but the team wants to go cautiously so that none of these modifications are removed later.
This is an essential concern since, although cross-realm raiding will be possible, the present implementation looks to have significant disadvantages as compared to more conventional guilds that retain all players in the same guild. Although there are third-party tools that make managing communities of players across different guilds easier, there is still an increased burden when it comes to guild repairs, guild banks, crafting, and even just lines of communication, such as having to invite individual players from a friends list rather than sending a group invite to everyone in your guild with the "raider" rank. Most significantly, prizes become more difficult to get by, since things like Hall of Fame titles are truly guild accomplishments rather than individual ones.
IGN
Though Hazzikostas believes there will be no technical or ideological justification to make the change in World of Warcraft: Classic, he is willing to listen to community opinion and reconsider if there is a demand. He also concedes that they may wish to investigate additional components for the Retail version in the future, such as cross-faction guilds. They are, however, being cautious in their approach.
"I know better than to lock any doors at this moment," Hazzikostas adds. "This is a one-way transaction… We're not going to relax the regulations, enable social links to develop, and communities to thrive, just to turn around and say, "Oh, that was a mistake…" Outside of technical reasons, anything like outdoor gameplay would be a massive task due to the way our missions are constructed. Those considerations aside, we want to be cautious here, but we'll be listening to our community, guided by the results of this experiment, and still attempting to preserve Alliance and Horde identity, but in a way that is consistent with how the game is played and how our players feel in 2022 and beyond."