The ever changing world of Warcraft and its community in the light of recent events.
Gnomecore is a blog written by a person with intrusive thoughts. The blog discusses the author's thoughts on how intrusive thoughts could be real, and how they affect their life.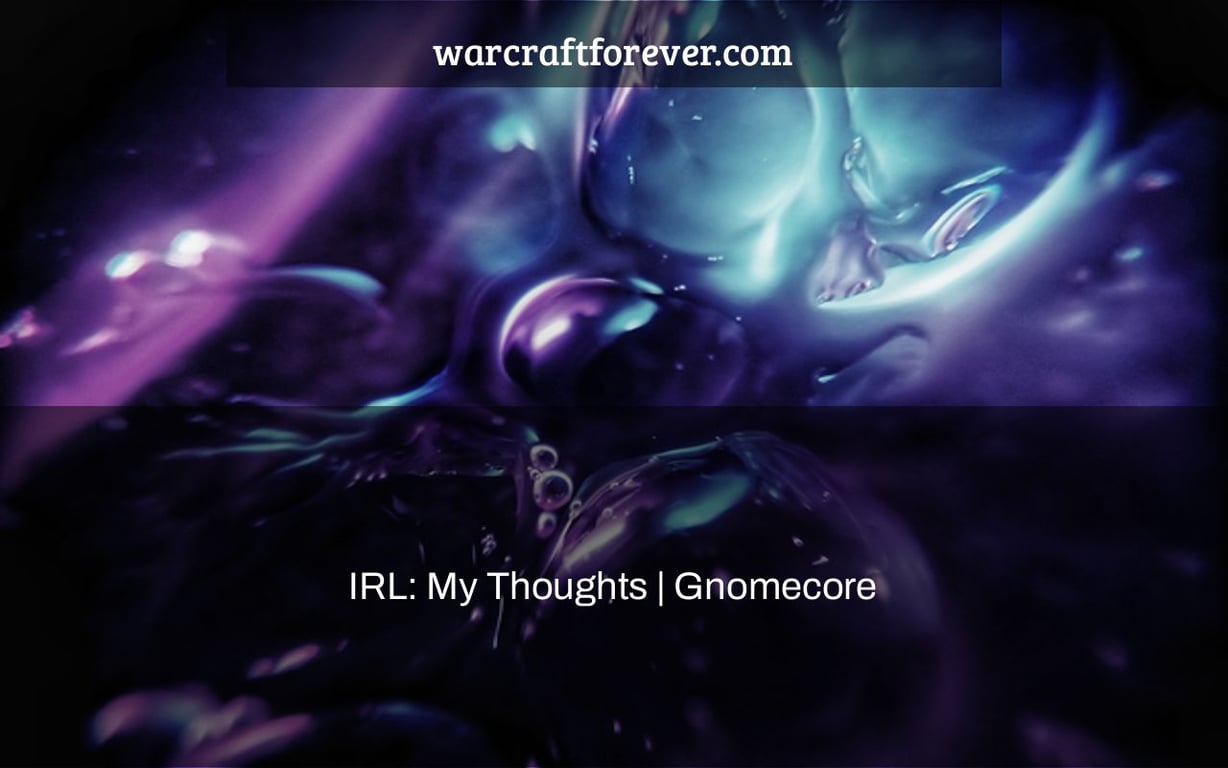 I make no claim to be a political/war specialist, so what follows is just what I deduced from the general flow of information throughout the years. Consider this just my own opinion; I'm not claiming to be a typical Russian or anything; I just speak for myself.
So, where did it all begin? A Maidan (Ukrainian for city plaza) revolution occurred in 2014. Ukrainians have deposed their existing corrupt leadership in order to bring the nation closer to European integration. As a result, the nation as a whole was in upheaval, and society was not homogeneous and cohesive. And, because radical nationalists appeared to be one of the major powers at the time, some predominantly Russian-populated regions, such as Crimea and the current problematic Donetsk/Luhansk regions, feared them, fearing purges and other measures for Russian-speaking areas – whether justified or not is debatable. Separatist attitudes arose as a consequence of the fear and lack of support for the Maidan events.
This provided Putin with a pretext to seize Crimea and deploy proxy troops and equipment to Donetsk/Luhansk in support of rebel forces under the guise of "protecting Russian-speaking communities." The rationale was simple: his/popularity government's was eroding, so annexing Crimea, with Sevastopol as a (rented) Russian naval base, a city with a proud military heritage and a popular summer vacation destination, was a brilliant backstab. The pro-Putin mania in Russia was unparalleled — phantom USSR pride, resentment over the Cold War's end, and a visceral feeling that Russia was no longer great were all satisfied. Many people, including me, objected, knowing well well that it was a no-return ticket at the time, but the atmosphere was joyous. It's the same feeling that Germans had after losing World War I – a sense of betrayal – and it's this sense of betrayal that propelled Hitler to power and restored Germany's greatness. On the other side, Donetsk/Luhansk was not annexed or recognized as a country or part of Russia. The rationale is equally simple: they remained a difficult area, a thorn in Ukraine's side that stopped them from joining NATO (afaik, they can't join nations with active territorial disputes), and a bargaining chip in gas conflicts.
Since then, the Donetsk/Luhansk territories have been teetering on the brink of collapse. Neither the Ukrainian government nor Russia have been able to regain authority over separatist territory and state borders; instead, they have been backed in "secret" by soldiers and armaments – just enough to keep the misery going, not to end it. The people of these areas were on the losing end, suffering from both their criminal "governments," general devastation, and intermittent regional border raids by the Ukrainian army.
I feel compelled to state that my opinion on previous events is that Putin had no right to engage in the affairs of other countries, whatever of his motivations. If he truly cared about the local Russian-speaking population, he should form an international peacekeeping corps with the agreement and cooperation of all of Europe and the rest of the world, rather than assigning the honor to himself, which would have disastrous consequences – primarily for the common people and turn our once-brother country into a bitter enemy. Of course, I don't claim to be an expert, and I didn't delve too deeply into the conflict, but this is the conclusion I reached after reviewing a variety of sources and footage from all sides involved, as well as hearing from witnesses on all sides – all with a healthy dose of skepticism for official statements.
Putin has decided to attack Ukraine after 8 years of "balance." The official reasoning is the same: Ukraine, ruled by "nazis and junkies" (no joke, it's an official recent Putin statement), is stockpiling weapons on Russian borders, threatening to invade Russia and harassing the Donetsk/Luhansk population, so Ukraine must be "demilitarized" and "de-Nazified," leaving Putin with no choice but to start a war (official propaganda calls it a "special operation," and they ban/punish If you want my view, it's a whole load of nonsense – and I don't need to elaborate. They didn't even attempt to stage a Gleiwitz incident (see Wikipedia for more information), such as blowing up a Donetsk fleeing convoy and blaming the Ukrainian army. It was not an illusionary dread when I returned from Egypt a few days before the conflict, our jet flying near to Donetsk/Luhansk region, that it would be blown up by our own military and used as a pretext for invasion – this has been done before, this is how Putin's rule began, so why not now?
As for the true cause, everyone on this side of the fence is perplexed and has no idea. Putin and his elite have stolen all of the country's money, more than they could spend in a dozen lifetimes, so there's no need for them to strive to increase their riches via political games. On the contrary, anyone with a single functioning braincell would predict that starting a war in Europe – whatever you want to call it – would result in unprecedented personal sanctions against the clique, their businesses, their property, their citizenship, or even a permit to enter abroad where they keep the majority of their loot – which is exactly what is happening now. Furthermore, global economic sanctions are pounding Russia into submission, and commercial ties are irreversibly strained. I'm not sure what profit, if any, was meant to be made, but now it's destruction and ruin with no end in sight. You didn't have to be a genius to foresee it, as I already said.
Propaganda is certainly in full swing: no true objective video or information on TV except from the official government's point of view, dehumanization of Ukraine as "Nazis and addicts" abusing their own people and threatening Russia, censorship and internet restrictions for the few alternative media. True, it still works, particularly for individuals who rely on television for information and don't want to think too much. Even the most apolitical population is beginning to ask questions, and the longer it goes on, the worse propaganda will work, especially in the case where the blitzkrieg did not occur, and no tangible results were achieved in a week, demonstrating that the current Russian army can't even defeat a "incomparably weaker" foe as they imagined – for a variety of reasons. The anti-war movement is strong today, with 6500 people arrested in city rallies across the country in the last few days just for showing up (obviously, many more participated), and many more expressing grief and shock on the internet (for example, no one in my circle supports war – but again, I'm not speaking for everyone), but it's still not enough to bring about a revolution or anything tangible to change the situation from the inside. Unfortunately, dictatorships do not operate in this manner.
There's no genuine profit in politics, either. A definitive triumph or a visible outcome for which the populace would forgive even the inexcusable is required to gain political points – today, Putin is accomplishing the polar opposite. Not the first, and certainly not the last "leader" to seek to improve personal ratings by a "little, winning war" — and in the majority of instances, these governments were torn apart as a consequence.
So the only plausible explanation is that Putin is truly insane, trapped in his own issues and paranoia in the face of NATO, a megalomaniac who truly believes he is "a savior" of the Russian-speaking world and is hell-bent on reclaiming the phantom of USSR glory, believing he can do whatever he wants and feels is right, and thus not hesitating to threaten nuclear war. This is his personal crusade, not for the people of any nation, even his own, but for his own misbehavior.
Today, I, like many others here, am living in fear, scrolling and updating my feeds and watching as Russia transforms into an isolated North Korea hour by hour, each hour delivering another blow to the country and its people – not to mention the pain inflicted on the Ukraine and the horrors of war that are never nice and sweet outside of video games. This time, an iron curtain is being built from both sides: Russian propaganda frantically concealing the truth and brutally oppressing any opinion that differs from the official one, social networks and services in question (for example, Facebook and Twitter still exist but can't be accessed without a VPN), and foreign countries competing to ban Russia the most.
This is what I'd like to say: I understand sanctions against the responsible, their businesses and property, I understand breaking shipments and contracts that benefit the war machine, I understand that a warmonger has no place in participating in and hosting uniting international events like sports, Eurovision, and so on, and, of course, for Ukraine, it's a defensive situation, a fair war on their home turf, with hostile military attacking their country, and I understand that a warmonger has no place in participating in and
Simultaneously, this is Putin's war, not Russia's. Russia is not a democracy; it is a dictatorship, with no organized opposition or opposing power, elections that are rigged to exclude anyone who is not approved by the government by a long shot, brutal arrests, prisons, and fines for expressing an opinion in the streets and in the media, and a propaganda brainwashed majority of the population. Many are afraid, many have no idea what's going on and just repeat what they see on TV (and in the unlikely event if tomorrow's TV shows the reverse, they'd pull a U-turn and despise Putin as much as they admired him earlier), and many feel they can't do anything. However, many anti-war activists are speaking out in the media and on the streets, putting themselves at danger of having their media shut down, fines, police assault, and incarceration. Many people have relatives, ancestors, friends, and acquaintances in Ukraine, so what is happening is a personal tragedy for them – for us – and no amount of propaganda could persuade us that the country is ruled by "Nazis and junkies" and that the invasion is justified – because what is happening does not resemble "protection" at all.
Foreign sanctions on the general public (such as financial systems, services, and so on) would not cause the seismic shift in regime change that foreign governments would hope for – on the contrary, it would provide the government an excuse to say: look, evil exists. NATO is bad, as we have said, and Russians are used to adjusting and adapting in the face of adversity. But what could help with this tectonic shift is Putin's failure, so that hardships and struggle are accompanied by a lack of "political greatness," "army strong," and "Putin strong," demonstrating that everything we had sacrificed previously (our hopes, our wealth, our freedom of speech) was for naught, as the future was stolen from us – for nothing. Yes, strike at warmongers, but hit where it hurts, which is Putin and his ilk, their riches, operations, and war infrastructure.
Please accept my apologies for being a little disorganized, so let's get this over with. War is a terrible experience. Civilians do not deserve to suffer and die as a result of political aspirations of any kind. And I really hope that peace comes soon, and that the inept dictatorship, which has lost all sense of decency and dignity, devours and digests itself. I'm afraid for myself, my family, and my country; I'm sad for Ukraine, and I don't see any bright spots on the horizon as of today.
Ironically, when this is all through, Ukraine will emerge stronger, unified, and backed by the whole world, it will rebuild, and it will have a bright future, while Russia faces decades of misery as a result of the atrocities presently being committed in her name. This is Putin's war, not Russia's, and all I can hope is that it brings his government to an end – or at least brings it closer to it.
"What causes intrusive thoughts" is a question that has been on my mind for a while. I have some theories on what may cause them and how to deal with them. Reference: what causes intrusive thoughts.
Related Tags
do intrusive thoughts mean anything
intrusive thoughts examples
can intrusive thoughts be triggered
common intrusive thoughts
intrusive thoughts schizophrenia