The recent changes to Diablo II: Resurrected have been big, and Blizzard has continued to roll out other changes since. The latest patch even added a new mercenary that is also the one they are using in StarCraft 2! What do you think of these developments?
The "defiance or holy freeze merc" is a change that Blizzard has made to the mercenary system in Diablo II: Resurrected. The changes are designed to make it easier for players to find a group and get into games more quickly.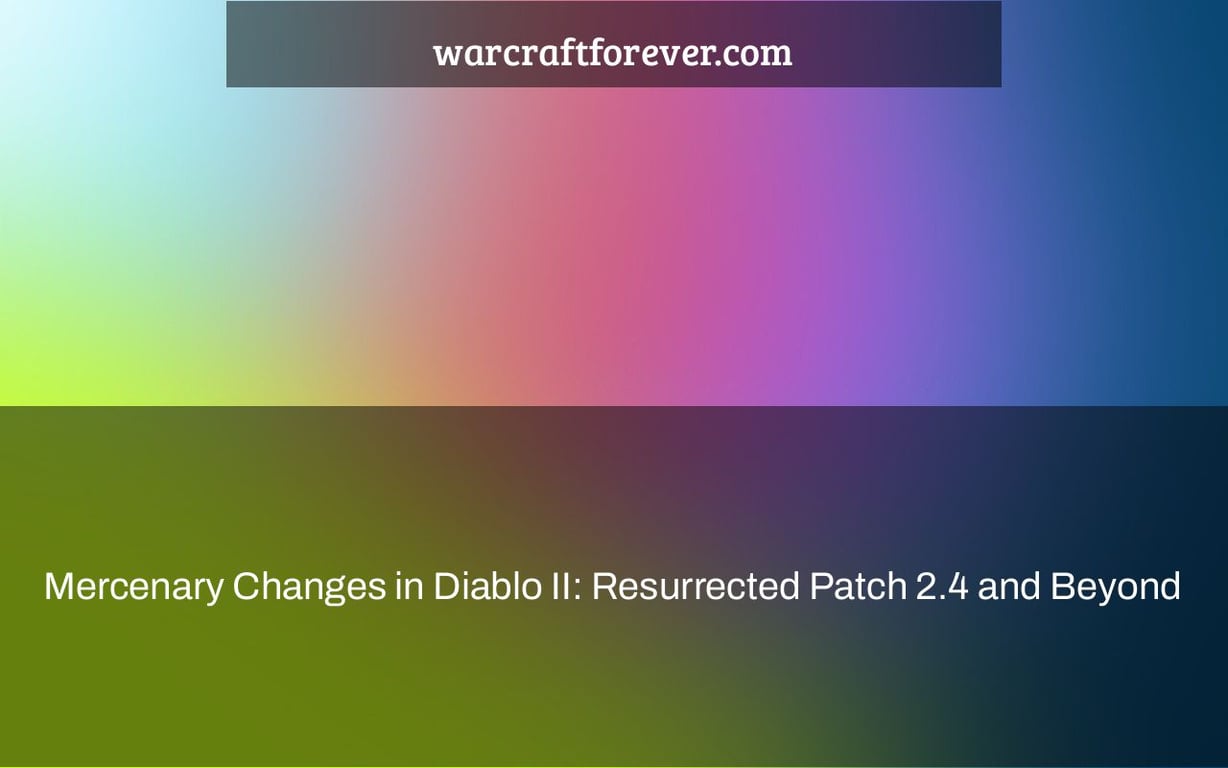 Design Lead Rob Gallerani, Senior Game Producer Matthew Cederquist, and Global Community Development Lead Adam Fletcher revealed huge changes to the Mercenary system in Diablo II: Resurrected in a recent Developer Interview with MrLlamaSC.
Players will have more viable options in Patch 2.4 thanks to enhancements to mercenaries, their talents, and their equipment.
MrLlamaSC Interview with D2:R Developer
Mercenary Changes in Diablo II: Resurrected Patch 2.4
Act I Mercenaries: Sisterhood of the Sightless Eye Rogues
The ranged mercenaries from Act I will get new abilities, according to Rob Gallerani. The archer's area-of-effect damage effectiveness will be improved with these talents.
Act I mercenaries have thus far only employed Cold Arrow or Fire Arrow, both of which are single-target Amazon abilities. According to the developer comment, they might enhance AoE damage by utilizing Freezing Arrow or Immolation Arrow, two "end-game" Amazon skills that do significant damage to several foes at once.
The Rogues of Act I might become a popular alternative for class builds who don't have a second spell damage school in their arsenal as a result of these adjustments. If these new spells scale well, characters like Blizzard Sorcs might benefit from a fully equipped Fire Rogue.
Mercenaries, Act II: Desert Warriors
Act Two In both D2 and D2:R, mercenaries have been the weapon of choice for the vast majority of builds. Their aura spells alone outperform everything else the other mercenaries have to offer in terms of damage and usefulness.
As a result, the popular Desert Warriors will mostly see changes to their quality of life. Players will be able to employ all six distinct Act II mercenary types across all difficulties starting with Patch 2.4. Act II Mercs now have distinct auras depending on the difficulty they're recruited for.
Aside from that, adjustments to the aura will have an affect on the Nightmare Combat merc who supplies Thorns. Thorns damage in 2.4 will be determined on a flat-damage basis rather than percentages, according to the devs.
Iron Wolves, Act III Mercenaries
In terms of flavor, the Iron Wolves have always been a good match for Kurast's harsh jungle. Their main stats will be enhanced in the future patch, and they will gain additional "utility spells" to boost their overall efficacy. We don't know much about these spells yet, but they'll most likely be elemental in nature, according to Gallerani.
For a long time, Act III's mercenaries were only armed with basic elemental spells like Inferno or Glacial Spike. More utility spells, like as Static Field or Blizzard, might help a lot of pure damage setups.
Mercenaries: Barbarians (Act V)
Act V's Barbarians have seemed like a lesser version of Act II's Desert Warriors for a long time. Harrogath's fighters have never been considered a good mercenary choice, but that is about to change!
Act V mercs will be able to utilize the Barbarian talent Battle Cry, according to Matthew Cederquist. This handy skill reduces the damage and defense of the adversary, making it ideal for the all-in melee mercenary. Gallerani also said that the overall life and defense values of Act V mercenaries would be increased.
Barbarians might be an excellent complement to physical damage setups like Zealadin with these boosts.
Changes to Mercenary Items and Rune Words
Changes to runewords and set goods will undoubtedly be the "x factor" for mercenaries in Patch 2.4. Only a few runewords are currently in use, owing to the fact that almost every construct wants to utilize an Act II mercenary.
So yet, we've only seen Pattern and Plague as new runewords. Due to two excellent procs, the latter will almost certainly be used in mercenary builds:
Required Level: 1 Plague Weapon 'ChamFalUm' When you strike, you have a 25% chance of casting Level 15 Poison Nova and a 20% chance of casting Level 12 Lower Resist. Levels 13 through 17 When equipped, Cleansing Aura +1-2 All Skills +260-380 percent Enemy Poison -23 percent damage to demons 0.3 percent resistance (0.3-29.7) Strike of Death (Based on Level) Increases the amount of fire damage by 5 to 30 percent. Open Wounds Have a 25% Chance of Freezing Strength +3 +10 target
This runeword is ideal for Act V Barbarians or Act II Desert Warriors since it debuffs opponent poison resistance while simultaneously having the ability to unleash Poison Nova on its own. It also includes three new modifiers for fast-hitting mercenaries: Deadly Strike, Open Wounds, and Freeze Target.
More runewords are very certainly coming with Patch 2.4, and Gallerani and Cederquest both pointed out that many of them have been created with mercenary assistance in mind.
Diablo II: Resurrected Patch 2.4 and Beyond Introduces New Runewords
Set items, in addition to runewords, will get considerable enhancements. We don't have any specifics yet, but we expect to see more high-level sets, such as M'avina's Battle Hymn and Heaven's Brethren, viable in end-game mercenary setups.
Diablo II: Resurrected's Mercenaries
Watch This Video-
The "d2r 2.4 release date" is the latest patch for Diablo II: Reaper of Souls that was released on February 10th, 2017. The patch includes a number of changes to the game, including the Mercenary System.
Related Tags
holy freeze merc d2 resurrected
diablo 2 merc aura not activating
might or holy freeze merc
d2r patch notes today
d2 defiance aura merc