In patch 9.2, the Monk Tier set bonuses were introduced and I wanted to share my initial thoughts on how they are working out in practice. The new tier set bonuses modification is available for all nine classes at level 60 using tokens earned from achieving higher Prestige levels with any of these classes.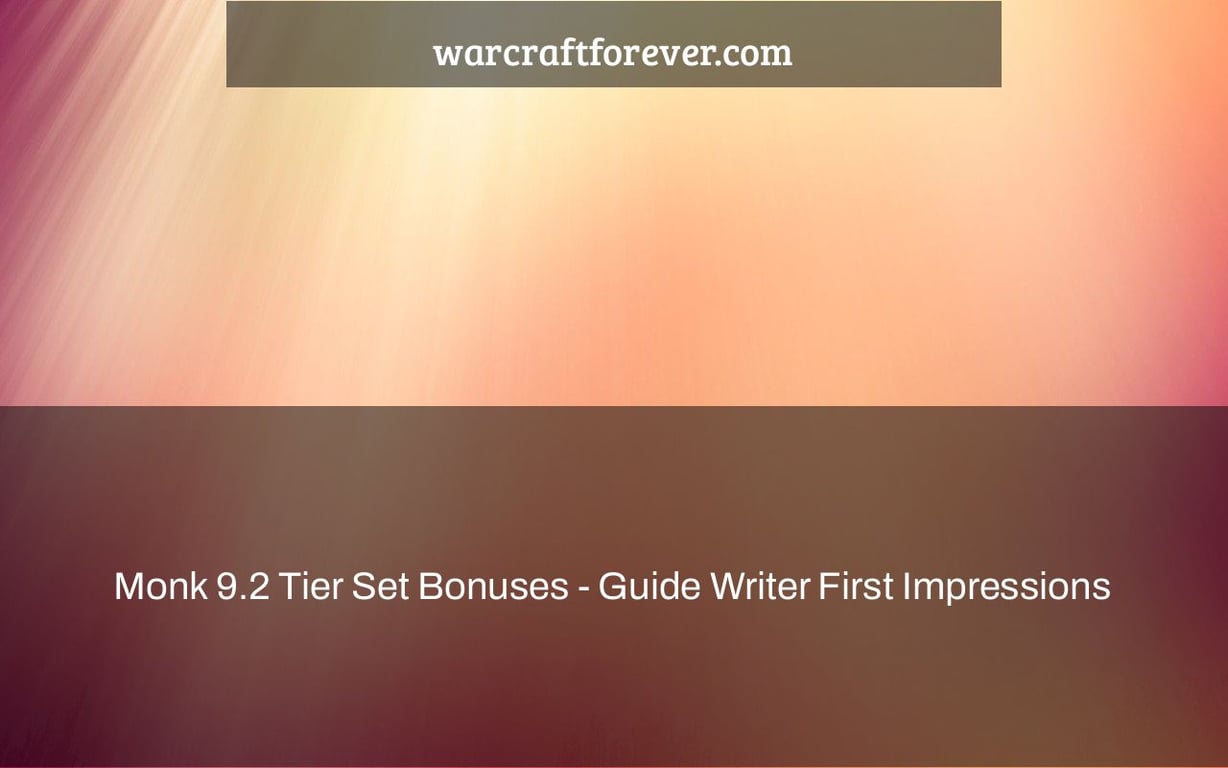 The Tier Set benefits for all 36 specialties in the 9.2 Eternity's End PTR have been datamined. Below are all of the bonuses and armor models.
9.2 Bonuses for Tier Sets in All Specializations Models from the Mythic Tier Set (9.2)
Our Guide Writers have offered their early thoughts on the 9.2 Tier Set extras. Below you'll find a list of all of our previously published opinion pieces.
The 9.2 Tier Set Bonuses: First Impressions
First Impressions of the Death Knight Tier Set First Impressions of the Demon Hunter Tier Set First Impressions of the Hunter Tier Set First Impressions of the Priest Tier Set First Impressions of the Rogue Tier Set
The two-piece bonus is really rather good. It's dull, but that's good. A 4% damage reduction boost is a nice 2-piece benefit. Breath of Fire has a 100% uptime if you're using Charred Passions, therefore it's similar to a defense-only 8 percent Versatility bonus. Due to being additive with Breath of Fire's flat defensive benefit, it offers slightly more defensive value than raw Versatility, although that's a little technical. Some members of the community have argued that this may turn Spitfire, a previously worthless skill, into a viable defensive choice. Nope. Even so, the Spitfire should never be utilized. This benefit adds a tiny amount of defensive synergy to Charred Passions, but you'll still get 75-80% uptime on Breath of Fire even if you're using Stormstout's Last Keg. In the worst-case situation, it's a solid but uninteresting addition. It's all right. It has no effect on your playstyle, talent selections, Covenant choices, Legendaries, or anything else, and you'll probably never notice it, but it adds some protection. It's undeveloped land.
Then there's the four-piece bonus, which has no effect. Increasing the Shuffle time is just pointless. Brewmasters, especially those without Legendaries or equipment, should have little trouble sustaining 100% Shuffle uptime. There isn't a single instance when it isn't a trap. Brew cooldown reduction is the second part of the 4-piece benefit. That may seem OK, but here's how it's set up: You earn one additional Celestial Brew every 12 minutes if you utilize this benefit precisely, with no errors and no boss downtime. When compared to the encounters in Sanctum of Domination, it adds 1 Celestial Brew spell in precisely ZERO out of ten bouts. The only battle long enough for this perk to work is Sylvanas (about 14 minutes on Mythic), although it has a lot of downtime. This reduces the value of the bonus to zero. When given in modest doses, brew cooldown reduction isn't a strong boost. When it's given in large quantities, such as in Necrolord's Bonedust Brew, you receive enough to make up for its inefficiency.
Anyone who knows anything about World of Warcraft knows that you don't simply use all of your defensive cooldowns as soon as they become available. There are instances when you'll need to utilize a cooldown right away when it reappear, although this is rare. You usually keep them to counter a certain boss assault. As a result, even if a battle took hours to finish, it's unlikely that this bonus would ever contribute even one Celestial Brew spell. Every time, you'd end up squandering the Brew cooldown reduction. The 4-piece bonus isn't redeemable in any way. There isn't a single excellent concept here, in my opinion. Even better, because you don't cast Tiger Palm when you use Charred Passions, this perk is essentially useless. It's been suggested that it be made to function with Keg Smash, which would reduce the time it takes to earn an additional Celestial Brew to 4 minutes. For all of the reasons I stated above, this still gives absolutely nothing. You're not going to start spamming CDs as soon as they appear.
Finally, just to rub salt in the wounds of this tier set, it is the only tank tier set that adds no damage value at all. It's all about defense, only it doesn't add any. They will not be successful in re-tuning this benefit to make it worthwhile to use. The issue is with the design. There's nothing worth protecting in this place. The only way to save the situation is for it to be completely redesigned. If this does not happen, Monk's worth in the next raid tier and Mythic+ season will be severely harmed by the absence of a boost. Due to high-end guilds presuming they won't be guaranteed tier benefits, Monk will still be used in progression raiding, and Monk is tanky enough that it doesn't require any form of tier set to remain alive. Monk is one of the least popular tanks when it comes to farm raiding, raid advancement for guilds who aren't in the world-first race, and pushing Mythic+ as the season continues. In conclusion, I realize this seems very harsh, but I'm really quite pleased with the condition of Patch 9.2 in almost every way I've seen it, with the exception of the Monk Tier benefits. With the other tank tier sets, Blizzard has done a good/excellent job. This one simply didn't work, and being polite/dishonest about how awful it is won't get it redone, which is exactly what it needs. I would not advocate wearing the 4-piece at this time, even if it is available, for the same reason I would not propose enchanting your bracers with Intellect. It makes no difference. Non-set components with better itemization will be more valuable.
9.2.0 Class Set – Monk – Mistweaver – 2PC for 2PC and 9.2.0 Class Set – Monk – Mistweaver – 4PC for 4PC are the starting set bonuses for Mistweaver Monk. Essence Font's HoT will be extended by 2 seconds while using the 2pc. This implies the HoT will last 10 seconds rather than the standard 8 seconds. When you press Thunder Focus Tea, the 4pc will activate a 10-second zone underneath your character. Your healing spells will be boosted by a certain amount if you stand in that rune. One thing to keep in mind: the present number seems to be a placeholder. Based on the phrasing and some datamining, this ability seems to work similarly to a Mage's Rune of Power.
When it comes to the 2 pc first, this is a mediocre set bonus. A Mastery: Gust of Mists proccing spell like Vivify or Renewing Mist might possibly add an additional trigger. There's also one more complete tick of the HoT. Even if you pair it with Rising Mist to lengthen the HoT by an extra 4 seconds, this set benefit is still minimal. This will have a modest impact on how you play Mistweaver and will be a pleasant bonus in overall.
The 4pc has the potential to be quite powerful, but its right application will need some consideration. The rune is activated when you press Thunder Focus Tea before consuming the charge, according to the tooltip reading. You must guarantee that you can stand inside your rune for the whole 10 seconds that it is active while it is stationary. Also, since you'll want to cast Thunder Focus Tea every 30 seconds while it's on cooldown, you'll need to figure out when you can safely use Thunder Focus Tea while remaining reasonably stationary for the following 10 seconds. However, if you can, the first perspective looks fantastic. The increase in healing is excellent, and this is a set bonus you should aim for and get as quickly as possible. Thunder Focus Tea's cooldown is minimal, and with a 10 second duration, you should be able to use it in any content.
In terms of both power and gameplay modifications, the first set perks are polar opposites. The 2pc is a passive perk that increases healing by a little amount while having no effect on gameplay. The 4pc is much different. This is effectively an on-demand healing boost with a short cooldown, although it does come with certain limitations. This will alter your perception of and usage of Thunder Focus Tea, and based on current statistics, it will deliver a significant healing boost if you can take advantage of it. I'd recommend some form of 2pc boost that works well with the 4pc and builds on itself. The 4pc is now an intriguing new gameplay modification for Mistweavers, and it does give a significant healing boost.
Windwalker Monks, like the other specs, were given first go at our tier sets for 9.2.
These tier sets have polarized our talks, but they are unlikely to do so until we get the opportunity to test them. This is especially true with the 4pc bonus, since the 2pc bonus is rather straightforward. The 2pc gain is a flat buff to Fists of Fury that we've seen before in various versions in previous expansions. It seems that Fists of Fury need a significant boost throughout an expansion. It was Open Palm Strikes in Battle for Azeroth, and Transfer the Power in Legion. Depending on the battle and how frequently you use Fists of Fury, this should result in a 2.5 percent to 5% boost in damage. Increasing the damage in Fists of Fury may influence when or if we cancel Fists of Fury during Weapons of Order, or whether we ignore it during Bonedust Brew. Whether or whether this occurs will depend on how near we get to 9.2 and how certain the numbers seem to be.
The 4 percent incentive has sparked a lot of debate. To some, it seems to be a minor annoyance that the top players will make extensive use of while many others will waste damage pursuing. Others believe it is absurd to be added to a specification that already has more items to monitor and consider than most specifications. How powerful or difficult it is to use is determined by how it is implemented, which we won't know until we can dig in and test it. We have a few questions that need to be addressed:
What does it mean to have "offensive abilities"? Does it cover abilities like Weapons of Order and Bonedust Brew that activate Mastery but don't do damage? Does the ten-count begin when you reach the previous ten? Or does it only begin once you've used the three skills that have been buffed?
Is there a time limit on how long the 22% boost lasts?
Will we have to keep accumulating it up until fight, or will it reset?
Even if we can make those three offensive abilities Rising Sun Kick, Whirling Dragon Punch, Fists of Fury, or a completely enhanced Spinning Crane Kick, 22 percent more damage is a lot more damage. However, it's difficult to say whether this will be automatic, something that happens and we don't worry about, or something that we'll change our entire playstyle around to maximize, such as throwing in less important abilities, or even non-DPS abilities that are considered "offensive," to hit the 10 and use the 3 on the larger spells. If the latter is the case, Windwalker's gameplay will be drastically altered, and not in a positive way. So all we can do now is cross our fingers and pray that's not the case.
Watch This Video-