The Monk class is one of the most versatile in World of Warcraft, a class that can be played with either healer or DPS. In Patch 9.2 Blizzard introduced new legendaries for Brewmaster, Mistweaver and Windwalker Monks to complement their existing options. This article will show how these three monk builds work together on different gear tiers.,
The "windwalker monk legendary slot" is a combination that allows Brewmaster, Mistweaver and Windwalker to gain double legendaries in the 9.2 patch.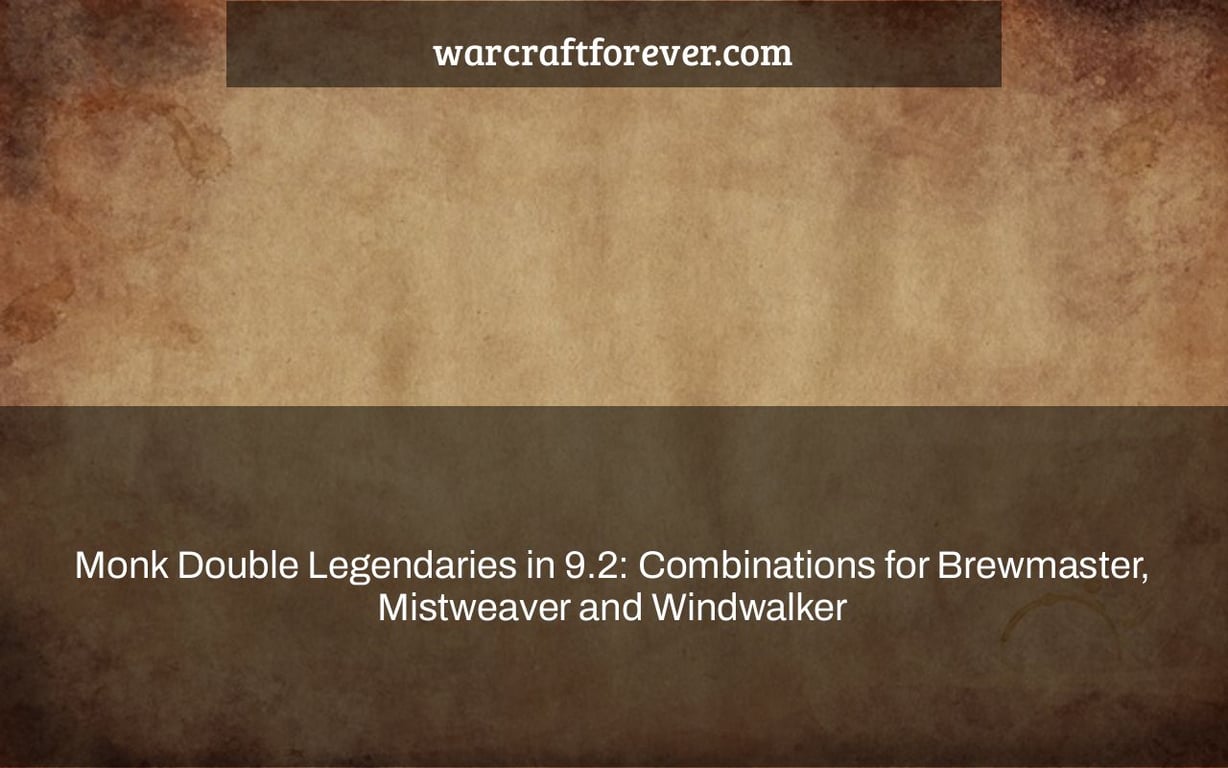 On the 9.2 Eternity's End PTR, the timeframe for acquiring Double Legendaries has altered. Learn how and when you'll be able to equip two legendaries in our article below.
In Patch 9.2, you may get two legendary items.
In Patch 9.2, our Guide Writers have shared their early impressions on the Double Legendary combos you'll most likely equip. Below you'll find a list of all of our recently published articles.
Double Legendary Theorycrafting in 9.2
Analysis of the Death Knight Double Legendary Analysis of the Hunter Double Legendary Analysis of the Priest Double Legendary Analysis of the Shaman Double Legendary
Disclaimer: All theorycrafting is based on the PTR's current tuning, which includes all of the most recent class and system improvements, as well as a full 9.2 4-Set Tier bonus. Additional tuning and class adjustments may have a significant impact on the following suggestions. This is only a sneak peek at each spec's Double Legendaries; definitive recommendations will be released closer to the release of 9.2.
Llarold, the author of our Brewmaster Monk guide, has elaborated on the Double Legendary combos for Brewmaster Monks in Patch 9.2!
Llarold
Sepulcher of the First Ones' Best Brewmaster Monk Double Legendaries
The default Brewmaster Monk configuration is Kyrian since it does the greatest damage. In raids, Brewmaster Monk has good defensive support from all four Covenants. Overall, Kyrian is the most reliable Covenant member. It's fantastic. Always.
Furthermore, the new tier 4-piece benefit works well with Weapons of Order while having no significant synergy with any other Covenant ability.
The disadvantage is that Call to Arms does not contribute consistent damage. In order to maximize his damage with Stomp, Invoke Niuzao, the Black Ox is reliant on Purifying Staggered damage. This Legendary's damage contribution is very good when you're suffering a lot of damage. That's fantastic in Mythic+, but taunt-swapping is so prevalent in raids that you may not receive the full offensive benefit of a free Invoke Niuzao, the Black Ox every time Weapons of Order comes off cooldown. You could hold Weapons of Order until you taunt back, but depending on the encounter's timing, you could lose a cast, which is almost probably not worth it. The worth of this Legendary is all over the place, and it encourages taking more damage to inflict more damage, which isn't exactly a wonderful mindset (not that I don't sometimes wish I could play Brewmaster Monk during Siege of Orgrimmar again).
There's also the problem of employing Weapons of Order and Invoke Niuzao, the Black Ox at the same time. Both the Call to Arms summoned Invoke Niuzao, the Black Ox add and a normal Invoke Niuzao, the Black Ox add may exist at the same time, but they will battle for Purified Stagger value. The damage bonus is erased once one of them casts Stomp, so the following one will just inflict base damage. Basically, you'll need to stagger your Invoke Niuzao, the Black Ox casts until the Weapons of Order's free Invoke Niuzao, the Black Ox has expired. It's inconvenient.
On the low end, it's worth around 5% greater overall damage on average. It makes your burst damage a bit more bursty, which is nice, but it's still not ideal. It also has no effect on rotation. It can be used to do a lot of damage with a lot of setup and assistance, but it's still a really dull ability.
I'll go into more depth regarding the setup's failings in the Mythic+ part, but I just wanted to make sure I covered everything. In raids, Necrolord is marginally tankier than Kyrian in terms of defensive value, but not by enough to warrant running it instead.
In Sepulcher of the First Ones testing, Necrolord was quite lackluster. It's still playable, but Bountiful Brew is terribly undertuned and unstable, and the Covenant as a whole doesn't contribute anything to the table that other Covenants don't already have. Necrolord will be an excellent pick if tuning drastically changes from testing to live servers and defensive needs spike; else, Nah.
For a multitude of reasons, Night Fae is the least popular Brewmaster Monk Covenant:
Under ideal circumstances, it delivers less damage — at least 500-1000 DPS less than Kyrian.
It's a challenge to play! When the Night Fae is forced to relocate by boss mechanics, they are punished considerably more severely than any other Covenant.
There was no damage from the explosion! None! It's a disaster!
So why would you ever, ever, ever, ever, ever, ever, ever, ever, ever, ever, ever, ever, ever, ever, ever, ever, ever Why bring it up at all?
Three arguments once more:
It's very lovely.
Faeline Harmony and Night Fae Soulbinds are both excellent, and they work well together. It's possible to keep 15-20 stacks of Niya's Grove Invigoration on Patchwerk monsters. Bonded Hearts may provide up to a 25% increase in health and 900 Mastery on average. This is a massive defensive increase when tanking, maybe even greater than Necrolord's, but less reliable.
Soulshape is a powerful spell.
I would have played Night Fae for Painsmith Raznal and Kel'thuzad if I could have freely switched Covenants throughout the Sanctum of Domination advancement. The increased mobility provided by Soulshape would have been worth the damage reduction. Unfortunately, there aren't many confrontations in Sepulcher of the First Ones where that increased mobility will have the same effect as it may in Sanctum of Domination.
What does Venthyr have to do with a Brewmaster Monk debate? Was this part included just for the purpose of making jokes? Surprisingly, the answer is no.
Venthyr was an inferior Covenant for Brewmasters throughout the expansion due to the basic cooldown of 3 minutes in Fallen Order. Fallen Order's cooldown is typically about 90 seconds in single target, and under 1 minute in cleave/AoE, thanks to Sinister Teachings. This boost wasn't enough to warrant utilizing it over ordinary Brewmaster Legendaries, but it's rather excellent with the double-Legendary system. Venthyr has shown to be unexpectedly competitive with Kyrian Monk in single target raid testing (which has less value for Call to Arms), as well as on training dummies and in Mythic+ testing.
Sinister Teachings, unlike Call to Arms, does not need any form of exploitative activity to enhance its worth. It's just a matter of landing as many attacks as possible when Fallen Order is active.
Venthyr is unlikely to be the best Covenant for Brewmaster Monks, but it is surprisingly competitive, and it is likely to be the second-best in raids once double-Legendaries are available. If you can utilize AoE and cleave to substantially lower Fallen Order's cooldown and get additional uses in a battle over Weapons of Order, it may be preferable at times.
Charred Passions is still running well. In comparison to Stormstout's Last Keg, it has been the finest single-target DPS Legendary for Brewmasters throughout Shadowlands, at the sacrifice of some defensive flexibility and AoE damage. Stormstout's Last Keg has greatly caught up to Charred Passions at the one thing Charred Passions is greatest at (ST DPS), and now completely outperforms it defensively and in AoE, thanks to the new tier set 4-piece bonus granting Keg Smash offensive and defensive value.
You may still use Charred Passions for a little boost in ST DPS, but after you gain the 4-piece bonus, Stormstout's Last Keg is more superior.
Brewmaster Monk Double Legendaries are the best for Mythic+.
This is the default configuration for a reason: it does the greatest harm. It's also highly tanky, thanks to the new 4-piece tier set bonus. This is fantastic. It's really easy to do and a lot of fun. There are no negatives and lots of benefits. There are positive vibrations all around!
There's really much more to say except that it's grrrreat!
This is when things start to turn nasty. Due to its lower damage output, Necrolord Brewmaster Monk has been a distant second to Kyrian throughout Shadowlands, but it has remained popular in Mythic+ because it provides more consistent defensive value than Kyrian.
A Necrolord Brewmaster Monk construct that utilizes Shaohao's Might instead of Stormstout's Last Keg gained popularity late in Season 2 of Shadowlands, but given the design of the new tier set, I anticipate that build to fade in popularity.
While Necrolord doesn't do nearly as much damage as the Kyrian arrangement, it's still a decent option on paper. The addition of Bountiful Brew highlights Necrolord Monk's defensive consistency even more. Although the Kyrian Monk has significantly higher burst damage, isn't it true that the Necrolord is more consistent?
Bountiful Brew has an issue with this. It is, without a doubt, the worst Covenant Legendary in the game, and not due of its design flaws. The design is really rather appealing! Brewmasters should be able to quadruple their Bonedust Brew uptime by using Bountiful Brew. Instead, it only accomplishes half of it owing to three bugs/design flaws that severely limit its utility:
While Bonedust Brew is active, Bountiful Brew will not proc. On the first day of Covenant Legendary testing on the Patch 9.1 PTR, I discovered this bug and quickly reported it. It hasn't altered. I'm guessing it's on purpose. The Legendary's proc uptime is significantly reduced as a result of this.
While a Bonedust Brew from Bountiful Brew is active, casting Bonedust Brew will not add 10 seconds to the current proc. The debuff timer is set at 10 seconds left, period. Any proc that happens when Bonedust Brew is nearing the end of its cooldown is partly or totally squandered. Sitting on a Bonedust Brew cooldown is a waste of time, not just because you're squandering Brew recharge value, but also due of the following bug:
Any Soulbind interactions, such as Kevin's Oozeling or Lead by Example, are not triggered by Bonedust Brew procs from Bountiful Brew.
Between the basic proc probability of 1.5 procs per minute and my Monk's haste, I should anticipate about 1.8 to 1.9 procs each minute, according to my current testing data. I routinely score between 1.1 and 1.2. That's a 40% difference between what people anticipate and what they get.
Bountiful Brew should provide a 5-10% boost in DPS on average if it performs as expected. That's a wide range, but it's a RNG proc with a low likelihood of success. This value would be quite competitive with the Kyrian Legendary Call to Arms, which is similarly unreliable. That's fantastic. Except it's not performing at that level, and in my tests, it's not even a 5% boost in damage. Furthermore, 5% more damage as Kyrian is greater than 5% more damage as Necrolord. Yikes.
The basic line is that Bountiful Brew is a completely broken Legendary. It's a nice idea, but it doesn't quite work. If it were repaired, it would be fantastic, and Necrolord Monk's strength would skyrocket. This would very certainly not be enough to beat Kyrian in raids, but it may be. In Mythic+, it would very probably be enough to make Necrolord far more strong.
That's not going to happen. The wealthy get wealthier, while the poor become poorer. Even in World of Warcraft. Sorry.
It's strange to be praising Venthyr Brewmaster Monk in such a good light, yet here we are.
It's relatively simple to get Fallen Order's average cooldown around 60s in Mythic+. It's a fairly good offensive cooldown that can be used on almost any pull. This won't provide you as many bursts as Kyrian or the same defensive benefits as Necrolord, but it's still a pretty reliable offensive cooldown.
The Brewmaster Monk meta is very well set in stone at this moment, and Kyrian will continue to be the go-to guy, but Venthyr should be an unexpected contender in Season 3 of Shadowlands. It will be powerful enough, at the very least, that switching to Venthyr for Halls of Atonement and Sanguine Depths runs would not make you a liability.
Our Mistweaver Monk guide writer, Anomoly, has written a detailed analysis of the Double Legendary Mistweaver Monk combos in Patch 9.2!
Anomoly
Sepulcher of the First Ones' Best Mistweaver Monk Double Legendaries
In Sepulcher, legendary selections for Mistweaver Monks will be rather clear. There are little if any synergies between our Covenant legendaries and our spec legendaries. As a result, I'll provide suggestions for Venthyr's covenant combinations, but the rationale may be extended to any of our other covenants.
With the introduction of Sinister Teachings in 9.1, Venthyr ascended to the top of the Mistweaver Covenants heap. This enabled Mistweavers to reduce the time between casting of Fallen Order to around a minute. If no tweaking or modifications are made before 9.2, this will remain incredibly powerful.
You have three distinct alternatives when it comes to the legendary to match Sinister Teachings:
The Monastery's Ancient Teachings: Good old dependable Ancient Teachings! Since the release of Mistweaver 9.0, this has been the default option for most Mistweavers. While there was some early disagreement between this and Tear of Morning, it has remained strong throughout the growth. You'll already be in melee with Sinister Teachings, casting Essence Font to trigger as many triggers as possible for the CDR. With this in mind, you may take advantage of the enhanced healing provided by Ancient Teachings of the Monastery while playing at your best. The only drawback is that the healing is not directly targetable, thus you're at the mercy of the game and where the healing is directed.
Yu'lon's Whisper: This legendary heals in a predictable manner. You'll want to cast Thunder Focus Tea as often as possible to get the 4pc tier bonus, Tea of the Grand Upwelling. There's a little more playability in making sure you're near teammates when casting Thunder Focus Tea. In truth, you'll be near your melee raid members anyhow, as you'll be using Thunder Focus Tea largely on Rising Sun Kick. The negative is that you get a lot of healing when using the 4 piece tier boost during your Thunder Focus Tea spells. This just provides extra healing to that same time, perhaps wasting it. It's also worth noting that the 4pc does not apply to Yu'lon's Whisper's first healing tick.
Invoker's Delight: The primary goal of Invoker's Delight is to drastically boost our Celestial throughput. With the amount of healing Mistweavers are presently performing, this boost in haste may be a little too much, since it may merely result in more overhealing. Another complicating factor here is the usage of Invoke Yu'lon, notably the Jade Serpent. Refreshing Jade Wind will most likely be used in 9.2 with the 4pc tier bonus. As a result, you will be playing Invoke Yu'lon, the Jade Serpent inside the raid instead of Invoke Chi-Ji, the Red Crane. Because this legendary wants you to cast as many times as possible for throughput, mana may be a restriction if you don't have an Innervate or two handy.
There are no other options or alternatives for the remaining covenants. The rationale for choosing the non-Covenant legendary duo is the same as before.
Kyrian – Call to Arms: One intriguing detail about Kyrian is that the Celestial generated by Call to Arms was considered to activate Invoker's Delight if you had it equipped. Unfortunately, this is not the case. As a result, follow the guidelines outlined above.
Faeline Harmony – Night Fae: You'll continue to employ Faeline Stomp as required. You will get some more uses as well as a boost in damage and healing, which you may not be able to take advantage of owing to Faeline Stomp's high mana cost. If the covenant-specific conduit Way of the Fae also influenced Faeline Stomp's healing, Night Fae would become a lot more fascinating option and would push Night Fae even higher in terms of power. However, in its present condition, it has no bearing on the decisions you've made thus far.
Because to the random nature of the proc, there is basically no way to synergize another of the above with it, so pick Ancient Teachings of the Monastery and play as usual.
Best Mistweaver Monk Mythic+ Double Legendaries
The logic behind the options for Mythic+ is similar to the raid suggestions above. In Mythic+, the healing profile does not increase or introduce any new synergies to your legendary options throughout the covenants. So, in a similar vein, I'll start with Venthyr as the covenant, and you can apply the same rationale to the other three as required.
Venthyr will remain your go-to pick in Mythic+ in 9.2, so you have three alternatives to pair with Sinister Teachings:
Is there a pattern here? Ancient Monastic Teachings: Is there a pattern here? Ancient Teachings of the Monastery is a great way to boost your HPS. With the increased emphasis on DPS in Mythic+, you may use the trickle healing from Ancient Teachings of the Monastery to gradually top your party and keep DPSing. During your Fallen Order periods, you may also utilize this to help with any further healing. Again, you're already in melee and doing damage, so why not take use of the extra healing and speed up the dungeon a little? Given that this legendary has been the default choice for a whole expansion, it would be fascinating if Blizzard included it in the baseline class for the next expansion.
Morning Tear: This is a small variation on the previous. You will spend more time casting Vivify and Enveloping Mist to top different members of your party in dungeon content since you are the lone healer. As a result, both of those spells benefit from buffs and increased healing from this legendary. While it has no effect on Sinister Teachings or Fallen Order, it does grant extra healing as you go through a dungeon while your Fallen Order cooldown is on.
Invoker's Delight: As previously said, Invoker's Delight's major aim is to boost our throughput during our Celestials. In dungeons, you may use Invoke Chi-Ji, the Red Crane instead of Refreshing Jade Wind, so there's a little more to it than raiding. During your Invoke Chi-Ji, the Red Crane, Invoker's Delight will give you a wonderful boost.
The preceding considerations about covenant-specific legendaries and matching them for Mythic+ apply to the other covenants as well. Despite the fact that Tear of Morning is recommended in Mythic+, there are no further comments. There is no extra gameplay while utilizing Tear of Morning in Mythic+ since none of the covenant-specific legendaries interact with the way you utilize Vivify or Enveloping Mist.
Non-Covenant legendaries for Mistweaver Monks often just give more HPS around a gameplay style we are currently playing. Neither the Covenant-specific legendaries nor the spec-specific legendaries alter Mistweaver's basic gameplay style. With that in mind, Ancient Monastery Teachings comes out on top. It will usually grant twice as much extra healing as the next non-Covenant specific legendary on the list. This has been the case since 9.0 and will remain so in 9.2, barring any more tweaking.
Our Windwalker Monk guide writer, Babylonius, has written a detailed analysis of the Double Legendary combos for Windwalker Monks in Patch 9.2!
Babylonius
Sepulcher of the First Ones' Best Windwalker Monk Double Legendaries
In terms of Windwalkers, nothing is changing as we get closer to 9.2. For any circumstance involving multiple targets, Windwalkers will continue to favor becoming Necrolord. This implies you'll be drinking Bountiful Brew by default. As predicted, Invoker's Delight continues to dominate the legendaries of the Windwalkers, therefore it will remain in our equipment set.
Bountiful Brew is a reasonably easy legendary to utilize since it doesn't demand any further adjustments to your gameplay. If you receive a proc while in an AOE scenario, you should spam as much Spinning Crane Kick as you can while it lasts, but because there's no way of knowing when it'll happen, you'll have to adapt. It has no effect on single targets, however it does increase damage somewhat. Nothing changes save for a little increase in Spinning Crane Kick in AOE, which you'd be performing regardless.
If you wish to utilize Kyrian in single target settings, it will be similar to pre-9.2. In reality, the benefit of switching to Kyrian over Necrolord is little, and Kyrian does need a little more work to optimize than Necrolord, but they're close enough that you may choose.
When you use Call to Arms as Kyrian and use Bountiful Brew as Necrolord, you'll couple it with… wait for it… Invoker's Delight! What a pleasant surprise!!
It also has no effect on how you play since the Xuen summoned by Call to Arms do not yet trigger Invoker's Delight, thus staggering them is pointless. If that's modified, you'll almost certainly utilize one after the other for more boost uptime.
This combination, however, has a flaw in that the two Xuens don't get along very well. When two Xuens are out, one of them will take the other's Crackling Tiger Lightning damage, resulting in one inflicting practically minimal damage while the other does a TON. We're not sure what the intended behavior is, but it gives the impression that objects are skewed. There's no hidden synergy at work here; it's simply 1+1=2, with one of the 1s taking the majority of the credit for the other.
Night Fae and Venthyr will use the Covenant legendary and Invoker's Delight, however they are unlikely to have the same power or popularity as the other two Covenants. There are no unique interactions here as well; just equip and keep going.
Sepulcher of the First Ones' Best Windwalker Monk Double Legendaries
When 9.2 arrives, you'll be stuck with Necrolord for Mythic+, which means you'll be utilizing Bountiful Brew. The second legendary that Windwalkers will employ is Invoker's Delight, which should come as no surprise.
You'd assume that with the rise in AOE scenarios, you'd change your Bountiful Brew strategy, but you'd be mistaken. If you receive a proc while in an AOE scenario, you should spam as much Spinning Crane Kick as you can while it lasts, but because there's no way of knowing when it'll happen, you'll have to adapt. It has no effect on single targets, however it does increase damage somewhat. Nothing changes save for a little increase in Spinning Crane Kick in AOE, which you'd be performing regardless.
The same holds true for the remaining Covenants in Mythic+ as it does for raids. You've come to the wrong class if you're seeking for legendary variation or interactions between them.
The "best monk legendary shadowlands" is a combination that you can use for the Brewmaster, Mistweaver and Windwalker. It will give you a good amount of damage as well as survivability.
Related Tags
mistweaver monk legendaries – shadowlands
windwalker monk legendaries shadowlands
brewmaster monk best legendary
monk legendary items diablo 3
9.1 monk legendaries