The long-awaited 9.2 tier set bonuses have finally been released, and I'm here to break down what they do for us as a community! These bonuses are absolutely massive, so let's get right into it!.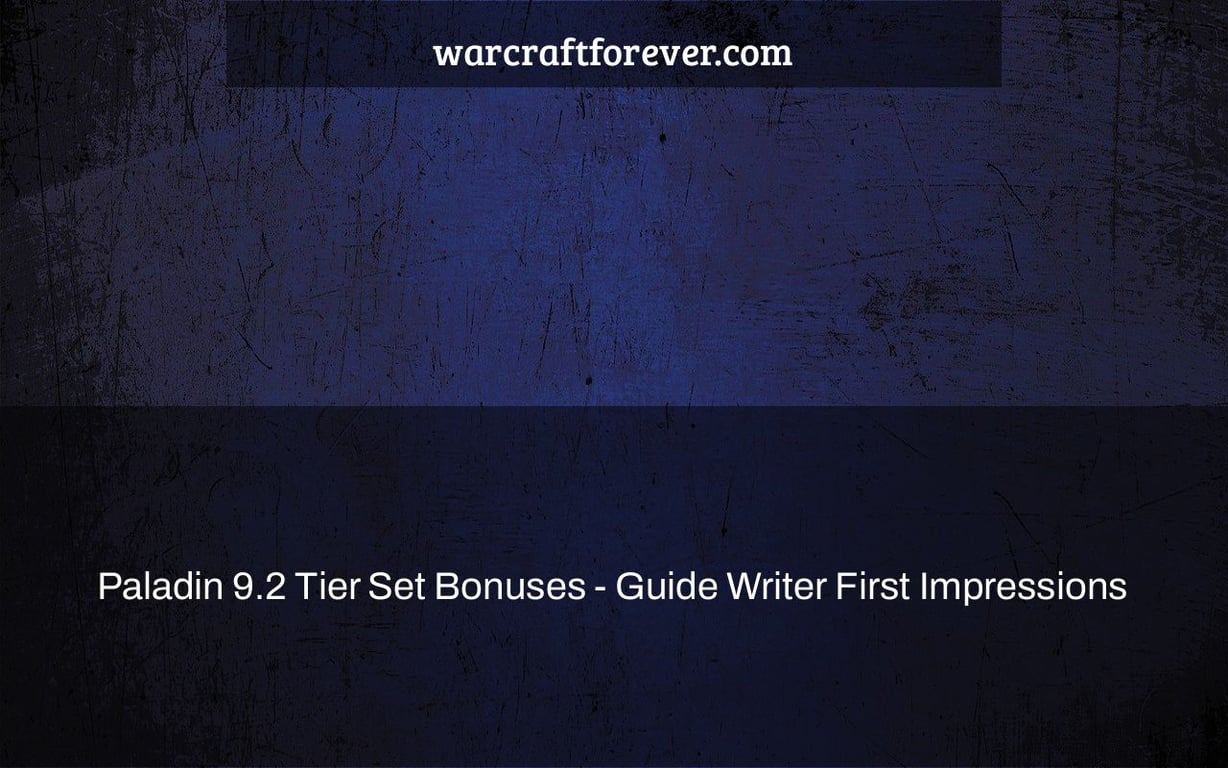 The Tier Set benefits for all 36 specialties in the 9.2 Eternity's End PTR have been datamined. Below are all of the bonuses and armor models.
9.2 Bonuses for Tier Sets in All Specializations Models from the Mythic Tier Set (9.2)
Our Guide Writers have offered their early thoughts on the 9.2 Tier Set extras. Below you'll find a list of all of our previously published opinion pieces.
The 9.2 Tier Set Bonuses: First Impressions
First Impressions of the Death Knight Tier Set First Impressions of the Demon Hunter Tier Set First Impressions of the Hunter Tier Set First Impressions of the Monk Tier Set First Impressions of the Priest Tier Set First Impressions of the Rogue Tier Set
The following are the benefits from the Holy Paladin set:
These perks are now incredibly strong. Unless we're just seeing a portion of the image, I don't think the 4pc will make it live at its present tuning parameters. It's possible that significant nerfs to Holy Paladin damage are coming, necessitating a powerful set bonus, or that there's some other context we're not aware of, but right now, this set bonus would result in Holy Paladins having extremely high (and possibly permanent) uptime on Avenging Wrath, which is a massive buff.
In a vacuum, the set bonus doesn't alter much, but it encourages you to use Word of Glory on occasion, even if you prefer using Light of Dawn every 30 seconds owing to the 2pc. However, Duty-Bound Gavel has amazing synergy with the Necrolord covenant, and the inclusion of a second legendary that is limited to a Covenant legendary makes it highly enticing as well. If you go down that path, all of this will make Paladin feel quite different. Because of the synergy between these abilities, Necrolord will very probably be a competitive, if not Meta, option depending on what happens to Ashen Hallow and Venthyr.
The set bonus is well-designed overall. High Avenging Wrath uptime is a lot of fun to experiment with and is highly relevant to Paladins. Late in Battle for Azeroth, we witnessed something similar with the Ineffable Truth corruption. We don't have any context for any further adjustments in the balance. Paladins have been a big issue for a long, and they have regularly led advancement raiding teams, so I anticipate some adjustments.
The disadvantage is that this set bonus isn't very good in Mythic+ or PvP. It's obvious that it was made with PvE in mind. It might also lead to the development of lesser-known legendaries like Shadowbreaker and Dawn of the Sun.
Finally, this set bonus is a decent one. It will have a strong impact, and I appreciate how it ties into Holy Power production by encouraging aggressively acquiring and spending Holy Power. I'd be shocked if it goes live unchanged, but we don't have the entire picture of healing for the next tier without the context of other class adjustments.
Protection Paladins' playstyle is unaffected by the 9.2 tier benefits that have been released. The 2-piece boost is completely passive, since it rewards them for doing something they already do: spending Holy Power on Shield of the Righteous. When an assault is blocked, the 4-piece bonus has a chance to fire a Judgment. Regardless of what a Protection Paladin does, they will spend Holy Power or block, and this will have no effect on how they equip or push buttons. One intriguing feature is that the 4-piece might interact with The Magistrate's Judgment to increase Holy Power efficiency and reduce costs.
The 2-piece bonus is quite ordinary in terms of power, providing a 4-5 percent damage reduction that is comparable to other tank tier bonuses that give similar levels of damage reduction. Between Raid and Mythic+, the 4-piece's performance will be drastically different. Part of it is due to the damage profile — certain magic dots in the forthcoming raid will not activate it — but the other part is due to the sheer quantity of enemies we'll be battling. The bonus may or may not be included in an optimum raid configuration. Because there are more targets conducting largely melee swings in Mythic+, blocking is more likely, which may lead to circumstances where Holy Power can't be expended quickly enough.
The difference in strength between Raid and Mythic+ for the 4-piece will be enormous. As you tank more targets, your block rate will clearly grow, and this benefit might scale to absurd proportions, particularly when paired with The Magistrate's Judgment. The 4-piece should be modified such that it scales better while tanking multiple targets while also raising the floor to make it more suitable for raid content. Both benefits appeal to me on a conceptual level since they are linked to Block, which is an aspect of the Protection Paladin that hasn't received much attention. They simply need to fine-tune it.
The Art of War passive, which allows your auto attacks a slight chance to reset the cooldown of Blade of Justice, is the inspiration for the Retribution set benefit. This probability starts at 12% with Rank 2 of Art of War, but it jumps to 24% with Blade of Wrath, which is already the most popular talent in its row. This is a flat probability per auto hit, not an RPPM proc. Although Art of War cannot proc on two consecutive melee strikes, it will still average out to around 12 percent or 24 percent each melee throughout the course of a battle. You should anticipate to earn 5 to 8 Art of War procs every minute depending on Haste, if you're using Zeal, and whether or not you have Windfury Totem.
When Art of War procs, the 2 set bonus gives you 2 seconds of Seraphim, which amounts to around 10-15 seconds of additional Seraphim every minute. Seraphim is currently mostly used to enhance the Execution Sentence/Final Reckoning window, thus random procs won't make much of a difference in that context, but they do function a little better when the 4 set bonus is taken into account. You should be able to squeeze 1-2 GCDs into 2 seconds of Seraphim – more on that below – thus you should be able to utilize at least a spender or a Wake of Ashes proc during the Seraphim proc window, if not both. Given that you won't be getting any "natural" wake casts anymore, you'll also receive an additional 2-3 Wake of Ashes casts every minute, which is a significant damage increase in single target and AoE. The two sets may not give a significant damage boost on their own, but when combined, they should deliver a significant boost. Aside from the numbers, it's also a lot of fun to be able to cast Wake of Ashes often.
The set benefits aren't currently available on the PTR, but the way the set works seems to be very clear. There are just two points that are unclear:
Hardcast Seraphim – Given that many other comparable effects operate in the same manner, it seems logical to think that the 2 second Seraphim procs would add duration to an existing Seraphim rather than overwriting it or doing nothing. Art of War doesn't have an ICD since it doesn't proc on back-to-back auto attack strikes, therefore chain procs for a longer Seraphim bonus aren't possible.
Blade of Wrath boosts the damage of the next Blade of Justice as well as boosting the amount of Art of War procs. If it were reset instead, I doubt it would boost Wake of Ashes damage, but I believe it should. Blade of Wrath may proc just after you cast Blade of Justice, then reset Wake of Ashes and proc again before Blade of Justice's cooldown expires. Alternatively, since the Blade of Wrath buff has a 10s duration and Blade of Justice's cooldown is 12s baseline, Blade of Justice could not come back off cooldown before the Blade of Wrath buff expires if you have low haste. Blade of Wrath being wasted at random isn't pleasant, and it could easily be rectified by having it boost the damage of the ability it resets instead.
This tier bonus forces Ret to use a somewhat different build than it does now. Because Art of War is based solely on auto attacks, factors that boost the pace of auto attacks become far more powerful. Zeal, as well as effects like Divine Resonance that cast more Judgments for more Zeal hits, will most likely be the strongest alternatives for maximizing Art of War procs. It's possible that Execution Sentence will still be available, but instead of holding Wake of Ashes for each window like we do now, it'll be utilized on cooldown. Expurgation will become somewhat worse for conduits, since half of your Blade of Justice resets will instead reset Wake of Ashes, but Truth's Wake may become excellent enough to see usage for the first time.
The gameplay tweaks that must be done to optimize the Seraphim benefit are my major issue with the tier set. Although 2 seconds is technically long enough to squeeze two GCDs in, most players will not be able to do so consistently. Consider the following scenario:
The reaction time to the procedure must be considered. It's simple to smash Blade of Justice when you see an Art of War proc right now, but with the set bonus, you'll have to think about which ability was reset first. Even if it's just a fraction of a second, it might be the difference between getting an additional cast off before the Seraphim bonus expires and not.
Mid-GCD, auto attacks will occur. You're very probably not going to receive a second GCD enhanced by Seraphim if you perform an ability just before an Art of War proc.
To increase the chances of receiving a second GCD within Seraphim, an auto attack tracker will very certainly be required to keep track of when a proc could occur. It'll very certainly lead to a style of play in where you attempt to use a spender soon after an auto attack occurs, just in case you get a proc, so you don't have to respond to it right away in order to acquire another ability within the Seraphim window.
This penalizes players who are unable to make these small optimizations in one of two ways: either they do not track auto attacks and receive half the value from each Seraphim proc as a player who does, or they do track auto attacks and begin leaving large gaps in their rotation to accommodate potential procs, resulting in a DPS loss from holding their ability casts for too long. This issue might be solved by altering the two-set bonus to just buffing your next two abilities, which would provide the same advantage without the need for such a rigid time window. To be clear, having tier set bonuses that alter the way you play a spec is perfectly fine – it's exactly what you'd expect from a set bonus. The problem is that the amount of optimization necessary to maximize procs will be prohibitively expensive for many players, and the difference between optimizing and not optimizing will almost certainly be large.
Aside from that, whether or not you have Windfury Totem will begin to have a significant impact on Ret's damage output. Ret was one of the finest melee to have in a Windfury group after Arms and the Rogue specs, even when it simply impacted Blade of Justice resets. However, with the additional Wake of Ashes resets and Seraphim procs, Windfury will most likely represent a 5% DPS boost. If Enhancement remains excellent and more guilds begin to bring them, this won't be as much of a concern, but it'll be annoying to play without Windfury knowing that you're losing a lot of damage.
Overall, I enjoy the set's design. Extra Wake of Ashes resets seem to be a fun addition to Ret's playstyle, pushing it towards a build that's a little different from what's been employed in Shadowlands so far. I'll be extremely satisfied with how the 2 set looks heading into the next tier if it gets changed to be a bit less severe for people who aren't totally optimized to play around it.
Watch This Video-