This is a preview of how battlegrounds will work with Patch 9.2 and Solo Arena Queue PvP Brawl! Get ready for epic battles solo or in teams!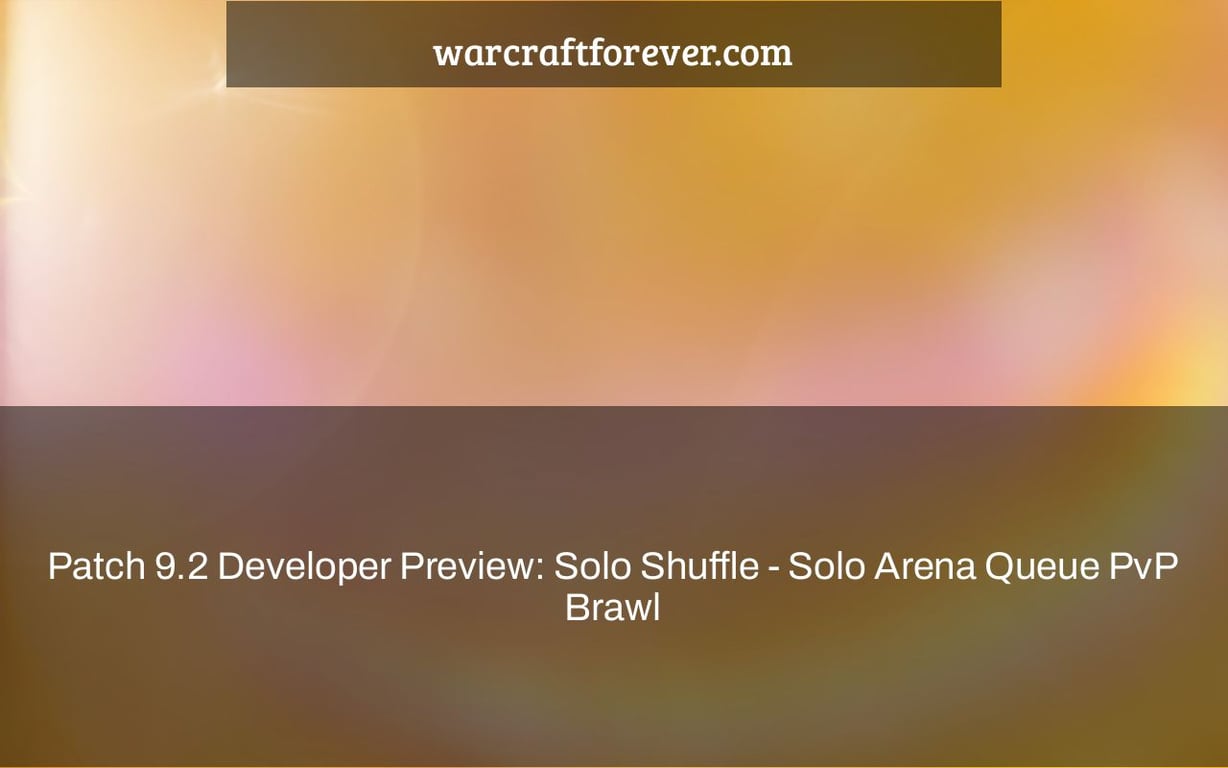 Queue is for one person only.
Those two words have been a rallying cry for segments of the PvP community that have an insatiable desire for World of Warcraft Arena for a long time. For a variety of reasons, we've been hesitant to just wrap a solo queue wrapper over the current Arena system. But we've never ceased wondering how we might create a solo queue experience without succumbing to the issues we anticipate. Today, we'd want to provide additional details and insight into a concept we'll be testing in a future battle dubbed "Solo Shuffle."
WHY WAIT IN LINE ALONE? First, we'd want to discuss why people desire single queue Arena, as far as we can tell. Many players like Arena in general, but their usual teammates aren't always available to play with. While the Group Finder is accessible, gamers have told us that finding acceptable companions with the tool takes too long. While we aim to improve Group Finder, we understand that there are instances when gamers simply want to push a button and play.
Of course, in Skirmishes, such a solution exists. Players may queue for Skirmishes alone or in groups, and then swiftly enter an Arena battle to earn Honor and Conquest. Skirmish, on the other hand, isn't enticing to everyone. The larger stakes at play when you put your Rating on the line each time you queue up for a match are undoubtedly part of the attraction of Arena. Seeing your rating rise after a major victory is a very different kind of growth than earning Honor or Conquest to buy new gear. Gear upgrades are also a potential factor, since although Skirmishes give Honor and Conquest, they do not provide the necessary rating to raise the item level of your gear. In general, the finest gear awards in World of Warcraft come from activity that needs pre-made parties (Raiding, Arena, Rated Battlegrounds, Mythic+) rather than queued activities (Raid Finder, Raids, Heroic Dungeons, Battlegrounds, and Skirmishes).
So, although we appreciate the demand for a solo queue Arena, we have qualms about adding it to the current brackets (2v2, 3v3, RBG) based on WoW and other games' findings. While a solo queue solution is expected to enhance total arena participation, it will also eliminate the requirement for players to create groups in order to participate. While technologies like Dungeon Finder and Raid Finder have made content more accessible, players have expressed concerns about how these tools affect the social aspect of the game. Because replacements are merely a few button clicks away, queued systems might make other players feel more disposable. The act of putting together a group for an activity adds immense value to the social dynamics of a game like World of Warcraft. As a result, for the 2v2 and 3v3 categories, we choose to maintain the premade group condition in place.
Another point of concern is the effect that squad composition might have on a match's fairness. Players want their ability and dedication to be the driving force behind their success or failure. Characters in World of Warcraft are defined by their classes. When you queue for an activity in World of Warcraft, you are assigned to a certain class that you cannot alter based on what your teammates are doing. Class synergies determine arena gameplay, and certain combinations are intrinsically stronger than others. Let's say there's a contest between two teams, each with the same number of Rogues. The second DPS on one squad is a Mage, while the other has a Death Knight. One of the Rogues will believe that the matchmaker has failed them. The Mage and Death Knight's evaluations vary dramatically when Rogues are replaced by Windwalker Monks. While one solution to this issue may be to create a smart matchmaker that takes all of this into account, in our experience, less-than-ideal matches will still occur.
IMPROVING THINGS As a result, we'd like to propose a new solo queue concept that, in our opinion, tackles the issues raised above in a unique and creative approach. Our concept is a new bracket we're dubbing "Solo Shuffle" for now. This bracket is solely for single queue players. When you press the queue button, you'll be assigned to a group of six people, two healers and four damage dealers. After that, the cohort will play six rounds with every conceivable combination of teams consisting of one healer and two damage-dealers. Players, like their opponents, will have to adjust to a broad range of team combinations. As a result, both Rogues will end up playing with the Mage in the scenario above, and both Rogues will end up playing with the Death Knight. After all six rounds have been completed, participants will get a rating based on their performance. As a result, a player who wins all six rounds will get a higher ranking than a player who only wins three.
Let's imagine there are two healers, a Holy Paladin and a Resto Shaman, as well as four DPS, a Rogue, Warlock, Mage, and Hunter. The following is how the six rounds will go:
Shaman, Mage, Hunter vs. Paladin, Rogue, Warlock
Shaman Warlock, Hunter vs. Paladin, Rogue, Mage
Shaman, Warlock, Mage vs. Paladin, Rogue, Hunter
Hunter, Paladin, and Mage vs. Shaman, Rogue, and Warlock
Warlock Paladin Shaman, Rogue, and Mage vs. Hunter
Shaman, Rogue, Hunter vs. Paladin, Warlock, Mage
6 rounds of classic 3v3 Arena, on the other hand, might take a long time. We'd like that when people queue for an activity, it doesn't take more than 30 minutes of their time. The longer an activity lasts, the less people will wait for it, and the more likely they will quit an ongoing match. As a result, Solo Shuffle will have certain basic distinctions that will drive the games to conclude sooner. Naturally, the absence of cooperation from predefined groups will result in speedier kills, but there will be several rule adjustments to guarantee that each round concludes in under two minutes:
Unlike in ordinary Arena, the first team to kill an opponent wins the round instantly.
Mana restoration is now much more limited, and drinking will take on a new meaning (or perhaps not at all.)
If a player departs the game, it is decided as if that person had lost each round.
We're taking this concept very seriously since introducing a new format to PvP is a major step. We want to start by implementing this concept as a PvP Brawl so that we can test the format, identify any issues, and get your input. If the format is well-received during the brawl, we can go on to discussing the strategy for rating adjustments, dealing with players leaving the match, the ladder, and incentives. This essay is the first step in that process, so please let us know what you think in our forums or on Twitter at @WarcraftDevs.
—The World of Warcraft Development Team
Watch This Video-