Blizzard released a set of hotfixes for their Warcraft game on February 25th, 2022. In the update, Blizzard introduced changes to class itemization as well as new levels and different rewards.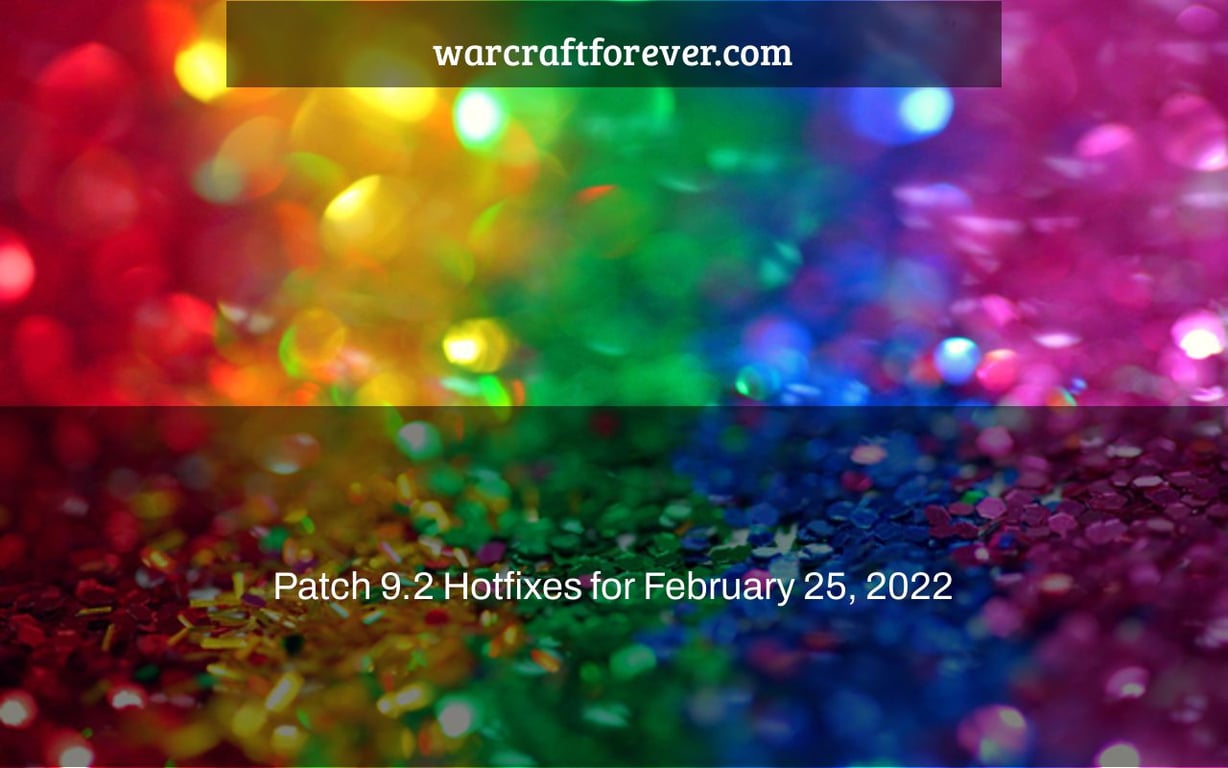 Here you'll find a collection of hotfixes for World of Warcraft: Shadowlands, Burning Crusade Classic, and WoW Classic that solve different bugs. Some of the hotfixes listed below go into effect right away, while others may need scheduled realm restarts to take effect. Please bear in mind that certain problems will need a client-side patch update to be resolved. As new hotfixes are released, this list will be updated.
Hotfixes
Warrior Warrior Warrior Warrior Warrior Warrior Warrior Warri
NPCs and Creatures
Fixed an issue where Gluttonous Overgrowth's Leaf Storm increased rather than decreased the player's movement speed.
Items and Bonuses Several Shadowlands dungeon trinkets will be modified as part of next week's regular weekly maintenance in each region:
The critical strike rating provided to Soulletting Ruby has been lowered by 15%.

Note from the developers: Phial of Putrefaction, Soulletting Ruby, and Blood-Spattered Scale were part of a trifecta of dungeon trinkets that were overbudgeted to the point where each new tier of item level scaling guaranteed they'd be among the best, if not the best trinket for classes that used them without hesitation. Our goal here isn't to eliminate their viability, but to allow situational rivals more leeway and provide some variety to player equipping options over Eternity's End.
Bladedancer's Armor Kit improved his armor and damage by 25%.
Bladedancer's Armor Kit wasn't providing the defensive value it promised tanks even in situations where you'd expect it to be good, so we're combining it with Pulsating Stoneheart to try and make it less of a negative experience when these two drop for you, and more of a place where you'd consider them depending on your situation and class.
Stoneheart's pulsating armor, health regeneration, and self-slow duration have all been lowered to 6 seconds (was 12 seconds). Pulsating Stoneheart armor has been boosted by 35%, and life regeneration has been reduced somewhat every tick, although it now ticks for a total of 7 (was 6) ticks on-use.
Note from the developers: Pulsating Stoneheart wasn't properly calibrated against the significant negative of snaring oneself for an extended length of time, so we compressed the effect to lessen the downside and give it a much greater burst of defensive value in instances when it's needed.
The Haste offered by the First Class Healing Distributor was scaling erroneously with item level.
Quests
The 3-day quest "Patterns Within Patterns" will become a Weekly Quest after next week's planned weekly maintenance in each area, and both its completion criteria and rewards will be raised to maintain the same speed of development.

Note from the developers: We believe that a full week of questing, with equivalent quantities of Cosmic Flux and other prizes, would be a better fit for this quest. We hope that this update allays some players' concerns about finishing it numerous times each week.
Fixed an issue that prevented global missions in Cache of Creation from being completed once the cache was opened. Killing Fel Champion Gargath fast in the "Battle for Highmountain" scenario should no longer prevent the scenario from proceeding.