Recent changes to the healer class in Dragonflight have left many players feeling unimpressed. I say good riddance, and hope these changes will help restore some of what we were missing for so long.
The "dragonflight characters" is a new class that has been introduced in the latest expansion of Dragonflight. The first impression of the class was given by its abilities, which were very interesting to see.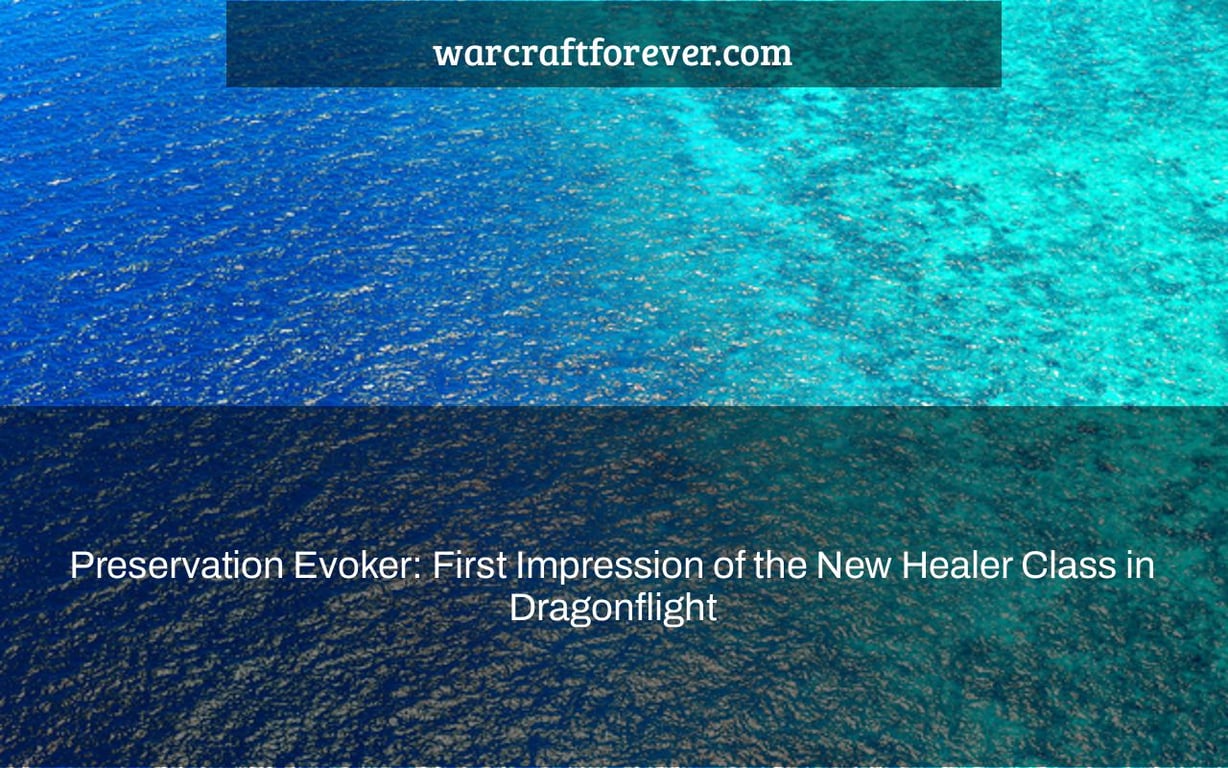 Blizzard introduced the new exclusive class for the next expansion, the Dracthyr Evoker, during the Dragonflight expansion announcement. In this post, we'll go over all we know about the new Preservation Evoker Healer specialty, including the new Empower skill type and where this class can fit into the healer meta.
Overview of the Dracthyr Evoker Class
Introduction
I'm AutomaticJak, and I'm the Holy and Discipline Priest guide writer. Today, I'm really happy to offer my thoughts and speculations on Preservation, Dragonflight's new healer speciality.
What We Know So Far About Preservation Evoker:
The race-specific class Evoker. Dracthyr, the new playable dragon race, is the only one who can use it.
Evoker, like Shaman and Hunter, wears mail armor.
Preservation focuses on Green (Nature) and Bronze (Metallic) dragonflight abilities, whereas Devastation focuses on Blue (Frost) and Red (Fire) dragonflight powers (Time Magic).
Empower, a new casting mechanism introduced by Evoker, is a charge system for spells.
The intelligence class is Evoker. Staves, axes, maces, swords, fist weapons, and caster offhands are among the weapons used.
This is all we know for certain, but there is also limited information about Evoker from the Dragonflight Expansion Reveal, Dracthyr Evoker & Dragonriding Preview, and various interviews. Based on these, we can make some additional assumptions about the class. In this article I'll lay out what we know, how those mechanics can relate to other healers, and some history when possible around where other mechanics from healers have appeared over the years!
Designing a Class
The Fundamentals
Evokers will wear Mail-type armor, which is a nice addition following the recent influx of leather-wearers! Evokers are mid-ranged casters, which raises the issue of whether they will also be mid-range healers. Would the mid-range regulations solely apply to the DPS spec, or would a Preservation Evoker have to cope with the inconveniences of having a decreased range to heal allies? With abilities like Refreshing Jade Wind or the legendary Ancient Teachings of the Monastery, Mistweaver comes to mind as a healer who concentrates a large amount of their healing into allies directly around them. This can be a limiting factor on encounters with a large number of spread players, but it's not unheard of.
Boost Your Skills
The Dracthyr also has a new Empower feature, in which players may hold down a button to power up a spell, allowing for more damage, healing, and efficacy. As a healer, one of the most important questions you'll face is "What are the costs and benefits?" Will the Empower mechanism merely provide advantages to holding the spell longer and you'll only release early for better heal timings, or will a longer held ability come with a higher resource cost? Discipline Priests from Legion may recall the now-defunct Plea ability, which applied a single Atonement but raised the cost dependent on how many Atonements you already had out. Would Evokers' mana or secondary resource (Holy Power) be increased? Try DRAGON POWER) for a longer hold cost?
Certain spells will strike more allies or be more effective with Empower. But how much will it cost?
Green Dragonflight's Strengths
When it comes to Dragonflights, the Evoker can master all of their skills, although he usually uses Bronze and Green Dragonflights for healing. Resto Druids have a few highly Green Dragonflight-referencing abilities like Ysera's Gift or BfA's azerite ability Waking Dream, therefore green offers IMMEDIATE Resto Druid/Healing Over Time feelings. However, the above Empower ability seems a lot like a Paladin's Light of Dawn, therefore HoTs may not be as important.
The Green Dragonflight indicates a lot of Healing Over Time, yet this radius-based heal seems to be rather bursty.
The Bronze Dragonflight's Influence
The Restoration Druid connections seem to continue in the Bronze Dragonflight, since they mention speeding up the pace at which friends are healed, which sounds a lot like Flourish. More drastic methods may be used, and this kind of Bronze ability could allow Green-flight HoTs to be devoured so quickly that they could mimic a Discipline Priest's bursty ramp. Discipline has long had one of the most distinctive and irreplaceable healing profiles available, so maybe this is a chance to offer Discipline some competition in terms of how they recover, and therefore making Druid less bursty as a result?
Cooldown for the Preservation Raid
Perhaps the Bronze-Flight can compete for the Evoker's 3 minute raid-wide healing ability. In Final Fantasy XIV, Astrologians have a special ability called Macrocosmos, which benefits allies for 15 seconds and saves 50% of all damage absorbed during that time. Each ally gets promptly healed for all accumulated damage at the conclusion of the time (or when toggled). This feature may be compared to a raid-wide Alter Time mechanic, in that it has the same "punch" as Revival but requires more preparation to give the highest value.
Alternatively, a raid-wide Stagger feature might be created, in which damage incurred in the following 10 seconds is deferred for 10 seconds. Instead of creating any healing on its own, it provides breathing space for the whole healing team to recover after a series of major blows. This would be completely debunked, and healing is already a contentious subject in raids, but the developers did state that enjoyment will come first, followed by time spent balancing.
What Position Does Preservation Evoker Hold in the Healer Meta?
There are many healers that have similar-ish profiles and others who don't when it comes to healer specializations. Healing Over Time effects abound in general, with some healers including substantial single target output into their raid healing (Holy Priest and Martyr Holy Paladin). Other healers have mini-ramp mechanics and steady healing in between (Necrolord Shaman/Restoration Druid) and Discipline's massive burst heals. On paper, it seems that Discipline may have some competition in the ramping healer sector, with boosting HoTs to speed up or even completely devour their whole healing with a little cost when used. For example, employing a Bronze-Flight ability on a cooldown or with a high mana or healing penalty to quickly deplete your HoTs (i.e. the HoT is instantly consumed but only for 85 percent of its value instead of 100 percent ).
With just a few gifs to go on, it's clear that Empower will play a significant part in the development of the Preservation Evoker, which seems to be more bursty at first sight. Healing profiles aren't often the major incentive when it comes to creating an effective raid healing composition….
Concerns
In Shadowlands, raid usefulness has played a significant influence in selecting whether some healers are taken to high-end content over others, to the point where certain healers are simply disregarded in high-end Mythic raiding. So, when it comes to how an Evoker heals, I believe that many Mistweavers, Holy Priests, and Restoration Druids will be more interested in the sort of utility that an Evoker provides.
New expansions are a great way to shake up the meta and modify long-standing abilities. With a new healer upsetting the natural order, the Blues should use this chance to ensure more variety in healer composition for future raid-tiers. Although fight design and balance have helped to spice up the Sepulcher raid meta, the competitive healer meta has remained as staler than bar pretzels for most of the previous decade.
The short previews we've seen suggest that Evoker's "mid-range" aspect should be limited to the Devastation damage spec rather than Preservation healing, but it's worth mentioning again that if the healer's damage spells are still bound to these reduced range requirements, it could cause some annoyances in raiding where you can't get close enough to attack the boss and no healing is required, so you AFK instead.
Conclusions
It's been a long time since a new healer was brought to the game, and I'm excited to see how the Evoker is built. One of my favorite moments in the game was during Legion Alpha/Beta, when the devs talked frequently on the forums, interacting with the community while they rebuilt several healers. Both Holy and Discipline became what they are now because to the foundations laid in Legion.
My biggest goal for Evoker when they unveil their efforts to the public is communication and participation with the community, much as Discipline took until 7.2.5 to become the comprehensive healer that it is now. I was encouraged to learn that Evoker's design goals are to build enjoyment first, then work on the balance afterwards, since what is established in Alpha/Beta stays around for a very long time.
Let me know what you believe some of the Evoker talents may be, or how the Black Dragonflight could play a part in this new class when Dragonflight Alpha releases.