You might have seen the banner, it's near-permanent and 9.2 tier which is a pretty big boost for Protection Warriors at level 90 when compared to other classes. What does this mean? It means that you can maximize your damage potential with 1 button press instead of two or three! In addition, if you are about to die and need some last hits in order to survive, now one click will be enough as well!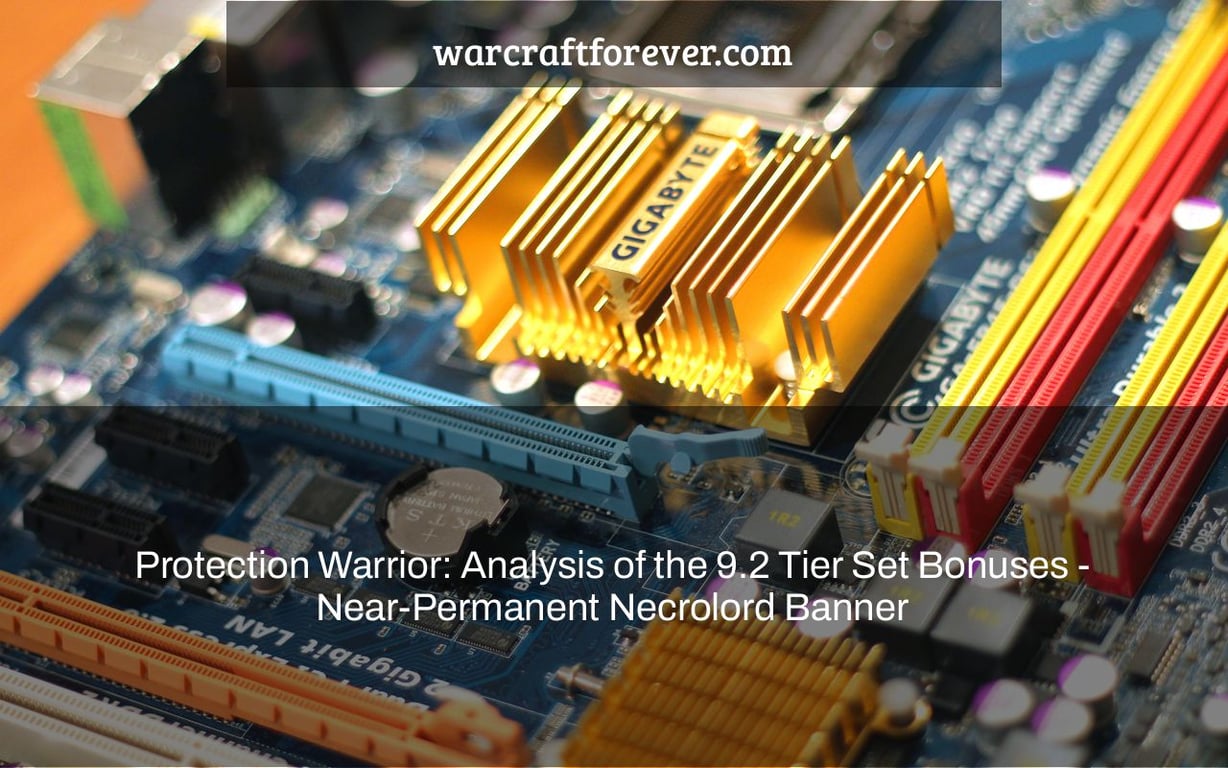 Llarold, the author of our Protection Warrior guide, has expanded on the Tier Set bonus for the Protection Warrior!
Everyone, rejoice!
As I said in my previous post on Protection Warrior's Patch 9.2 tier set benefits, the majority of the forthcoming tank enhancements are geared at Mythic+ and AoE situations. Protection Warrior is the only tank with two useful and fascinating boosts that are useful in any circumstance.
The Protection Warrior bonus had major flaws with its effectiveness before to the new overhaul, ranging from the Ignore Pain component being statistically never worth utilizing to a fault causing the 2-piece bonus to deplete charges without accomplishing anything. There was also a problem that caused the bonuses to cease working until you signed back in!
Thankfully, all of the issues have been repaired, virtually all of the worries that Protection Warriors had about this set of bonuses have been addressed, and, best of all, it has received a massive boost!
How Does It Work?
In other words, when you use Rage or cast Avatar, your next Shield Slam or Thunder Clap does triple damage, creates triple Rage, and casts a free Ignore Pain. You should almost always use this on Shield Slam since it does more damage and gives you more Rage. Thunder Clap is normally a waste of time and should be avoided at all costs, however waiting on a proc for more than a few seconds is never worth it, and Thunder Clap may deliver a powerful AoE slow and high burst AoE damage, so it does have a place.
The Thunder Clap combination may possibly be worth slightly more damage than the Shield Slam combo at 5+ targets, assuming you used any Rage created on Revenge, but it still offers less Rage for the Anger Management feedback loop, making it a lesser choice even in large-scale AoE.
What Has Changed Since Then?
Because to the 2-piece redesign, the 4-piece now provides Outburst as soon as Avatar is used. You can use Avatar to apply Outburst without losing the Seeing Red stacks you've built up through using Rage. If you have Outburst provided from casting Avatar, you may still earn Seeing Red stacks. This is all excellent.
The Ultimate Combination of Math and Testing
Okay, let's take a look at the figures to determine how significant these shifts are.
A competent Protection Warrior produces roughly 8-10 Rage per second in one target from their typical rotation. While tanking, you produce 1.5-2 Rage every second from opponent assaults. Due to Shield Slam resets, taunt-swapping, caster monsters, and plain old RNG, there's a lot of variation, but 8-12 Rage per second when tanking is a solid approximation.
Note: I'd want to take a moment to point out that all of this data implies you'll be tanking, which is a realistic assumption. When you're not tanking, who cares what a tank bonus does? I'm not one of them!
Every time you expend 240 Rage, the 2-piece activates. This indicates that it is triggered every 20-30 seconds. It offers an additional 1-1.3 Rage every second and 300-400 damage when used on Shield Slam, as it should almost always be. That's a 4-5 percent increase in single target DPS for a good player. For a two-piece, it's rather nice.
Because of the adjustments, the 4-piece boost far outweighs the 2-piece – and that's before you include in the increased damage and damage reduction during Avatar. Because of the positive feedback loop with Anger Management, this benefit almost doubles the Outburst proc frequency when actively tanking, to around every 11-12 seconds. As a consequence, the benefits add up to around 2.6 Rage per second. That's a 20-25 percent boost in overall Rage creation. It's just fantastic.
I validated my on-paper estimations with a couple rounds of single-target training dummy tests. At 252 item level, I was getting one Ignore Pain proc every 11-12 seconds, which is worth around 900 HPS in free Ignore Pain casts. I was able to cast Avatar every 40 seconds thanks to Anger Management. As a consequence, Avatar uptime might be as high as 50%. It's not quite the BFA Protection Warrior fantasy of Season 4, but it's still really beautiful.
There were also no raid bonuses, Bloodlust/Time Warp, or Windfury Totem included. A tank has the ability to dream.
But hold on! There's more!
The second part of the 4-piece benefit is fantastic: "Avatar improves your damage done by an extra 10% and decreases your damage sustained by 10%." This part of the 4-piece bonus is worth roughly 4-5 percent greater damage in all conditions, with an average uptime of over 50% on Anger Management. It also provides a second protective layer that has a high uptime. This is exactly the kind of benefit Protection Warrior needs.
Will the Necrolord's Wish Be Fulfilled?
Possibly!
As Kyrian with Reprisal, as Necrolord with Glory, and as Necrolord with Reprisal and Glory, I tried this both before and after the two-Legendary arrangement was implemented.
Everything about the Kyrian arrangement met my expectations, and everything was as it should be. Excellent, but ordinary!
The Necrolord setup surpassed all expectations. Sacrificing Reprisal is difficult to justify on live servers right now, but Glory is a huge boost, and the Covenant-specific Legendary accessible to Protection Warriors is arguably the most fascinating. I was able to keep Conqueror's Banner uptime of over a minute for every cast thanks to the 4-piece bonus and Glory — one Conqueror's Banner lasted almost 90 seconds.
My head was blown into a million pieces after I was able to test with both Reprisal and Glory. On Conqueror's Banner, 100 percent uptime is a feasible goal. It's fantastic. Windfury generates rage at a rate of nearly 17 per second on non-tank dummies. The uptime of Avatar is around 55%. Every 9-10 seconds, the outburst procs. It's fantastic.
Because of the ongoing requirement to manufacture and expend Rage, this configuration suffers from downtime. Although it won't be ideal for every raid boss or every Mythic+ dungeon, Necrolord Protection Warrior with the complete tier set and Reprisal and Glory seems exceptionally fast-paced and effective in circumstances where you'll be able to sustain at or near 100% uptime.
Conclusion
These perks are fantastic right now! Protection Warrior has been in need of a boost for a time, and this is the perfect solution. Is this new tier set going to be enough to resurrect Protection Warriors' popularity? On its own, probably not.
The defensive skills of the Protection Warrior have proven competitive throughout the Shadowlands, at least when dealing with blockable damage. It doesn't provide them Pallies' group usefulness, Monks' fantastic defensive cooldowns, or Blood Death Knights' continual self-healing. Warriors are good in Mythic+ but not so much in raids when it comes to damage output. Although these benefits are beneficial, they are insufficient to make them competitive in raids against the bulk of other tanks. What about Mythic+? Yes, very likely!
To be honest, the community thinks Protection Warriors are the worst tank in the game right now, and there's some truth to it. Despite being close behind, the class is the least popular tank in both Mythic+ and raiding. That isn't ideal.
These tier benefits are a great start, but they're unlikely to be enough to make Protection Warriors popular on their own. They succeed in the more difficult task of making the class feel stronger and more fun, especially when combined with the incredible synergy of a second Legendary (double for Necrolord), but they will almost certainly require some basic numerical buffs to entice the community back to Protection Warrior.
Even if class buffs aren't implemented, this is still a great set of benefits that add a lot of power, and it offers Protection Warriors something to anticipate in Patch 9.2!
Watch This Video-