The Rextroy Challenge is a special raid-style challenge you can participate in with your friends. The goal of the challenge is to complete three parts: defeating Mephistroth, collecting orbs from all six campsites and then completing the third part which takes place at the bottom of Hellfire Ramparts, where players must defeat all adds before reaching Andariel and opening an orb chest. If successful, players will be rewarded with Belts of Kingship that provide +3% more experience for abilities used during the final phase.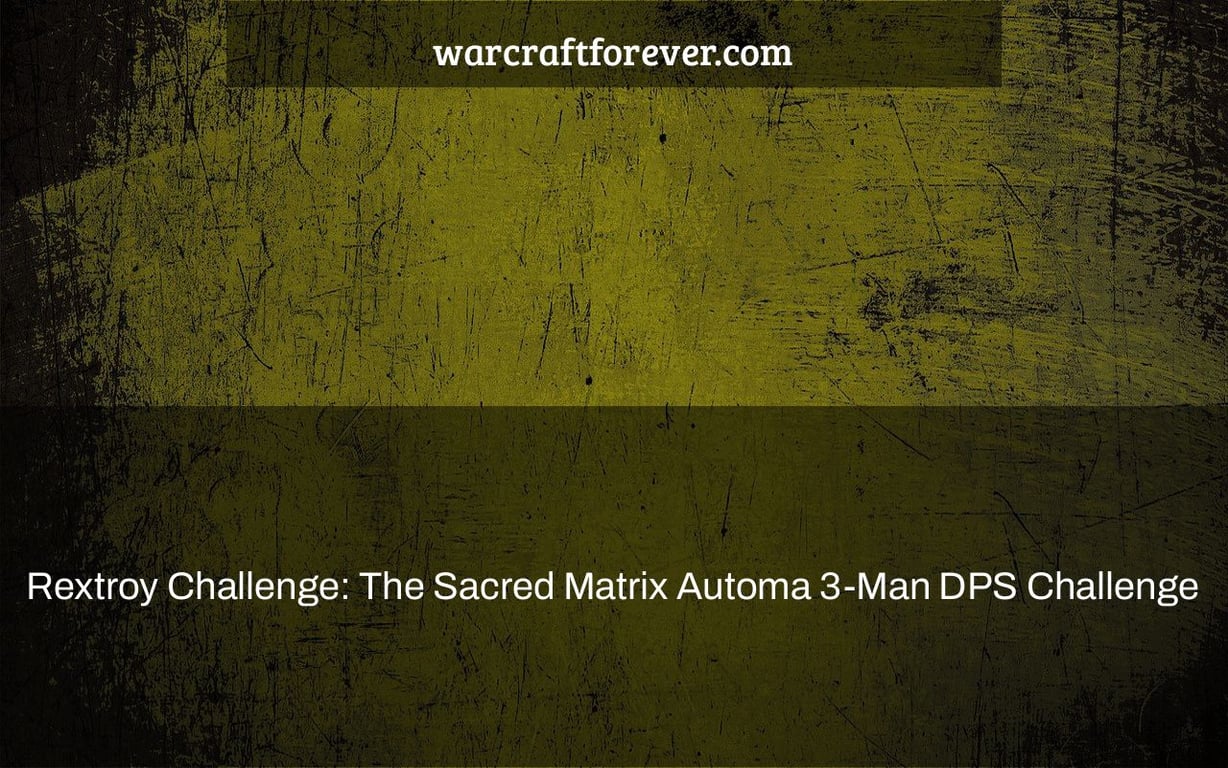 Rextroy hasn't done a DPS Challenge in a long time, so we're overdue. This time, Rextroy challenges three players from each DPS class against the Sacred Matrix Automa, a Sepulcher of the First Ones mini-boss. Each class's players have comparable iLevels and are subject to the same regulations. They are then graded based on how well they do against the mini-boss.
Today marks the start of a whole new Challenge, in which every class will face off against the Sacred Matrix Automa, Sepulcher of the First Ones' fiercest "mini-boss"!
This was one of my all-time favorite Challenges, simply because the encounter resembled a raid boss in many ways!
When the boss casts Materialize Schematic, we have three separate stages. This prompts more NPCs to join the fight… As the conflict develops, the strength of the NPCs called by this skill grows.
The Sacred Matrix Automa will summon a single Acquisition Automa when it reaches 90% health, which can be kited but does average auto hit damage and knocks people back when it dies.
The Matrix will create another Acquisition and a Degenerate Automa at 67 percent health. With "Degenerate," this add causes tremendous damage, resulting in several wipes… However, the ad may be swiftly CCed and burst (if players figure it out)
The Matrix creates two Degenerate Automas and two Guardian Automas at 34 percent health. These are enormous NPCs who do a lot of damage automatically. They are also immune to CC and produce sentinels that attack players invisibly.
The Sacred Matrix Automa does a lot of auto damage and can also provide a lot of AOE damage with "Shape Reality." This channel does 10,000 damage every two seconds. To prevent orbs falling from the sky, you must also keep moving.
The Matrix, strangely enough, can be slowed, stuck, and pushed back. However, no other kind of CC works! This is intriguing since it provides kiting courses a greater fighting chance.
Knockbacks are prohibited against the boss because they may disrupt the "Materialize Schematic" spell… And if it's stopped, it won't be recast, therefore ending the encounter's challenge!
The monks gave it a go and were able to easily defeat the monster.
For every percent of health the Matrix Automa loses, the teams get one point!
There are also numerous fascinating options to consider while participating in this encounter, such as:
Is it worthwhile to fight advertisements? You'll give the boss extra time to cast "Shape Reality" if you do so. However, dealing with advertisements may be beneficial in the long term.
Should you attempt to disrupt the boss's "Shape Reality" cast by causing him to "phase" shift throughout the performance? (Because the boss will always prioritize Materialize Schematic, you may force him to stop channeling.)
I didn't provide any guidance to the participants. It is up to them to devise their own strategy and choose the best course of action. The Paladin tactic was figured up by Kilox (a strategy no other class used)
The following are the rules:
No consumables available
No repercussions of heroism
There are no Combat Rezz effects.
All soulbinds, as well as any trinket, are permitted.
260+ ilvl
There was no precise number of tries. I let the students try until they were satisfied with their results or until someone had to leave (or when the tries reached double digits, at which point I called it and the best performance was used).
Also, a big thank you to Trancedawf, who has helped me reset the raid lockout on Heroic many times!
SPOILERS——-
I tried it in Normal Mode at first, but too many different classes were able to take it down (many struggled but ultimately got a lucky attempt). Seven of the twelve courses were successful.
I considered constructing a "qualifier" round out of the regular footage, but ultimately opted to go with heroic only! The video was a little slower than intended due to gathering twice the quantity of material…